Most dry shipping stocks had a fantastic rally last week while the daily rates were all over the map for different size vessels. Over the five trading days DryShips (NASDAQ:DRYS) finished up 0.1%, Star Bulk Carriers (NASDAQ:SBLK) finished up 5.1%, Genco Shipping & Trading Limited (NYSE:GNK) finished up 4.3%, Diana Shipping (NYSE:DSX) finished up 7.3%, Navios Maritime Holdings (NYSE:NM) finished up 10.0%, and Eagle Bulk Shipping (NASDAQ:EGLE) finished up 5.3%. While these performances are impressive, they may be setting up investors for disaster.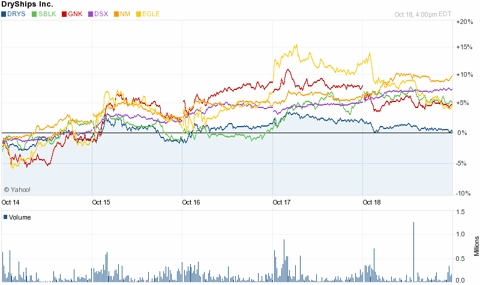 The daily spot rates for Capesize dry ships plunged another $3,514 a day last week, down 10.9% in a single week to $28,868. This is on top of the over $10,000 per day it had already fallen from its peak on Sept. 25 at $42,511. Meanwhile Panamax and Supramax rates continued to inch higher. Panamax rates increased $253 to $16,486 a day while Supramax rates increased $323 to $12,678 a day.
With Panamax and Supramax rates as strong as they've been in a long time, what's the problem? The problem is historically in the last five years whenever you see crashing Capesize rates (as we see now) at the same time as rising Panamax and Supramax rates (as we see now), the Panamax and Supramax rates tend to be the next to fall. In other words crashing Capesize rates is almost always a leading indicator that Panamax and Supramax rates are next to fall and very soon.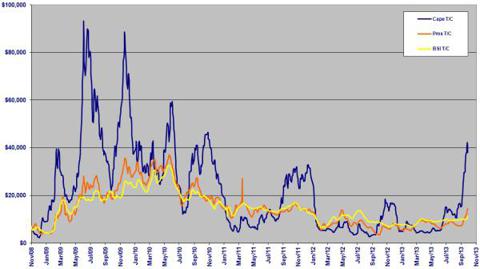 If that proves to be true once again this round, those stocks most exposed by daily spot rates in Panamax and Supramax ships are most at risk of seeing their share prices get hit the hardest. What a difference a week makes. As one can tell from the above chart, there have been short-term (1-3 week) pullbacks in Capesize rates only to see them rally again but not over 3 weeks. The boon for Panamax ships may be coming to a painful end.
How the above name may be affected
DryShips:
Most of DryShips' Panamax ships operate at the daily spot rate. The two Supramax ships DryShips owns also operates at the daily spot rate. While its Capesize ships are mostly locked in long-term fixed rates and thus unaffected much by daily changes in spot rates, the opposite is true with Panamax and Supramax ships.
Star Bulk Carriers:
As stated in my previous article:
As of August 27, 2013, Star Bulk Carriers had 86% of its 2013 days already under contract and 90% of the Capesize days. This means the daily, weekly, and even monthly swings in rates has little meaning across the board for Star Bulks until 2014 and later.

However, most of its fixed charter rates are short-term (less than a year). This means if Panamax and Supramax take a dive and don't recover by the time Star Bulks Carriers is ready for fresh contracts, then Star Bulks revenue and profits will also take a dive.
Genco Shipping & Trading Limited:
Genco Shipping & Trading's entire fleet is based on spot rates. Of course, a dive in Panamax and Supramax rates will have a dramatic and immediate negative effect on Genco Shipping & Trading's top and bottom line. Genco is not in a position to afford such problems either as it has severe debt problems coming due March 2014. If rates drop a lot and stay down, it could mean lights out for Genco Shipping & Trading shareholders
For Diana Shipping and Navios Maritime:
For Diana Shipping and Navios Maritime, the story and effect hasn't change since my last article:
For Diana Shipping, its entire fleet as of July 30, 2013 is under long-term fixed-rate locked contracts. The change in rates, for now, is completely meaningless to investors in Diana Shipping. Investors who buy or sell Diana based on the daily change in rates are betting that the daily change have a long-term effect, which isn't likely. When this happens, it may be time to buy, sell, or short accordingly, if one is waiting for an entry at a time when the price movement is irrational.

Navios Maritime had 84.6% of its fleet operating days locked for 2013 in fixed-rate contracts including all of its Capesize vessels in long-term contracts. Just like DryShips, the change in rates for Capesize is just noise for now to investors.
Eagle Bulk Shipping:
The vast majority of the entire fleet of Eagle Bulk Shippers consists of Surpramax with contracts ending in 2013. The good news is all of the contracts expiring for Eagle Bulk Shipping are for rates below the current Supramax rates, usually severely below. It's as much as less than half the current rates which means new contracts will be able to get as much as double or more rate increases. The bad news is that if Supramax rates plunge as is typical when Capesize do so first for weeks, it's never a good thing for dry shippers who own Supramax, and Eagle Bulk Shipping is no different.
Disclosure: I have no positions in any stocks mentioned, and no plans to initiate any positions within the next 72 hours. I wrote this article myself, and it expresses my own opinions. I am not receiving compensation for it (other than from Seeking Alpha). I have no business relationship with any company whose stock is mentioned in this article.