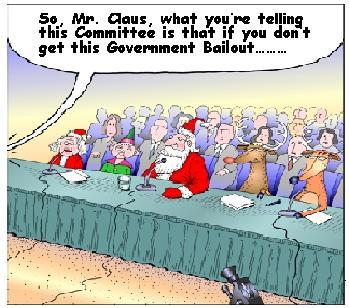 CEF Weekly Review: The 13 closed end fund (CEF) types on average posted a 0.7% increase for the week ending 11/27/09. On an aggregate, unweighted basis, the weekly average price change for the 496 CEFs also increased 0.7%.
The weighted 49 CEFs comprising the Claymore CEF Index registered an average advance of 1.5% for the week. The S&P 500, as measured by the SPDR S&P 500 ETF (NYSEARCA:SPY), was up 0.1% on very light volume. The holiday shortened week included both a "gap up" (Tuesday) and "gap down" (Friday).
(Click Here for YTD CEF Performance. The table is based on a 274 CEF sample size as all the data fields are not available for the CEF universe.)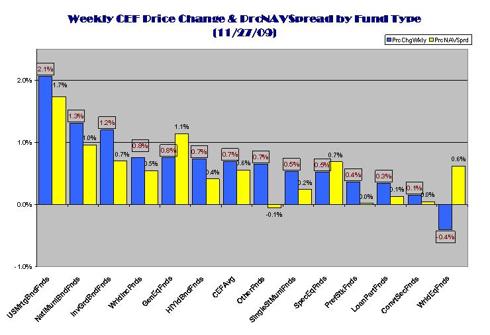 The Eqcome CEF Fear Index registered a positive reading with weekly price changes exceeding changes in NAV by 0.2% (0.65%-0.45%, respectively). The CBOE Volatility Index ((VIX)), which typically moves inversely with the stock market, trended downward for most of the week; however, on Friday it spiked 20.8% on the news that the Dubai government was not coming to the rescue of its flagship holding company, Dubai World. Dubai World delayed debt payments on $3.5 billion of Islamic bonds due for repayment in December. Despite the VIX's Friday spike, it ended the week up 11.5%.
CEF Weekly Fund Type Performance: There was a mixture of debt and equity oriented CEF fund types in the price performance rankings for the week. This typically signals investor confusion over markets' direction. The full impact of the Dubai debt debacle, coming late in the week, may not truly reflect investor sentiment regarding markets' direction.
More conservative and domestic debt-oriented fund types were the clear winners. USMrtgBndFnds, NatlMuniBndFnds and InvGrdBndFnds topped the list. All were up a percentage point or greater. While it wasn't surprising that WrldEqFnds brought up the rear, WrldIncFnds fared much better than one would have anticipated given the significant amount of sovereign debt in some of the weaker credits. I'd expect this fund type to underperform next week if the Dubai "hangover" extends into next week. (It would be interesting to see if going "long" a WrldEqFnds and "shorting" a WrldIncFnds would generate a positive return next week?)
CEF Spread Changes: Changes in PrcNAVSprds generally follow the trend of price movement. This is typically the case when markets generate meaningful price changes. One of the exceptions this week was WrldEqFnds. Held hostage to the Dubai debt crisis, the average share price dropped while related underlying NAVs advanced. Depending on investors' sentiment, this group may recover next week. Most pundits don't see the Dubai debt restructuring as a systemic problem of magnitude, but as a wake-up call regarding inherent risk still imbedded in emerging market economies.
SingleStMuniFnds price performance this week was below the CEF average. This is somewhat usually as investors typically gravitate towards this group in a financial crisis—particularly, as NatlMuniBndFnds had a strong advance. Possibly the still deteriorating California budget deficit has spooked investors for all single state muni funds. The Bond Buyer's Municipal Bond Index has fallen 5% since peaking in September as other assets classed have continued to advance.
CEF Winners and Losers: One of the greatest positive PrcNAVSprds for the week was Eaton Vance Tax-Advantaged Dividend Income Fund (NYSE:EVT). EVT recorded a positive PrcNAVSprd of 6.9% based on its stock appreciation of 7.5% versus an NAV advance of 0.6%. (A positive PrcNAVSprd can be viewed as a negative, subject to other metrics, as it would indicate that the stock price has increased greater than the NAV. In theory, CEF prices and NAVs should move in a more tandem fashion.) EVT's stock is trading at an 8.09% distribution yield and a 6.8% discount. The stock went ex-dividend on its monthly distribution last week (11/16/09). The stock steadily climbed throughout the week.
This week's CEF with the greatest negative PrcNAVSprd was ASA Limited (NYSE:ASA). ASA generated a negative spread of 5.2%. This was based on a 3.8% drop in the stock price and a 1.4% increase in its NAV. International concerns and a rush to the safety of the US dollar may have taken the bloom off the commodities sector. The stock "gapped down" on Friday with the rest of the market after sliding from a "gap-up" on Tuesday.
Market Perspective: Nuveen Investments launched a new CEF this week: Nuveen Mortgage Opportunity Term Fund (NYSE:JLS). The new CEF's investment objective is to generate attractive total returns through opportunistic investments in mortgage-backed securities (MBS). JLS will seek to achieve its investment objective by investing in mortgage-backed securities directly and indirectly through a separate investment in a public-private investment partnership formed pursuant to the Public-Private Investment Program (PPIP) established by the U.S. Department of the Treasury.

The fund raised $400 million in its common share offering—assuming full exercise of underwriters' option to purchase additional shares, which may not occur. The fund began trading on the New York Stock Exchange today (Friday, 27th), under the symbol JLS.
CEF Investors should be prepared for a deluge of similar "opportunity funds". CEF investors have sat through "this movie" with other "concept" funds. It typically turns out to be a horror flick with recurring nightmares.
The industry has seen a wave of high-yield (junk bond) funds when the concept was hot (late '80's and early '90's). This was also true for "buy/write" option funds (mid '00's). The biggest "concept fund" the $1.0 billion proposed Blackrock Legacy Securities Public-Private Trust, that will buy "legacy assets" from battered financial institutions, is waiting in the wings.
Historically, buying new CEF IPOs has not been a wise investment strategy. New CEFs typically trade to a discount once the syndicate buying evaporates. Retail investors should avoid IPO CEFs and buy them in the aftermarket 6-to-12 months post-IPO if it fills a niche in their portfolios. (See "Focus Stock" section below.)
(Click here for next week's economic calendar; click here for earnings announcements and estimates.)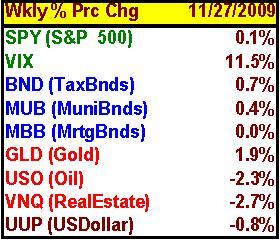 ETFs: (Click Here for ETF YTD sector performance.)
Insider Trading: The Horejsi Group ("Horejsi") continued its aggressive buying of Boulder Growth & Income Fund (NYSE:BIF). During this holiday shortened week, it acquired another $1,005,251 in market value at an average price of $5.60 per share.
This brought the total amount purchased month-to-date to approximately $3.0 million on the acquisition of 530,859 shares. Its cumulative holding of BIF is 5.7 million shares or 22.4% of all outstanding shares. Horejsi also continued to accumulate additional shares this week in Denali Fund (DNY).
As mentioned here last week, Horejsi owns substantial positions in two real estate CEFs to be liquidated: DWS RREEF Real Estate Fund (SRQ) and DWS RREEF Real Estate II (SRO). The aggressive buying of BIF could be a function of monies to be available on liquidation as well as a diversion of funds that had previously been allocated to the purchase of those liquidating funds.
Frank E. Obryan, a director of Ares Capital Corp (NASDAQ:ARCC), acquired a 10,000 shares at a per share price of $11.99 for an outlay of $119,900. It raised his share ownership to 12,000 shares. ARCC is a business development company ("BDC") that provides capital market solutions for middle-market companies.
Theodore R. Jaeckel, Jr., a portfolio manager at Blackrock, acquired 2,366 shares of Blackrock Munivest Fund II (NYSE:MVT) at an average cost of $13.29 per share boosting his ownership to 4,366 shares.
Merrill Lynch, in an effort to divest itself of its CEF holdings, purchased and sold a total of 7,400 shares in Nuveen Premium Income Municipal Fund (NPI). During the previous week it did the same for the following CEFs: NPP, MZF, NQJ and EAD. (Click here for a hyperlink to the Joe Eqcome CEF Weekly Insider Report.)
CEF Distribution Announcements This Week: The following is a link to a table of CEF distribution announcements this week as well as previous weeks' with yet expired ex-dividend dates. The list is not intended to be inclusive. (Click here for Weekly CEF Distribution Announcements.)
CEFs Focus for the Week: Nuveen Mortgage Opportunity Term Fund (JLS) is the focus stock this week. As noted above, JLS is an IPO CEF launched this week that invests in MBS and public-private investment partnership formed pursuant to the Public-Private Investment Program (PPIP) established by the U.S. Department of the Treasury.
The JLS syndicate is likely to support the offering price this week. However, once the syndicate dissolves it's likely that the share price will fade. While a sharp drop in the stock price is not likely to occur this week, it's worth putting it on the "watch list" for potential price erosion. Remember, CEF IPO's are "sold" and not "bought", therefore there is little in the way of organic demand for the shares after the offering.
Additionally, Boulder Growth & Income Fund (BIF) Boulder Growth & Income Fund (BIF) should remain on the "Watch List". Accelerated insider buying and year-end distribution consideration should warrant investors' attention.
Consider it food for discussion.
Disclosures: SPY & GLD and a diverse CEF portfolio including BIF.