As shoppers were emptying their purses on Black Friday bargains, Dubai's attempt to reschedule its debt roiled financial markets, plunging risky assets into the red. The government of Dubai requested a six-month payment freeze on the $59 billion debt issued by Dubai World - a state-owned conglomerate that has become known for its extravagant real estate projects.
Worries about Dubai's debt woes rattled investors' confidence, precipitating a sell-off in equities, high-yielding corporate bonds, commodities and the Baltic Dry Index, while mature-market government debt, the US dollar and the Japanese yen attracted safe-haven buyers. On Thursday and Friday, many emerging-market and high-yielding currencies declined sharply.
A fact not widely known is that Dubai has the worst debt per capita in the world. Ah well …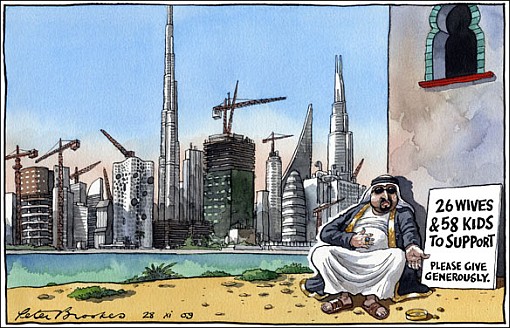 Source: Peter Brookes, Times Online
The credit-rating agencies promptly downgraded Dubai's government-related debt and the cost of insuring against default jumped across the United Arab Emirates (UAE) region. As shown in the Bloomberg screenshot below, courtesy of Bespoke, the price of Dubai's sovereign debt credit default swap (CDS) last week spiked up to 541 basis points. "Now that global markets have stabilized and exited crisis mode, an isolated event in Dubai where default risk doesn't even spike to its 2009 highs [of almost 1,000 basis points] has caused a global market selloff," remarked Bespoke.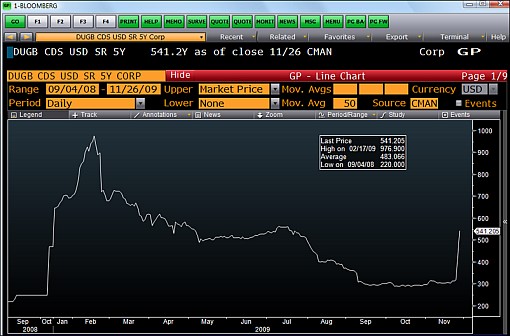 Source: Bespoke, November 27, 2009.
Geoffrey Yu, strategist at UBS, said (via the Financial Times):
Although the majority of market observers believe the problems in Dubai are not insurmountable, the wider fallout has simply revealed how fragile markets are - and risk appetite may not be as strong as previously assumed, regardless of how profligate central banks globally have been in providing liquidity.
Also as reported by the Financial Times, Julian Jessop of Capital Economics argued that Dubai's move was unlikely to affect the positive outlook for emerging markets in the longer term:
We do not believe the events in Dubai mark a new phase in the global crisis. But if they are the catalyst for a more selective approach to investment, that might be no bad thing.
In terms of banks' exposure to Dubai, JPMorgan Chase comments (via The Big Picture) that the Royal Bank of Scotland (NYSE:RBS) underwrote more Dubai World loans than any other institution. In terms of capital at risk, HSBC (HBC) has the largest exposure to the UAE.
The past week's performance of the major asset classes is summarized by the chart below (). Gold bullion (not shown on the graph) touched a record high of $1,194.90 on Thursday before tumbling to $1,136.80, but subsequently recovered to close 2.4% up for the week at $1,177.63. Similar volatility was seen in the oil price, with West Texas Intermediate Crude declining by more than $5 at one point on Friday, but later regaining some ground to end the week 1.8% down at $76.05.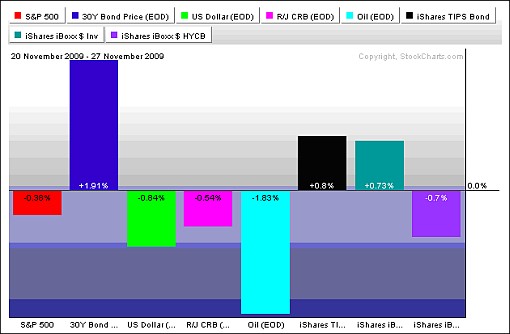 Source: StockCharts.com
A summary of the movements of major global stock markets for the past week and various other measurement periods is given in the table below.
The MSCI World Index (NASDAQ:ACWI) (-0.1%) last week marked time, whereas the MSCI Emerging Markets Index (NYSEARCA:EEM) (-2.5%) experienced more selling from risk-averse investors. However, the aggregate indices mask greatly varying performances. For example, among mature markets the Japanese Nikkei 225 Index (-4.4%) recorded a fifth consecutive down-week, suffering from the strong Japanese yen that recorded a 14-year low versus the US greenback. On the other hand, the Brazillian Bovespa Index (+1.1%) and the Russian Trading System Index (+1.8%) bucked the broader downtrend among emerging markets.
As far as the US indices are concerned, Friday's losses wiped out the gains from earlier in the week, reversing a new recovery high of 10,464 made by the Dow Jones Industrial Index on Wednesday. By the close of the Thanksgiving-shortened week on Friday, the S&P 500 Index remained unchanged on the week, whereas the other major indices experienced a second down-week. Five of the ten economic sectors (as measured by the SPDR exchange-traded funds) closed higher for the week, with Telecoms (+1.8%), Health Care (+1.3%) and Utilities (+0.9%) outperforming, and Financials (-2.2%) in the red.
The year-to-date gains in the US remain firmly in positive territory and are as follows: Dow Jones Industrial Index 17.5%, S&P 500 Index 20.8%, Nasdaq Composite Index 35.6% and Russell 2000 Index 15.6%.
Click here or on the table below for a larger image.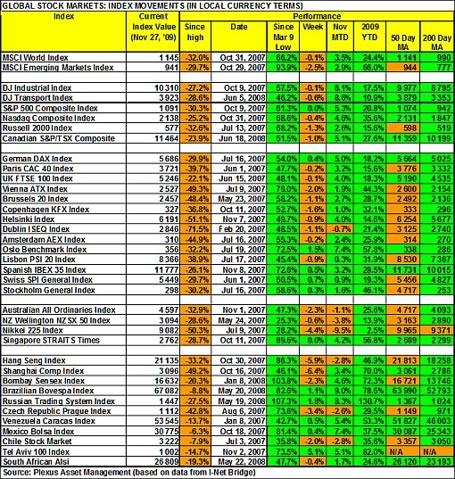 Top performers among stock markets this week were Bangladesh (+5.7%), Ecuador (+4.3%), Kuwait (+3.4%), Kenya (+2.1%) and Estonia (+1.9%). At the bottom end of the performance rankings, countries included Cyprus (‑15.6%), Vietnam (-11.7%), Serbia (-8.8%), China (-6.4%) and Greece (‑6.2%). The declines in the Shanghai Composite Index came in the wake of a warning by China's banking regulator that it would refuse approvals for expansion and limit banking operations if lenders did not meet new capital adequacy requirements.
Of the 98 stock markets I keep on my radar screen, 30% recorded gains (last week 39%), 65% (58%) showed losses and 5% (3%) remained unchanged. (Click here to access a complete list of global stock market movements, as supplied by Emerginvest.)
John Nyaradi (Wall Street Sector Selector) reports that, as far as exchange-traded funds (ETFs) are concerned, the winners for the week included United States Natural Gas Fund (NYSEARCA:UNG) (+10.0%), Rydex S&P Equal Weight Utilities (NYSEARCA:RYU) (+3.0%), Currency Shares Japanese Yen (NYSEARCA:FXY) (+2.6%), PowerShares DB Gold (NYSEARCA:DGL) (+2.5%) and Vanguard Extended Duration Treasury (NYSEARCA:EDV) (+2.5%).
At the bottom end of the performance rankings, ETFs included iShares MSCI Turkey Investible Market (NYSEARCA:TUR) (-5.6%), SPDR S&P Emerging Europe (NYSEARCA:GUR) (-5.4%) and Market Vectors Russia (NYSEARCA:RSX) (-4.9%).
Referring to the bull market in gold, the quote du jour this week comes from Richard Russell, 85-year-old author of the Dow Theory Letters. He said:
There's still loads of scepticism about the rising price of gold and the bull market in gold. It's been so long since the US public (since 1971) realized gold was real Constitutional money that they don't know what to make of the gold action. They think gold near $1,200 an ounce is expensive and they'd rather have dollar bills.

"I've coined the phrase, 'dollar-bugs' for these ignorant Americans. I guess they'll have to get educated the hard way, which means holding on to their fading Federal Reserve Notes, no matter what. As far as I'm concerned, it's an amazing example of mass brainwashing. 'Hey, I'd rather have junk paper turned out by the Fed than the real thing - gold.' Pathetic. And the happy thought is that you can (legally) still swap your junk fiat paper for gold.
Still on the topic of gold, Ian McAvity (Ian McAvity's Deliberations) said:
Gold bubble? I regard such talk as nonsense … Gold is about 52% higher than the peak weekly average price of January 1980. The US CPI is 177% higher, US M-2 Money Supply is 464% higher, and the S&P is 892% higher. I don't think it untoward to suggest gold is badly lagging a number of important yardsticks and at these levels has some catching up to do.
In other news, MarketWatch reported that the number of distressed banks in the US rose to the highest level in 16 years in the third quarter. The Federal Deposit Insurance Corporation's (FDIC) Deposit Insurance Fund, which is used to protect depositors, swung to an $8.2 billion loss in the third quarter, the largest drop since the savings-and-loan crisis of the 1990s.
Separately, according to MarketWatch, rates on 30-year fixed-rate mortgages averaged 4.78% last week, matching April's all-time low of in Freddie Mac's (FRE) weekly survey of conforming mortgage rates. The mortgage rate averaged 5.97% a year ago.
Next, a quick textual analysis of my week's reading. This is a way of visualizing word frequencies at a glance. There is nothing specific to report here, other than that "gold" and "banks" are still prominent and "Dubai" is making an appearance.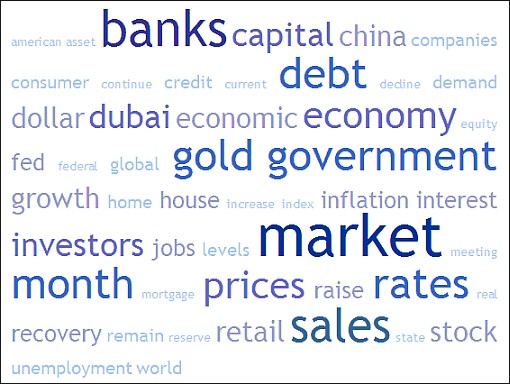 Back to the stock markets: The major moving-average levels for the benchmark US indices, the BRIC countries and South Africa (where I am based in Cape Town) are given in the table below. With the exception of the Russell 2000 Index and the Bombay Sensex Index, the indices in the table are all trading above their 50-day moving averages, with all the indices also above their respective 200-day moving averages.
However, many stock markets have already fallen to below their 50-day lines (not shown on this table, but indicated on the performance table higher up), pointing to possible further weakness. Also, the Japanese Nikkei 225 Index last week became the first major market to breach its key 200-day moving average, pointing to a very weak technical picture.
The October lows are also given in the table. A break below these levels would indicate a reversal of the uptrend since March, i.e. reversing the progression of higher-reaction lows.
Click here or on the table below for a larger image.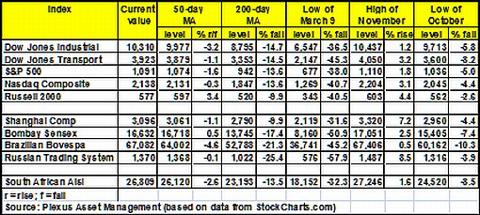 In addition to having retraced 50% of their bear market declines, the Dow Industrial and S&P 500 are up against significant medium-term downward trend lines. Also, negative divergences have been showing up in a number of breadth indicators, financial stocks and small caps, suggesting a more cautious tone.
According to Bespoke, last week's sentiment survey from Investors Intelligence showed bullish sentiment among newsletter writers was near its highest levels since the March lows (50.6%), while bearish sentiment is at a five-year low (17.6%). This puts the spread between bulls and bears at 33, which is the highest level since December 2007.
"High levels of bullish sentiment are typically considered contrarian, but we would note that sentiment can remain bullish for extended periods of time with little impact on the market. While it is true that markets typically peak when bullish sentiment is high, however, high levels of bullish sentiment don't necessarily mean an imminent decline," said Bespoke.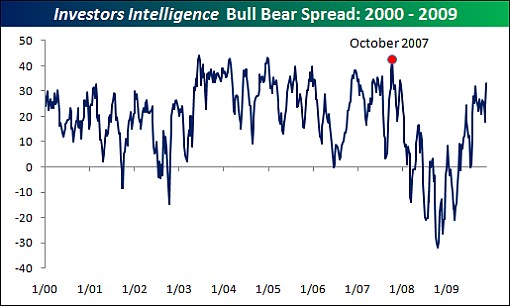 Source: Bespoke, November 25, 2009.
Casting his eye on 2010, Eoin Treacy (Fullermoney) said:
Most markets rallied from deeply oversold levels this year and have posted impressive advances since March. It is unreasonable to expect the same type of performance to be repeated next year. Nevertheless, monetary conditions are unlikely to pose a headwind and the environment is likely to remain largely bullish despite the potential for swift mean reversion in markets somewhat overextended relative to their 200-day moving averages.
In my opinion, stock markets have run too far too fast - driven by an avalanche of liquidity - and they have moved out of alignment with economic and earnings growth that may not live up to the expectations being priced into equity valuations. I will bide my time while the fundamentals play catch-up.
Economy
There has been no meaningful change in global business sentiment during the past three months. Since mid-August, business confidence has been consistent with a tentative global economic recovery," according to the results of the latest Survey of Business Confidence of the World by Moody's Economy.com. "Businesses have remained consistently more upbeat about the outlook than their assessment of current conditions. Sales and hiring are soft, as are pricing and inventories. South American businesses and professional service firms are the most positive and North Americans and those working in government generally the most negative.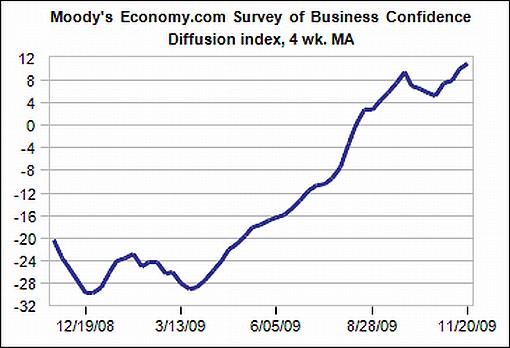 Source: Moody's Economy.com
Purchasing managers indices for the 16-country Eurozone region showed private sector activity expanding this month at the fastest pace in two years, led by France and Germany, reported the Financial Times. The composite index, covering Eurozone services and manufacturing, reached 53.7 in November, up from 53.0 in October, making it the fourth consecutive month of expansion.
As far as hard data are concerned, Germany's economy expanded again in the third quarter of 2009. GDP rose by 0.7% on a seasonally adjusted basis from the previous quarter, when it expanded by a revised 0.4%. Economic activity was boosted by inventory restocking and spending on machinery and equipment.
Concerns remain about the pace of the global economic recovery, and therefore how quickly governments and central banks should withdraw emergency support measures. According to the Financial Times, Mr Strauss-Kahn, managing director of the International Monetary Fund, said the global economy stood at the cusp of recovery but remained vulnerable to shocks and policy missteps. Fiscal and monetary stimulus programs should not be stopped too soon, he said.
A snapshot of the week's US economic reports is provided below. (Click on the dates to see Northern Trust's assessment of the various data releases.)
Tuesday, November 24
• Minutes of November 3-4 FOMC Meeting - spots of optimism are visible, concerns about dollar, commercial real estate loans, and low interest rates are noticeable
•Widespread revisions of Q3 GDP
•Home prices - signs of stability remain in place
•Consumer Confidence Index moves up slightly
Monday, November 23
•Low mortgage rates and tax credit lift sales of existing homes
A very handy graph to assess the current state of the US economy comes courtesy of Russell Investments. Click here to link to the interactive version.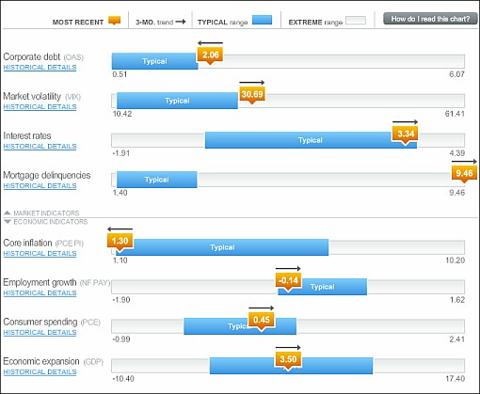 Source: Russell Investments, November 22, 2009.
The minutes of the Federal Open Market Committee's (FOMC) November 3-4 meeting point to continued aggressive monetary policy in the near term. Although participants agreed that the recession was over, they expected the unemployment rate to remain elevated and the inflation rate to remain below the central bank's optimal level. Participants expected economic growth to slow a bit in 2010 and then pick up again after that.
On the topic of the magnitude of the US economic recovery, David Rosenberg, chief economist and strategist of Gluskin Sheff & Associates, provided the following interesting snippet:
The recession in the US may be over, but what sort of recovery lies ahead remains in question. All we can say is that when looking at what is normal in the context of a post-recession rebound during the post-WWII era, the first quarter of growth is closer to 7.3% at an annual rate, not 2.8% as we just saw in the latest real GDP estimate - the median was 6.3%. The fact that with the massive amount of stimulus - without it, growth would have flirted with 0% - this first quarter of positive growth was basically one-third of what is typical, really says something.
Food for thought indeed.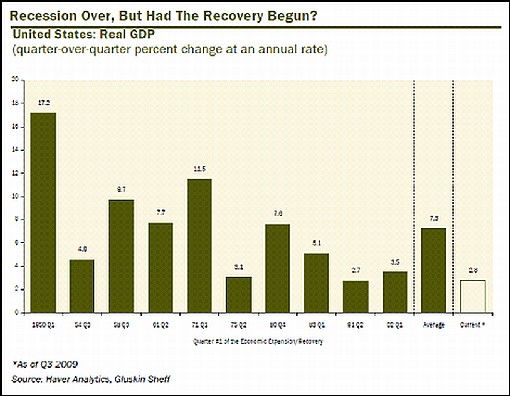 Source: Gluskin, Sheff & Associates - Breakfast with Dave, November 26, 2009.
Week's economic reports
Click here for the week's economy in pictures, courtesy of Jake of EconomPic Data.
| | | | | | | | |
| --- | --- | --- | --- | --- | --- | --- | --- |
| Date | Time (NYSE:ET) | Statistic | For | Actual | Briefing Forecast | Market Expects | Prior |
| Nov 23 | 10:00 AM | Existing Home Sales | Oct | 6.10M | 5.85M | 5.70M | 5.54M |
| Nov 24 | 08:30 AM | GDP - Second Estimate | Q3 | 2.8% | 2.8% | 2.8% | 3.5% |
| Nov 24 | 08:30 AM | GDP Deflator - Second Estimate | Q3 | 0.5% | 0.8% | 0.8% | 0.8% |
| Nov 24 | 09:00 AM | Case Shiller 20 City Index | Sep | -9.36% | -9.25% | -9.10% | -11.30% |
| Nov 24 | 10:00 AM | Consumer Confidence | Nov | 49.5 | 46.3 | 47.5 | 48.7 |
| Nov 24 | 10:00 AM | FHFA Home Price Index | Sep | 0.0% | -0.2% | 0.1% | -0.3% |
| Nov 24 | 02:00 PM | FOMC Minutes | 11/04 | - | - | - | - |
| Nov 25 | 08:30 AM | Personal Income | Oct | 0.2% | 0.1% | 0.1% | 0.2% |
| Nov 25 | 08:30 AM | Personal Spending | Oct | 0.7% | 0.3% | 0.5% | -0.6% |
| Nov 25 | 08:30 AM | PCE Prices | Oct | 0.2% | 0.2% | 0.1% | -0.6% |
| Nov 25 | 08:30 AM | PCE Prices - Core | Oct | 0.2% | 0.1% | 0.1% | 0.1% |
| Nov 25 | 08:30 AM | Initial Claims | 11/21 | 466K | 510K | 500K | 501K |
| Nov 25 | 08:30 AM | Continuing Claims | 11/14 | 5423K | 5630K | 5565K | 5613K |
| Nov 25 | 08:30 AM | Durable Orders | Oct | -0.6% | 0.3% | 0.5% | 2.0% |
| Nov 25 | 08:30 AM | Durable Orders ex Transportation | Oct | -1.3% | 0.5% | 0.6% | 1.8% |
| Nov 25 | 09:55 AM | Michigan Sentiment | Nov | 67.4 | 65.0 | 67.0 | 66.0 |
| Nov 25 | 10:00 AM | New Home Sales | Oct | 430K | 420K | 404K | 405K |
| Nov 25 | 10:30 AM | Crude Inventories | 11/20 | 1.02M | NA | NA | -0.887K |
Source: Yahoo Finance, November 27, 2009.
The European Central Bank (ECB) will make an interest rate announcement on Thursday (December 3). US economic data reports for the week include the following:
Monday, November 30
•Chicago PMI
Tuesday, December 1
•Construction spending
•ISM Index
•Pending home sales
•Auto and truck sales
Wednesday, December 2
•ADP employment report
•Fed Beige Book
Thursday, December 3
•Jobless claims
•Productivity
•ISM Services
Friday, December 4
•Nonfarm payrolls
•Factory orders
Markets
The performance chart from the Wall Street Journal Online shows how different global financial markets performed during the past week.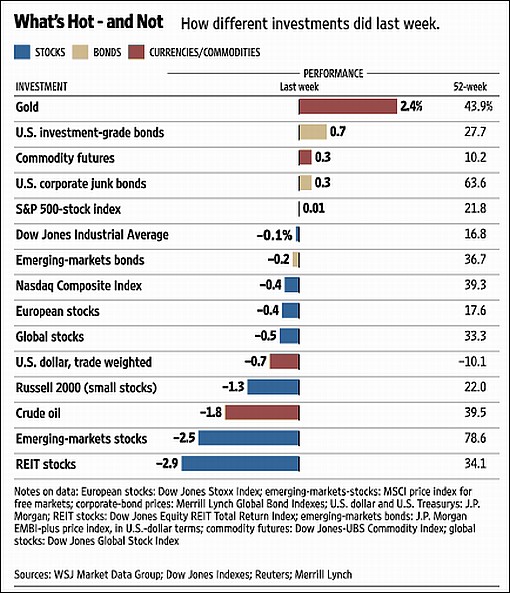 Source: Wall Street Journal Online, November 27, 2009.
"Regardless of the dollar price involved, one ounce of gold would purchase a good-quality men's suit at the conclusion of the Revolutionary War, the Civil War, the presidency of Franklin Roosevelt, and today," said Peter Burshre (hat tip: Chart of the Day). Let's hope the news items and quotes from market commentators included in the "Words from the Wise" review will assist the readers of Investment Postcards to not only don decent suits, but also build considerable wealth with their investment portfolios.
That's the way it looks from Cape Town (where I will be spending my time over the next few weeks, because my visit to New York had to be cancelled to attend to local business responsibilities).