There is a real threat of dollar weakness due to an unprecedented increase in money supply and a strengthening global intent to unseat the dollar as the world's reserve currency. In this regard, U.S. investors may opt to look at ex-U.S. companies with earnings in alternate currencies as a hedge against dollar weakness. When the dollar falls, earnings in relatively stronger currencies translate into higher profits, share prices and dividends in dollar terms.
Evaluating European Currency
Many U.S. global income investors invest in Europe for yield. Currently, the Euro is the second largest global reserve currency, followed by the pound sterling. On the year, the Euro is up against the dollar while the pound is basically flat.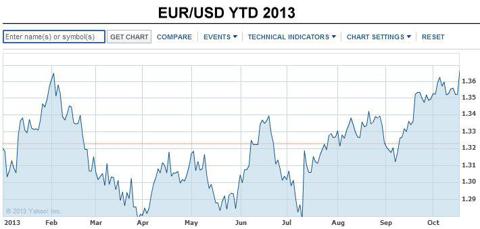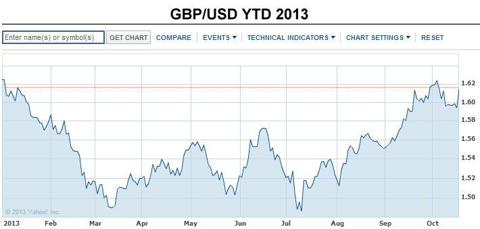 On Thursday October 17, 2013, gold spiked nearly $40 per ounce on the announcement that the U.S. federal government made a deal to raise the debt limit and reopen the government. With renewed interest in gold strength and dollar weakness, CNBC hosted Peter Schiff, a financial commentator and money manager who is well-known for his long-term bullishness on gold.
While Schiff is a gold-bug, many credit him for being one of the few who called the housing bubble in the U.S. and predicted it would lead into an unprecedented global financial crisis. In his commentary, which I highlighted in "Peter Schiff's Anti-U.S. Dollar Stock Picks," Schiff noted his belief that the Euro/dollar (EUR/USD) was headed to $1.50. Those levels have not been seen since 2008, as noted in the chart below.
The pound has also followed suit, weakening against the dollar since the global financial crisis. The pound/dollar (GBP/USD) is down about 20% since pre-crisis levels.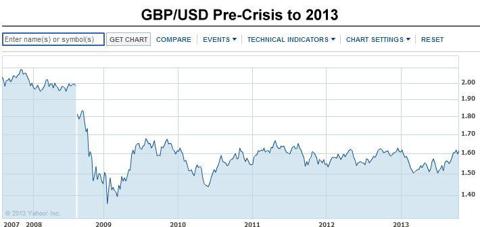 If both currencies move to par with pre-crisis levels against the dollar, earnings in Euro-based markets would translate 10% higher in dollar terms, while U.K.-based earnings would translate 20% higher.
Also to note, the Swiss Franc (CHF) has quietly advanced past pre-crisis levels.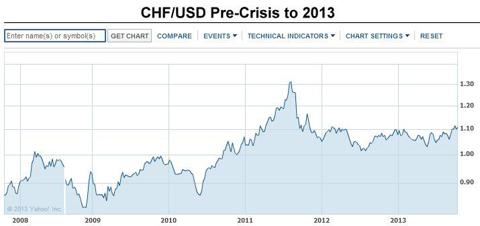 Two Euro Companies Screened For Safety And Dividend Growth
These two dividend picks are based in Europe, have experienced a 5-year dividend growth rate in their local currency of over 6%, yield over 3% and have a market capitalization of over $150 billion. They are both non-financial, non-energy and non-utility stocks. Also, both companies are in the S&P Global 100 Index, which is designed to track "multi-national blue chip companies of major importance in the global equity markets."
1. Vodafone Group PLC (NASDAQ:VOD)
Vodafone Group PLC is a $180 billion mobile telecommunications company based in the United Kingdom. Most recently, the company sold its 45% stake in Verizon Wireless to Verizon Communications (NYSE:VZ) for a deal worth $130 billion. The deal is expected to close in early 2014 and as part of the deal structure, Verizon will pay Vodafone $58.9 billion in cash as well as assume $2.5 billion in debt. This will give VOD increased financial strength through reduced debt and the ability to grow through acquisitions. Also, the company will hold $60.2 billion worth of VZ shares, which will maintain a level of exposure to the U.S. market.
Since 2000, the dividend (in pounds) has grown at least 3.5% per year, with dividend growth of over 7% over the last four years. In dollars, this has equated to compounded U.S. dividend growth of 6% per year over the last five years. At current pricing, VOD distributes 4.26% on their ADRs (American Depository Receipts). Below is a chart of the Vodafone Group PLC dividend history, which are paid bi-annually. The U.S. dollar conversions and entire 24-year U.S. ADR dividend history is available on YAHOO! Finance here.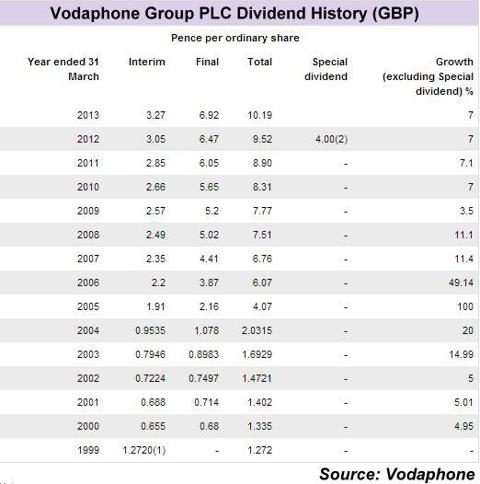 2. Novartis AG (NYSE:NVS)
Novartis is a Switzerland-based healthcare and pharmaceutical giant valued at $183.6 billion. The company has a dividend of 3.37% with 5-year compound annual growth rate (CAGR) of 7.53%. Below is a chart of the Novartis's 15-year dividend history in Swiss Francs.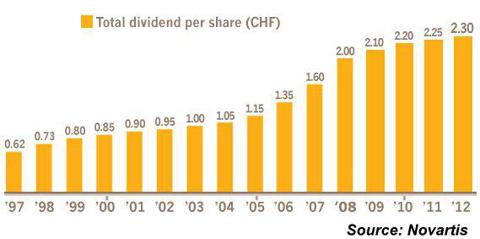 When translated into dollars, the strong 5-year performance of the Swiss Franc translates into a 5-year CAGR of 11.44%. By this example, it can be seen that a stronger currency over a multi-year period can increase investor income through dividends at a much faster rate.
Conclusion
For income investors who seek global exposure and shelter from the U.S. dollar, it is possible to hedge dollar risk by purchasing European-based companies that offer growing dividends.
In these two examples, both Vodafone Group PLC and Novartis AG have proven strong historical dividend growth. While the weak GBP/USD has crimped Vodafone's 5-year CAGR in dollar terms, the strengthening CHF/USD showcases how dollar weakness can increase the annual growth rate of a company very quickly, as seen below with Novartis AG.

When earnings are translated into dollars from a strengthening currency, such as those in Europe, the compound annual growth rate of the yield will improve along with the underlying asset. This will reward income investors based in the U.S. with a higher return on investment, an increase in dividends and a hedge against a portfolio of U.S. assets.
Disclosure: I have no positions in any stocks mentioned, and no plans to initiate any positions within the next 72 hours. I wrote this article myself, and it expresses my own opinions. I am not receiving compensation for it (other than from Seeking Alpha). I have no business relationship with any company whose stock is mentioned in this article.