Some history on the company
WiLAN Inc. (WILN) is a leading technology innovation and licensing company based in Ottawa, Ontario, Canada. It was established in 1992 to develop and commercialize technology that enabled low-cost, high-speed wireless networking. In its early years, WiLAN manufactured several generations of proprietary products and its inventions were also used in other products offered by the industry. By 2005, WiLAN's inventions were commercialized in millions of wireless networking devices. In 2006, WiLAN began focusing its business on protecting and monetizing its patented inventions. Today, some of the world's largest technology companies license patents in WiLAN's portfolio. The company has licensed its intellectual property to over 270 companies worldwide. WiLAN's portfolio of patents (more than 3,100 issued or pending with 250 being essential) have been licensed by companies that manufacture or sell a wide range of communication and consumer electronics products including 3G and 4G handsets, Wi-Fi-enabled laptops, Wi-Fi and broadband routers, xDSL infrastructure equipment and digital TV receivers. WiLAN's patent portfolio has grown from a combination of internal development and acquisition of existing patent portfolios from other IP development companies.
In addition to monetizing its own stable of technology patents and acquiring and developing new patents, WiLAN formed a partnering division several years ago called Gladios. This division of the company seeks out technology companies that own patent portfolios and partners with them for the purpose of managing the monetization process for a portion of the revenues Gladios generates through the monetization of these patents (so the partner company can focus on its core business).
(Note: figures in $CAD unless otherwise specified)
Detailed summary of the company's patent categories:
1) Wireless Access
WiLAN's wireless access portfolio consists of patents with broad global coverage. The portfolio covers:
3G Cellular patents covering 3rd-Generation mobile telecommunication technologies that are relevant to industry standards for high speed wireless access, including HSPA (High Speed Packet Access) and EVDO (Evolution Data Only).
4G Cellular patents covering 4th-Generation mobile telecommunication technologies that are relevant to industry standards for next generation high-speed wireless access, including LTE (Long-Term Evolution) and WiMAX (Worldwide Interoperability for Microwave Access).
Wireless LAN (Local Area Network) and PAN (Personal Area Network) that are relevant to industry standards, including Wi-Fi and Bluetooth.
Technologies relating to mobile operating systems.
2) Wireline Access
WiLAN's wireline access portfolio consists of patents with broad global coverage. The portfolio covers:
Cable modem technology that is primarily used to deliver broadband Internet access. The patents are relevant to industry standards, including DOCSIS (Data Over Cable Service Interface Specification) for providing high-speed Internet and other data over coaxial cable networks.
DSL (Digital Subscriber Line), a family of technologies that provide Internet access by transmitting digital data over the wires of a local telephone network. The patents are relevant to industry standards, including: ADSL, ADSL 2 and ADSL 2+.
3) Digital Television
WiLAN's digital television portfolio consists of patents with broad global coverage. The portfolio covers:
V-Chip, a technology that allows users of multimedia devices to block programming they consider inappropriate. Programming can be from a television broadcast, DVD/VCR/DVDR or computers capable of receiving and processing broadcast signals.
Video Processing, technologies that enable frame rate conversion, picture-in-picture, motion estimation and video compression and decompression for digital video. The patents are relevant to industry standards, including video codec H.264/MPEG-4, one of the most commonly used formats for the recording, compression and distribution of high-definition video.
Display Technologies, encompassing a range of applications including LCD and Plasma.
IPTV (Internet Protocol Television) technologies through which television services are delivered using Internet protocol instead of via traditional satellite signal and cable television formats.
4) Miscellaneous
Semiconductor
Digital storage
Antennae technologies
Other
Strong corporate leadership
Creating, acquiring and managing the monetization process of IP is a complicated inexact business that requires a very significant degree of corporate brain trust. WiLAN is headed by James Skippen. A corporate lawyer by trade, he has taken the company from a market cap of just $25 million in 2006 when he joined the company to its current market cap of over $500 million. The market cap reached over $700 million in mid 2011. The rest of the management team are also industry leaders in their respective fields. Incidentally, Mr. Skippen was also voted Canadian CEO of the year in 2012.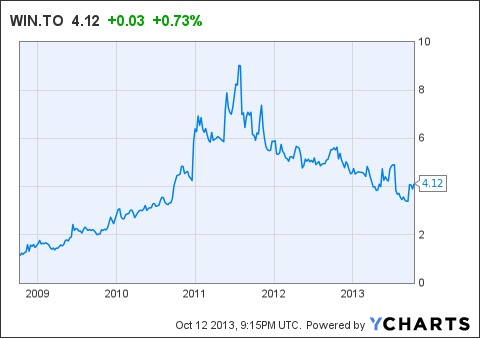 As indicated in the above chart, the share price peaked in mid 2011 and has been struggling to resume an upward trajectory after the exponential growth from 2006 through to 2011. As a result of the reduction in share price the company has become significantly undervalued relative to its industry peers who are mostly domiciled in the US.
Strong insider holding of the company's equity
The insiders (officers and directors) collectively own 3.125 million shares or ~2.6% of the shares. Not super high but strong enough insider ownership to say that the key members such as the CEO (Skippen) and the co-founder and director (Fattouche) have real skin in the game.
| Insider | Holding |
| --- | --- |
| Bramson, Robert | 9,800 |
| Fattouche, Michel | 2,232,264 |
| Gillberry, John | 75,000 |
| Jenkins, William | 48,000 |
| McCarten, Paul | 30,000 |
| McEwan, Michael Shaun | 57,500 |
| Roche, Jim | 10,000 |
| Shorkey, Richard | 15,000 |
| Skippen, James | 540,200 |
| Vladescu, Michael | 61,400 |
| Watchmaker, Prashant | 45,800 |
Strong balance sheet
The company has a very strong balance sheet with ~$170 million in cash and zero debt. The cash equates to over $1.40 per share and the stock is currently trading at $4.12 CAD and $3.96 US so the cash on hand makes up ~33% of the current share price.
The following graph highlights the substantial cash position of the company at year end over the last five years. The spike in cash in 2011 was as a result of a $200 million bond the company issued to help fund a takeover bid for a competitor and peer Mosaid Technologies, another Canadian IP stalwart. The takeover failed after Mosaid attracted a white knight US based private equity firm that entered into a bidding war for Mosaid and the private equity firm eventually won the battle by offering a price that WiLAN would not match. After the failed takeover the bond was paid off and hence the reversion of their cash balance. Notwithstanding, the cash balance is nearly double what it was just two years ago.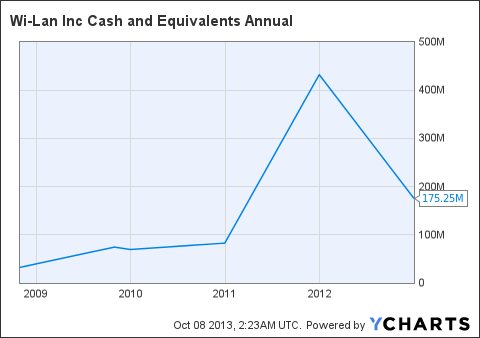 Some reasons for the share price weakness
This failed takeover attempt (which if successful would have created a global patent powerhouse) was the main driver in the share price experiencing downward pressure in 2011. The market was anticipating the takeover would be successful and once the announcement was made in late 2011 that the company was acquired by a US private equity firm, the share price began to falter. Also, the company did miss some of their revenue and profit guidance in 2012. Since that time, the market has been focusing on the litigation efforts of the company as it has launched litigation against a significant number of patent infringers. A surprise jury verdict in Plaintiff friendly Texas back in July caused a steep fall in the share price and the market was expecting a victory. This is the risk of using a jury in a complex industry such as IP. However, the share price has bounced back quite well of late due to a string of settlements and license agreement signings.
Now the threefold investment thesis for WiLAN
The three main aspects of this thesis are:
1) Company is currently paying a ~4% dividend (and has been actively buying back its shares). Also the company has been consistently increasing this quarterly dividend since its inception back in August 2009 as evidenced by the following chart:
| Issued | Paid | Amount |
| --- | --- | --- |
| June 14, 2013 | July 5, 2013 | $0.04 |
| March 22, 2013 | April 5, 2013 | $0.04 |
| December 14, 2012 | January 7, 2013 | $0.035 |
| September 14, 2012 | October 5, 2012 | $0.035 |
| June 15, 2012 | July 6, 2012 | $0.030 |
| March 23, 2012 | April 5, 2012 | $0.030 |
| December 15, 2011 | January 6, 2012 | $0.025 |
| September 15, 2011 | October 6, 2011 | $0.025 |
| June 15, 2011 | July 6, 2011 | $0.025 |
| March 15, 2011 | April 6, 2011 | $0.025 |
| December 15, 2010 | January 6, 2011 | $0.0125 |
| September 15, 2010 | October 6, 2010 | $0.0125 |
| June 15, 2010 | July 6, 2010 | $0.0125 |
| March 15, 2010 | April 6, 2010 | $0.0225 |
| October 14, 2009 | November 4, 2009 | $0.0125 |
| June 29, 2009 | August 5, 2009 | $0.0125 |
It is obvious from the chart that each year since its inception the company has increased the quarterly dividend significantly to where the current yield is quite high particularly relative to its peers and unlike commodity based companies is not dependent on the underlying commodity for its sustenance as the license agreements WiLAN has in place are long-term agreements that generate very predictable cash flow. Also with ~$170 million of cash on the balance sheet and zero debt the company is also in a great financial position to continue to pay the dividend and even continue to increase it as it has since its inception.
2) The second aspect to the thesis is that the company's stock is significantly undervalued relative to its industry peers on a forward year estimate basis. The easiest way to articulate this is by utilizing a comparison chart where the company can be compared to its peers. But first, the following chart is a forecast of the company financials and metrics out to the end of next year:
| | | | | |
| --- | --- | --- | --- | --- |
| Forecasts ($CAD) | 2011a | 2012a | 2013e | 2014e |
| Revenue | $ 105.81 | $ 87.96 | $ 82.39 | $ 115.00 |
| EBITDA | $ 68.47 | $ 49.91 | $ 8.10 | $ 72.30 |
| EPS | $ 0.27 | $ 0.01 | $ (0.17) | $ 0.48 |
| CFPS | $ 0.33 | $ 0.37 | $ 0.09 | $ 0.61 |
| P/E | 12.6 | 25.8 | --- | 8.64 |
| EV/SALES | 2.4 | 2.9 | 3.1 | 2.5 |
| EV/EBITDA | 3.7 | 5.0 | 33.0 | 4.3 |
The following chart is a list of WiLAN's notable peers in the IP licensing industry and includes the average of a number of analyst estimates for WiLAN and its peers for next year. It is important to note that WiLAN's current dividend yield is about twice as high as the next highest yielding peer.
| | | | | | | |
| --- | --- | --- | --- | --- | --- | --- |
| IP Company Peer Comparisons | Dividend Yield | Market Cap (millions $CAD) | Revenue 2014 Est (millions $CAD) | P/E 2014 Est | EV/SALES 2014 Est | EV/EBITDA 2014 Est |
| Qualcomm | 2.0 | $118,000 | $ 28,300 | 13.7 | 3.8 | 9.8 |
| Dolby Labs | --- | $ 3,400 | $ 930 | 17.7 | 3.1 | 8.6 |
| Rovi | --- | $ 1,800 | $ 660 | 8.2 | 3.7 | 7.9 |
| RealD | --- | $ 331 | $ 220 | NM | 1.7 | 6.7 |
| DTS | --- | $ 375 | $ 145 | 17 | 2.3 | 8.6 |
| Acacia | 2.2 | $ 115 | $ 300 | 9.1 | 2.9 | 5.1 |
| InterDigital | 1.1 | $ 1,545 | $ 225 | NM | 4.4 | 7.7 |
| VirnetX | --- | $ 1,050 | $ 198 | 20 | 5.2 | 15.8 |
| Tessera | 2.0 | $ 1,065 | $ 322 | 12.5 | 2.2 | 6.2 |
| Vringo | --- | $ 255 | $ 257 | 16.5 | 2.6 | 3.6 |
| WiLAN | 3.9 | $ 520 | $ 115 | 8.6 | 2.7 | 4.5 |
| | | | Average | 14.3 | 3.2 | 8.0 |
Note: the above estimates are an average of a number of analysts' reports. Average calculations do not include WiLAN.
If one looks forward to the 2014 estimates of the EV/EBITDA, and P/E particularly, WiLAN appears to be very cheap relative to its peers even after the recent run up in its share price due to the announcement of a number of pre-trial settlements with some high quality device manufacturers. I will review these settlements a little further in the article.
So the time to invest is now when the share price has been under pressure. Also, as one can see from the "comparables," WiLAN pays the highest dividend at nearly 4%, twice as high as the next highest peer.
3) The third component of the thesis is the current settlements that have taken place over the last several months. It is difficult to estimate the amount of the settlement and the patent license agreement revenue amounts achieved as a result of the dismissal of litigation as obviously it is important for both parties that the settlement and or license amounts remain confidential. However, analysts estimate that a number of these recent licenses could fetch $5 to $6 million per year in incremental license revenue. Also, these new license agreements have occurred too recently to be reflected in the company's 2014 revenue estimates. One has to also remember that incremental license revenue goes directly to the bottom line as, in effect, there is no additional opex, capex or cost of goods associated with achieving these incremental revenues other than any court costs if required as a means of getting the infringer(s) to the table to settle and enter into a license agreement. In just the last month alone, WiLAN has settled litigation and achieved settlements (and license agreements with at the majority) with seven companies that were in some stage of the litigation process. The following are a summary of the news releases:
October 15 - WiLAN enters into license agreement and settlement with Novatel Wireless
October 15 - WiLAN enters into license agreement and settlement with HP
October 10 - WiLAN and Sierra Wireless reach agreement to settle all litigations
October 9 - WiLAN and BlackBerry settle all litigations
September 18 - WiLAN and HTC reach agreement to settle all litigations
September 16 - WiLAN and Alcatel Lucent enter into license agreement and end all litigations
May 27 - WiLAN and Dell sign licensing agreement and settle litigations
Though difficult to determine before the fact, I believe that if the company on average received ~$2.5 million in annual licensing revenue from each of the above settlements it would add approximately $17.5 million per year in incremental revenue which would flow directly down to the NOPBT level so the NOPAT would be in the range of $10-$12 million or $0.08 to $0.10 per share. This would translate into an incremental share price appreciation (above the current analyst estimate or current view of undervaluation versus peers) of between $1.15 - $1.40 using the peer average P/E multiple of 14.
The majority of these settlements spring from a patent infringement litigation that is currently underway in Texas with Apple (NASDAQ:AAPL) the only one of the multiple defendants that did not settle pre trail. It is entirely possible that we may hear of a settlement with Apple at any moment which would likely result in another leg up for WiLAN's share price. Now if they insist on finishing out the litigation process, it is currently up in the air as to what the outcome will be. The verdict will be announced very shortly as the case is not expected to run very long. It suffices to say that if WiLAN wins their court case, their settlement with Apple should be much higher than if they had settled outside of court. A favorable verdict for WiLAN would be extremely positive for the company but on the other hand a loss would likely weigh on the share price. It appears a positive outcome for WiLAN should occur considering the other defendants chose to settle shortly before the court proceeds were to commence.
Also WiLAN received a great vote of confidence in late June when Samsung (OTC:SSNLF), one of the world's largest electronics manufacturers, resigned a multi-year license. In addition to this very important re-sign, the company has also signed a number of new license agreements this year (approximately 8) that did not require litigation proceedings. They also entered into an important relationship with British Telecom to manage and monetize their large patent portfolio as well as several other partnerships. They also acquired patent portfolios from both Alcatel-Lucent and Cypress Semiconductor which will enhance the size and monetization potential of their overall patent portfolio.
WiLAN has a number of ongoing litigation efforts that could also significantly boost its forward revenues:
Ericsson; LTE; April 2014; Florida
Apple, Dell, HTC, Sierra Wireless, Novatel, Kyocera; Wi-Fi, CDMA; Oct 2013; Texas... Note: this trial is underway and most of the defendants have recently settled. Apple is holding out in court. Verdict is pending.
BlackBerry; Bluetooth; March 2014; Florida... Note: Litigation settled as per Oct 9 release.
LG; Digital TV; Date pending; Florida
Apple, Sierra Wireless; LTE; Date pending; Florida... Note: Sierra Wireless likely no longer a defendant as they settled all litigations as per October 10 release.
Apple, Sierra Wireless, HTC; 3G, HSPA; Date pending; Texas... Note: Sierra Wireless likely no longer a defendant as per October 10 release.
Though it's difficult to predict the outcome of the these future events (which of course are not included in the investment thesis as litigation outcomes are a guess at best), the spate of recent settlements does indeed bode well for the company monetizing these upcoming litigation efforts either through pre or post trial settlements. The down side, though difficult to predict due to confidentiality of settlements and license agreements, of the impact of a defeat in the courts (if they ever get there) would likely push the share price back down but not too much below the current level (~$4) to around the low $3 level (approximately a 20% decline) as the sentiment would turn negative against the company and uncertainty of its ongoing ability to grow licensing revenues would be a negative sentiment generator. Notwithstanding, the company currently has long-term agreements in place that would keep the current revenue stream largely in place for the next four to five years. In addition the current settlements' incremental revenue addition estimates calculated above are not included in the analyst price targets or peer comparison analysis so the share price would likely have increased from the current level as they played out. So the 20% downside risk if the future litigation is unsuccessful may end up being conservative.
It should also be noted that 90% of the licenses signed by the company did not require a litigation effort as the company views this as a last resort for infringers that simply fail to recognize the validity of the company's requests for a fee for the use of its patents.
The company appears to have a 50% plus upside potential (not including impact of the very recent litigation settlements and licenses)
The average target price set by the eight analysts that follow the company is $6.34 (Yahoo finance). The average analyst recommendation of the stock is a Strong Buy rating. Not that I base my investment decisions solely on analysts' ratings and targets, it is at least a point of triangulation in our due diligence process. This price target indicates a potential return of over 50% above the current share price (plus the yield from the dividend payment). This target also supports the share price that is derived if one considers the valuation of the company in relation to the average of its peers (articulated in the peer valuation comparison chart above). If WiLAN traded at the average of the 2014 P/E and EV/EBITDA valuation metric estimates, it would currently be trading in the $7 plus range (a 68% increase).
Now the risks to this investment thesis
The IP licensing tech sector has its own specific sector related risks in addition to the standard risks associated with most equities.
Litigation risk - Since WiLAN may have to utilize the litigation route to force outlier companies to take and pay for utilizing its various patents there is an acute risk of the court's verdict going against the company. This can cause a fall in share price. Of course, there is also this same risk to the upside. However, the downside risk always appears to be more acute due to short sellers and the like accentuating the share price decline.
Cessation of payment - There is always the risk that a licensee decides to cease their payments due to the outcome of a related trial or just willing to take the company to the wall forcing them to begin litigation proceedings to enforce the license agreement.
New technology advancement - With the half life of technology being so short a replacement technology may enable the licensee to no longer require the need to continue licensing of a particular patent (or series of patents).
Market downturn - a general downturn in the equity markets or the particular tech sector.
Deal Transparency - Due to the fact that settlements and license agreement revenues are generally kept very confidential for obvious reasons, this lack of transparency may inhibit one's ability to project forward revenue and gross margin estimates making the determination of future share price performance more uncertain than in other sectors.
Some Catalysts
An Apple Settlement - the company is currently in a court hearing against Apple. If the court decision is in favor or if Apple decides to settle then this will likely move the share price much higher (or lower if they lose the case). As noted above, it is important that the other defendants in the case have decided to settle with WiLAN as opposed to continue in the litigation process. This would appear to support WiLAN's claims against Apple.
Other Settlements - There are other court cases that are planned or in process. There may be additional settlements that arise from these pending cases.
Major Partnerships agreements - The company may score a major partnership with a global patent holding company to manage and monetize their patent portfolio through their Gladios Subsidiary.
Accretive acquisitions - A highly accretive acquisition of an essential patent portfolio
Company sale - If the sector re-heats to the point where it was a couple of years back when the major tech companies went on a patent portfolio acquisition spree, WiLAN could be bought out at a significantly higher share price.
Financial performance - The company surprises the market with higher than expected quarterly revenues and profits.
A few concluding remarks
There is little doubt that if WiLAN was trading at analyst targets or at the average valuation of its peers it would be trading at least 50% higher than its current price. The company does pay a fairly handsome dividend that in my opinion is very safe. Also the company has a world class management team and board of directors that have guided the company from a market cap of just $25 million seven years ago to that of over $500 million today. Investing in this space is not for everyone as there can be higher beta due to the news releases moving the share price. Notwithstanding, WiLAN is a very high quality, well managed IP licensing company that has zero debt and 33% of its current share price in cash (~$170 million) that has experienced a significant number of recent settlements and license agreements.
Disclosure: I am long WILN. I wrote this article myself, and it expresses my own opinions. I am not receiving compensation for it (other than from Seeking Alpha). I have no business relationship with any company whose stock is mentioned in this article.