Despite the government shutdown, plunging grain prices, and negative sentiment of a farm bill actually getting passed, the rural economy strengthened this past month. The Rural Mainstreet Index (RMI) increased over the past month for the first time since June and continues to remain above growth neutral. The farmland price index has been above growth neutral for an astonishing 45 months, although it declined slightly in September.

The Rural Mainstreet Index, ranging between 0 and 100 with 50.0 representing growth neutral, increased to 54.3 in October, from 52.4 in last month's survey. Ernie Goss, economist at Creighton University, commented, "While the overall index is up for the month, I still expect growth in the Rural Mainstreet Economy to be slower in the months ahead. Agriculture commodity prices for select products have declined significantly and are approaching breakeven for some producers."
The farmland price index decreased for the 10th time in the last 11 months, but remains above growth neutral, 50.9. Goss noted, "Weaker agriculture commodity prices and poor weather conditions in some parts of the region lowered the farmland price index. Clearly, farmland price growth and cash rent expansions in the months ahead will not be as healthy as has been experienced in the past couple of years."
Bankers were asked this month how much they expect cash rents to increase over the next year. On average, bankers believe rents will increase 2.5%, a far cry from six months ago when bankers estimated rents would increase 9.3%.
For the third month in a row, farm equipment sales were below growth neutral at 44.6. "Sales are declining and inventories are growing as farmers pull back on their purchases of big ticket items," said Goss.
The loan-volume index decreased to a still healthy 64.7, from September's 73.5. The checking-deposit index dropped to below growth neutral, 48.3, from 56.3 last month.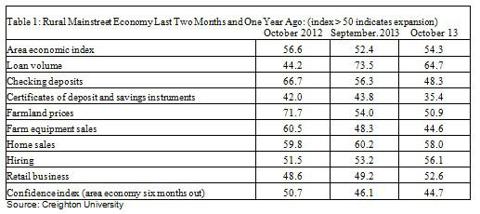 Survey
This survey represents an early snapshot of the economy of rural, agriculturally and energy-dependent portions of the nation. The RMI is a unique index covering 10 regional states, focusing on approximately 200 rural communities with an average population of 1,300. It gives the most current real-time analysis of the rural economy.
Disclosure: I have no positions in any stocks mentioned, and no plans to initiate any positions within the next 72 hours. I wrote this article myself, and it expresses my own opinions. I am not receiving compensation for it. I have no business relationship with any company whose stock is mentioned in this article.