Acting on a whistleblower tip, the Infitialis Research Collective has invested several months' time investigating The Tile Shop's (NASDAQ:TTS) business operations and miraculous stock market rise. Frankly, we were shocked at the extent of management malfeasance uncovered and the clear and present danger this company represents to the public at large.
1. After listing via a SPAC a little over a year ago at $10.00/share, Tile Shop's share price has increased more than 2.5x to all-time highs on the back of the Company's suspiciously high EBITDA margins, aggressive growth plan to more than triple its store count, and heavy cheerleading from sell-side analysts
2. However, independent laboratory testing results indicate a significant number of The Tile Shop products have DANGEROUS lead contaminations, up to 13,900% greater than the United States' Consumer Product Safety Commission limits for products that come in contact with children
3. The Tile Shop's lead contaminated products represent a clear and present danger to consumer safety as the tiles are recommended for kitchen and bath installation in close proximity to food prep and shower areas, significantly increasing the probability of lead transmission to children
4. In addition to consumers abandoning The Tile Shop due to significant concerns about product safety, the liabilities associated with any potential product recalls, regulatory investigations, and class action litigation could swamp the company's very limited liquidity and less than $3.8mm in available cash
5. The company's current management team is wholly unfit for public company stewardship with a Founder/CEO convicted of FRAUD and the SVP of Operations is presently out on PROBATION.
6. The Tile Shop's LTM EBITDA margins of 27.0% is more than 2x its peer comparables and will compress due to its reliance on mickey-mouse Chinese suppliers and increasing overhead costs
7. The Tile Shop's plan to more than double the historical store expansion rate appears nothing more than a scheme to jack the share price based on the false mirage of growth as opposed to creating long-term value for all public shareholders
8. The Chan Brothers, with their dubious and notorious lineage in Hong Kong real estate, have been selling down their ~30% ownership stake in The Tile Shop acquired for $12mm at $10.00/15.00/24.25 per share and will likely dump more on the market when their current 150 day lock-up agreement expires at the end of the month
Long investors in The Tile Shop should consider immediately reducing the position as public dissemination of these dangerous lead concerns will likely lead to a massive correction in the company's stock price. Speculative investors should consider a short position in The Tile Shop as it appears overvalued on a fundamental basis at 23.9x FV/EBITDA and 55.8x P/E consensus FY13 sell-side estimates and the issues uncovered in this report will likely accelerate a pricing correction.
The Tile Shop Business Introduction
Founded in 1985 by current CEO Mr. Robert Rucker with a single store in Rochester, Minnesota, The Tile Shop ("Tile Shop" or the "company") is currently one of the largest specialty retailers of manufactured and natural stone tiles, setting and maintenance materials, and related accessories in the United States. As of June 30, 2013, the Company had 75 stores in 25 states with an average footprint of 23,000 square feet.

After going public via a SPAC on only 08/22/12 at $10.00/share (it never would have passed a convention IPO due diligence process), Tile Shop's share price has increased more than 2.5x to all time highs on the back of the company's aggressive growth plan to more than triple its store count, shockingly high EBITDA margins relative to its comparables, and heavy cheerleading from sell-side analysts, including Credit Suisse adding the company to its "Top U.S. Investment Ideas List" on 09/05/13 with $31 PT. With equity investors blindly bidding up all stocks related to the United States residential housing "recovery," The Tile Shop shareholders have ignored critical questions about the history of the business operation and the safety of the products that have allowed the Company to earn shockingly fat margins.
Currently trading at 23.9x FV/EBITDA, and 55.8x P/E consensus FY13 sell-side estimates, The Tile Shop's market valuation is egregiously rich before even considering the significant business issues discussed in this report. Moreover, the current consensus sell-side financial estimates will become unreliable once consumers abandon The Tile Shop in droves due to very serious health and safety concerns about the company's core tile products.
DANGEROUS Levels of Lead Contamination in The Tile Shop Products - Significant Recall, Remediation, and Class Action Risks
The Tile Shop claims to be able to earn sustainable EBITDA margins of >25%, more than 2x its similar big-box home improvement competitors, because its "Vertically Integrated Value Chain" allows it to "minimize cost, maintain quality, and reduce risk." Specifically, approximately 58% of The Tile Shop's purchased products are sourced from Asia, and primarily from three Chinese suppliers of dubious lineage based on PIERS U.S. customs import data.
The Tile Shop August 2013 Investor Presentation - Slides 7 & 8

Moreover, as part of its consumer advertising campaigns, The Tile Shop repeatedly stresses that its unique sourcing process allows it to guarantee "the finished product is inspected to ensure quality control" and "always made to our high standards, at every stage of production." However, the Company's boisterous claims appear to be nothing more than a dangerous form of unsubstantiated puffery because independent laboratory testing of The Tile Shop products raises serious concerns about significant lead contamination of the tiles sold in its stores throughout the United States.
Independent Lab Tests Indicate DANGEROUS Lead Contamination In Tiles
We recently acquired a variety of tile samples from the company's retail locations in the critical East Coast, Midwest, and Western regions of The Tile Shop's geographic footprint. After the tiles were individually logged/ tagged, split-sampled, , and bagged, the samples were dispatched to a United States Consumer Product Safety Commission (CPSC) and ISO/IEC 17025 accredited independent laboratory for lead concentration testing utilizing the Environmental Protection Agency (EPA) approved methodologies. The independent laboratory testing results are simply shocking and indicate a significant number of The Tile Shop tile products currently being sold to consumers and installed in homes have dangerous lead concentrations significantly higher than the CPSC total lead content limit as of 08/14/11 of 100 parts per million (ppm) for products that come in contact with children.
Selected Independent Laboratory Lead Testing Results
Significance of Lead Contamination in Tiles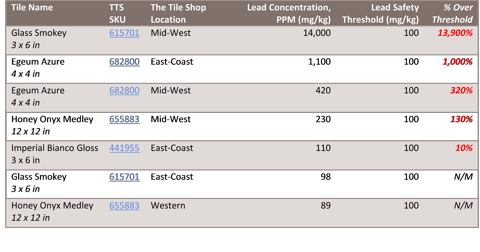 The Tile Shop's products appear to present a significant health risk for multiple reasons. First, as a reminder of basic high school chemistry, lead is a heavy metal that is toxic for humans, and is associated with lowered levels of learning, impaired hearing, brain damage and, at high levels, fatalities in children. Second, The Tile Shop specifically advertises its products for kitchen and bath applications, dramatically increasing the probability of lead transmission to humans, and specifically children, once the tile is installed because of the direct contact with food preparation areas in kitchens and with bare skin in bathrooms via floors, shower-stalls, etc. Finally, as The Tile Shop encourages DIY installations, there is a significantly greater probability the homeowner will create excessive amounts of lead-contaminated dust and spread these dangerous lead contaminations throughout their home as part of the tile fitting, cutting and installation process due to a lack of hazardous materials handling training and experience.
Sample Lead Testing Laboratory Results - CPSC Lead Limit: 100 mg/kg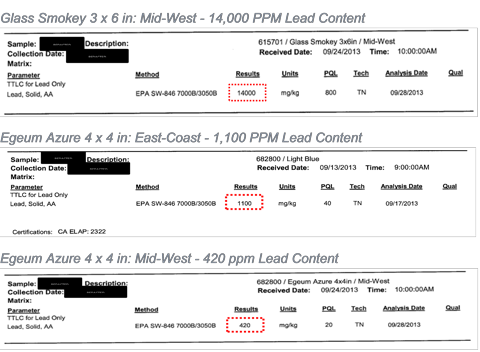 Business and Liability Implications of The Tile Shop's Lead Contamination
As DIY customers become aware of the significant potential health and safety risks of installing lead contaminated tiles from The Tile Shop in their homes, the economic consequences for The Tile Shop will be catastrophic. Customers will simply purchase tiles, a fungible commodity product, at other established retailers, such as Home Depot and Lowe's, which utilize robust sourcing processes and procedures to ensure the safety of products on their shelves, which will kill The Tile Shop's future revenue, cash flow, and store expansion plans.
In addition to the catastrophic effect on The Tile Shop's future earnings potential, the company will face a potentially paralyzing drain on its liquidity as it resolves the effects of the lead-contaminated tiles already in its inventory and installed in customers' homes. As of 06/30/13, The Tile Shop reported $58.7mm of inventories, or more than 25% of its total assets, all of which should be tested for lead contaminants, and the contaminated product will have to be responsibly disposed. More significantly, as of 06/30/13, The Tile Shop had only $3.8mm in cash and equivalents available, yet is burdened by $98.6mm in debt, capital leases, and deferred rent obligations. A product recall and replacement inventory expenses could quickly swamp The Tile Shop's already stretched liquidity and put it in violation of its debt covenants, quickly precipitating a bankruptcy filing.
Even more serious than the lead-contaminated inventory issue, The Tile Shop faces potentially crippling liabilities from regulatory actions and class-action lawsuits regarding damages associated with its sale of lead contaminated products. For example, The Tile Shop may be liable for the removal, remediation, and replacement of lead-contaminated tiles sold during its 28 years of sourcing tile from China. Previous class-action cases for China sourced and other lead-contaminated products have been for tens to hundreds of millions of dollars, including Mattel's lead contaminated toys, $80mm for sulfurous drywall installed in homes in Florida, and the $200mm suit against WASA for lead contamination in drinking water.
Bad Actors - Founder/CEO Convicted of FRAUD, SVP Currently on PROBATION
The Tile Shop currently has a very thin management bench as it is still undergoing the painful transition to overcome its prior "material weaknesses" on internal controls as a family operated business to a publicly-traded corporation. Moreover, the prior history of the current management team should raise significant concerns for investors based on their track record of fraud, criminal behavior, and business failures.
The Tile Shop August 2013 Investor Presentation - Slides 14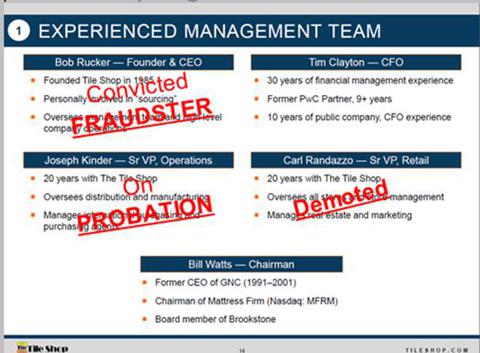 CEO/Founder Convicted of FRAUD
On 09/26/05, Mr. Robert Rucker, Founder/CEO, was convicted of fraud in a civil case with his ex-wife for misrepresenting and failing to disclose information relating to the financial condition of The Tile Shop to a neutral business appraiser retained to value the Company as part of their divorce proceedings. In the fiery post-trial ruling, Judge Kaman of the Minnesota Civil Court awarded Katherine Rucker pre-judgment interest, costs, and disbursements of an additional $4.2mm (vs. the original $2.4mm divorce settlement) in light of Robert Rucker's fraudulent behavior and disingenuous scheming in a ham-fisted scheme attempting to minimize the compensation paid to the mother of his child.
To fully understand the fraud conviction against Mr. Robert Rucker, Founder/CEO, it is useful to review the dramatic saga of The Tile Shop business. Founded in 1985 with a single store in Rochester, Minnesota, Mr. Robert Rucker had a 50% equity interest along with his partner and CFO, Mr. Rodney Sill, who owned the other 50% equity interest. On 04/06/00, Mr. Robert Rucker filed for divorce from his wife of 24 years, Ms. Katherine Rucker, and a neutral business appraiser was jointly retained to value their marital assets, including the 50% equity ownership of The Tile Shop, as of 12/31/00, when the Company had 14 stores in the upper Midwest.
As part of purportedly neutral business appraisal process, Mr. Robert Rucker "provided false and misleading information as well as financial records that were intentionally and fraudulently altered to cause The Tile Shop's appraised value to be grossly understated for the purpose of the divorce." Mr. Robert Rucker supervised his attorney and employees as they created a "doom and gloom" financial forecast that in his own words was the "worst possible damn scenario" to be shared with the neutral business appraiser. Specifically, The Tile Shop financial forecast Mr. Robert Rucker represented as accurate for FY01-FY03 had the store count remaining static at 14, annual revenue barely growing from $46.9mm to only $49.6mm, gross margins shrinking a dreadful 710bps from 61.2% in FY01 to 54.0% in FY03, and net income before tax dropping from $2.9mm in FY01 to $2.3mm in 2003. Based on the financial forecast Mr. Robert Rucker represented as being truthful and accurate, the 50% equity interest in The Tile Shop was valued at $7.125mm, or $1.02mm per store on an enterprise value basis.
As the neutral business appraisal process was being completed for the divorce, Mr. Robert Rucker was simultaneously utilizing for business planning a second set of significantly more bullish financial forecast that were not shared with his wife, which forecast $6.9 mm of net income in FY01 while also engaging in lease discussions to open as many as 6 new stores the instant the divorce was finalized. According to The Tile Shop's FY01 audited financial statements, the company generated $51.8mm in revenue and $6.7mm in net income before taxes. In other words, the internal financial forecast that Mr. Robert Rucker possessed and utilized, but fraudulently withheld from the neutral business appraiser, were almost perfectly accurate.
Almost two years after the divorce was finalized, Ms. Katherine Rucker became aware of her ex-husband's skullduggery regarding The Tile Shop's financial forecast and filed a fraud upon the court civil action in the Hennepin County District Court in Minnesota. After a bench trial in March 2005, Judge Kaman found Mr. Robert Rucker guilty of fraud by misrepresenting or failing to disclose information relating to the financial condition of The Tile Shop to the neutral business appraiser as part of the state court supervised the divorce proceedings. Judge Kaman thereafter redistributed the value of The Tile Shop as a marital asset and awarded Ms. Katherine Rucker an additional $4.2mm in pre-judgment interest, costs, and penalties based on the revised appraisal utilizing the correct financial forecast, for $30.7mm enterprise valuation or an implied $2.2mm per store (including penalties and interest due).
In summary, it is shocking to see the CEO of a $1.5bn Nasdaq company was convicted of fraud just a few years ago for intentionally mis-marking The Tile Shop financials in a ham-fisted scheme attempting to minimize the lawful compensation paid to the mother of his child. Moreover, even under the revised valuation of The Tile Shop imposed by the court after the fraud conviction of Mr. Robert Rucker, each store was valued at only approximately $2.2mm including penalties and interest due, versus the $19.1mm valuation the equity market currently ascribes to each of the Company's stores and the $1.4mm new store opening cost described by the current Tile Shop management team.
Senior VP of Operations Currently on PROBATION
After Founder & CEO Mr. Robert Rucker, the second-highest compensated executive in FY12 was Mr. Joseph Andrew Kinder, the Senior Vice President - Operations, who took home $1.96mm in total compensation, including base salary, bonus, and options awards. Starting as a Sales Associate in one of the original Tile Shop locations in 1993, Mr. Kinder rose through the ranks to become Mr. Robert Rucker's right-hand man, overseeing all distribution/manufacturing and managing the international purchasing reportedly critical to The Tile Shop's outsized margins. However, Mr. Kinder's failure in oversight to prevent the significant lead contamination in The Tile Shop's products sold to consumers is not exceedingly shocking considering he is currently out on PROBATION until next year after getting involved in a domestic dispute and altercation with responding police officers. After screaming "F*CK YOU, I can't believe you called the cops" at his wife in front of their two young children upon the arrival of the police, Mr. Kinder was arrested and charged with two gross misdemeanors (a felony charge, for Domestic Assault - By Strangulation, was eventually dropped). In addition, Mr. Kinder appears to have been previously indicted for a DUI in Minnesota in 1993, which provides further evidence of his criminal behavior, poor decision making, and general lack of self-control.
If Mr. Kinder has a similar behavioral outburst over the next few months and gets his probation revoked, he will be returned to Culver County Jail (where he has already served three days as part of his conviction) to complete the remainder of his sentence, making it nearly impossible for The Tile Shop's "vertically integrated value chain" to continue to operate after losing this key-man.
Finally, although on 10/01/13 The Tile Shop announced it had hired Mr. Chris Homeister, age 44, as Chief Operating Officer for an annual base salary of $300k, his previous experience at the failing retailer Best Buy (NYSE:BBY) does not inspire much confidence in his ability to effectively manage a retail growth strategy or effectively supervise Mr. Joseph Kinder. Moreover, the hiring of Mr. Chris Homeister appears to have effectively demoted Mr. Carl Randazzo, the current Senior Vice President - Retail, who has been with the company for more than 20 years and previously reported directly to Founder/CEO Mr. Robert Rucker. While at Best Buy, Mr. Chris Homesiter spearheaded their disastrous venture into the pawnshop industry to buy/sell used video games like GameStop (NYSE:GME) and attempted restructuring of the Rhapsody RealNetworks Best Buy Digital Music Store (a purported iTunes competitor). Neither of these unsuccessful ventures appears remotely applicable to a DIY tile retailer. Moreover, this announcement may be indicative the Company's Founder/CEO, Mr. Robert Rucker, is looking to spend more time at his Hawaii beach-house with his new wife, Ms. Lee Shoon, and less time continuing to nurture growth at the Company as a hands-on manager.
Mr. Joseph Kinder, Senior V.P. - Operations, Carver County Sherriff Booking Photo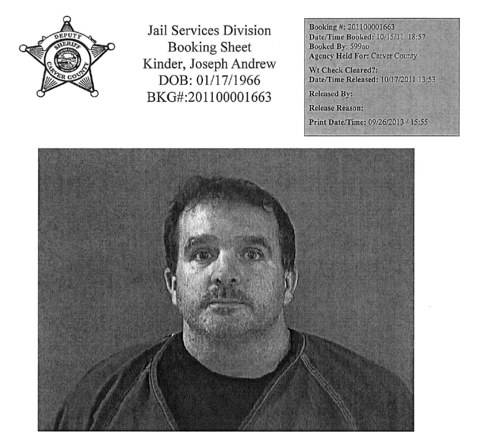 Mr. Joseph Kinder, Senior V.P. - Minnesota Criminal Records History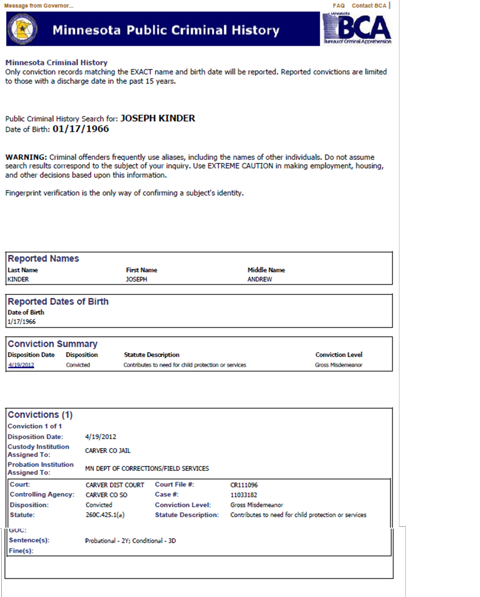 Unsustainable Margins for a Commodity Product: Significant Near Term Pricing and Cost Pressures
Tile is a classic fungible commodity product (assuming it is not contaminated with dangerous amounts of lead). Once purchased or installed, it is virtually impossible to determine if a tile was sourced from a commercial flooring supplier, big-box home improvement supplier, or a DIY consumer retailer like The Tile Shop. The Home Depot (NYSE:HD) continues to roll out its "Expo" format stores and Lowe's (NYSE:LOW) is making significant investments in store refurbishments, both of which features full room vignettes similar to The Tile Shop. More importantly, The Home Depot and Lowe's, despite their significantly larger economies of scale in sourcing and existing nation-wide geographic footprint, are happy to earn 13.2% and 10.6% EBITDA margins, respectively, versus The Tile Shop's 27.0% LTM EBITDA margins. The consumer tile sector is becoming more price-competitive as more price discovery occurs on-line and the Company's margins will dramatically compress if they continue to attempt to gain market share. In summary, The Tile Shop is not selling stretchy yoga pants or iPads à la $LULU or $AAPL; it's colored tile.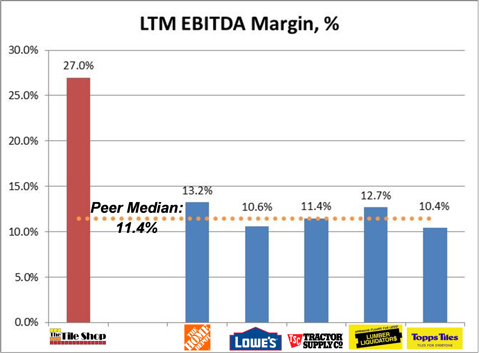 In addition to revenue pricing pressure from larger-scale and better capitalized nation-wide incumbent home improvement retailers, The Tile Shop is also facing significant margin pressure on the cost side. In the last quarter alone, it hired an additional 22 people as corporate staff (which is expected to adversely affect margins by 200bps going forward) to help complete its corporate infrastructure after the prior "material weakness" issues with financial reporting. In addition, The Tile Shop recently announced a $1.0mm advertising venture (~17% of FY12A net cash flow) with Pocket Hercules. Shareholders should review the sample "Naked Guy in Shower Advertisements" developed by The Tile Shop management team to determine if they believe this venture to be the best use of the Company's limited funds and if it will be accretive to net margins.
Finally, in an apparent attempt to pull forward sales to hit its 3q13 revenue and same-store sales growth numbers for sell-side expectations, The Tile Shop ran, in quick succession, several heavily promoted discount sales at the end of last month. On September 22-23, all floor and wall tiles were 15% off in all stores for a "Fall is Beautiful Sale" and on September 26, an flash sale offered 25% off on all online purchases. This margin dilutive cannibalization of future quarters sales is extremely toxic to the business prospects of the Tile Shop and should give current shareholders significant concern about the long-term earnings potential of the business.
September 20-23, 2013 End of Quarter Sale - 15% Off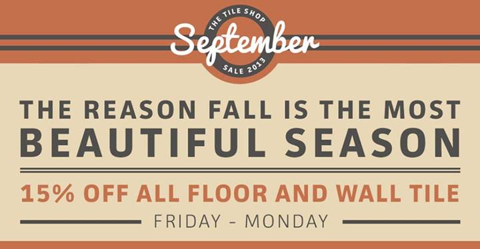 September 26, 2013 - 25% Off Online Flash Sale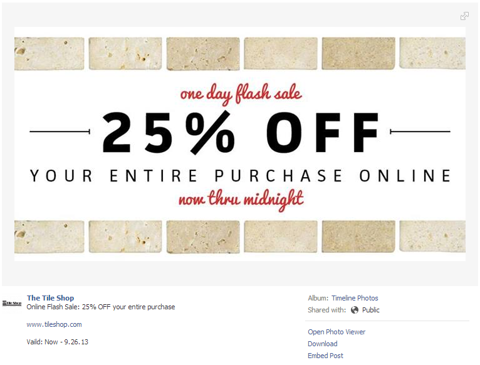 Unsustainable and Unachievable Store Expansion Plans
Much of the current investor excitement regarding The Tile Shop revolves around Wall Street expectations of the Company rapidly increasing its store count. Since its founding in 1985, The Tile Shop has generally funded its annual single-digit store expansion to adjacent geographic areas by utilizing organically generated internal cash flow. This historical rate of expansion has allowed it to optimize the capacity of its regional distribution centers (critical for the significant transportation costs of heavy tile) and perform adequate site diligence on potential retail locations demographics and potential tile demand to ensure the long-term business success of the store.

However, since going public, The Tile Shop management team has turbocharged Wall Street expectations to expanding to 140-150 stores as a "near term opportunity" over the next few years and reaching >400 stores thereafter. Rapidly increasing the rate of its geographic footprint expansion will likely be dilutive to the Company's business operations as it 1) expands into marginal locations with lower annual earnings potential, 2) in-fill stores will cannibalize existing store sales (for example, the new stores opening this fall in Norwalk and Danbury CT, respectively, are less than 30 miles apart and are also very close to the existing store in Scarsdale, NY, and 3) the dramatic increase in store openings is outstripping the supply of its experienced Assistant & Head Store Managers ready to move to a new location and handle the start-up a new store, which will dramatically decrease customer satisfaction and critical repeat and referral sales.
After reviewing The Tile Shop saga and management's turbo-charged store expansion plans, investors would be wise to review the trajectory of a similar SPAC-funded disaster: American Apparel. After completing a SPAC listing in December 2006 with Endeavor Acquisition Corp (which ironically utilized the same IR firm as The Tile Shop: ICR Inc.), shares initially popped on investors excitement of management's promise to open >800 stores worldwide , but slowing SSS growth and management issues precipitated a dramatic decline in the share price and multiple near-bankruptcy rescue financings. Moreover, store count has actually declined over the last few years and is now below 250.

Moreover, prudent investors should not rely upon The Tile Shop's store expansion plans at face value based on the prior history of broken promises and fraudulent misrepresentations by CEO/Founder Mr. Robert Rucker. For example, on 03/06/01 and 04/07/01, despite operating only 20 stores at the time, The Tile Shop indicated, in order to increase its working capital facility, with Wells Fargo, the Company's primary bank, it planned to operate 50 stores by no later than January 1, 2005. In actuality, it took The Tile Shop until the end 2011, nearly 6 years after its original bank forecast, and despite purportedly robust financial results between 2005 and 2011, to open its 50th store. Based on The Tile Shop's management team's prior track of providing fraudulent and misleading financial forecasts in an attempt maliciously achieve its internal goals, it seems prudent for investors to heavily discount The Tile Shop's purported store expansion plans currently built into the share price.
Landmines Abound: Dubious SPAC History with $450mm Valuation, Material Weaknesses, and Chan Brothers'/Nabron Lock-Up Expiration
First, because The Tile Shop elected to access the public equity markets via a SPAC transaction on 08/22/12 at $10.00/share as opposed to a traditional IPO listing process, it is important for current investors to contemplate the structural considerations of this alternative financial product. Because of the relatively short and defined time period available for a SPAC to source and execute a transaction or face liquidation, the management teams are often rushed to complete any potential acquisition by a drop-dead date, despite whatever last minute due diligence concerns arise during closing. As a result of this adverse selection bias for acquisitions, the average return for the 111 SPACs between 2004 and 2013 which successfully acquired a company was -14.4%, according to SPAC Analytics. By contrast, the Russell 3000-stock index returned +5.9% in that same period. It's not just that SPAC returns are terrible. There have been some spectacular failures and frauds, which have completely wiped out equity holders, as SPACs have rushed into market fads like energy, water, and China.
For The Tile Shop, the SPAC due diligence process appears extremely rushed and the sellers valuation range is extremely concerning relative to the current market price. Between 05/08/12 and 06/27/12, less than 50 calendar days, the entire transaction structure was negotiated, due diligence was purportedly completed, and the merger agreement was executed. More concerning for current Tile Shop stockholders, the sellers of the company, including Mr. Robert Rucker, were willing to entertain merger discussions as low as $450mm in enterprise valuation (9.0x expected EBITDA for 2012) versus the current $1,431.8mm market enterprise price (23.9x street EBITDA expectations for 2013). Moreover, The Tile Shop was adequately capitalized at the time of the merger to allow Mr. Robert Rucker to continue the historical organic store expansion rate of 5-8 new stores per year and no other stockholders had an apparent rushing need to monetize their investment in the company. What does Mr. Robert Rucker know that the market is currently not considering?
Next, during 2012, The Tile Shop's auditors identified several material weaknesses in their financial reporting, including, but not limited to, a lack of sufficiently competent personnel, a lack of financial close processes, and deficient financial reporting systems to ensure the accurate and timely reporting of the Company's financial results. While The Tile Shop has supposedly remediated these issues after hiring Mr. Tim Clayton as CFO, investors would still be prudent to review the Company's reported financials with appropriate skepticism in light of the management team's limited public company experience, rapid business expansion, and historical issues. For example, since The Tile Shop allows unlimited product returns without any restocking fees (unlike any of its peers and potentially allows the Company to pull forward phantom revenue and SSS growth metrics), can investors really have robust confidence that the $58.7mm in purported inventories (~25% of total assets and growing faster than sales) as of 06/30/13 is ready to be sold to customers, instead of being contaminated with lead and/or consisting of boxes of broken, chipped, or discolored returned tiles from previous failed renovation projects?
Lastly, the Ronnie and Gerald Chan brothers of Hong Kong currently control ~22.5% of The Tile Shop's equity via their Bahamian shell company Nabron International, Inc. After acquiring an original 30% equity interest in The Tile Shop for only $12.0mm in total consideration in October 2002 (for an approximately $2.2mm per store enterprise valuation versus the current market valuation of $19.1mm per store), they have been highly motivated sellers at $15.00/share and $24.25/share of the Company since going public via the SPAC at $10.00/share. As their 150-day lockup from the most recent secondary share sell-down expires at the end of this month, it would not be surprising if they dumped a significant portion of their remaining $360mm equity value ownership stake on the market (~60 days trading volume) at these current stratospheric valuation levels. In addition to the share overhang, the Chan Brothers' intertwined involvement in the situation raises further questions about the Company's lead contaminated tile product sourcing relationships in China in light of the numerous accusations of their involvement in significant corruption and fraud throughout Asia. Overall, this situation appears disturbingly similar to Enron Corporation, where Mr. Ronnie Chan served as a Board of Directors and Audit Committee member leading up to its infamous Chapter 11 bankruptcy filing and was selling shares for his personal account up to the firm's sordid collapse. Finally, the Chan Brothers are not the only insiders selling, as a variety other Board of Directors and management team members have been selling shares and indicating more shares are forthcoming over the next 90 days via multiple form 144 registrations.
Mr. Ronnie Chan: Enron Corporation 1998 Board of Directors Picture - Standing to the left of Mr. Jeff Skilling (seated) and Mr. Kenneth Lay (seated)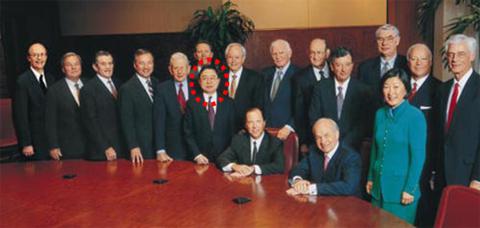 Valuation: The Tile Shop Trades at an Unsustainable Premium to its Comparables and Intrinsic Value
Currently trading at 23.9x FV/EBITDA and 55.8x P/E consensus FY13 sell-side estimates, The Tile Shop's market valuation appears egregiously rich relative to its public comparables in the home improvement retailer, "best-in-class" consumer product retailers, and high-growth retailer sectors, which trade at a median of 11.0x FV EBITDA and 20.5x P/E consensus FY13 estimates. In light of all the serious business issues identified earlier in this report, The Tile Shop's current premium valuation appears completely unsustainable.
The Tile Shop Trading Comparables

In addition to the significant trading multiple premium to comparable peers, The Tile Shop is also trading at a significant premium to its DCF intrinsic value. For example, even under exceedingly bullish scenarios of continued double-digit annual revenue growth with outsized EBITDA margins, a FV/EBITDA exit multiple of 10.0x after FY23, and a 10% discount rate, the Company's DCF value is at most $16.11 per share
The Tile Shop Intrinsic DCF Valuation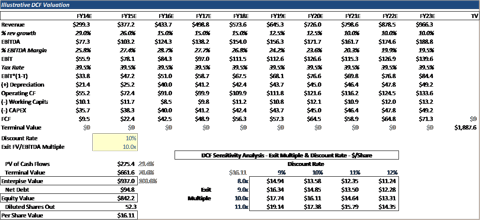 Disclosure: I am short TTS. I wrote this article myself, and it expresses my own opinions. I am not receiving compensation for it. I have no business relationship with any company whose stock is mentioned in this article.