Capital Southwest Corporation (NASDAQ:CSWC) is a Dallas-based business development company that provides long-term capital to businesses with reasonable growth potential. One could essentially view them as a closed end investment fund. Substantially, all of their assets are restricted investments in public and private enterprises. Their preferred position in the capital structure appears to be equity, which accounts for 95% of investments with debt positions making up only 3% and the remaining 2% comprised of partnership interests. Capital Southwest holds a concentrated portfolio with the top ten positions accounting for 85% of total assets. They take a long term view with some portfolio companies held for over 40 years.
Capital Southwest has little in the realm of liabilities with a total of $3.56 million per their 10-Q for the period ending 9/30/09. In addition they have agreed to invest, under certain conditions, up to $5.81 million in eight of their portfolio companies. This amount is easily covered by the $6.74 million in cash and approximately $18.5 million in unrestricted publicly traded securities on their balance sheet.
As of 9/30/09 Capital Southwest has 3,741,638 common shares outstanding. The net asset value (NAV) per share as of 9/30/09 was $121.26 (again per the 10-Q). This compares to a NAV per share of $142.74 as of 9/30/08, approximately 18% higher than the 9/30/09 NAV. With shares currently trading at $76.87 this represents a 37% discount to NAV.
To determine an estimate of the current NAV I have updated the value of the publicly traded securities for closing prices as of 11/27/09 and used book value as of 9/30/09 for the private securities, added total cash and subtracted total liabilities. Using this formula NAV per share works out to approximately $124.53. The current share price of $76.87 represents a 38% discount to estimated NAV.
Assuming migration to fair value the potential return would be approximately 62%. While the market value of their publicly traded securities will fluctuate, the current discount to NAV provides a significant margin of safety, making this a potentially interesting investment opportunity.
This is not an investment recommendation but rather a potential idea to consider. As always, do your own due diligence prior to making investment decisions.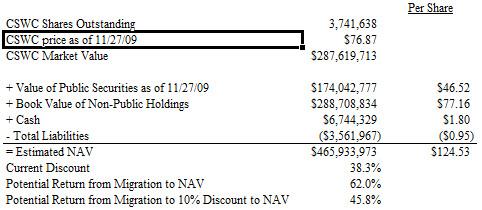 Disclosure: No position