(Editors' Note: This article covers a micro-cap stock. Please be aware of the risks associated with these stocks.)
The Center for Medicare and Medicaid Services (CMS) has proposed switching wound care reimbursement from the current pay-for-service model, in which the treating physician bills the government based on the number and type of procedures performed, to a pay-for-performance model in which reimbursement is fixed for a given diagnosis. This change, intended to incentivize physicians to pursue the most cost-effective treatment modalities and minimize the nation's health bill, will dramatically change the wound care market by shifting market share away from high-tech products with little demonstrated therapeutic benefit to those with more cost-effective solutions. This article provides an overview of likely changes in the market, and highlights three companies that we believe are well-positioned to benefit from coming changes in reimbursement policy.
Introduction to the Wound Care Market
Chronic conditions such as non-healing diabetic foot ulcers and venous legs ulcers are a tremendous burden on the health care system. While a little more than half of diabetic foot ulcers heal within 12 weeks, 13% remain unhealed a year after presentation (source). Medicare beneficiaries with diabetic foot ulcer are seen by their outpatient healthcare provider about 12 times per year and are hospitalized about twice a year (source). Approximately 900,000 Americans experience diabetic foot ulcers each year, corresponding to an annual healthcare expenditure of $10 to $15 billion dollars (source). Three million Americans experience venous leg ulcer each year, adding an additional $2 billion to the nation's healthcare bill (source).
Chronic, non-healing diabetic foot ulcers (DFUs) or venous legs ulcers (VLUs) can lead to increase the risk for morbidities, infections, hospitalization, and amputation. As such, expeditious wound closure is the primary goal of treatment. Standard of care for a DFU or VLU starts with debridement; a process by which the wound care specialists removes necrotic tissue to change the physiology of the wound from a chronic to an acute state. Debridement involves the removal of nonviable tissue and the excision of wound edges and periwound callus to stimulate the production of growth factors. Debridement may be surgical, enzymatic (collagenase), autolytic (occlusive), mechanical (wet-to-dry dressing, lavage), or biologic (larval). Of these types of debridement, surgical debridement is the gold standard. In DFUs, this is often coupled with off-loading (the use of contact casting, crutches, wheelchairs, ankle or foot braces, bedrest, etc. …).
Negative-pressure wound therapy (NPWT) is a therapeutic technique using a vacuum dressing to promote healing in acute or chronic wounds (mostly VLUs) and enhance healing of first and second degree burns. The therapy involves the controlled application of sub-atmospheric pressure to the local wound environment, using a sealed wound dressing connected to a vacuum pump. The continued vacuum draws out fluid from the wound and increases blood flow to the area. The vacuum may be applied continuously or intermittently, depending on the type of wound being treated and the clinical objectives.
Frequency of debridement and NPWT each has a meaning impact on average healing time and rate. For example, weekly, aggressive, sharp debridement and treatment with platelet-derived growth factor led to a 4-fold increase in healing vs. less frequent debridement in a 1996 study published by Steed et al. A 2010 systematic review conducted by Xie X et al for NWPT concluded, "There is now sufficient evidence to show that NPWT is safe, and will accelerate healing, to justify its use in the treatment of diabetes-associated chronic leg wounds. There is also evidence, though of poor quality, to suggest that healing of other wounds may also be accelerated." Thus, the combination of debridement and NPWT may be effective in healing up to 80% of chronic wounds. A typical course of treatment with standard for care for 6 to 8 weeks may cost $2,000 in total, $1,500 in materials and supplies and $500 in fees to the hospital / wound care center.
When Wounds Turn Chronic

Where patients and wound care providers run into problems is when these widely used, simple and cheap techniques become ineffective and more advanced therapies are required. The risk of increased mortality and amputation as chronic wounds grow in size and fester with infection. The cost of treatment doubles when wounds become infected, and rises to in excess of $100,000 when amputation becomes necessary. This is where the significant cost burden to the healthcare system emerges. Early adoption of advanced or appropriate care may be more cost effective than traditional standard-care practices for decreasing the incidence of lower-extremity amputation or death.
The three leading advanced wound care products in the U.S. are Shire plc's (NASDAQ:SHPG) Dermagraft, Organoenesis' (private) Apligraf, and Smith & Nephew's (NYSE:SNN) Regranex. New players on the scene include Osiris Therapeutics' (NASDAQ:OSIR) Grafix and MiMedx Group's (NASDAQ:MDXG) EpiFix. These products cost $1,500 or more per application, and patients often require several applications before healing. For example, over a 6 week course of treatment, the average patient may receive one application of Dermagraft or Apligraf a week in addition to debridement or NPWT. Thus, treating a VLU or DFU with standard of care plus Dermagraft or Apligraf increases the total cost from $2,000 to between $10,000 to 14,000. These products are only 40-60% effective (Source: Dermagraft / Apligraf). To date, the use of these products has been supported by the existence of a separate CPT code, guaranteeing that the physician will be reimbursed for their cost. We strongly believe this will change in 2014.
CMS Gets Tough - Pay For Performance Is Coming
When a physician finds that standard-of-care has been unsuccessful in treating a DFU or VLU, or severe burn, a decision must be made with respect to the next steps in treatment. This is when skin substitutes like Dermagraft and Apligraf often enter the equation. There are a four main classes of skin substitutes:
Products like EpiFix and Grafix are regulated as cellular therapies and as such have been subjected to only minimal FDA oversight, though there are signs that the FDA is now taking a more active regulatory stance (see the FDA letter MiMedx received in early September or the recent Osiris disclosure). We would not be surprised to see stricter regulation for cellular-based products and skin substitutes in the coming years. Independent technology assessments of skin substitute products have been strikingly negative, concluding that there is a shocking paucity of well-designed, randomized, controlled clinical trial data, poorly run or controlled clinical studies, a lack of correlation between outcomes in treating DFUs vs. VLUs, limited efficacy and applicability of the leading products, and selective data reporting. Nonetheless, these products produce aggregate sales in excess of $250 million.
These sales facilitated by the permissive reimbursement process and the lack of other meaningful treatment options when conventional treatment fails. The different skin substitutes are applied to a wound during a surgical procedure described by CPT codes in the range #15271 through #15278. Every surgical procedure in this CPT code range requires the use of at least one skin substitute product. The procedure includes preparation of the wound and application of the skin substitute product through suturing or various other techniques. Currently, skin substitutes are separately paid in the outpatient prospective payment system (OPPS) as either biologics or wound dressings, according to the ASP methodology, and are subject to the drug and biological packaging threshold. As such, current use of a product like Dermagraft or Apligraf requires coding for the procedure and reimbursement for the cost of the product (i.e. two separate payments).
In 2014, CMS is proposing bundling skin substitutes with their associated surgeries, similar to how implantable biologics were bundled with surgery in 2009. The agency states, "We see no reason to distinguish skin substitutes from implantable biologics for OPPS packaging purposes based on the clinical application of individual products." Bundling payment for skin substitutes into the APC payment for the related surgical procedures would result in a total prospective payment that is more reflective of the average resource costs of the procedures because prices for these products vary significantly from product to product. Bundling would also promote more efficient resource utilization by hospitals and would be more consistent with the treatment of similar products under the OPPS. The total reimbursement for skin substitutes and the procedure has been proposed at $874.
Ouch - That's Gonna Leave a Mark
Under CMS' proposal for packaging in 2014, products like Dermagraft, Apligraf, and new products like Grafix, will become significantly disadvantaged, as all these products cost $1,500 or more. Under the current reimbursement system, hospitals are reimbursed $250 to $500 for the cost of the medical procedure, and are separately reimbursed for the cost of the graft for a total reimbursement of $2,000 to $2,225. The proposed bundled payment of $874 falls far short of the cost of the graft alone. We believe it will be difficult for these manufacturers to reduce their prices sufficiently to be attractive to caregivers in a bundled care environment. Two dermatology KOLs we've spoken with believe that the cost of manufacturing these grafts is in excess of $1,000. As we see it, that's going to create a very challenging sales environment for these two market leading products or new products like Grafix, and a major shift toward cheaper and similar efficacy products.
CMS moving to a "pay for performance" model could eventually cap the entire reimbursement for "healing a DFU or VFU" to something like $3,000 or $4,000. Above we noted that Apligraf is eligible for reimbursement up to six times in the course of treating a VLU. Things are going to change in our view. The leading products are on their way out.
Three Potential Winners That Could Emerge:
Uluru, Inc.
ULURU, Inc. (OTCQB:ULUR) has developed Altrazeal® Transforming Powder Dressing built on the company's Nanoflex® technology. The product is supplied as a sterile dressing suitable for the covering and protection of exuding wounds such as burns, abrasions, skin graft donor sites, surgical wounds, and chronic wounds. It is provided as a single-use 0.75g blister pack, and 2g or 5g sterile foil laminate pouches. The best way for investors to get a sense of Altrazeal® is to watch this YouTube video demonstration.
When applied to a moist wound surface the Nanoflex® polymer particles aggregate, creating a cohesive yet flexible dressing that closely conforms to the surface of the wound and surrounding skin. The matrix is flexible, thus preventing cracking and flaking under conditions of normal movement. It's fine porosity enables moisture vapor transport and the transport of oxygen to the wound surface, but excludes exogenous bacteria. The outflow of exudate and moisture vapor creates capillary action against the wound surface and a low-pressure environment believed to stimulate cell growth and fibroblast mobility, thus promoting the formation of healthy granulation tissue. As the wound heals, Altrazeal® will dry up and flake off, similar to a scab.
Altrazeal® is U.S. FDA / EU CE Mark approved for sale. The company is current conducting a European trial studying Altrazeal in approximately 100 patients with VLUs. Management believes data from this trial will be available during the first half of 2014 and help facilitate pricing reimbursement in Europe. In the U.S., the company plans to initiate a pivotal DFU study in approximately 80 patients in the first quarter of 2014. We believe this trial will take approximately 6-9 months to report interim analysis and 12 months from initiation to report full analysis. Accordingly, we believe Uluru will be in position to present pivotal DFU and VLU data to CMS in 2015 for reimbursement under the physician's fee schedule (PFS). We believe this will dramatically facilitate uptake of the product in both the U.S. and Europe.
The 0.75 gram blister pack of Altrazeal®, enough to cover a 10 cm2 wound, costs only $17! One application may last as long as 30 days. Data from randomized clinical trials show Altrazeal® compares well with products like Dermagraft and Apligraf on healing rates for DFUs and VLUs. Consider the small chronic wound seen in the picture below (source: Uluru, Inc.). Although stalled for 6 months, the wound was deemed not large enough to treat with Dermagraft or Apligraf at $1,500 per application. Altrazeal® not only healed the wound, but saved the healthcare system thousands of dollars.
Aurora Visiting Nurse Association of Wisconsin conducted a small case study to assess the financial benefits of Altrazeal® in home wound care. The product was tested on seven patients ages mid-70s to early-90s with lower extremity trauma wounds, which in prior treatment had healed to small dimensions then stalled. These patients were receiving 2-3 skilled nursing visits a week for wound care. In each case, the patient was treated with resolution of the wounds in 3-5 visits and discharged from service. The group found that Altrazeal® not only significantly reduced costs to the patient and agency, but resulted in greater patient satisfaction. In our view, Altrazeal® is exactly the type of product - low cost, effective, easy-to-use - that CMS would like to see wound care physicians migrate to when non-adherent bandages and NWPT fail. From CMS' point of view, why authorize $12,000 for six application of Apligraf if three application of Altrazeal® at $51 will do the same thing.
Cytomedix, Inc
The second product we believe could become advantaged in 2014 is Cytomedix, Inc. (CMXI) AutoloGel™. AutoloGel™ is the epitome of personalized wound care. The product is a proprietary bioactive gel that contains a patient's own platelets and platelet-derived growth factors, a fibrin matrix, and additives to neutralize proteases and free radicals designed to strengthen collagen formation. The product is made at the point-of-care through a simple blood-draw / centrifuge process that takes just five minutes to prepare.
AutoloGel™, in our view, is a potential significant leap forward in the treatment paradigm for chronic non-healing wounds. Not only is the product more effective than the more commonly used Dermagraft and Apligraf, but it costs far less. The data below was compiled by B&D Consulting in September 2007. B&D is an independent advisory and advocacy firm located in Washington. The firm completed a cost effectiveness analysis of AutoloGel™ compared to alternative therapies for patients with diabetic foot ulcers. Results of this study demonstrate AutoloGel™ offers a lower cost and better healing outcomes than the other therapies analyzed. This study was published in the Journal of Advances in Skin and Wound Care in December 2008.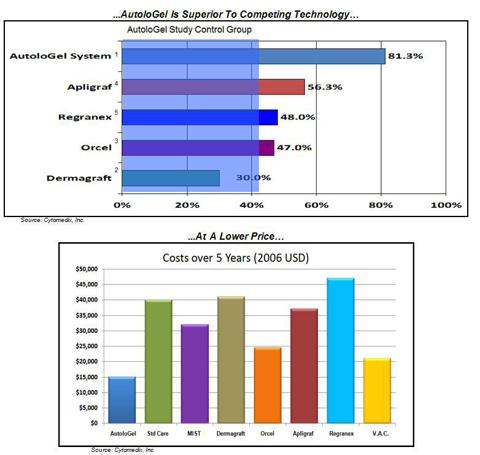 Cytomedix has conducted its own market research and clinical studies to assess the cost and effectiveness of AutoloGel™ when compared to readily available, and fully covered, alternative therapies. For example, the company's dossier requesting reconsideration from CMS on coverage in May 2011 included several case studies collected over the previous seven years (Link). Cytomedix has also published a comprehensive systematic review and meta-analysis (statistical pooling) of the use of PRP gel in wound healing in ePlasty, an open access to the Journal of Plastic Surgery. Data at SAWC in April 2011 highlighted comparing the use of PRP gel (AutoloGel™) and negative pressure wound therapy (NPWT) in the long-term acute care setting. Results demonstrate that PRP greatly improved the wound healing outcomes while cutting costs associated with the overall treatment. The study was conducted at the Asheville Specialty Hospital (Asheville, NC).
CMS has recently announced proposed payment rules affecting AutoloGel™ that we believe are a net positive step forward for the company. The company is currently awaiting a final decision from CMS on reimbursement under the physician's fee schedule , a decision that could dramatically move AutoloGel™ into the teir-1 position for the treatment of DFUs and VLUs starting in 2014.
Avita Medical Ltd.
Avita Medical Ltd (OTCQX:AVMXY) has developed an autologous cell harvesting, processing and delivery technology that enables surgeons and clinicians to treat complicated skin defects, including chronic wounds, scars, burns, depigmentation, and aid in rejuvenation or reconstruction procedures. ReCell® Spray-On Skin™ uses a patient's own skin cells to facilitate a regenerative process during which new skin is regrown. The cell suspension, which is sprayed onto an affected area to be treated, contains the appropriate mixture of healthy cells of different types to promote healing (keratinocytes and skin stem cells, or progenitor cells), skin structure (fibroblasts) and cells that reintroduce normal color (melanocytes) in areas where the pigmentation has become too dark or white as a result of injury, scars or disease.
The product is simple to use, affordable, and based on the number of papers we've read and case studies we've seen, it works. We see the product as the ideal method of treatment for a serious burn or scald, especially in the pediatric setting, given the significant advantages in biopsy size and pain. For example, in 2007, Gravante et al published findings from, "A randomized clinical trial comparing ReCell® system of epidermal cells delivery versus classic skin grafting for the treatment of deep partial thickness burns" in Burns, the Journal of the International Society for Burn Injuries (Vol.33, Issue 8:966-972).
The trial enrolled a total of 82 patients with deep partial thickness burns, randomized to allow homogeneous groups for age, gender, type of burns and total burn surface area (TBSA). The primary endpoints of the study were time for complete epithelialization (both treated area and biopsy site) and aesthetic and functional quality of the epithelialization (color, joint contractures). Secondary endpoints were the assessment of infections, inflammations or any adverse effects of the ReCell® procedure, particular medications, and post-operative pain.
Gravante et al conclude that the ReCell® system does not alter the basic surgical indications and principles of epidermal replacement in burn patients, but gives similar results and is less invasive in removing small quantities of skin to cover the exposed areas as the donor site is substantially smaller with the use of ReCell®. The authors suggest that the characteristics of ReCell® may make the product more desirable for the treatment of large burned areas, in which the available amount of non-involved skin is not enough to cover the affected areas. Key findings from the trial are presented below:

No significant difference between the ReCell® and STSG group on healing time or number of procedures needed for complete epithelialization.
No significant difference on aesthetic quality of healing (surgeon assessment).
No significant difference on pigmentation and vascularization.
No significant difference on intra-operative or post-operative adverse events.
Significantly less post-operative pain reported by the ReCell® group.
Of course, the impressive cost-effectiveness studies and investigator-sponsored work needs to be confirmed in a randomized clinical trial. Avita is currently conducting one such pivotal Phase III program (NCT01138917) in the U.S. The bulk of this study is being funded by a grant from the U.S. Department of Defense AFIRM Program - the second such award by AFIRM to Avita Medical totaling $2.623 million.
Besides burns and scalds, Avita is moving forward in Europe with a pilot study in VLU. On August 1, 2013, Avita announced the initiation of enrollment in the RESTORE trial, a multi-center, randomized European clinical trial evaluating the use and effectiveness of ReCell® Spray-On Skin™ in the treatment of patients with chronic venous leg ulcers. RESTORE will seek to enroll 65 patients that have unhealed venous leg ulcers for a minimum of 12 months. Following a two-week observation period, patients will be randomly assigned for treatment with ReCell® or the current standard of care and will be followed for a minimum of 12 weeks post-treatment. Enrollment began with three patients at the Addenbrooke's Hospital in Cambridge, U.K. It is anticipated that additional study centers in Denmark, France and Germany will participate in the trial.
Conclusion
We see big changes coming to the wound care market starting in 2014. The big players, Dermagraft and Apligraf, two products that each generate over $100 million in annual sales, are on their way out. Newcomers like Grafix will be dead in the water before even getting out of gate. Osiris has a market capitalization of $575 million and seems to have gone all-in on Grafix with the announcement earlier in the month to out-license Prochymal.
The three potential winners we've listed above, ULURU, Cytomedix, and Avita Medical are tiny. ULURU is virtually unknown in the U.S. Similar to Avita, the company's roots trace back to Europe and Australia. But we think Altrazeal®, for lack of a better phrase, is a pretty-damn cool product, and about one or two major data points away from going from obscurity to tens of millions in sales. AutoloGel™ is a product that has been disadvantaged, under-reimbursed, and mischaracterized for over a decade. However, the company has made enormous progress recently with CMS, and reimbursement starting in 2014 should allow AutoloGel™ sales to take off in a hockey-stick like ramp. As for Avita, the product is simply the best option we've see for serious pediatric burns and scalds. After all, how can you not love a product that can do this (source: Dr. Jeremy M. Rawlins FRCS):
Disclosure: I have no positions in any stocks mentioned, and no plans to initiate any positions within the next 72 hours. I wrote this article myself, and it expresses my own opinions. I am not receiving compensation for it (other than from Seeking Alpha). I have no business relationship with any company whose stock is mentioned in this article.