J.C. Penney (NYSE:JCP) is without doubt a retailer with a long history: one that spans generations of families around the United States. J.C. Penney has long prided itself on being a low-cost traditional department stores that brings a mix of exclusive products along with name brands. This history and defined customer value proposition that extends generations of Americans has been under extreme pressure over the past five years in the face of strong competition from fellow brick and mortar retailers such as Macy's (NYSE:M) and Target (NYSE:TGT) along with Amazon (NASDAQ:AMZN). J.C. Penney CEO Mike Ullman stated in the company's second quarter release:
We enjoy a 111-year-old tradition of being a trusted destination for high quality goods at prices affordable for the hard-working American family. A friendly smile and the Golden Rule approach to taking care of customers has served for generations under one flag, J.C. Penney.
This business model that has served J.C. Penney well over the first 100 years of its history does not provide an adequate roadmap for the future due to unprecedented competition, changing demographics, and a changing expectation on behalf of consumers. Over the past six months, J.C. Penney insiders have not bought a single share of the company's stock. The only insider activity has been the sale of 10,000,000 shares by Stephen Roth, CEO of Vornado, who resigned from the J.C. Penney board in September. A more surprising and telling statistic, however, is that Mike Ullman himself -- the man who has been tasked with bringing the failing retailer back to life -- does not own a single share of J.C. Penney stock (Ownership Statement). This should raise a great deal of concern for investors, as it shows that those closest to the company's results and strategy are not willing to put forth their own funds to invest in the ailing retailer. Although these corporate executives receive stock options, the absence of insider buying should be noted by investors. J.C. Penney's history may have transcended past generations, but the current reality for J.C. Penney is that the current operating environment has proven too difficult for this traditional, value conscious, department store to compete in the face of Target, Macy's, Amazon, and a host of other strong competitors. Insiders have taken note; so should you.
The Challenge of Changing Consumer Behavior:
J.C. Penney's long history is both a blessing and curse, but over the past several years its reputation has been far more of liability than an asset. Having the rich history that J.C. Penney has led the company to build a network of over 1,100 stores through strong customer service, a differentiated product offering, and superior locations. The image of J.C. Penney, however, is that of an older department store that has failed to keep up with the times. Changing consumer behavior after quarter after quarter of negative comparable store sales is an extremely difficult task that will take a deliberate and innovative strategy. On October 8th, the company released a turnaround update that included a number of statistics and "strategic updates," but the problem is that most of the company's current initiatives are about turning a poorly run company into a fairly run company. Much of the report focused on how the company is tinkering with its inventory levels and merchandising assortment. These changes will not change customers' perception that J.C. Penney has an old and undifferentiated customer value proposition. Ron Johnson, the company's previous CEO, attempted to change J.C. Penney drastically by opening boutiques within the store that would in Johnson's words revolutionize the ailing retailer. After almost two years as CEO, comparable store sales continued to plummet and Johnson was relieved of his title. As a result of the company's inability to garner new business and appeal to younger generations, the company's market share is at a near 33 year low.
Few Signs of Change:
Although Ullman reported on October 8th that the company was achieving 580 basis point sales growth over the August period, the company is still trending downward on a year-over-year basis. There are few signs that this trend will end unless J.C. Penney is able to fundamentally alter its business model to increase foot traffic within its stores. Ullman states that traffic is increasing due to merchandising changes and higher levels of inventory control, but these changes do not ultimately revolutionize a retailer. Rather, the company must show customers that they offer a differentiated offering that cannot be bought online or at Target or Macy's. The only initiative that J.C. Penney is taking on that shows promise is the company's recent announcement that Disney (NYSE:DIS) will be opening 565 boutique Disney stores within the walls of J.C. Penney. This is a step in the right direction, the direction that Ron Johnson was attempting to take J.C. Penney, but these moves do not show a commitment to a long-term revitalization of the retailer. Rather, investors should follow in the footsteps of insiders and wait for signs of strategic change as opposed to inconsequential tweaks that will not alter the customer experience.
A Financial Nightmare:
Some see J.C. Penney as a takeover target, point to its high short % of float, and recent capital raise as a reason to see light at the end of the tunnel for J.C. Penney. Although a sale of the company is possible, investors cannot bank on such an occurrence at a far more premium valuation than the company's current market capitalization. Even if a short-squeeze does occur in the face of a short-term change or a piece of speculation, the only way for J.C. Penney to reverse its current negative store sales trend is to implement a strategy that deals with changing its image and redefining its business model. The company currently has negative cash flow of $863 million and holds nearly $6 billion in debt. These financial truths for J.C. Penney make the company unstable and ultimately should only attract investors who are willing to take substantial risk. J.C. Penney's own CEO Mike Ullman is not willing to take such a risk.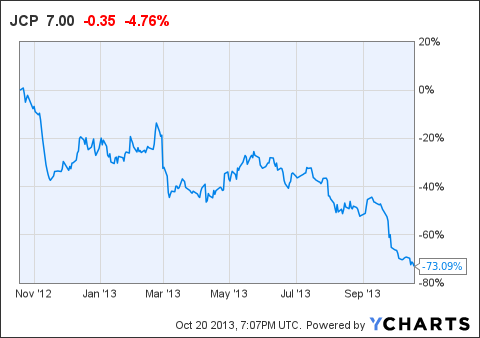 Conclusion:
The short-term prospects for J.C. Penney are unknown in the face of speculation regarding a takeover, bankruptcy, and other extreme business alternatives. With that said, J.C. Penney will not be able to survive long term unless it can move its strategy beyond changing its merchandising assortment and truly transition to become a 21st century retailer. J.C. Penney's history is acting as a liability. The company must rewrite its path forward. J.C. Penney insiders are not currently taking on the risk; investors should take note and exercise caution.
Disclosure: I have no positions in any stocks mentioned, and no plans to initiate any positions within the next 72 hours. I wrote this article myself, and it expresses my own opinions. I am not receiving compensation for it (other than from Seeking Alpha). I have no business relationship with any company whose stock is mentioned in this article.