Anyone advocating investment in the gold & silver miners over the past 12 to 24 months has been as about as welcome as a leper at an orgy. The sector has been a wealth destroying black hole for some two years. The mining stocks have been besieged by rising operating costs, falling metal prices, strikes, and increasing government activism (or shakedowns depending on your perspective). Miners have far underperformed the decline in the yellow metal over that time period. However, in the last few trading sessions that underperformance has started to reverse (See Chart). Are we at an inflection point in the gold mining stocks?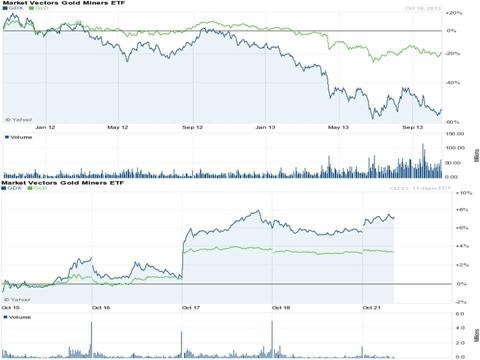 I believe very possibly that we are at such an inflection point currently. This means long-term value investors might want to start accumulating shares in a myriad of the larger miners over the coming months. The sector seems to be learning its lessons and has been in the process of closing unprofitable mines, reducing operating costs wherever they can and curtailing expansion plans.
Here are two gold miners that have started to rebound off their multi-year lows and also have started to draw favorable comments from analysts.
IAMGOLD Corp. (NYSE:IAG) is a mid-tier diversified gold & niobium miner based in Canada with assets in North America, Africa and South America. Its properties consist of high quality, long-lived assets. HSBC went from "Neutral" to "Overweight" on the shares today. HSBC's analyst has a $6.20 price target on IAG (~25% above its current price) as well.
One of the most attractive features of this stock is that it pays you a dividend yield north of five percent (5.2%) while waiting for the company to turn around its fortunes. The stock is also cheap at about half of its stated book value. IAMGOLD also sports a solid balance sheet with little net debt.
The stock currently sells for less than the over $1 a share it made in FY2011 and is down some two thirds from its 52 week highs. Despite the decline of gold prices over the past two years, the company has remained solidly profitable and after falling this year; revenues are expected to post mid digit increases in FY2014.
Barrick Gold (NYSE:ABX) is one of the largest gold miners in the world with productive assets mainly in the United States, Australia and South America. The company has been challenged by cost overruns at its Pascua-Luma property in Chile. Barrick like IAMGOLD is also down substantially (~60%) from its 52 week highs.
The shares also trade for just over 4x the company's earnings in 2011. HSBC also came out with a supportive note on AngloGold this morning. It moved the gold miner from "Neutral" to "Overweight". This follows Deutsche Bank's upgrade of the company from "Hold" to "Buy" earlier in the month. The German investment bank also has a $30 price target on ABX, more than 50% above its current stock price.
At these prices, the stock trades just over 4x the $4.48 in EPS Barrick made in FY2011. After falling for months on end, consensus earnings estimates have ticked up over the past week. In addition, the company has easily beat bottom line expectations for three straight quarters.
Note: The author has long dated out of the money bull option call spreads on both stocks highlighted in this article.
Disclosure: I am long ABX, IAG. I wrote this article myself, and it expresses my own opinions. I am not receiving compensation for it (other than from Seeking Alpha). I have no business relationship with any company whose stock is mentioned in this article.