The market is scheduled to get the November monthly auto sales figures Tuesday during the trading day, and the expectations are for a better month than October.
During the last month, Ford (NYSE:F) and General Motors saw higher sales year over year, while Toyota (NYSE:TM) and Honda (NYSE:HMC) saw their sales flat compared to October of 2008. The weak spot continued to be Chrysler, which saw sales decline more than 30%.
The following chart outlines the year over year sales change for each automaker for each month from the beginning of the year.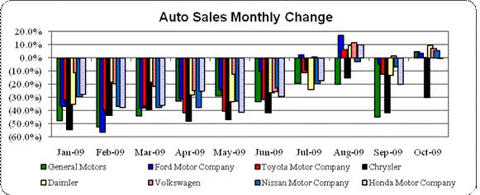 So, the month of October looked better than basically any month during 2009, and this is even after taking the "cash for clunkers" hangover effect into account. Following the cash for clunkers program in August, many analysts (yours truly included) expected to see a big drop-off in sales below the levels the industry was seeing in June and July. However, in September, sales were roughly flat with June (before the news about a government incentive program began to really gain traction), and then in October we saw that 12% increase sequentially.
Looking forward to November's auto sales, we expect another double-digit percentage sequential improvement, and for the industry to mark the first year over year improvement (save for the 1.0% improvement from the cash for clunkers program) since 2008. The seasonally adjusted annual rate of sales (SAAR) in September was roughly flat with that of June, while the SAAR in October reached about 10.5 million. During the month of November, we are looking for sales to reach the 11.0 million unit mark, with Ford leading the way. General Motors should put in another strong month, and we expect sequential improvements from both Honda and Toyota.

Our favorite investment from the industry continues to be Ford, which boasts a solid new car line-up with a good mix (finally) of the lighter, more fuel efficient vehicles helping to balance the strong product line-up of light trucks and SUVs.
Despite our questions about General Motors management (how it continues to be run by basically the same people that helped run it into the ground), the product line-up that is out now (and set to be released) should turn some heads. The advertisements that are currently running showing the miles per gallon (mpg) for each Chevy model relative to its respective vehicle from Toyota is actually luring some consumers into the showrooms. While it will take a long time for the American taxpayer to receive their money back (if ever), General Motors shouldn't be completely discarded from the competitive picture; roughly one out of every five cars in America is still produced by General Motors.