By Jeff Bailey
In the relatively short life of YCharts, we have written more than three dozen articles on Amazon (NASDAQ:AMZN) - not because we're fans of the stock but because it poses a unique problem for value investors:
Amazon's stock trades at such a crazy valuation that owning it requires a leap of faith many value investors aren't willing to make. At the same time, Amazon's brutal competitive behavior has transformed retailing, and buying any other retail stock without first gauging its vulnerability to Amazon would be a foolish move.
Shorting Amazon, of course, would probably be nuttier than buying it, as investors enamored of its disruptive (and destructive) business model have piled into the stock, even as the company's operations have failed to produce regular profits. For this reason we've nicknamed Amazon the Suicide Bomber of Retail, a company that ruins the business of competitors while also trashing its own bottom line.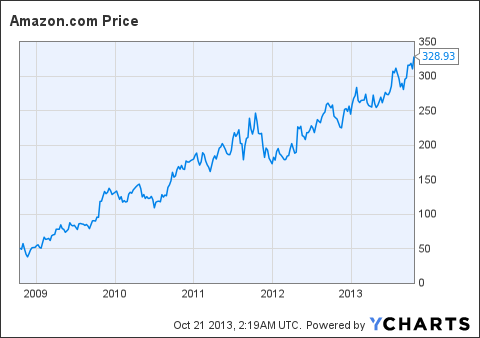 AMZN data by YCharts
One of our favorite investment writers, Jack Hough of Barron's, tackled this same topic over the weekend. He noted: "a company that can win cheers on Wall Street while shunning profits is a dangerous foe." Hough, as we do, finds Amazon shares pricey and also worries that other retailer stocks are at risk because of the online merchant's aggressive pricing and (to be fair) its fabulous service.
Indeed, this chart of soaring revenue, and a narrowing profit margin gone negative, suggests a company that is selling dollar bills for 99 cents apiece, and hoping to make it on volume. If you're a competing retailer - say Best Buy (NYSE:BBY) or Barnes & Noble (NYSE:BKS) - and investors do value you on profitability, it must seem horribly unfair, and impossible to succeed.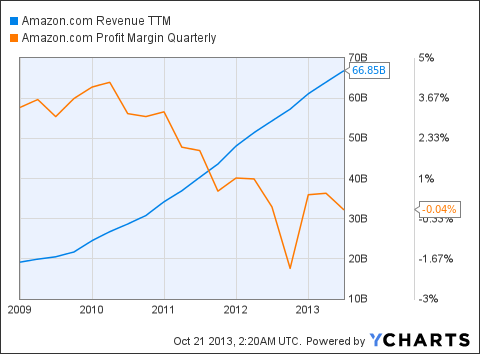 AMZN Revenue TTM data by YCharts
Even when it's losing money, Amazon has fabulous cash flow; it gets paid almost immediately when you use your Visa (NYSE:V) or MasterCard (NYSE:MA) to buy stuff on the site, and its deals with suppliers allow it to pay them later. Each sale of goods is therefore cash-positive. That has allowed Amazon to be a price cutter and to invest enormous sums in new warehouses and new Amazon employees to support its sales growth.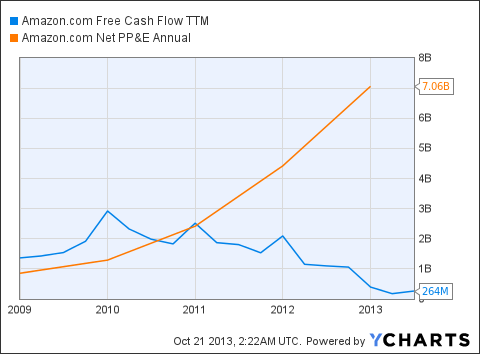 AMZN Free Cash Flow TTM data by YCharts
So, investors really must weigh a retailer stock's vulnerability to Amazon. Mark Miller, an analyst at William Blair in Chicago, regularly assesses such vulnerability by measuring product overlap retailers have with Amazon; comparing prices on those overlapping items; and gauging the shopping experience of other retailers to see if there is some fun, comfort, convenience or other factors that would thwart Amazon.
Last May, we looked at Walgreen (WAG), Cabela's (NYSE:CAB) and TJX (NYSE:TJX) as three Amazon-resistant retailers.
All but Cabela's have outperformed the S&P 500 since our article, but they haven't matched the surge in Amazon shares.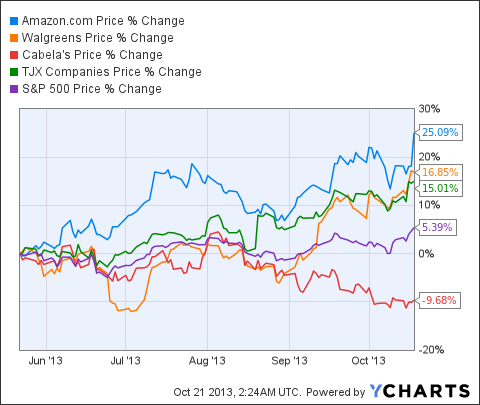 AMZN data by YCharts
Relying on Miller's research - unusually enterprising - we've gauged the Amazon-resistance at Tractor Supply (NASDAQ:TSCO), at Dick's Sporting Goods (NYSE:DKS); and at eBay (NASDAQ:EBAY).
We've found less to cheer about in articles about Ulta (NASDAQ:ULTA), Staples (NASDAQ:SPLS) and at Target (NYSE:TGT), which Miller calculated is more vulnerable than Wal-Mart (NYSE:WMT).
One could easily jump on the Amazon bandwagon. Isn't a company so dominant and disruptive inherently a good investment? Affluent enough to invest in stocks, chances are you've also been buying lots of stuff on Amazon and perhaps enjoying the free shipping from Amazon Prime, which sent the company's shipping costs soaring but also gave it a much-needed extension of revenue growth.
Hough, the Barron's writer, notes however, that Amazon's disclosure of its costs in various of its businesses is so scant that one can't really build a reliable model for how the company becomes wonderfully profitable. And yet, analysts following Amazon see EPS of $10.61 in 2016. That will require yet more revenue growth, and that's hard to come by without aggressive price-cutting, which, of course, trashes margins. Short of believing all the other retailers go out of business, we're back to that leap of faith, one that's difficult for value investors to make.

Disclosure: I have no positions in any stocks mentioned, and no plans to initiate any positions within the next 72 hours. I wrote this article myself, and it expresses my own opinions. I am not receiving compensation for it. I have no business relationship with any company whose stock is mentioned in this article.