Throughout most of the past year, Landec (NASDAQ:LNDC) has outperformed the Nasdaq Composite. However this has rapidly changed following the 25% decline of Landec's stock price in less than 3 months. This currently leaves the company with a relatively modest YoY gain of 12%, compared to 30% for the Nasdaq Composite. Does this sell-off mean that investors shouldn't touch Lan

dec, or does this create an attractive entry point?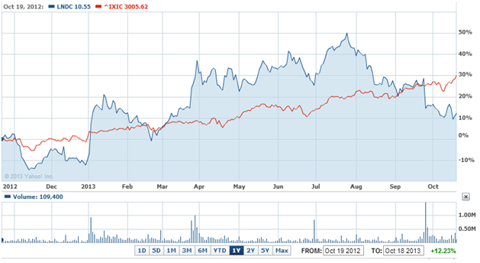 Company Overview
Landec Corporation is a materials science company that leverages its proprietary polymer technologies, application development and innovation capabilities to develop and commercialize new products in food and biomaterials markets. Landec has two proprietary polymer technology platforms: Intelimer Polymers® and Hyaluronan ("HA") that are the foundation for its business. Landec's subsidiary, Apio, has become the leader in US fresh-cut specialty packaged vegetables sold in North America. Through its subsidiary, Lifecore Biomedical, Landec is a premium global supplier of hyaluronan-based materials and medical products. At the time of writing this article, Landec traded at $11.84.
Recent Performance
First, let's look at what caused the big sell off since Landec reported results for the fourth quarter and fiscal year 2013 at the end of July. Revenues for fiscal year 2013 increased 39% compared to 2012, whereas net income grew 47% (or $0.70 per diluted share), before including the $3.9 million non-recurring earn-out adjustment recorded during the second quarter of fiscal year 2013. Despite beating expectations on both revenue and profit, management comments from Gary Steele, Landec's Chairman and CEO, clearly caused some concerns to shareholders. "For fiscal year 2014, we are projecting overall corporate revenues to increase approximately 6% and net income to grow by approximately 20% compared to fiscal year 2013, after excluding the $3.9 million earn out adjustment. [...] Going forward, our goals, beginning in fiscal year 2014, are to continue growing by generating average annual revenue growth of 10% and average annual net income growth of 20% over a five year period with some years being below these goals and other years above these goals." Guidance of slowing revenue and net income growth can thus explain why Landec's stock price fell rapidly from its 52-week high of $15.82 in the following weeks, before stabilizing between $13-13.50 throughout the second half of August and most of September.
Fast-forward to September 25th, and shares dropped another 13% after the company reported fiscal 2014 first quarter earnings. Revenue rose 7% to $109.5 million, slightly beating expectations, but net income only increased by 9% to $4.8 million, or $0.18 per share, when analysts were expecting $0.23. According to Gary Steel, the company exceeded its revenue plan and met its operating income plan for the quarter, despite weakening gross margin from 13.4% to 11.4%. So what happened? "The contribution to net income of $5.4 million during the quarter from the change in the fair market value of our investment in Windset Farms was $2.3 million lower than we had budgeted strictly because of a change in the timing of income recognition. This will result in approximately $0.06 per share shifting from the first quarter to the remaining three quarters of fiscal 2014. While a change in the fair market value of an investment is difficult to predict, per our original guidance for fiscal 2014, we continue to expect to recognize a 35% to 40% increase in the fair market value change of our Windset investment compared to the fair market value change in fiscal 2013." In other words, the entire expectation miss can be attributed due to the change in timing of income recognition, which does not change the investment proposition in Landec, unless you have a short-term investment horizon. Landec re-affirmed its full-year targets, barring any significant weather-related events during the rest of the fiscal year.
Key Value Indicators
I initially came across Landec through my Value Stock screener on Finviz, which in this saturated market yields less and less stocks that can be considered as good quality but undervalued. Specifically, I start my search by looking for stocks with a PEG ratio lower than 1, which can be found by dividing the trailing P/E ratio by the expected EPS growth rate for the next 5 years. We've seen above that the expected EPS growth rate is 20% over the next 5 years, whereas the current P/E is 13.77, or a 7.26% earnings yield. Therefore, we get a PEG ratio of 0.69, which is a first key value indicator suggesting that the stock may be undervalued.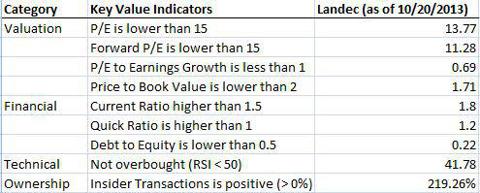 Additional key value indicators I like to employ to ensure the stock is safe to invest in is to ensure the Price to Book ratio is lower than 2, the Current Ratio is higher than 1.5, the Quick Ratio is higher than 1, and Debt to Equity is lower than 0.5. Landec fits the bill on all counts (1.71, 1.8, 1.2 and 0.22 respectively). Finally, there are two more non-fundamental metrics I like to look at to ensure now is the right time to invest. First, the RSI of 41.78 tells me that from a technical perspective, the stock is not overbought. In addition, I look at insider transaction to see whether there are any worrying trends. Over the past 6 months insider transactions have been overwhelmingly positive, although when doing a deep dive into the individual transactions we do see that one of the Directors has recently been exercising 55,000 options and unloaded them immediately. Personally I am not that worried about one individual selling exercised options, but I wanted to make sure I mention it in the article as a warning anyway.
Analyst Targets
Landec has been recently downgraded by Zacks from Neutral to Underperform with a price target of $11.50, whereas Feltl & Co. also downgraded the stock, from Strong Buy to Buy with a $16.00 price target on the stock, down from $18.25. The company currently has an average rating of "Buy" and an average price target of $15.70, representing 32% upside potential.
Conclusion
Weakening margins, insider selling, downgrades, and the recent earnings miss on net income may all have contributed to the recent sell off and should be taken into consideration when researching Landec. However, it is my opinion that the markets have overreacted, as fundamentals remain very strong and the recent earnings call do not provide much reason to doubt that a 20% growth rate is realistic. Landec is one of the few companies that exhibit all Key Value Indicators I look for in a company, and I do not see any major issues with the company itself that would explain its low valuation. Therefore, I am bullish on Landec and expect to see at least 15% in the next 12 months and over 30% in the longer term.
Disclosure: I am long LNDC. I wrote this article myself, and it expresses my own opinions. I am not receiving compensation for it (other than from Seeking Alpha). I have no business relationship with any company whose stock is mentioned in this article.