Initial sales reports from Black Friday gave little hope for a blockbuster holiday season for retailers: although more people visited retail stores over the holiday weekend, almost 2 out of every 3 Americans, they spent almost 8% less on average. This led to sales that were basically flat from last year, widely proclaimed to be the "worst Christmas in 40 years". But perhaps a more meaningful indication of the true outlook this season is yet to come. Despite these grim initial results from brick-and-mortar stores, prospects appear to be much brighter for online retailers, with nearly 4 million active shoppers per minute on "Cyber Monday" pushing the total volume of online sales close to $900 million for this year's third busiest shopping day.
These trends should benefit retailers that specialize in online sales and other internet related consumer services. Firms like Amazon.com (NASDAQ:AMZN), which has pushed out deals every day for the past week, and eBay (NASDAQ:EBAY), which has seen a sharp increase in usage of its PayPal service (it reported a 20% uptick in payment volumes on Black Friday) could be the beneficiaries of continued cost-consciousness (or perhaps just embarrassment over spending on big ticket items when many remain cash-strapped). Since nearly 87% of American retailers had Cyber Monday sales, it is safe to assume that the day will continue to become an important barometer for the growth and health of the online sales market.
For investors who expect the gradual shift towards online shopping to accelerate this year, there are multiple ETFs offering ways to play this trend and invest in "cyber retailers."
Internet HOLDR (NYSE:HHH)
Like many HOLDRs, this fund is extremely concentrated into a few securities: HHH only holds 12 stocks and over 99% of the assets are in the top ten holdings. The fund's top two holdings are Amazon.com and eBay which combine to make up almost two-thirds of the fund (Amazon.com is 42.3% of the portfolio and eBay is 20.3%). This ETF will look to build on its performance during the past 52 weeks, when it has gained nearly 100%.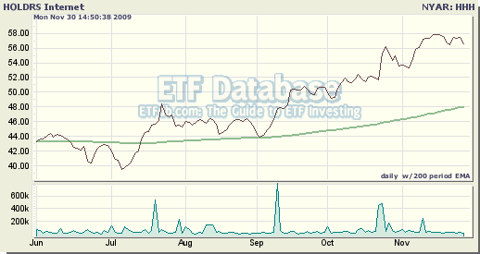 PowerShares NASDAQ Internet (NASDAQ:PNQI)
PNQI has some similar holdings to its HOLDR counterpart, but offers significantly more depth and diversification. PNQI is also less of a "pure play" on online retailers, offering exposure to several technology firms that don't engage in direct sales through the internet. Amazon.com is once again the largest holding, accounting for about 11% of PNQI. Amazon is closely trailed by search engine companies Baidu (NASDAQ:BIDU) and Google (NASDAQ:GOOG), which each make up about 9% of the fund and could benefit less directly from a busy online shopping season. This ETF also has a much heavier weight towards mid cap securities: over half the fund is in mid- and small-cap firms, and the fund has an average market cap of $7.2 billion.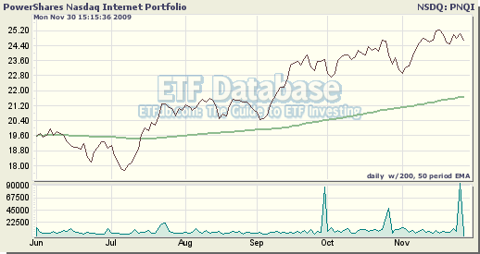 Disclosure: No positions at time of writing.