As most of you know, I spend many days and nights researching and writing on publicly-traded REITs. I enjoy writing but the biggest excitement for me is examining the microscopic details of how REITs make money. As you know, they all aren't profitable and it takes a lot of digging to find just one or two gems.
There's a very good reason that Ben Graham believed that "an investment operation is one which, upon thorough analysis, promises safety of principal and satisfactory return." Graham emphasized the use of these words "thorough analysis" as his value approach to investing is rooted in his methodology to minimize such risk by filtering out disadvantageously positioned securities from the outset.
Graham's well known "margin of safety" concept is used as an "all purpose" risk minimization tool with which one can proceed with a fair degree of certainty that, regardless of day-to-day price fluctuations, one's principal is secure.
As a true "value investor," I tend to stay away from the daily noise of Mr. Market and the prices that are based on unpredictable factors, many of which pertain more to emotion than anything else. As Graham explained:
An investor who places his emphasis on timing, in the sense of forecasting will end up as a speculator and with a speculator's financial results.
Bingo. That's the reason I spend hours on end dissecting REITs. I cannot provide "satisfactory results" for myself or my newsletter subscribers unless I have looked under the hood as I attempt to examine individual REITs in thorough, if not molecular, detail. I conclude each and every article with an inspiring satisfaction that "I'm not neither right nor wrong because the crowd disagrees with me. I'm right because the data and reasoning are right." (Graham)
Check Under the Hood
As noted above, I enjoy "checking under the hood" and examining the components and fundamentals of REITs; however, from time to time it's good to take a big step back and examine the road that we are traveling. In other words, what's the use of breaking down the engine of a Ferrari Testarossa (a 12-cylinder engine that can accelerate from 0-60 mph in 4.9 seconds) when I'm driving in gridlock traffic in New York City. Simply said, it's always good to look at the macro-economic conditions as you consider the vehicle of choice.
I'll be the first to tell you that I'm not an expert in the US economy. I have a degree in business and I have spent nearly three decades of my business life working in commercial real estate. I have witnessed a few recessions and I'm glad that I survived the last one. It's a good sign that many of the REITs that I studied in college are still around today. Companies like Kimco Realty (NYSE:KIM), Taubman Centers (NYSE:TCO), and Simon Property Group (NYSE:SPG) are all what I considered "battle tested" REITs.
Although I'm not an economist, I can rely on my own GPS system as a guide to steer me through tough times. As Ben Graham believed, value investing is akin to "owner orientation" - a means to determine whether investments are logically sound from a business owner's perspective. In a recent Seeking Alpha article, another writer provided his view of REITs today and in his thesis he explained:
There is an elevated risk of a short-term U.S. REIT correction due to a lower demand for U.S. Treasuries and year-end tax harvesting of capital losses.
REIT Roadblock?
In the above-referenced article, the author went on to explain the threat of "continued U.S. Treasury weakness"; however, he never connects the risk to REITs except by the observation that REITs went down starting May 22nd while Treasury yields went up. His argument is without facts as he stated the "probable risks inherent in the market that may present near-term REIT weakness, specifically within the next 30 days."
I don't see how the threat of rising interest rates has anything to do with near-term REIT weakness. After all, the historical spread between the REIT dividend yield and the 10-year Treasury yield has been about 100 basis points. As illustrated below the relationship between the two has been pretty loose. A correlation of 0.6 is not insignificant, but it is certainly not enough to stand alone in a valuation analysis. The most important difference between a public REIT and a bond is the ability for the REIT to increase the dividend.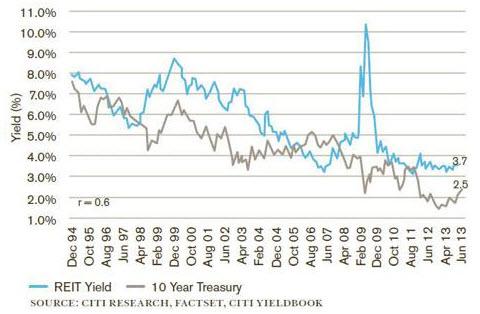 At some points in history, REITs were paying out more than their cash flow in dividends, which made dividend growth unpredictable, at best. At other points, cash flows were growing and payout ratios were low, indicating dividend increases were on the horizon. By analyzing REIT fundamentals, investors can determine a higher predictability in the dividend, which may explain why the spread between the dividend yield and the 10 year Treasury yield has not been consistent. Historically, REIT returns have generally been very good when Treasury yields are up.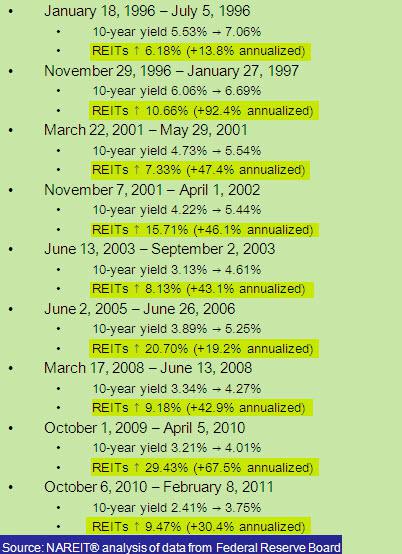 Steve Jobs said:
You can't connect the dots looking forward; you can only connect them looking backwards. So you have to trust that the dots will somehow connect in your future. You have to trust in something - you gut, destiny, like, karma, whatever. This approach has never let me down, and it has made all the difference in my life.
Another REIT Roadblock?
The author's second "risk" for REITs (in the above-referenced article) was explained as follows:
While REITs are up 3.9% YTD, the current level is below most of the year's trading ranges, leaving many investors underwater. As such, REITs are an easy sell for those looking to cut their tax bill. With forward-looking markets, the selling could begin in November instead of December as investors look to get in front of the end-of-year tax selling bandwagon.
That appears to be quite a stretch! The author believes that REITs will be sold for tax-loss-harvesting in spite of the fact that they're up for the year, and it'll start in November because people want to get ahead of the "bandwagon"? Why wouldn't it have started in October for the same reason? Or September? Again, I see no logical reason that REITs will start another round of sell-off simply due to a tactical "cutting bait" strategy.
In other words, REITs are indeed "a great long-term investment," so perhaps intelligent investors should hope the author is right, in which case we'll all be able to add more to REIT portfolios at an especially good price - or a higher margin of safety. However, the author has not made a case for either risk outlined above.
The All Weather Vehicles
I used to drive a Defender 90 - a true all terrain vehicle that could get me practically anywhere I wanted to go. I missed driving the SUV as it was simply indestructible (a great choice since I have 5 kids). In the land of REITs a Defender 90 would be synonymous to a "blue chip" company or what Ben Graham meant when he said:
the defensive investor must confine himself to the shares of important companies with a long record of profitable operations and in strong financial condition.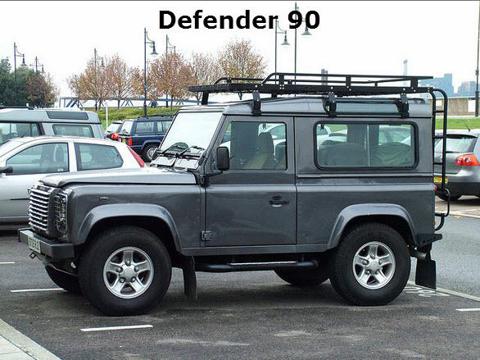 Like the Defender 90, Blue-Chip REITs should provide durable long-term performance in periods of rising interest rates. Graham summed up this class of defensive stocks as follows:
It is the consistency in the products that creates consistency in a company's profit. Consistency and durability are attributes for competitive advantage.
After surveying the list of filtered investment opportunities, the value investor considers which (if any) of the remaining companies are worthy of ownership. This involves some consideration of the company's industry, its current competitive position within that industry, and the "economic moat" around the company; that is, a sustainable competitive advantage that helps preserve long-term pricing power and profitability.
Intelligent REIT investors should profit from market folly rather than participating in it. An intelligent investor is best off concentrating on the real life performance of his defensive REIT securities and their dividends, rather than being too concerned with Mr. Market's often irrational behavior - summed up by Ben Graham:
Basically, price fluctuations have only one significant meaning for the true investor. They provide him with an opportunity to buy wisely when prices fall sharply and to sell wisely when they advance a great deal. At other times he will do better if he forgets about the stock market and pays attention to his dividend returns and to the operating results of his companies.
Here are my top 5 REIT picks that are battle-tested and should get me through just about any market condition:

Keep in mind, investors that are seeking growing dividends as a way to contend with rising rates should find REITs attractive. Despite the risks inherent with investing in a yield-sensitive asset class at close to historic low interest rates, the fundamentals are too good to ignore, which should provide some cushion when rates do begin to rise.

Each month I feature a "Blue-Chip" REIT in my monthly newsletter, The Intelligent REIT Investor.
Source: SNL Financial.
REITs mentioned: (NYSE:O), (NYSE:VTR), (NYSE:SKT), (NYSE:WPC), and (NYSE:FRT).
Disclaimer: This article is intended to provide information to interested parties. As I have no knowledge of individual investor circumstances, goals, and/or portfolio concentration or diversification, readers are expected to complete their own due diligence before purchasing any stocks mentioned or recommended.
Disclosure: I am long O, ARCP, GPT, STAG, CSG, VTR, HTA, ROIC, DLR, UMH. I wrote this article myself, and it expresses my own opinions. I am not receiving compensation for it (other than from Seeking Alpha). I have no business relationship with any company whose stock is mentioned in this article.