Intel (NASDAQ:INTC) reported a good set of results in its most recent quarter with its PC Client group revenues declining by ~3.5% y/y, compared to the 8% decline in PC industry revenues reported by Gartner. The gross margin topped 60%, with its Q413 guidance also meeting market expectations. The server group also reported a strong set of numbers with growth in both volumes and pricing. The company continues its transition to a mobile focused one with its BayTrail chips releasing on time. Intel has also announced its Internet of Things (IOT) strategy, so that it does not miss out on the next big change in technology. It is still early days to announce the success or failure of Intel's mobile centric strategy. On the plus side, major PC OEMs such as Dell (DELL), Lenovo, Acer etc. have announced Baytrail powered Windows 8 tablets. On the negative side, Apple or Samsung have not shown any major inclination towards x86 chips for their mobile products.
Intel's other major product diversification into TV set top boxes has been a failure till now with repeated delays, management indifference and major executive departures. The OnCue service never made much sense to me, given Intel's capabilities. The company's DNA is oriented towards the B2B enterprise technology segment like Cisco (NASDAQ:CSCO) and Microsoft (NASDAQ:MSFT). These companies have generally failed in their attempts to enter the consumer product segments. OnCue looks like another such failed effort to me and the faster the company jettisons the TV service, the better it will be. Despite OnCue going Off Cue, I remain positive about Intel's stock given its high competitive barriers in chip manufacturing, monopoly in PC processors and entry into the mobile industry. I think that Intel stock remains a buy given its 3.7% plus dividend yield and cheap valuation.
How OnCue is going Off Cue
Is there a chance that OnCue can succeed?
I find it highly unlikely that OnCue can succeed as I was skeptical right from the start and the recent evidence has strengthened my initial opinion. But a good analyst should always look at both sides. Intel's strengths lie in making the best and fastest processor semiconductor chips. However, the company has not announced anything radically different about the set top hardware. The company has focused more on the software and services side. Intel has said that it would automatically save content for three days but that again does not really leverage Intel's strengths.
The OnCue service could succeed if Intel finds the right partner such as Netflix who have already got a great video on demand service and could look to enter the TV subscription market as well. Intel could leverage its hardware strengths, while Netflix could bring its content relationships and subscriber base to the partnership. But I am not sure that Netflix would be interested because Intel is not delivering anything different on hardware. If Intel could come up with a unique set top box/server package that could really change the competitive dynamics, then Netflix could join the partnership. However, the most likely path I see is for Intel to write off this venture.
Stock Performance and Valuation
Intel's stock has underperformed in the stock market and NASDAAQ in the last 3 months and has fallen to the $23-24 range, as investors have become more concerned about the success of its mobile strategy and the accelerated slowdown of the PC market. The company is cheap in my view with a forward P/E of ~12x and a divided yield of 3.8%. I think that Intel's downside is capped as the company has formidable technological strengths in manufacturing technology as well as R&D. The company has got one of the largest R&D budgets in the world and has invested massively in creating the most advanced semiconductor fabs. The company's stock offers little downside and lots of upside if the company's mobile strategy starts showing traction soon.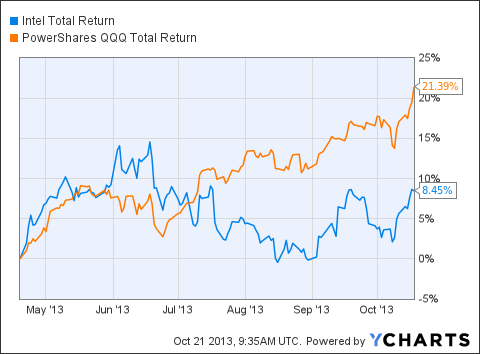 INTC Total Return Price data by YCharts
Summary
Intel has managed to execute almost flawlessly on its strategy in the last one year and the fruits of this strategy should start showing by 2014 and 2015. The company has managed to keep its revenues flat, despite a sharp slowdown in its core PC market. The company has delivered both Haswell and Baytrail chips on time and with the promised performance. It is only in its TV diversification that Intel has faltered. The TV service requires very different skills and expertise and I am not sure how Intel's core chip operations will benefit by selling set top boxes. Intel would probably be better served by entering into making and selling of PCs and laptops. I think that the earlier Intel kills off the TV venture, the better off it will be. It will save money as well as valuable management bandwidth. Intel faces one of its most crucial tests in capturing marketshare from entrenched mobile ecosystem centered on ARM. It needs to stop wasting time on unrelated ventures which seem to lack strategic clarity. Even the new Intel CEO seems less than enthusiastic about OnCue. For a small company, the OnCue could prove to be a source of a big problem, but given Intel's massive size, the OnCue failure would not be more than a pinprick. I remain positive about Intel's overall prospects, given its cheap valuation and the fact that its large investments in mobile chips should start showing results soon.
Disclosure: I have no positions in any stocks mentioned, and no plans to initiate any positions within the next 72 hours. I wrote this article myself, and it expresses my own opinions. I am not receiving compensation for it (other than from Seeking Alpha). I have no business relationship with any company whose stock is mentioned in this article.