It's clear advancements in well-completion technologies and processes have been, and will continue to be, vital to the oil and gas industry's ability to fully develop the reserves that remain on the planet. Whether it's trillions of cubic feet of natural gas trapped in the hardest of shales or billions of barrels of crude locked miles under the surface of the ocean, the capacity to complete wells without damaging — and moreover, while maximizing — their potential is absolutely crucial to the industry's future.
With this in mind, we've examined the state of customer satisfaction across various completion-related products and services covered in EnergyPoint Research's industry-leading and independent surveys. Among other findings, the results suggest customers tend to be more pleased with suppliers' specializations within, rather than integrations across, this particular oilfield category.
Offerings that work

On balance, respondents to our surveys appear comparatively pleased with suppliers' completion-related products and services. In fact, our data show the category's ratings have outperformed since 2006.
Click to enlarge: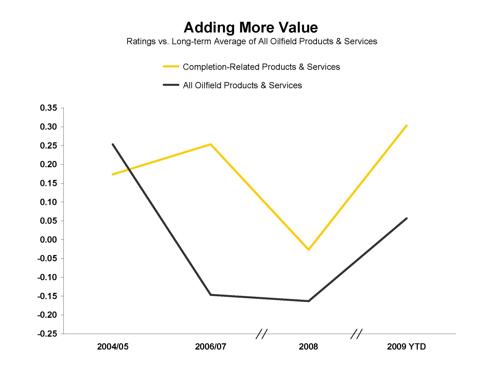 In terms of specific offerings, respondents rate casing and tubing installation highest of all sub-categories within the segment, followed by packers and artificial lift. Respondents hand out lower, although still respectable, marks when it comes to hydraulic fracturing and sand control. Intelligent controls and sensors is the only product group that respondents currently rate below average, the result of unproven technologies too often pitched as commercially viable.
Click to enlarge: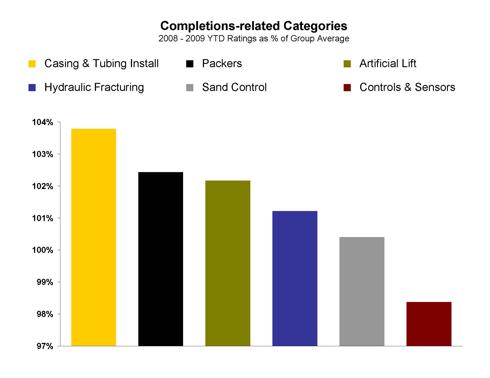 When it comes to individual suppliers, artificial lift specialist Lufkin Industries (NASDAQ:LUFK) enjoys the highest marks in the category of completions. What's more, the company continues to stand out as one of the most highly rated suppliers in our surveys, regardless of product or service category (click here to read additional thoughts on Lufkin). The Frank's companies (Frank's Casing Crew and Frank's International), despite showing some conspicuous deterioration in ratings over the last couple of years, also continue to enjoy healthy scores.
Integrated players Baker Hughes (BHI), Halliburton (NYSE:HAL), Schlumberger (NYSE:SLB) and Weatherford (NYSE:WFT) garner more modest regard with respondents, although they do show consistency across respondent types. An exception is BJ Services (BJS), which has seen its ratings erode as of late, driven by a decline in satisfaction among respondents at larger operators. Click on the following to read other analysis and thoughts regarding each of these companies: BHI, HAL, SLB, WFT and BJS.
Click to enlarge:
Notwithstanding evaluators' relatively affirming opinions concerning completion-related offerings, opportunities for improvement certainly exist. For example, customers still desire greater performance and consistency across product and service lines with the category. Less "mixing-and-matching of whatever happens to be available" and more fit-for-purpose and compatible-by-design products and services seems to be the clarion call.
Purchasers also desire greater access to technical resources and support, pointing to the need for product manuals and online sites with better organization, more accurate schematics and fewer overall mistakes. More robust failure investigations, along with better application of lessons learned across projects, were also identified as areas needing improvement.
About the data

This report is derived from over 10,000 customer evaluations of suppliers of oilfield products and services, including more than 2,500 evaluations in the category of well completions, via EnergyPoint's 2004 – 09 independent surveys.

Disclosure: No positions