Historically, Real Estate Investment Trusts (REITs) have been a favorite asset class for income oriented investors. REITs have lost some of their glitter since the bear market of 2008 but many still offer excellent yields, with a few offering greater than 5%. This article reviews the high yielding REITs to assess if the rewards are commensurate with risks. This article is an expansion of the one I wrote about 6 months ago that considered different types of REIT funds (see here).
Before analyzing individual companies, it will be useful to review some of the characteristics of this asset class. In 1960, Congress created a new type of security called a REIT that allowed real estate investments to be traded as a stock. The objective of this landmark legislation was to provide a way for small investors to participate in the income from large scale real estate projects. A REIT is a company that specializes in real estate, either through properties (an equity REIT) or mortgages. REITs receive special tax treatment and as a result, they are required to distribute at least 90% of their taxable income each year. This usually translates into relatively large yields.
REITs are usually not evaluated in the same manner as other companies. Rather than using typical financial measures like Price-to-Earnings, it is more appropriate to use a metric called Funds-from-Operations (FFO). FFO is a measure of net income that excludes depreciation. For most companies, depreciation of equipment is a legitimate expense since equipment wears out and must be replaced. However, real estate does not wear out and may even appreciate over time. FFO is a measure of the available cash flow and the Dividend-to-FFO percentage is a good indication of a company's ability to maintain dividends.
As of 1 January, 2012, there were 166 REITs publicly traded, representing a total market cap of $579 billion. About 90% of these were equity REITs. This is obviously too many companies to analyze so I limited my analysis to the 36 equity REITS that are covered by the Value Line Investment Survey. I further limited my sample to those REITs that have a 5 year history and yield more than 5%. A yield of 5% is high, even by REIT standards, so this criteria substantially reduced the number of companies in my analysis. The 7 REITs that met my criteria are:
Digital Reality (NYSE:DLR). This is not your typical REIT since it is focused on technology related properties, primarily internet data centers. It owns 117 properties that are distributed globally in 10 countries, with 92 of the properties located in North America and 21 in Europe. As of 2012, it had more than a 94% occupancy rate. Income is relatively stable since 89% of the lease rates are tied to inflation and the average lease has about 7 years left on the contract. This has resulted in a steady growth in FFO. The company has been expanding its global footprint and in 2012 acquired a record $1.6 billion in properties. It has a strong balance sheet and has a dividend yield of 5.9%, which is about 65% of its FFO.
HCP (NYSE:HCP). This is the largest healthcare REIT with 1160 properties in 46 states. The properties are focused on senior housing (33%), skilled nursing (34%) and life sciences (15%). The company has been expanding, closing $2.5 billion in investments last year. As the baby boomers mature, this should bode well for healthcare facilities. The company has achieved 28 consecutive years of dividend growth and is the only REIT in the S&P 500 Dividend Aristocrats Index. It currently yields 5.2%, which represents 70% of its FFO.
Health Care REIT (HCN). This healthcare REIT has 1025 properties in 46 states. It has a wide assortment of senior housing, skill nursing facilities, medical centers, and life science buildings. HCN has recently been on an acquisition romp and has done a good job of integrating the new properties into its portfolio. It has an excellent stable of properties with 82% private pay and 80% in affluent markets. FFO is expected to increase by about 8% this year. The company has paid dividends without interruption for 170 quarters. The dividend rate is 5.0%, with a Dividend-to-FFO ratio of about 80%.
Healthcare Realty (NYSE:HR). This REIT owns and manages 204 outpatient facilities in 28 states. HR is in the process of developing 12 properties, which are currently 69% leased. FFO declined sharply this year due to paying off debt. However, FFO is expected to bounce back in 2014. It is expected that the Dividend-to-FFO ratio in 2014 will be a relatively high 94%, which could put pressure on the dividend. The current dividend yield in 5.3%.
Liberty Properties (LRY). This REIT owns 582 properties distributed throughout the United States. Liberty owns 81 million square feet of big-box and multi-tenant industrial and office buildings. Liberty's strategy is to move away from office building to the more lucrative industrial properties. In 2012, the occupancy rate was an excellent 92.1%. FFO decreased slightly in 2012 due to repositioning the portfolio form offices to industrial properties. However, the Dividend-to-FFO ratio is still healthy at around 70%. The dividend yield is 5.2%.
Mack-Cali Realty (NYSE:CLI). This REIT owns 259 properties, primarily office buildings located in the northeast United States. The office space environment has continued to be one of the most challenging real estate sectors. The company is reacting by selling off some non-core assets to consolidate operations. The market has not been kind to Mack-Cali and it has dropped substantially and is now selling near 2008 bear market levels (which are about the same price it sold for in the 1990s). The dividend has recently been cut but it is still yielding an attractive 5.4% and Dividend-to-FFO ratio is only about 63%.
Realty Income (NYSE:O). This REIT owns 3,681 commercial properties in 49 states. This represents a total of over 53 million square feet of leased space, with a 92% occupancy rate. The retail segment represents the majority (79%) of Reality Income's portfolio. In late January, Realty Income made a large acquisition of American Realty Capital Trust, which substantially increased FFO and allowed the company to raise dividends. The dividend yield is 5.5% and the dividend to FFO ratio is a high 90%, but is expected to drop to about 83% next year. It has paid 511 monthly dividends since 1970 and has had 70 dividend increases since it was listed on the NYSE in 1994.
Some income investors migrate to the highest yielding stocks. However, in some cases, the high yield may be the result of declining stock price rather than superior performance. As an extension to my analysis, I wanted to see how the high yield REITs compared to highly rated REITs that have lesser yield. For this comparison, I chose two REITs that have excellent financial strength and were highly rated by Value Line (valueline.com). These REITs are described below and have a good yield of over 3% but not an exceptional yield of 5% or more.
Public Storage (NYSE:PSA). This REIT owns and operates over 2,000 self-storage facilities, totaling over 132 million square feet of rentable space. It is the largest provider of self-storage units in the United States, with units in 39 states. It also has a 41% interest in PS Business Parks that owns and operates business sites. Public Storage has a solid balance sheet and according to Moody's, PSA has the highest credit rating among REITs. Debt is only about 1% of total capital. The Dividend to FFO ratio is 70% and FFO is expected to grow over 15% in 2013 and an additional 5% to 10% in 2014. The current yield is 3.2%.
Simon Properties Group (NYSE:SPG). This REIT owns and operates regional malls and outlet centers. It owns 326 properties in North America, Europe, and Asia. In total, it has over 241 million square feet of leased space. Simon Properties will spend about a billion dollars per year through 2016 for redevelopment and expansion. This should result in increased FFO and potentially an increase in dividends. Over the last year, all the financial trends, such as occupancy rates and rents have all been favorable. The dividend yield is 3.3% and the Dividend-to-FFO ratio is a solid 55%.
As additional references for my analysis, I also included the following ETFs:
Vanguard REIT Index (NYSEARCA:VNQ). This ETF tracks the cap-weighted MSCI US REIT Index, which consists of over 120 REITs, diversified among retail, residential, medical, healthcare, hotels, and office properties. The retail sector is the largest holding at 27%. The expense ratio is an ultra-low 0.10%. The fund yields 3.9%.
iShares U.S. Real Estate (NYSEARCA:IYR) is also a popular REIT ETF. However, its portfolio includes mortgage REITs as well as equity REITs and over the past 5 years, it has been over 98% correlated with VNQ. For these reasons, I did not include IYR as a reference.
SPDR S&P 500 (NYSEARCA:SPY). This ETF tracks the S&P 500 equity index and has a yield of 2% and an expense ratio of only 0.09%. This was used as a reference to compare REITs to the general equity market.
To analyze risks and return, I used the Smartfolio 3 program with data over the past 5 years. The results are shown in Figure 1, which plots the rate of return in excess of the risk free rate of return (called Excess Mu on the charts) against the historical volatility.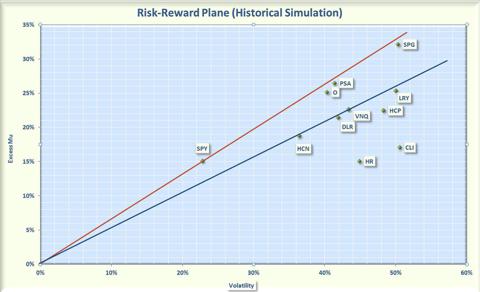 Figure 1. Risk versus Reward past 5 years
As is evident from the figure, there was a relatively large range of returns and volatilities. For example, SPG had a high rate of return but also had a high volatility. Was the increased return worth the increased volatility? To answer this question, I calculated the Sharpe Ratio.
The Sharpe Ratio is a metric, developed by Nobel laureate William Sharpe that measures risk-adjusted performance. It is calculated as the ratio of the excess return over the volatility. This reward-to-risk ratio (assuming that risk is measured by volatility) is a good way to compare peers to assess if higher returns are due to superior investment performance or from taking additional risk. In Figure 1, I plotted a red line that represents the Sharpe Ratio associated with SPY. If an asset is above the line, it has a higher Sharpe Ratio than SPY. Conversely, if an asset is below the line, the reward-to-risk is worse than SPY. Similarly, I plotted a blue line that represents the Sharpe Ratio associated with Vanguard REIT Index .
Some interesting observations are apparent from Figure 1. First off, it is clear that REITs are substantially more volatile than the S&P 500. Many of the REITs have a higher absolute return than general equities but on a risk-adjusted basis, the S&P 500 wins over both REIT stocks and the REIT Fund, VNQ. On a relative performance within the asset class, three stocks (O, PSA, and SPG) stand out and all three of these have generated risk-adjusted performance similar to the SPY and much better than VNQ. Of the top performers, only O is in our high yield category. This points out that current yield is not necessarily a good predictor of total return or risk-adjusted return. On a relative basis, HCN, DLR, HCP, and LRY had risk-adjusted performance in line with VNQ. The laggards over the 5 year period were HR and CLI, both with relative low return coupled with high volatility. As we have noted, both of these stocks have been struggling recently.
In addition to good yields, REITs have also traditionally been valued because they were believed to provide diversification. To validate this belief, I checked to see how much diversification you obtained from including REITS in a general equity portfolio. To be "diversified," you want to choose assets such that when some assets are down, others are up. In mathematical terms, you want to select assets that are uncorrelated (or at least not highly correlated) with each other. I calculated the pair-wise correlations associated with the selected stocks and funds. The results are provided as a correlation matrix in Figure 2. As you might expect, REITs are highly correlated with one another and with VNQ. However, REITs are only moderately correlated with the S&P 500 (65% to 75%) so they do provide a reasonable degree of diversification when compared to other equities.

Figure 2. Correlation Matrix over past 5 years
To check how the performance may have changed over a shorter more-bullish period of time, I reduced the look back period to 3 years and re-ran the analysis. The results are shown in Figure 3.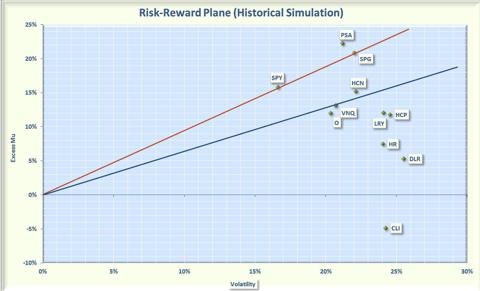 Figure 3. Risk versus Reward over 3 years
During the past three years, the SPY has been in a strong bull market and has outperformed most REITs. However, PSA and SPG have both kept up with the SPY. This again points out that strong balance sheets and solid operational plans are more important for total return than high yield. When we review relative performance among the high yield REITs, O and HCN are still strong with a risk-adjusted return similar to VNQ. The other high yielding REITs have had mixed performance, with CLI continuing to lag and actually moving into negative return territory over the past 3 years.
Bottom Line
The decision by the Fed to continue asset purchases should be a plus for the REITs. The recent events in Washington may also have removed tapering from the Fed's playbook and this also bodes well for REITs. Over the past 5 years, REITs have been a volatile class but they have also offered a degree of diversification. If you are interested in investing in this class, this analysis indicates that you should look at the whole REIT space, not just the high yield REITs. As we have shown, some of the lower yielding REITs have a much better risk-adjusted return than those with exceptional yields. The analysis also indicates that the exchange traded fund VNQ had relatively good risk-adjusted performance over the periods so this ETF should also be given consideration.
As is often stated, past performance may not be a good indicator of the future so always do your due diligence before investing. However, I hope that this analysis of past data will provide useful information to aid in your decision making.
Disclosure: I have no positions in any stocks mentioned, and no plans to initiate any positions within the next 72 hours. I wrote this article myself, and it expresses my own opinions. I am not receiving compensation for it. I have no business relationship with any company whose stock is mentioned in this article.