Franklin Financial Corporation (NASDAQ: FRNK)
Executive Summary
I recommend purchasing the common shares of Franklin Financial Corporation ("Franklin," "FRNK" or the "Company"), a Richmond, VA financial institution which completed its mutual conversion in 2011. The Company has a market cap of $218.5MM and assets of $1.05B as of 6/30/13, respectively.
As discussed in other articles, thrift conversions and community banks, well known to value investors are often underfollowed by market. Despite a pristine balance sheet and a shareholder friendly Management team, it is evident that the market is dramatically undervaluing Franklin and its future prospects. The first question any value investor must ask, why does this opportunity exist?
ROA/ROE metrics at first glance appear to be suboptimal for community banks, especially Franklin, which earned a dismal 3.76% ROE for the TTM period, primarily due to the Company's overcapitalized balance sheet, which in turn negatively affected short-term earnings.
FRNK is fairly illiquid and unknown/small bank for institutional investors, given its sub $300MM market cap and lack of significant sell-side research. Additionally, long-term investors and the Management team own in excess of 30% of float outstanding.
Growth prospects are meager for thrifts, which causes obvious mispricing as growth investors overlook the sector. However, our thesis for community banks is predicated on (1) return of capital and (2) consolidation caused by rising regulatory costs which has pushed banks to sell out, often at prices above TBV.
The following attributes make the Company a highly attractive investment at current prices:
Attractive Valuation Below Tangible Book Value and Private Market Value: Franklin trades at a slight discount to its liquid tangible book value of ~$19.12 per share (which serves as a floor for valuation) and below its private market value, ranging from 1.2x TBV to 2.0 TBV. An acquisition of the business is supported by the active M&A landscape within the community bank space, as over 700 deals have been completed since 2010. Franklin would serve as an attractive acquisition target, as VA has been a fairly active state for thrift M&A. Union First Market Bankshares (NASDAQ:UBSH) has been an active acquirer, and would easily be able to purchase FRNK at minimum 1.5x TBV, representing an upside of ~50% (excluding TBV gains from buybacks and dividends).
Favorable Demographics and Branch Locations: Franklin's branch network and deposit base is located in the Richmond, VA MSA, which exhibits above average median household income $60K. FRNK generally is within the top 7 players in each respective market, with an average deposit share between 4%-5%. FRNK competes against established, large banks such Wells Fargo and BB&T, in addition to smaller regional players such as Carter Bank & Trust (OTCQX:CARE) and Union First Market Bankshares. It is safe to assume that FRNK would be an highly attractive target based on its deposit share for a competing bank.
Overcapitalized Balance Sheet in Lieu of Rapid Buybacks: Franklin maintains a pristine, conservative balance sheet with tangible equity/ assets of ~23.3%, versus the industry norm of ~10%. Further, the Company had a tier 1 capital ratio of 26.6%. Return on equity and NIM have languished due to the Company's overcapitalized balance sheet, as financial conservatism leads to an abundant amount of resource conversion activities through:
Continued return capital in the form of share buybacks and dividends (expanded in greater detail below)
Repositioning balance sheet assets into higher earning assets (loan to deposits of 72%); and
Utilize its financial strength to acquire a bank within its MSA in order to increase its market share or serve as an attractive acquisition target itself (a sophisticated acquirer could utilize the excess capital).
Return of Capital: The Company has aggressively returned capital to shareholders, as FRNK has initiated and completed multiple repurchase programs, each which was set at roughly 5% of shares outstanding. As of 6/30/13, FRNK has returned over $56.0MM (~9% of shares outstanding) in capital to shareholders since FY2011 (on a market cap of roughly ~$240MM). On 9/3/2013, the Board approved an additional 5% share repurchase program to commence after the consummation of the November 2012 5% share repurchase plan. Investors should plan on the repurchases to continue, given tangible equity to assets stands at ~23%.
Aligned Management Team and Active Shareholder Base: Franklin's Management team appears to be aligned with shareholders as they collectively hold ~15% of shares outstanding. It's important to note that the Management team is reaching retirement age, hence they could monetize their stake (retirement nest egg) through the sale of the bank. Often small banks have sleepy management teams and a weak shareholder base. FRNK is the exact opposite, as accomplished thrift investors such as Firefly Value Partners, Lawrence Seidman (interesting activist to follow - his presence has led to the sale of many banks), Michael Price and Joseph Stilwell (another activist) as shareholders.
Company Overview
Founded in 1933 and based in Glen Allen, Virginia, Franklin Financial Corporation is the holding company for Franklin Federal Savings Bank, a recently converted thrift with 8 full-service retail banking offices in the Greater Richmond area of central Virginia. The Company provides financial services to customers and businesses within the Greater Richmond area, which is an lucrative banking market (please see the "Market Share" section for greater color). Franklin Financial underwent a standard conversion (no second step) in April of 2011 raising $138.7 mil. The company currently stands with a TCE ratio of 23.3%
Loan Book
Loan Receivables Overview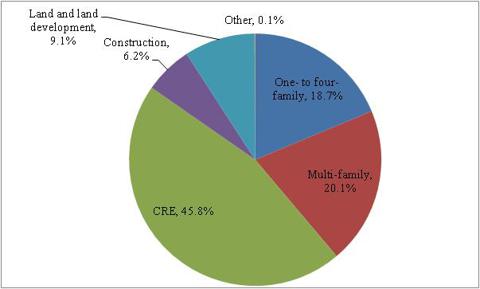 Franklin's loan book, which stands at a gross amount of $510MM, is typical of a savings and loan institution. Loans currently amount to roughly half of the Company's assets followed by marketable securities (mortgages, treasuries, etc.) and a sizable cash position of $129.0MM (12.2% of total assets). A breakdown by loan class is provided below:
CRE: In the previous real estate cycle, Franklin significantly increased its origination of CRE loans and shifted its focus away from traditional mortgages and construction loans. CRE constitutes the largest segment of the loan portfolio, constituting 45.8% of gross loans (up from ~14% FY05/FY06). Approximately 91% of CRE loans are secured by income-producing properties within the company's primary market area. As of 6/30/13, the average size of FRNK's 50 largest CRE loans totaled $3.9MM and the largest loan was $9.8MM, respectively.
1-4 Family: 1-4 family loans equated 18.7% of the portfolio and generally consisted of 1st lien mortgages (fixed and floating rate) with LTVs below 80%. 61.4% of the 1-4 family portfolio are non-owner occupied (think of rentals) with the remainder owner-occupied. In order to gain scale and stay competitive, in January 2013, the Company formed a JV with Townebank Mortgage (a subsidiary of a VA bank), in which the new sub will target mortgages for the secondary market. The importance of these JVs is that they allow participants to spread overhead costs, which is crucial as regulatory costs continue to rise.
Construction Lending: Franklin's construction program began in FY97 with a focus on residential builders. During FY07, construction loans reached its peak of about $88.0MM and currently total $31.4MM as of 6/30/13. Construction loans now make up about 6.1% of the total loan portfolio, down from 22% at 9/30/06. Included in the balance were $7.3MM of speculative construction loans outstanding. Going forward, Franklin will discontinue its builder's construction loan program as its JV comes online (commercial projects, usually triple net rentals to IG worthy tenants and multi-family will continue). The largest non-residential construction exposure was to a $13.0MM project ($7.5MM disbursed) to renovate apartment complexes in Virginia.
Multi-Family: Constitute 20.1% of the portfolio. Multi-family loans are secured by first mortgages, are originated with a maximum LTV of 80%, and require a projected debt-service coverage ratio of 1.2x or more. The Company's largest multi-family exposure is 3 loans on one property with an outstanding balance of $11.5MM. These loans are secured by a 600 unit apartment project, which were currently on non-accrual status (although asset coverage should be sufficient).
Land & Land Development Loans: Franklin began making land and land development loans in FY01 and reached a peak of ~$80MM in FY08 (currently $46.3MM as of 6/30/13). Franklin underwrites these loans with a target LTV of 75% or better, and historically (until 2009) did not require cash equity, which it now does. Franklin does not anticipate increasing its land loans in the near term. The largest land and land development loan has an outstanding balance of $6.1MM and was performing in accordance with its original terms.
Investment Portfolio
The remainder of the Company's asset base ($347.5MM) is invested in government and corporate securities such as municipal bonds, agency mortgages, and other assets such as equities ($11MM). The Company's NIM, which currently stands at 260 bps, and could be materially increased if an acquirer (or the bank itself) redeployed assets into selective loans, levered lending (using an experienced third party) or for another bank, utilizing its lending network.
Credit Health
One concern has been non-performing assets (including performing TDRs), which totaled 5.1% of assets (down from a high of ~10% in FY11) as of 6/30/13, compared to its peers at 2.01%. NPAs of $48.2MM included $41.8MM and $7.0MM in real estate owned, respectively. Franklin's NPAs are concentrated among a select number of land/land development and multi-family loans; however, it is important to note that collateral coverage (defined as the appraisal value) in each of the situations fully cover the outstanding impaired loans with a sufficient margin of safety, proving at minimum that these assets were underwritten to the Company's guidelines (on an asset coverage basis). Reserves to NPAs totaled 18.4% as of 6/30/13; however, as previously mentioned, we firmly believe asset coverage along with the reserves should not impair the Company's equity.
In a nutshell, Franklin is going through the "pig in the python" process, as once it works through its impaired loans (notably just a few loans with large underwritten dollar amounts), the Company's coverage ratios and profitability will materially improve.
Deposits and Funding
Franklin primarily funds its asset base with deposits, which represented 78.5% of total borrowings/~60% of the asset base. Deposits primarily include certificates of deposits (44.2% of deposits), which cost the Company roughly 147 bps. Importantly, Franklin does not originate brokered CDs, which adds some stickiness to the deposit base. Money market savings and demand accounts, totaled 43.4% of deposits and have a low cost of 45 bps. The total cost of deposits totaled 103 bps, and has potential to decline as the Company's CD/demand account mix changes favorably (which it has over the prior years).
Rounding out the borrowing base, Franklin has long duration FHLB borrowings of $172.6MM, with an average cost 448 bps.
Market Area
Franklin operates eight branches in the Greater Richmond area in Virginia. The Company's target market includes Richmond, Henrico, Hanover, Chesterfield and the surrounding communities. The Richmond MSA had an estimated population of 1.27 million in 2011 and above average income of $60,899 per household. Importantly, the Richmond MSA population is expected to grow in excess of 5% over the next 3 years (15.8% growth from 2001-2011). Finally, all of the deposits are located in the Richmond MSA, as the Company does not rely on out of state brokered CDs.
The Company's deposit market share within its respective markets is as follows:
| | |
| --- | --- |
| Virginia Deposit Share | Richmond MSA |
| | |
Within VA, Franklin is the 32nd largest institution by deposit share (very respectable); however, within the Richmond MSA, Franklin is a top ten player. As previously mentioned, FRNK would be a prime target for UBSH, which has financial means and resources to consummate a transaction.
| | |
| --- | --- |
| Henrico County | Hanover County |
| | |
Executive Management
The Company is led by its current chairman and CEO Rick Wheeler, who has been with the company since 1992 and was previously a partner at the accounting firm KPMG. Donald F. Marker, joined the bank in 1989 and currently serves as VP, Secretary, Treasurer and CFO of FRNK. Collectively, insiders own about 15% of the total shares outstanding. The largest insider is Warren A. MacKey, who owns 9.1% of shares outstanding. Given the high insider ownership and age, we believe the Management team would react positively to a potential sale of the bank.
Porter's Five Forces Analysis
Risk

Severity

Mitigant

Threat of New Entrants

Low to Moderate

Banking is a commoditized business, heavily dependent on local relationships. Further, the trend in banking is towards consolidation versus the start up of new banks (although, there are some occasions in which veteran lenders start up new organizations).

Realistically, new competition will arrive through the acquisition of a smaller competitor in its geographic footprint by a larger competitor who can use its balance sheet to sell new products and hire talent.

Mitigated through Franklin's leading deposit market share in its respective communities, as the bank is generally in the top 10 for deposit share.

Threat of Substitute Products

Moderate

Lending beyond equity capital has few alternatives; however, the Company competes against larger regional banks and credit unions. Once again, this is mitigated as banking is a local activity and brand name and staying power are often the "gold standard." Franklin has operated in its respective market since the great depression, hence has proved its "durability."

Bargaining Power of Suppliers

Low

Franklin originates its funding/deposits through a wide variety of sources, which generally is set by the market rate.

Bargaining Power of Customers

High

Lending is a relationship-intensive, commodity business. Hence, Franklin's market presence since the 1930s establishes rapport and stability among borrowers, versus larger banks who often leave markets on a whim (last crisis for example).

Borrowers often play hardball on pricing for certain products, but often the Company makes up for loan pricing with its low funding costs and additional products.

Rivalry

High

Rivalry is ultra high among institutions, brand name and commitment is essential (i.e. some have a distrust of money center banks who abandoned them in the last crisis).
Intrinsic Valuation
A private market comparable transactions ("PMV") valuation was used to determine the intrinsic value for Franklin. The Company's per share value was calculated by applying an conservative tangible book value multiple, lower than what has historically been paid for companies within the Company's space and gives no credit for book value growth from Franklin's aggressive cannibalizing of its own shares.

Over the past three years, community banks have been taken out for roughly 1.1x TBV - 2.0x TBV, with transactions in certain geographies (Virginia and Texas for instance) and generally larger, established banks ($100MM or greater) demanding higher multiples of TBV, upwards of 2.0x or greater. In a strong market like Virginia for instance, transactions occurred have been recently consummated in excess of 1.5x TBV. It's safe to assume that FRNK at minimum worth 1.0x TBV (our downside assumption), which would still represent an IRR over three years in excess of 10%, as shareholders would benefit from the growth in TBV through share repurchases and dividends.
Additionally, as the Company has a re-deployable balance sheet and over $1.0B in assets, an acquirer would be able to pay upwards 2.0x for the Company, which would lead to an upside estimate in excess of 100%. We believe it's safe to assume the Company would sell for roughly 1.5x TBV, or an upside of 50% at current prices.
Catalysts to Value Realization
Catalyst

Description

Community Bank Consolidation

As regulatory costs have become increasingly burdensome over the past five years, small banks have seen their efficiency ratios skyrocket as increased compliance costs weigh on the bottom line.

In order to survive, small banks have merged or have sold operations in order to remain competitive. According to SNL, since FY2010 there has been over 713 deals consummated. Further, from 1984 to 2012, the number of banks/thrifts have declined from over 17,000 to 7,000.

Attractive Valuation

FRNK trades at a slight discount to its overcapitalized tangible book value, which will continue to increase from share repurchases. Additionally, the private market activity for community banks has been active over the past two years, with average takeout multiples between 1.2x - 2.0x tangible book

Henceforth, upside potential is bountiful, estimated between 20% - 100% (1.2x - 2.0x TBV).

A regional bank such as UBSH could view the Company as an attractive asset for its deposit base and the opportunity to reposition the Company's loan portfolio into higher earning assets.

Return or Deployment of Excess Capital and Corresponding Effect on ROI Measures

The Company is massively overcapitalized with tangible equity/assets of ~23%. Generally banks are 10x levered, or ~10% of tangible of equity if not less. FRNK can easily support its massive share repurchase from a balance sheet perspective.

As FRNK continues to aggressively return capital, ROI metrics will continue to improve, which will potentially lead to a re-rating of the Company.

Franklin's asset base can easily be redeployed into higher earning assets, significantly raising NIM in line with its peers. Further, the Company's overall position will improve as it continues to work down its remaining problem assets (which in many cases have collateral values in excess of the loan balances and are fully secured).
Risks & Mitigants
Risk

Impact

Mitigant

Poor Capital Allocation

Decline in revenues, profitability and financial position.

Capital allocation risk is mitigated by the Company's aggressive repurchase program, as the Management team has repurchased over 8% of the Company's shares, has an additional 5% repurchase program in place and has paid special dividends.

FRNK's Management team interest is in line with shareholders, given their large holdings.

Competitive Industry

Decline in Profitability and TBV.

Franklin has operated in its respective markets since 1933. Additionally, the Company has a leading deposit share in its respective counties, which are highly attractive markets.

The Company has successfully operated through a variety of NIM environments. Additionally, the Company has a conservatively positioned balance sheet which it could reposition into higher earning assets (participating in select leveraged loans).

Poor Future Underwriting & Elevated NPAs

Decline EV and Potentially

The Company writes to certain guidelines, governed by LTVs. Although NPAs are significant and not fully covered by reserves, the underlying collateral has been appraised in excess of the outstanding loan amounts.

Although the Company's loan book is predominantly real estate (which leaves a bad taste for investors), these assets often offer cash flow and asset coverage, versus small business lending which is often purely based off EBITDA (little asset coverage)

FRNK has sufficient equity capital (23% TCE/Tangible Assets), that it could easily survive a blow up. Additionally, the Company survived through the previous downturn, working through its troubled assets.
Conclusion
In conclusion, Franklin Financial is an undervalued bank based upon its estimated private market valuation between $23- $29 per share, which represents significant upside from current prices. Further, industry regulation has fueled the fire for consolidation within the banking industry, which has turned banks into acquisition machines or roll up targets. We firmly believe Franklin would make either a fine target for a large VA based bank like UBSH, or a super-regional player wanting to enter the demographic (Fifth Third/FITB).
Disclosure: I have no positions in any stocks mentioned, but may initiate a long position in FRNK, UBSH over the next 72 hours. I wrote this article myself, and it expresses my own opinions. I am not receiving compensation for it (other than from Seeking Alpha). I have no business relationship with any company whose stock is mentioned in this article.