There's been a flood of news about how International Business Machines Corp. (NYSE:IBM) lost a lucrative $600M CIA cloud contract to Amazon (NASDAQ:AMZN) in early 2013, and the appeal.
What's amazing to me is that there's been almost no explanation of why IBM lost, and why Amazon won. I promise I'm going to make it super easy to understand exactly why it happened.
Before I reveal the secret, let's look at what happened at the top level. The short history is that Amazon won, then IBM protested, but then Amazon won the protest. That back and forth is rather typical with government contracts. However, that "ping pong" activity doesn't explain why IBM lost. That's what investors really need to know.
Here's why all of this is so "crazy" to outsiders. Many people still think of Amazon as a giant online bookstore, or maybe an online equivalent of Wal-Mart (NYSE:WMT). Therefore, I think it's worth taking a very quick detour to recalibrate investors.
Amazon Web Services in a Nutshell
I encourage anyone unfamiliar with Amazon Web Services, or "AWS", to read the AWS Overview. Not only does it offer a very good overview of Amazon's cloud computing, it also provides you with a firm grounding in just how serious Amazon is about technology.
And, to drive home the point, in Amazon's own words:
"Using AWS, you can requisition compute power, storage, and other services in minutes and have the flexibility to choose the development platform or programming model that makes the most sense for the problems they're trying to solve. You pay only for what you use, with no up-front expenses or long-term commitments, making AWS a cost-effective way to deliver applications."
This wasn't hatched yesterday. Amazon has been selling AWS since 2006, mostly to small enterprises and start-ups. Now they service hundreds of thousands of customers and they manage billions of dollars of commerce every month, and of course the U.S. government.
Analyst Ben Schachter (Macquarie Securities) estimates that in 2013, AWS will have revenue of about $3.8B. And, by 2015, AWS will be approximately 7% of Amazon's revenue. We'll see. But, no matter how you slice it, this is a billion dollar line of business for Amazon.
Yes, I'm trying to shock you just a little, especially if you didn't know about Amazon's technical savvy. OK, enough about Amazon. Let's look at the CIA contract right now.
All About the CIA "Request for Proposal"
The CIA's Request for Proposal, or "RFP", was for a 4-year based contract with a maximum value of $600M over that period. According to the United States Government Accountability Office, known as the "GAO", these were the four evaluation factors:
Technical/Management (tech approach, demo, & management)
Past Performance
Security
Price
For the record, five offerors, including IBM and Amazon, submitted proposals in July 2012, including AT&T (NYSE:T) and Microsoft (NASDAQ:MSFT). Not long after, both AT&T and Microsoft got the boot for being outside the competitive range, i.e., the criteria outlined above.
Now, here's where everything gets a little crazy.
The Source Selection Decision or "SSD"
What I'm going to show you might shock you a little bit. It depends on what you know, what you believe, and how you view both Amazon and IBM.
To put this in proper perspective, and so that you can fact check if you'd like, the table below is from the official GAO protest report. Therefore, if you want, you can work through the bloody trail left behind the RFP itself; reference: RFP No. 2012-12041000001, for commercial cloud services, also known as C2S.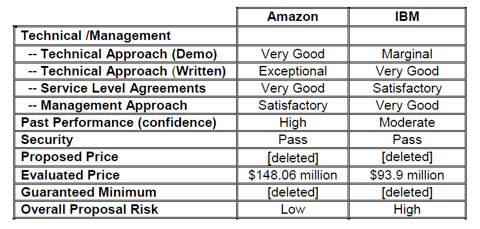 Again, if you'd like to fact check this from top to bottom, simply head to GAO. The table you see above comes directly from the GAO findings.
The Chart That's Worth $600M
You'll notice in the chart above that Amazon won the contract despite the fact that their AWS solution is more expensive. Are you shocked? What about all the jokes about $750 hammers?
Believe it or not, the U.S. Government often does an outstanding job working through RFPs. I know that's hard to believe but I have direct experience. I worked for one of the largest defense contractors in the world and I was responsible for systems engineering contracts from $1M to $50M. Trust me, they do a reasonable job most of the time.
Now, recall the four criteria and the final results are very simple:
Technical/Management -- Amazon Wins
Past Performance -- Amazon Wins
Security -- Neutral
Price -- IBM Wins
Amazon's proposal represented the best value in the eyes of the source selection authority. Kaboom!
Let's take a deeper look at how Amazon is chewing into IBM's enterprise cloud market, since I didn't do that justice earlier.
Amazon AWS: Take No Prisoners
In the past, Amazon has focused on small companies, start-ups, and entrepreneurs. It's worked. Now, they are moving into the big leagues. And, obviously, they are fierce competitors.
Consider these enterprise clients Amazon has landed:
GE
SAP
Bristol-Myers Squibb
Pfizer
NASA
Nokia
Harvard Medical School
Vodafone
Centers for Disease Control
Adobe
What's more, Amazon's set up AWS GovCloud to go after government contracts.
AWS GovCloud is an isolated AWS Region designed to allow US government agencies and customers to move sensitive workloads into the cloud by addressing their specific regulatory and compliance requirements. The AWS GovCloud framework adheres to U.S. International Traffic in Arms Regulations regulations as well as the Federal Risk and Authorization Management Program requirements.
AWS Gov't enterprise targets include:
Enterprise Applications
High-Performance Computing and Analytics
Storage and Disaster Recovery
Web Applications
If you're an Amazon investor this should be music to your ears. However, if you're an IBM investor, then this certainly makes it clear why Amazon is a real threat.
How About Co-Opetition Between IBM and Amazon?
I also want to make you aware of something else that will melt your brain a little. In the world of information technology, especially large-scale systems integration, there's cooperative competition. This co-opetition happens more than you might think.
In fact, it's easy to find instances of co-opetition between Amazon and IBM like this:
IBM and Amazon Web Services have teamed up to provide you with the ability to use Amazon EC2 to run several IBM platform technologies. You can get started by bringing your own IBM licenses to Amazon EC2 or by leveraging the Amazon EC2 running IBM service.
(see: IBM and AWS)
So, it's actually possible for Amazon to increase revenues and market share for IBM, and vice versa. Amazon is simultaneously a threat and a partner for IBM.
Wrap Up
IBM was beaten this time. They fought hard, but they lost. And, because there was a certain level of shock value, the financial media really took this for a ride. That's because they know most people still think of Amazon as an online retailer and they think of IBM as a technology company. To the tech media, it's kind of a David vs. Goliath thing, although it shouldn't be that way per my notes above.
I'll conclude by saying that IBM made some very good points in their protest that I didn't expose above. For example, there was definitely confusion about the requirements regarding the technical approach, management approach, past performance, technical demonstrations and more. Furthermore, it appears there were several "unstated requirements" which Amazon nailed but IBM did not. It gets kind of ugly, but ultimately it doesn't matter. Amazon won this time and it created a lot of media buzz.
It appears like Amazon deserved to win. No tricks, no weird stuff, and no glitches in the selection process "forced" Amazon to beat IBM. In short, now you know how Amazon beat IBM to get the CIA's cloud contract.
What Next? (Or, Should You Unload Your IBM Shares?)
The answer for me is very simple. IBM is going through a rough patch in their "start up" and (potential) growth businesses, like the Cloud. I'm not worried.
I'll give you three simple reasons:
I believe in IBM's Moat.
I love IBM's Buyback Program.
I think IBM is undervalued.
Regarding the 3rd point above, several things are screaming at me. For example, IBM is near its 52-week low. They are #6 on the Super Dividend Contender List. And, take a look at their FASTgraph right here: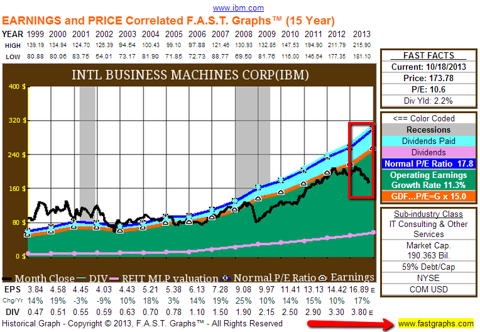 IBM is still doing very well despite the loss to Amazon. Furthermore, right now, it appears that IBM is a buy if you're ready to hold for a while.
Disclosure: I am long IBM. I wrote this article myself, and it expresses my own opinions. I am not receiving compensation for it (other than from Seeking Alpha). I have no business relationship with any company whose stock is mentioned in this article.