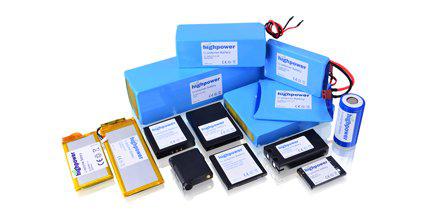 Last week Highpower International Inc. (NASDAQ:HPJ) jumped over 48% to close at $2.58/share on a big spike-up in volume. Highpower is a developer, manufacturer and marketer of nickel-metal hydride (Ni-MH) and lithium-ion rechargeable batteries based in Shenzhen, China. Despite a washout in the stock in 2010, the company is poised to be profitable for full year 2013. With lithium-ion battery sales booming, a new automated manufacturing facility coming online this year in Huizhou, and lower income tax rates at its Springpower subsidiary, the outlook for 2014 is extremely bright. As a result of these catalysts the stock could easily double in 2014 with a much higher upside possible.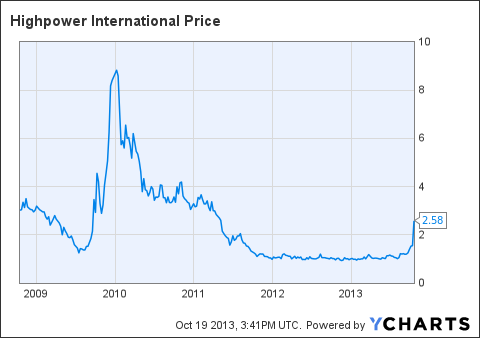 The Company
Highpower International is a worldwide leader in the rechargeable battery market capturing in excess of 10% of the global Ni-MH rechargeable battery market. In 2012 lithium-ion battery sales grew approximately 67%. The company's large scale quality manufacturing capacity provides cost effective production and consistent, high quality products. Customers include leading original equipment manufacturers (OEMs) like Energizer, Siemens, and VARTA. 50% of sales are to China & Hong Kong while Europe accounts for 28%, and Asia, North America, and "other" accounting for the rest.
Highpower International was founded in 2001 and went public on the NASDAQ exchange in June of 2008. HPJ produces high-quality nickel-metal hydride (Ni-MH) and lithium-ion (Li-ion) based rechargeable batteries used in a wide range of applications such as mobile devices, computer tablets, electric bikes, energy storage systems, power tools, medical equipment, digital and electronic devices, personal care products, and lighting. The company has over 3,000 employees in advanced manufacturing facilities located in Shenzhen and Huizhou, China.
The Latest Financials
The Q2 2013 earnings report can be found here and some highlights are listed below:
Net sales increased 6.1% year-over-year to $31.2 million.
Lithium battery net sales up 32.9% year-over-year.
Total lithium battery pieces sold increased 29.0% amounting to a 32.2% increase in volume per amp/hour.
Gross margins were 18.4%.
Net income was $0.01/share versus $0.04/share in a year ago
For the first 6 months of 2013, net income was -$0.04 versus a +$0.04 for the first 6 months of 2012.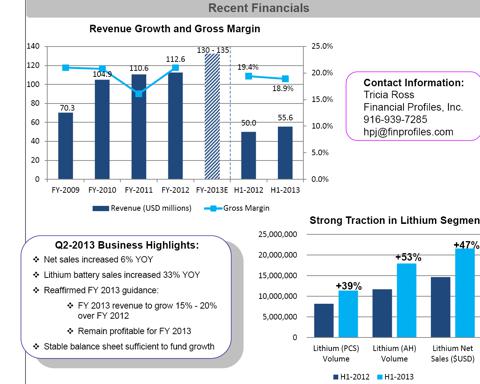 The Balance Sheet
As of June 30, 2013, Highpower International had cash, cash equivalents, and restricted cash totaling $27.3 million. Total assets were $121.2 million and stockholders' equity of $31.8 million. Bank credit facilities totaled $69.0 million of which $36.2 million was utilized and $32.8 million was available as unused credit.
New Automated Manufacturing Facility
In the Q2 earnings release, Highpower said its lithium-ion battery facilities are running at full capacity. This is where the new 24,500 square meter automated manufacturing facility in Huizhou comes in. The new facility should allow the company to expand production and sales of lithium-ion batteries and increase margins at the same time. On the Q2 conference call CFO Sun remarked that Highpower was currently in conversations with several "tier-1" customers over new product specifications and if it were not for the company's new manufacturing capacity, these potential customer design wins would not have been possible. Sun said the new facility could be shipping product as early as Q4 and he expects the new facility will ramp up to 80% capacity utilization in 2014.
Lower Income Tax Rates
In August, Highpower International Subsidiary Springpower Technology received "High Tech Enterprise" certification from the Scientific and Technology Commission of Shenzhen. As one of China's "High Tech Enterprises" Springpower will benefit from a reduced income tax rate of 15% versus 25% for non "High Tech" status companies. Full company income taxes for the first 6 months of 2013 were $207,329 (~$0.015/share).
The Outlook
Based on current expectations for global demand in the rechargeable battery market in 2013 and HPJ's shift toward mobile power sources, higher-value energy storage systems and transportation products, the company reaffirmed full-year 2013 revenue guidance to be 15-20% higher than 2012 revenue levels. It also reaffirmed expectations that it will be profitable for the full year in 2013. Since the company lost -$0.04 in the first 6 months, that mean 2H earnings will have to be at least $0.04 in the green. The company has apparently turned the corner on profitability. In Q2, increased lithium-ion sales were partially offset by falling sales in the Ni-MH segment. I would expect this trend to continue. However, on the Q2 conference call CFO Henry Sun said despite the drop in Ni-MH sales, pricing held up. But forget Ni-MH - the future is clearly the lithium-ion rechargeable battery market.
The Competition
Key players dominating the lithium-ion battery market are Sanyo Electric, BYD, LG Chem (OTCPK:LGCLF), China BAK Battery, Saft Groupe (OTC:SGPEY), and big conglomerates like Sony (NYSE:SNE) and Samsung Electronics (OTC:SSNLF). Yet the fact that Highpower was able to carve out a 10% share of the Ni-MH market bodes well for their success in the fast growing lithium-ion battery market. As CFO Sun remarked on the Q2 conference call, the global lithium-ion battery market has grown 30% year-to-date, yet Highpower's sales in the market have grown 53% year-to-date. This means Highpower is growing its lithium-ion battery business faster than the overall market and gaining market share. This impressive growth despite HPJ's manufacturing facilities were running at full capacity. As the new automated facility comes online, the company will likely be able to increase sales and margins and compete very effectively in the market. The fact that Highpower is focused only on making batteries is a strategic advantage against the bigger conglomerates. Also, the market is growing so rapidly (see below), there is apparently a big enough pie for multiple companies to participate and have a profitable slice.
The Global Lithium-Ion Market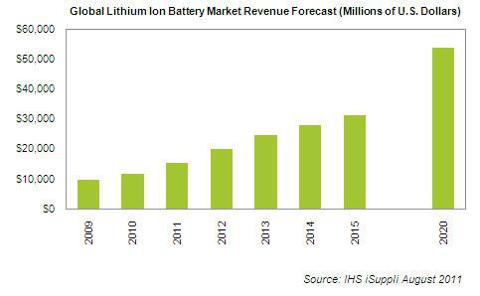 According to IHS iSuppli analysts, the overall global lithium-ion rechargeable battery market was expected to grow to $50+ billion by 2020. HPJ says 88% of this growth is expected to be in the consumer electronics market they are targeting with a robust pipeline of new products which will be announced in the coming months. If HPJ is successful in capturing just a 2% share of the lithium-ion market that would equate to ~$800+ million in sales by 2020. This compares to HPJ's total sales of $112 million in 2012. Clearly HPJ is poised for significant growth.
Risks
Risks include global economic growth, potential new manufacturing facility start-up problems, increased labor costs, and an uncompetitive product line. Considering HPJ's year-to-date performance, growing faster than the overall lithium-ion battery market, and predicting healthy profits in the second half of the year, it would appear these risks have so far, to a large extent, been mitigated.
Stock Metrics:
Shares Outstanding: 13.6 million
Market Capitalization: $35 million
Average Volume (3-month): 35,103
TTM Revenue: $118.2M
Price/Sales ("ttm"): 0.16x
Fiscal year end: December 31
2014 Earnings & Stock Price Projections
For the first time in 4 years, the big economies of the US, China, Japan, and the EU are all set to expand in 2014. So too should HPJ's battery sales. As mentioned earlier, the company has lost $0.04/share so far in 2013 yet maintains it will be profitable for the full year. Let's assume that means a $0.2/share profit in Q3 and $0.04 in Q4 for $0.01/share in net income for full year 2013.
If we start with $0.04 in Q4, and assume the combinations of lower income taxes, the new manufacturing facility enabling higher sales & margin growth, and continued 30%+ lithium-ion sales growth will push earnings growth toward 30% by year-end 2014, we could see 2014 net income ramp as follows:
Q1: $0.05
Q2: $0.06
Q3: $0.075
Q4: $0.098
As a result, total 2014 net income could approach ~$0.28/share. Let's say I am being optimistic here, and these earnings projections will be impacted by -$0.03/share for additional labor costs for the new facility startup. That gives us an estimate of $0.25/share. With a P/E of 20 (reasonable considering the market sector and growth outlook), that gives us a stock price of $5/share - 100% above Friday's close. However, considering the growth expected in the rechargeable lithium-ion market, the lower tax rates, and the higher margins expected due to the new automated manufacturing capacity, the risk is that my earnings estimate comes in on the low-side. If HPJ is able to grow sales faster than the overall lithium-ion market and gain market share, while maintaining Ni-MH battery pricing (as it has been), the stock could be a 3 or 4-bagger in 2014.
Summary & Conclusions
Robust end market demand for mobile phones, tablets, energy
storage and small sized transportation vehicles are driving long term growth for Highpower's high capacity high quality lithium-ion rechargeable batteries. With new automated manufacturing capacity coming online soon, the company will no longer be capacity constrained and will be in a perfect position to get additional grab market share - a global market that is expected to grow to $25 billion by 2017 and to $50+ billion by 2020. Lower income tax rates and increasing margins due to factory automation will be additional catalysts.
The company expects to be profitable for full year 2013, and could easily earn $0.25/share (see above) next year. With a conservative P/E of 20, the stock could easily trade to $5/share in 2014 - about a 100% gain from Friday's close. Considering the robust growth predicted for the lithium-ion global market, the risk here is that my estimates are too low. HPJ could easily be a 3 to 4 bagger in 2014. It should also be pointed out that HPJ could be a tasty acquisition for a larger electronics company, be they a consumer of its batteries or a battery market maker seeking additional manufacturing capacity. HPJ is a speculative STRONG BUY.
Disclosure: I have no positions in any stocks mentioned, but may initiate a long position in HPJ over the next 72 hours. I wrote this article myself, and it expresses my own opinions. I am not receiving compensation for it (other than from Seeking Alpha). I have no business relationship with any company whose stock is mentioned in this article.
Additional disclosure: I am an engineer, not a CFA. The information and data presented in this article was obtained from company documents and/or sources believed to be reliable, but has not been independently verified. Therefore, the author cannot guarantee its accuracy. Please do your own research and contact a qualified investment advisor. I am not responsible for investment decisions you make. Thanks for reading and good luck!