The National Association of Realtors released its report on September existing home sales, which showed that on a seasonally adjusted, annualized basis existing home sales dropped 1.9%. However, a look behind the "adjusted" numbers shows a much bigger decline in existing home sales and a housing market that is fundamentally in trouble.
The existing home sales headlines this morning reported that September existing home sales of 5.29 million (seasonally adjusted, annualized) slightly missed expectations of 5.30 and that this was a 1.9% decline from the August number. However, the August number was revised down substantially from the 5.48mm originally reported to 5.39mm. Thus in effect, the drop from August to September was actually 3.5%, considerably worse than what was just reported. Moreover, the downward revised number for August shows that August sales were flat to July's vs. the 1.7% increase that was originally reported back then. In other words, the market was starting to slow down considerably over the summer despite reports that were released showing the contrary.
But not only were the headline-reported numbers actually worse than what was reported, but the "real devil is in the details." First, if you look at the actual data, and not the seasonally adjusted data, it shows a stunning 17.4% drop in sales from August to September: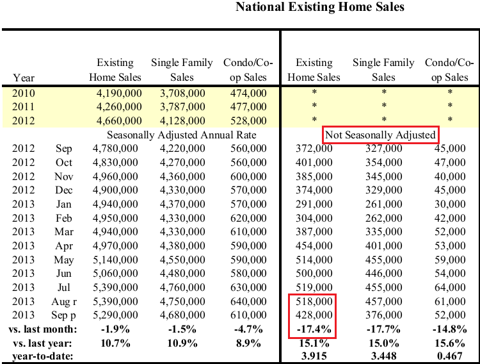 As the data in the above chart shows, the fall off in existing home sales from August to September was 90,000. To be sure, the decline in September is partially seeded in seasonality, however the "seasonal adjustments" used in the annualized number are designed to smooth away the seasonality of the data.
If I do a simple "annualization" of the not adjusted number, it yields a 5.13mm sales number. Although simplistic, given the obvious slow down in home sales that is occurring, this estimate probably gives a better "snap-shot" of the slowdown in annualized sales than does the seasonally adjusted annualized number, as the latter statistic has trailing growth assumptions in the adjustment modeling that do not capture the organic underlying slowdown in the rate of sales.
But we can take this one step further because the sales number reported for September is actually based on contracts that were signed as far back as late June. Existing homes sales are based on "closings," which means that the actual title transfer and financing had been finalized and all the documents involved have been signed. This process takes anywhere from 30 to 90 days, even in all cash sales.
What this means is that the sales number for September is based on contracts that were signed as far back as late June. In other words, the sharp decline in September sales reflects a dramatic decline in contracts being signed during what is supposed to be the peak months for home sales. In my view, this implies that not only is the housing "recovery" over, but the real decline going on in the numbers is far worse than the numbers reported in today's "snap-shot" for September that is being discussed by the media and Wall Street analysts.
But there's a couple other troubling numbers buried in the NAR report. First, the "organic," non-flipper/distressed market is starting to crumble. First-time buyers accounted for 28% of purchases vs. 32% in September 2012. In addition, the distressed buyer as well is disappearing, as distressed sales accounted for only 14% of sales vs. 24% in 2012. This is a very bad signal for homes sales, because if first-time buyers do not buy existing homes on the market, who will clear inventory from flippers and from sellers who want to buy "move-up" and new homes?
In addition, the decline in first-time buyers is being blamed on "affordability." But this is simply not true. If you look at the actual numbers (pdf link), the median price of a home dropped from August to September by over $10,000, from $209.7k to $199.2k. "Median" means that 50% of the sales occurred were below $199.2k, i.e. 50% of the market for existing home sales. This is the lowest that the median has been since April. In fact, the September number is $15k (7%) lower than the number reported in June of $214k. In other words, the "affordability" argument is just plain wrong because the median drop in price has offset the increase in interest expense from higher mortgage rates. The truth is, what the drop in price indicates is a rising inventory and a decline in actual demand - and not "affordability."
As I have demonstrated with the actual data, not only are the existing homes sales that have been reported over the last two months for August and September considerably worse than what is being reported in the headline reports, but the market for existing home sales is actually starting to deteriorate rather quickly. As I have argued in the past, this points to a market inefficiency in housing stock prices which can be profitably exploited, as Wall Street analysts and housing market bulls are still heavily promoting a new bull market paradigm for housing and homebuilder stocks are still considerably overvalued.
On this basis I'm reiterating my call to use any bounce in the housing stocks as measured by the Dow Jones US Home Construction Index (DJUSHB) as an opportunity to sell long positions or establish short positions. I never expect to leg into a short position at the very top of a trend, so I always give myself room to double down (or "double up" in the case of shorting). For instance, I shorted DR Horton (NYSE:DHI) originally at $23.85 at the end of January, when the DJUSHB was at 516. It eventually ran up to 550 by mid-May but along the way I added to my DHI short in a couple spots in the high $26 area. DHI currently is trading at $18.60 - a 30.5% gain on the average cost of my short position - and has been as low as $18.31.
Similarly with KB Home (NYSE:KBH), I shorted some in mid-September at $18 and a little more at $18.25. It's currently trading at $16.53, an 8.8% gain in less than four weeks. One caveat with KBH is that the short interest in the stock is currently at 30.7% of the float. On the scale of short interest ratios, this is an extremely high short interest position which leaves anyone short potentially exposed to a short-squeeze. I'm willing to bear this risk because I think KBH is fundamentally one of the weaker homebuilders still trading in the double digits and it caters to the weakest financial segment of the middle class buyer.
In fact, the high short interest in KBH is likely evidence that I'm right about KBH and the sector. With both DHI and KBH, I plan on holding them until they go at least below $10. Both stocks hit $5 in November 2008. You can see some of my other trading suggestions for taking advantage of a bearish view on housing in all of my previous posts. At some point I will update my DHI report from January and I will publish an in-depth report on KBH.
Disclosure: I am short DHI, KBH. I wrote this article myself, and it expresses my own opinions. I am not receiving compensation for it (other than from Seeking Alpha). I have no business relationship with any company whose stock is mentioned in this article.