In a previous article we covered the resignation of Strathcona Mineral Services Ltd., one of the companies dealing with Pretium Resource's (NYSE:PVG) bulk sample update. That event resulted in a 30% plunge in PVG's stock as investors sold first and asked questions later. Two weeks later we have another major news release by the company and investors are once again fleeing.
Though the release offers both positive and negative news for investors, we believe many investors have erroneously interpreted the release as a significant negative event when it may actually a slightly positive event. This may provide a nice buying opportunity when the smoke clears and the realization sets in with investors.
So first we will cover the negative even from the press release and then explain why we believe this release was a positive event.
Reasons for the Strathcona Resignation
In today's press release we learn the specific reasons for Strathcona's resignation from PVG's project. Pretium states the following about Strathcona's resignation:
"Strathcona withdrew from the Program on October 8, 2013 before any results from the processing of the bulk sample were available. In withdrawing from the Program, Strathcona advised Pretivm that "…there are no valid gold mineral resources for the VOK Zone, and without mineral resources there can be no mineral reserves, and without mineral reserves there can be no basis for a Feasibility Study." They also advised that "…statements included in all recent press releases [by Pretivm] about probable mineral reserves and future gold production [from the Valley of the Kings zone] over a 22-year mine life are erroneous and misleading." Snowden maintains its stance that the November 2012 Mineral Resource Estimate remains valid, and has taken steps to involve a third party peer review in its up-coming mineral resource update."
There you have it. Strathcona believes that previously released feasibility study done by Snowden Mining Industry Consultants ("Snowden") (the other independent qualified party) was not valid and the resources and reserves are not properly arrived at and thus cannot be interpreted as mineral reserves and resources.
Additionally, they believe that the proper way to do the bulk sampling is by using "Sample Tower" results rather than milling the whole 10,000 tonne bulk sample. This is in significant contrast to Snowden's preferred method, which is to mill the whole bulk sample and use the results to arrive at an adjusted reserve and resource estimate. This fundamental disagreement about geological methodology seems to have resulted in bad blood between the two qualified parties. For more details about this disagreement investors should reference the press release, and watch a terrific presentation done by the company on October 16th, 2013 where it addresses this disagreement and the project.
Investors that think this resignation has anything to do with corruption or a Bre-X type event are completely wrong. This is a disagreement about geological methodology between Strathcona and Snowden, which are both well respected companies in the industry. Investors should also remember that geologists DISAGREE and that there is no one proper way of doing things especially in a heterogenous deposit like PVG's Brucejack deposit. Essentially, what any geologist is trying to do is take a very small sample of data and project how much gold, silver, or metals are beneath the ground via this small sample. This means that there can be many different methodologies to arrive at estimates of the deposit, and since mineral deposits can vary significantly, different methodologies can be completely wrong in analyzing two different deposits or geological structures. It all depends.
So this disagreement has chopped a significant amount of value off of PVG's stock price, which suggests that investors are giving much more precedence to Strathcona's opinion than Snowden's - which may or may not be appropriate.
Bulk Sample Results - Not Bad at All
The other important portion of the release was related to the first 2167 tonnes of the 10,000 tonne bulk sample. Management expects a total of 4,000 ounces of gold from the total 10,000 tonne bulk sample.
The following gold and silver was reported for the first portion of the bulk sample:

As investors can see, PVG produced a total of 281 ounces of gold and 532 ounces of silver from the sample. This comes out to approximately 4.03 grams per tonne gold and 7.64 grams per tonne silver based on a 31.1 conversion of troy ounces to grams.
Investors without a true understanding of the program may quickly sell thinking that 20% of the program only produced 281 ounces of gold, which would suggest that the full program will be well short of management expectation. But this is far from the case because each cross-cut is NOT equivalent and using a linear conversion is simply the wrong way to measure the deposit.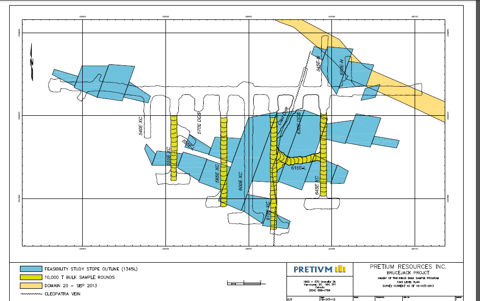 Source: Pretium Resources
If investors look at the above image, they will see that the 585 cross-cut is not in the richest zone of the deposit. Additionally, management expected the following from this particular cross-cut:
"The 426585E cross-cut excavation cuts through portions of three Feasibility Study stopes (the "426585E Stopes"). The tonnage processed and the grade of the gold and silver produced from the material excavated from the 426585E development going through these stopes was estimated to be 1,451 tonnes grading 4.6 grams per tonne gold and 6.8 grams per tonne silver, based on the preliminary mill results estimated for the 426585E Stopes. The value of the gold and silver produced from the 426585E Stopes was estimated to be $204.03/tonne at Feasibility Study base case metal prices providing an operating margin of $47.57/tonne over Feasibility Study operating costs."
If we understand management correctly, the estimated grade of this particular section was supposed to be 4.6 grams per tonne gold and 6.8 grams silver, which compares to 4.03 grams per gold and 7.64 grams silver realized per tonne. So gold results were about 15% below expected gold grades, silver results were about 10% higher than expected.
Even though results were a little below expectations, this wasn't bad at all since the feasibility study was based on 12 grams of gold per tonne, so if milling results in grades 15% below that then the company is still over 10 grams per tonne - which is still a very high grade project. Additionally, the stock is priced at a significantly lower valuation for the Brucejack project, so if management can simply demonstrate the project's feasibility study is close to what the mill results reveal then the valuation for the company should be much higher.
Confirmation of Snowden's Methodology?
Finally, Pretium stated the following:
Preliminary figures from the processing of the 426585E cross-cut show the contained metal included 281 ounces of gold. It is the opinion of both Pretivm and Snowden that there is a significant difference in the contained gold estimated by the selective sampling of the 426585E cross-cut by the sample tower and the actual contained gold determined by milling the total 2,167 tonnes of material excavated from the 426585E cross-cut (there is 94% more gold produced from the mill than was estimated from the sample tower results for the same material). A related discussion on the sample tower component of the Program, Strathcona's stated reasons for withdrawing from the Program, and Snowden's response is set out below.
Pretium is emphasizing that if Strathcona's methodology would have been used to estimate this particular sample, it would have come up with less than half the gold that was actually milled. This lends a large amount of credence to Snowden's methodology since the actual gold found was much greater than Strathcona expected.
Conclusion for Investors
While investors in PVG have been hit particularly hard the last few weeks, we believe that the negativity is at extreme levels and may present both a short-term and long-term opportunity for investors. If bulk sample results come out anywhere close to the expected 4,000 ounces predicted by management, then there would be a lot of weight given to Snowden's methodology. Since the primary reason why investors sold was based on Strathcona's methodology and their complete disregard for Snowden's feasibility study, this may lead to a sharp re-evaluation by investors and move up in the share price.
Finally, investors should also carefully watch the actions of management since much of this is a crisis in confidence. If management shows confidence in the company by buying up shares in significant quantities, this would be a very large positive and a possible reason for other shareholders to buy and investors on the sidelines looking for a signal to buy should look for this move by management.
There is still significant risk with PVG and investors should be extremely cautious, but the pessimism may be at extreme levels and good upcoming bulk sample results may turn this around very quickly. Additionally, management confidence in the project is key, and investors should look to see if company executives look at the share drop as an opportunity - which would show their confidence in the project.
In a nutshell, investors should continue to monitor bulk-sample results and watch what management does, but we believe the bar has been set very low on the bulk sample's expectations and there is significant opportunity in Pretium Resources for those looking for a high-risk and high-reward type investment.
Disclosure: I am long PVG. I wrote this article myself, and it expresses my own opinions. I am not receiving compensation for it (other than from Seeking Alpha). I have no business relationship with any company whose stock is mentioned in this article.