Card processors like Visa Incorporated (NYSE:V) have done extremely well over the last few years and investors may be getting anxious to take profits. Shares have been downgraded twice this year and several firms have hold or neutral ratings. Generational lows in household debt and opportunities in emerging markets could mean another strong year in 2014 and investors could be nicely rewarded.
Market leader in a growing industry
Visa operates the world's largest network of retail electronic payments with more than 12,000 U.S. issuing partners and 3,000 foreign issuers. The company accounts for about half of all credit card transactions and three-quarters of debit card transactions.
Payments volume was up 7% in 2012 to $3.9 billion, slightly off the 11% compound annual rate over the last five years. Despite a lower household debt level and lower growth in payments volume, the number of cards outstanding increased by 8% last year, above the 6% compound annual rate over the last five years.
More cards and lower current debt levels means a lot of potential for consumer credit spending going forward.
The company repurchased six million shares during the most recent quarter, nearly exhausting the amount authorized for repurchase before the Board of Directors announced another $1.5 billion authorization through July 2014. The new authorization represents just over one percent of the shares outstanding. Combined with the dividend, the company could potentially return $2.35 billion to shareholders in fiscal 2013 and will still probably have upwards of $5 billion in free cash flow.
The shares have returned an annualized 30% over the last five years and are up over 39% just in the last year. The stock trades for 23.8 times trailing earnings, under the price multiple for rival Mastercard (NYSE:MA) and well under their five-year average of 39.8 times earnings.
Despite the big run in the shares over the last year, there is good reason to believe that next year's returns could be just as good.
Generational lows in debt service could translate to more spending ahead
Since the beginning of the Great Recession, U.S. households have drastically reduced their debt burden. The debt service ratio, reported quarterly by the Federal Reserve, measures the amount of debt payments as a percent of disposable personal income and has recently fallen to levels not seen since 1980. Lower mortgage rates and a decline in credit card usage have been strong impetuses in better household balance sheets.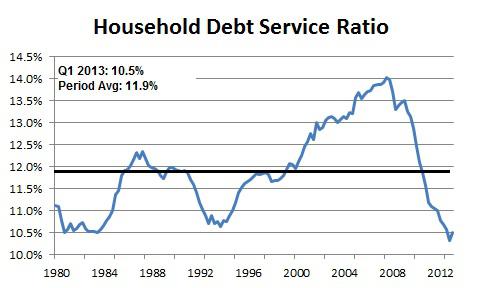 Interest rates will probably increase over the next several years and the household DSR may not fall much further but there is significant room for additional spending. Consumer credit liabilities stood at $2.97 trillion in the second quarter, about 23% of the total $12.9 trillion in household liabilities. If the DSR were to return to the long-term average of 11.9%, that could add another $42 billion in consumer credit purchases in the United States alone.
Emerging markets
As with most international firms, emerging markets are where the real growth is being achieved. Visa has just one-fourth the number of foreign partners as it does domestically and many of those are in other developed markets.
The company has just half the penetration in emerging markets but has increased purchases in these markets by an annualized 10% over the last four years, compared to a compound growth of 3% in developed markets. Penetration in emerging markets has increased about one percent a year over the last four and could continue for several more years until convergence slows the pace of growth.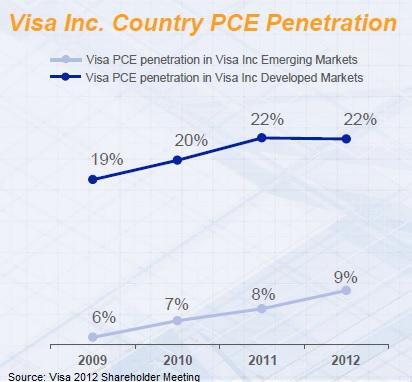 Consumers in these emerging markets use cash and checks for 62% of purchases, compared to just 41% in the developed markets. That means that Visa could see very strong growth as it increases the number of cards in the market and people shift more purchases to cards.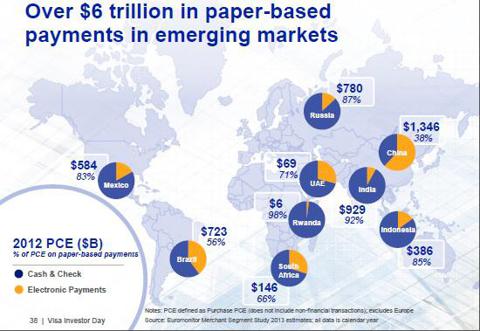 Expectations for fiscal 2014 are for just 11% revenue growth to $13.16 billion and earnings of $8.90 per share. This is despite the fact that sales have grown by an average of 15% over the last three years and global growth should pick up next year. My own estimates call for earnings of $9.48 per share on sales of $13.8 billion. Even this could be a conservative estimate if the U.S. consumer re-leverages back to the long-term average.
On earnings of $9.48 per share and multiple expansion to 27 times trailing, the shares could hit $256 over the next year. Granted, a 29% rise in the share price is not quite the increase seen over the last year but is still an extremely solid return.
No reason to take profits yet
After five years of stellar returns, investors may be tempted to take profits in Visa. Despite the steep gains, the shares trade at a reasonable valuation under their five year average and in-line with peers. Generational lows in household debt service and long-term opportunities in emerging markets mean even stronger revenue and profits ahead.
Disclosure: I have no positions in any stocks mentioned, and no plans to initiate any positions within the next 72 hours. I wrote this article myself, and it expresses my own opinions. I am not receiving compensation for it (other than from Seeking Alpha). I have no business relationship with any company whose stock is mentioned in this article.