Tesla Motors, Inc. (NASDAQ:TSLA) describes itself as a designer, developer, manufacturer and seller of electronic vehicles (EVs), advanced electric vehicle powertrain components and provider of services. In addition to developing the Model S and future vehicle manufacturing capabilities at the Tesla Factory, Tesla designs, develops and manufactures lithium-ion battery packs, electric motors, gearboxes and components both for its vehicles and for its original equipment manufacturer customers. A careful look at this description shows three distinct and symbiotic parts that have unfortunately been overshadowed by the success of the Model S. The first part - design, developer, manufacturer and seller of EVs - is the locus and resulted in the Model S. The second and third - sale of advanced powertrain components and services - provide Tesla Motors an opportunity to generate revenue from its competitors by making them beholden to Tesla's expertise and capability. The inordinate amount of focus on the Model S detracts from the big picture, which is really about becoming the pivot of a growth segment. It is this potential that has allowed Tesla's stock to appreciate 416% YTD and attain a market capitalization of $22B.
Electric Vehicles and the Model S:
From the 1909 Baker Electric to the Prius electric vehicles have always held a curious allure as an alternative to internal combustion engines. In the past a host of factors dimmed this allure including range anxiety, a pansy image due to the low power of their engines, design limitations to keep down weight, and an overall poor value proposition due to their comparatively higher cost. These limitations necessitated the need for workarounds, which came in the form hybrids. Toyota with its Prius and consequent hybrid models championed this new approach. The success of the Prius forced all other major car manufacturers into hybrid models of their own bringing us to a point of hybrid ubiquity. This ubiquity has led to some manufacturers to price their hybrid models similarly to non-hybrids making the choice to substitute one for another seamless to buyers. This seamlessness increases the staying power of hybrids or pure EVs, which in the past commanded a premium price. The intent of the list below is to demonstrate that the plug in electric vehicle (PHEV) and battery electric vehicle (BEV) frontier has been embraced by most car manufacturers and also that there are more BEV than covered in the popular media. The list includes some models in limited circulation and/or pending but demonstrates a push by manufacturers to gain market share, produce market-leading technologies, and to establish industry standards in a sector that is relatively nascent despite attempts going back hundreds of years.
| | | |
| --- | --- | --- |
| Manufacturer | Model | Comment |
| Ford (NYSE:F) | Focus Electric, C-Max Energi, Fusion Energi | On sale |
| General Motors (NYSE:GM) | Spark, Volt, ELR | On sale and pending |
| Toyota (NYSE:TM) | Prius, RAV4 EV, Scion iQ EV | On sale |
| Honda (NYSE:HMC) | Fit EV, Accord PHEV | On sale |
| BMW | i3 and i8, Active E | Pending & Field testing |
| Fiat | 500e | On sale |
| Nissan (OTCPK:NSANY) | Leaf | On sale |
| Mitsubishi | I MiEV | On sale |
| Daimler AG (OTCPK:DDAIF) | Smart ED | On Sale |
| BYD | e6 | On Sale (China) |
| Volkswagen (OTCPK:VLKAY) | e-tron | Pending |
As the tangible business factors converge intangibles such as pollution, rising cost of petroleum, a favorable regulatory environment, and political issues in the Middle East have made EVs that much more attractive.
The Model S in many regards is a culmination of these factors and represents a tipping point for EVs. It represents the point when the perception of EVs changed from functional golf buggies to sexy sports cars. It represents design, safety, and technology awards including 2013 World Green Car of the Year, 2013 Motor Trend Car of the Year, Automobile Magazine's 2013 Car of the Year, Time Magazine Best 25 Inventions of the Year 2012 award, Consumer Reports' top-scoring car, and the National Highway Traffic Safety Administration (NHTSA) top ranked 5 star safety rating. The Model S represents market acceptance of a product and a stock affiliated with the "Green" movement that is not reliant on subsidies. The Model S represents an opportunity in a nascent and high risk area that has struggled to have a credible flag bearer. Above all, the Model S represents the delivery of a promise that has made Tesla a desirable brand.
Valuation
As outlined earlier car manufacturing is one of three areas of focus for Tesla Motors. The different segments are worth a mention but it is not a point of differentiation compared to other car companies who themselves boast financial, technological, heavy machinery and other segments. The generous growth multiples lie in the infancy of the electric vehicle sector; Tesla's early success in solving age old problems that have inhibited electric vehicles from gaining mainstream acceptance. Until the Model S the sector lacked a generally desirable brand. It still lacks established industry standards and will struggle to compete with comparably equipped internal combustion engine cars. Tesla's entry and rise to the top in product, technology, and partnerships gives it a distinct chance to shape the electric vehicle segment. The halo around the brand is a function of expertise, delivery on a promise and huge potential in the market for EVs.
| | | | |
| --- | --- | --- | --- |
| | Tesla | Ford | Toyota |
| Market Cap | 22.27B | 69.06B | 205.20B |
| Forward P/E (fye Dec 31, 2014) | 106.01 | 9.90 | 10.03* |
| PEG Ratio (5 Yr expected) | 16.92 | 0.76 | 0.34 |
| Enterprise Value/Revenue (ttm) | 16.29 | 1.06 | 1.20 |
| | | | |
| * (fye March 2015) | | | |
| Source: Yahoo Finance | | | |
The valuation metrics above, especially, the growth metrics should be taken within the context of size. It is easier to grow a 20K/year car company at 100% than a 1.5M/Year company at 10%. With that said, the Market Cap and Enterprise Value ratios point to the recognition of the opportunity EVs have in the market place coupled with Tesla's demonstrated capacity and capability to take advantage of it as it has done with the Model S.
A car-centric approach on the valuation of Tesla is logical but flawed especially when using the market capitalization number. One such valuation was made by Richard Finger, (2013), Tesla Is Overvalued: Let Me Count The Ways, Forbes. He argued that:
At a market cap of $22B and 20K cars every Tesla car sold is worth $1.1M even though the actual price is somewhere between $80-$110K.
Doubling output to 40K it translates to $550K per car
BMW has a market cap of $52.79B with annual sales of 1.85M cars or $28.53k per car
Daimler AG with same calculation yields $43.4K per car while GM yields roughly $5K per car
These are solid but nuanced arguments that need to be qualified to be direct comparisons.
Tesla only sells EVs with the inherent risks and opportunities therein
Tesla's market capitalization is a factor of its results but mostly a factor of its ability to capture the opportunities in the EV sector
No other manufacturer has been able to deliver the product and services package needed for EVs
With a PEG of 16.92 compared to 0.34 for Toyota and a P/Sales (TTM) of 16.8 for Tesla compared to an industry average of 0.5 it is clear there is a high premium to Tesla's stock. The challenge with a price point for Tesla is to find a point where there would be adequate resistance to the inevitable bumps the company will face as it puts more cars on the road and competitors get the time to make adjustments. Some potential bumps include recalls, competing or better products from competitors, new manufacturer alliances, and worst of all unforeseen and excessive wear and tear.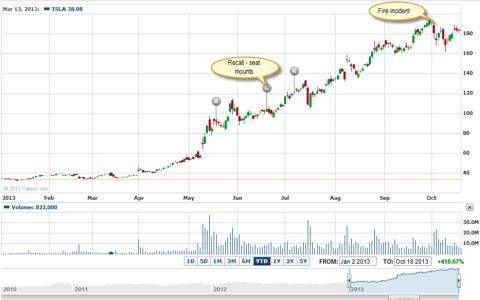 Source: Yahoo Finance
On the good side overall progress has been steady with no consistent large periodic chunks of buying or selling. The little chunks of net gains have seen balancing dips indicating new buyers with positions that could easily be out of the money if there is a drop and they decide to sell off. The stock has shown a propensity to react to key events. With a 400%+ YTD there are enough buyers with positions that will be profitable if there is a sustained threat that leads to a drop in the price. With a short percentage float of 33.50%, a 200-day moving average of $119.09 and a 50-day average of $176.24 a fair projection of the stock price with a bit of a rattle is in the $140- $155 range. If it ever gets to that level there should be enough interest to create adequate resistance.
Market Size Projections
The Toyota Prius went on sale in Japan in 1997 and worldwide in 2000 as the first mass market hybrid electric vehicle (HEV). Global cumulative sales of the Prius reached 1 million in 2008, 2 million in 2010, and 3 million by June 2013. A 100% growth from 2008-2010 and an additional 50% from 2010-June 2013, not including about 13 other hybrid models in Toyota's lineup. The Prius is a good example to demonstrate the evolution of hybrid technology from mild, to full, to plug in hybrid electric vehicles (PHEVs) and then to battery electric vehicles (BEV). It is safe to assume that moving from PHEVs to BEVs will be a quicker transition based on technological advancement rather than market acceptance. With battery technology currently in the 200-mile range it is feasible to expect that in the next 2 years the range can double making BEVs' options more appealing.
Early projections have estimated growth rates of BEVs anywhere from 5-15% YOY. Growth will come from the evolution of currently available hybrid models to BEVs plus the introduction of new models like the impending Model X from Tesla. The chart below represents total projections for BEVs and lithium ion batteries through 2020.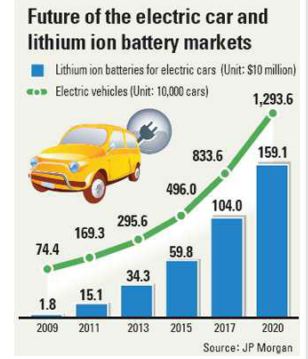 If as estimated Tesla sells 20K cars in 2013 and 40K in 2014, the estimates above clearly demonstrate that selling components and services pie provide a bigger sales and servicing opportunity to Tesla than their organic opportunities.
The Big Picture
It would be better for Tesla, in many ways, if Toyota and Daimler AG battery electric vehicles carry a "Powered by Tesla Technology" tag instead of Tesla itself trying to become a dominant car manufacturer. I say this for many reasons the most important of which is the fact that the scattered and independent pursuit of hybrid technologies by car manufacturers has left the industry lacking a true lead tier 1 supplier including accepted industry standards. Toyota bought 50M worth of Tesla shares in July 2010, which should have appreciated about 700%. Toyota has also been the most aggressive purveyor of hybrid technologies and seller of hybrid cars and it used Tesla's technology in its RAV4 EV. It is in Toyota's interest for Tesla to continue to do well as a company and Toyota can facilitate that using Tesla's lithium-ion battery packs, electric motors, gearboxes and components utilized in the award winning Model S. By the awards alone the components have to be better than what Toyota has in its cars. Daimler AG bought a 10% stake in Tesla in 2009 and it too has lots to benefit from Tesla success. Daimler AG so far, except for the Smart ED, lacks any real footprint in the EV space.
The EV space has gone from being a loss leader and corporate image booster to a serious market opportunity for car manufacturers. BMW has started taking orders for its i3 model soon to be followed by the i8. Cadillac has announced its ELR model and promised to release a model that should directly compare with the Model S. You can go through the list of major car manufacturers - Nissan/Renault, Ford, VW, Fiat/Chrysler, and Hyundai/Kia - and all of them either currently have electric cars in the market or plan to have one soon. This competitive dynamic against a backdrop of the high R&D costs and expertise constraints forces car manufacturers to partner in a bid to get ahead or catch up. Tesla has the technology and the expertise to get Toyota and Daimler AG to the front of the line, at least within the current environment.
Tesla is estimated to sell a total of 40K next year against estimates (see chart above) of 34.3M lithium ion batteries and 2.9M EVs in 2013. Toyota is clearly the leader in hybrid sales hence lithium ion batteries usage. Toyota is also the best positioned to transition their hybrid lineup to plug-ins and eventually to battery EVs. Mercedes is clearly lacking but heavily incentivized to make up ground to BMW's i-series lineup and Audi's e-trons. Tesla has the opportunity to become to the EV sector what Intel (NASDAQ:INTC) was to the Wintel era. It has the opportunity to set standards, sell services (recharging/battery swap stations, and dedicated EV stores) and provide technology solutions to other car manufacturers in areas that are not their core competency. If they can only service the BEV Prius, RAV4 EV and Daimler AG products they get an opportunity to significantly grow their revenue. This in addition to additional revenue streams from the new Model X, which Tesla is already accepting reservations for. Tesla is a relatively young company and increased profitability and revenue growth will only boost the stock price.
Conclusion:
The EV sector is at a tipping point and Tesla Motors has been a significant contributor to the attainment of this status. The allure of electric vehicles as an alternative to internal combustion engines has never been higher and this allure is currently represented by the Model S. In 2014 there will be a Formula E racing series. An all new all-electric racing series aligned with Formula 1, which is considered the pinnacle of global car racing. Finally, when you think of hybrids or electric vehicles you have an option to visualize a sports car not the Prius.
The shift in the industry to battery electric vehicles is bigger than Tesla but the opportunity to become a dominant player is not beyond Tesla's capabilities and capacity. As a car manufacturer it is going to run into setbacks. These are normal for all companies that aggressively pursue radical instead of incremental technological solutions to problems.
Tesla has done a great job with brand positioning and attracted customers that lend their personal brands to Tesla's cars. It has no choice but to continue to do that. Tesla has to maintain its technological lead to its competitors because if competition catches up they will smother Tesla on price and with models offered. Tesla must leverage its relationship with Toyota and Daimler AG to:
Attract other car manufacturers to the table so standards can be agreed upon
Get Toyota and Daimler AG to commit to using its advanced powertrain components and services or dissuade them from entering into competing partnerships like Daimler AG and BYD
The stock could be overvalued for what the company has achieved but that is the same for a lot of other companies with promise and in a similar position as Tesla. It is not overvalued for the opportunities it represents. The stock might get the occasional hiccup when the inevitable recall occurs or when there is an incident that causes the fair weather investors to sell-off. A structured partnership with any car manufacturer for components, services or manufacturing will be a big catalyst for Tesla. The EV segment is ready to takeoff and Tesla is best positioned to become its leader. As long as BYD continues to be a second grade competitor, it and Tesla focuses more on the non-car manufacturing parts of its business, its stock can easily double when the next generation BEVs hit the market.
Disclosure: I am long F. I wrote this article myself, and it expresses my own opinions. I am not receiving compensation for it (other than from Seeking Alpha). I have no business relationship with any company whose stock is mentioned in this article.