Lululemon Athletica (NASDAQ:LULU) is an athletics apparel designer and maker. The company mostly sells its products to the North American and Australian markets.
Lululemon mostly trades on the basis of strong profit margins and fast earnings growth. The recent sustained margin compression and flattening earnings growth has many of its investors concerned whether the company's remarkable run in the last three years has finally come to an end.
Lululemon has no doubt been lighting up the profits board at a dizzying pace. Its industry peers such as Nike (NYSE:NKE), Foot Locker (NYSE:FL), Under Armor and The Gap (NYSE:GPS) have their operating margins TTM in the low to mid-teens. Lululemon's 25.33% TTM operating margin leads its peers' by a huge margin.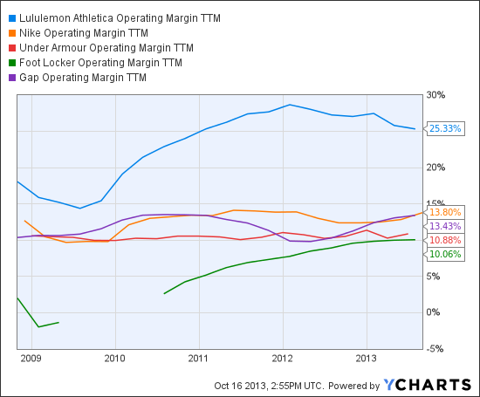 Lululemon's last-quarter operating margin was in fact the highest of any apparel or specialty store with more than $1 billion in sales. The firm's 54% gross margin is higher than all, but 12 retailers.
Slowing growth
There is no denying that Lululemon's past growth has been nothing short of remarkable. The ultra-high operating margins and fast earnings growth have been the key features that have led Wall Street to fall in love with the stock. They have also been used to justify Lululemon lofty valuation.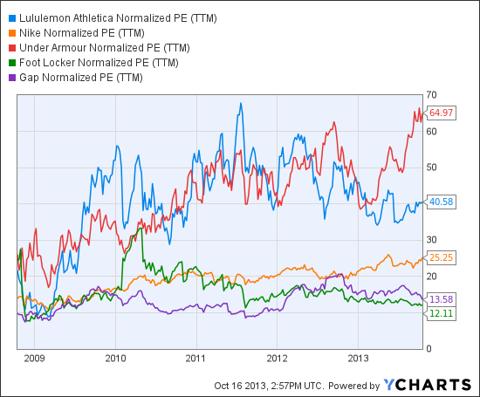 Lululemon's investors have been willing to overlook its misgivings, such as the recent massive recall of its see-through pants, and its well-publicized supply chain and inventory issues, so long as it kept the deal sweet with its extraordinary profits. There has been growing fears that if the assumptions that put in doubt the long-term sustainability of the high profits and earnings growth turn out to be true, then we could see the share price crumble.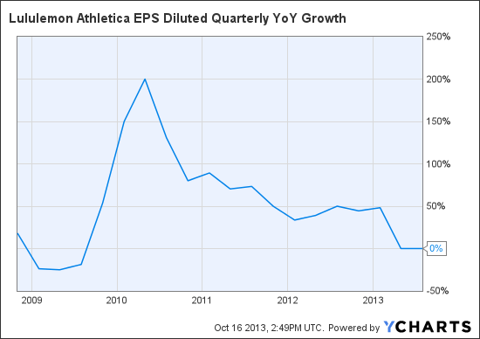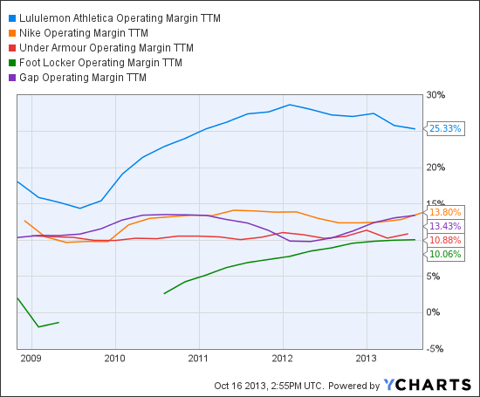 Increasing competition
Lululemon's gorgeous profits have been fuelling its almost esoteric growth story, with its shares rising more than 800% between Oct. 2008 and Oct. 2012. But Lululemon has been facing growing competition that makes it hard to continue producing those outsized gains.
Lululemon's customers can now do some comparative shopping with the firm's rivals such as Under Armor, L Brands' Victoria's Secret and The Gap, all of which sell similar workout wear. Macy's (NYSE:M) Foot Locker and Nordstrom (NYSE:JWN) also have strikingly similar product lines with Lululemon's. In the face of all this competition, Lululemon will increasingly have to institute several cost-cutting strategies, such as store price cuts, in a bid to maintain market share. This is in fact what the company has been doing, and the biggest reason for its margins compression. Lululemon's rivals have also been trying to take advantage of its weakness during its transition, after the departure of CEO Christine Day.
Margin compression manageable
Lululemon is perhaps just a victim of its own successes. Its investors have become so accustomed to the super-normal profits and fast earnings growth, that they probably begun to take it for granted that the firm would maintain them indefinitely. Its investors have been acting squeamish every time growth in the firm seemed to be in jeopardy. In September, concerns about this and other issues led to the shares losing a massive 24%.
But in spite of its all its problems, Lululemon can hardly be said to be ailing. The company posted strong second-quarter results, although revenue and earnings growth slowed down. Revenue grew 22% Y-o-Y to $345 million, beating consensus estimates. EPS growth was flat Y-o-Y, but the $0.39 EPS was still in line with consensus estimates. FCF stands at $26.9 million Year-to-Date, which is equivalent to 4% of revenue. Although the compound sales growth of 8% has slowed down, its 2-year compound growth rate of 23% is still very impressive.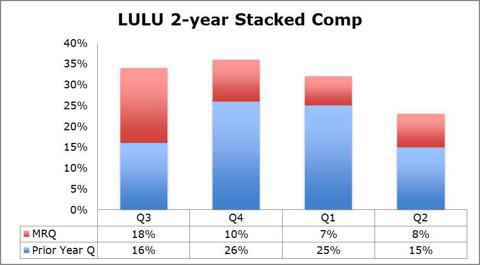 Lululemon's investors have come to expect 2-year stacked compound growth above 30%, and were understandably disappointed with the results. Investors were used to grade A++ growth; now they will have to settle for grade A, period.
Lululemon's margin contraction is to be expected for the firm, if it is to continue growing in the face of stiff competition. For the firm's sales to continue growing at double-digits, a little margin will have to be sacrificed. The company's gross margin declined 110 basis points to 54%, which is still huge by any yardstick, and way better than Nike's or Under Armor's, Lulu's leading competitors.
Favorable Profit-Generating Efficiency
A Du Pont analysis on Lululemon's balance sheet can be used to determine how efficient the firm is at generating profits. A peek into Lululemon's past results reveals that consistent net margins growth always translated to higher ROE for Lululemon. This is great news for its investors. Lululemon's 36.35% ROE is higher than that of its industry rivals. If the firm was to operate on zero-debt, its ROE would fall to around 30.2%, meaning that debt financing accounts for just 6.15% return while the rest is due to the company's operational efficiency.
Lululemon's higher SG&A calculated as a percentage of revenue came in at 31.1%, 80 basis points higher Y-o-Y. Lululemon's overall operating margin fell 190 basis points Y-o-Y to 22.9%, which is still remarkably high for a retailer.
The recall of its luon pants has investors concerned about how serious this will affect the firm's inventory levels. Lululemon's 'Provision-to-reduce-inventory-to-market value' has risen from the beginning of this year, and currently stands at $24.2 million. The figure stood at $25 million at the end of the first-quarter, suggesting the recalled see-through pants were close to worthless. It could also mean that the firm has other underlying inventory issues.
Conclusion
Lululemon is well known for its positive earnings surprises that mostly beat consensus estimates. The firm is currently facing several issues such as the abrupt resignation of its CEO, massive recall of its yoga pants and repeated delivery delays. The company's phenomenal EPS growth has been slowing and its remarkable operating margins falling.
But Lululemon has been working hard to counter intense competition in its home-turf. The firm has begun broadening its product line by expanding into men's apparel. This will likely boost its sales. The firm has been experiencing improving productivity and increased store count. Although the firm recently issued a below-consensus revenue and EPS guidance of $370 million - $375 million and $0.39- $0.41 respectively, its investors need to accept that the company needs to lower its prices to move its stagnant inventory. The lower product prices have of course led to lower profit margins. But overall the company still remains a very good long-term investment opportunity. Lululemon's iconic CEO might have left, but the company remains solid as ever.
Disclosure: I have no positions in any stocks mentioned, and no plans to initiate any positions within the next 72 hours.
Business relationship disclosure: Syncopy Research is a team of financial analysts. This article was written by Alex Kimani, the firm's senior analyst. We did not receive compensation for this article (other than from Seeking Alpha), and we have no business relationship with any company whose stock is mentioned in the article.