2009 has turned out to be a great year for equities, especially after the financial meltdown we experienced. The Federal Reserve continues to liquify the system and low yields are forcing investors into higher yielding equities.
The S&P 500 is up 21.3% YTD as of November 30. The index leadership driven by consumer discretionary stocks is up 33%, materials up 43.21% and technology up 51.46%. December is off to a strong start and analysts are now upgrading companies that led the '09 recovery.
Yields on 10 year treasuries are down to 3.21% and near historic lows. Below is the long-term treasury yield curve. The red line represents current levels.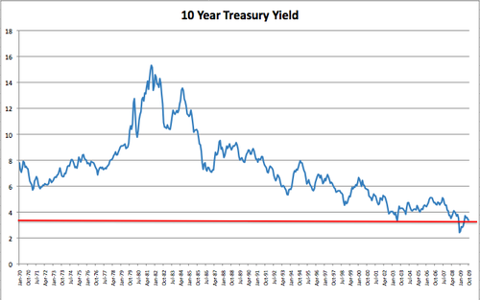 Let's look at the earnings yield for the top 10 most valuable U.S. companies to gauge the attractiveness of equities vs risk free bonds. The table below shows the top 10 U.S. stocks based on market capitalization with their net income for the TTM and theoretical risk free return.

8 of the 10 companies above are returning earnings in excess of the return you would generate from buying 10 year treasury bonds. The risk free return is calculated by taking the companies market capitalization times the 10 year treasury yield.
For Exxon Mobil (NYSE:XOM), you could buy the entire company for $360 billion dollars and generate $21.05 billion in earnings. The other option would be to buy $360 billion in 10 year treasuries yielding 3.21% which would generate $11.55 billion a year.
You can also see this by looking at the XOM earnings yield below which is at 5.67% and above the 10 year yield.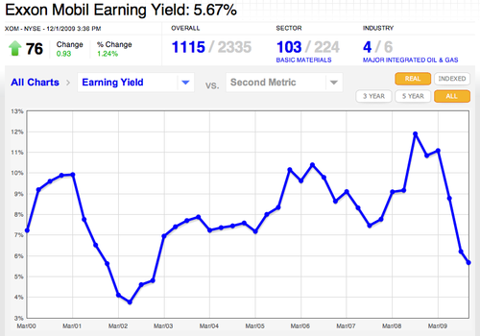 Earnings yields for Microsoft (NASDAQ:MSFT), Wal-Mart (NYSE:WMT), Procter & Gamble (NYSE:PG), British Petroleum (NYSE:BP), Johnson & Johnson (NYSE:JNJ), General Electric (NYSE:GE) and International Business Machines (NYSE:IBM) are all yielding above treasuries. The two stocks that appear to be yielding below treasuries are Google (NASDAQ:GOOG) and Apple (NASDAQ:AAPL). Both stocks have outperformed the markets by a wide margin and could be getting fairly valued in the near term.
With Google, you could buy the whole company for ~$184 billion which generated $4.93 billion in net income over the TTM but if you bought treasuries you would generate close to $6 billion. So treasuries are a better investment right?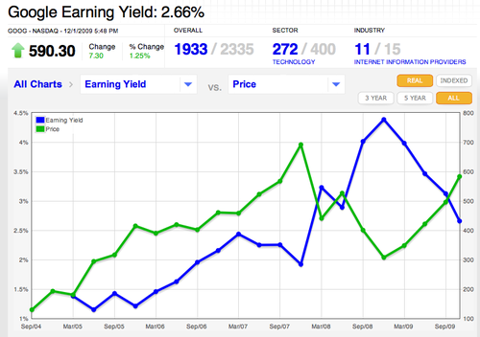 Keep in mind that Google took a $1.1 billion hit in Q408 for asset impairment charges related primarily to investments in AOL and Clearwire. Google continues to make acquisitions and Eric Schmidt has indicated that they plan to be more aggressive moving forward. Google acquired YouTube, DoubleClick, dMarc, AdMob, Feedburner and many other smaller companies with less than stellar results. If you add back the Q408 impairment charge you get to company earnings which are above the equivalent risk free yield.
Time will tell if Google can invest its cash wisely. This is one of the key questions for investors given the maturity of the search business and the fact that Google already dominates the market and generates the vast majority of its revenue from text ads. The chart below shows Google's unique visitor count for the last 12 months.

Apple is another high-flier with a current earnings yield of 3.14%. This looks like another case where treasuries provide a better yield.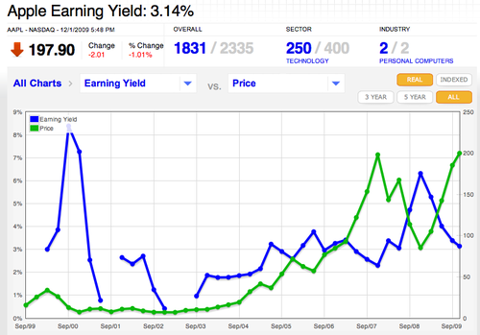 However, if you are an investor in Apple you know that subscription accounting rules make this a little more challenging to figure out. Reported GAAP figures widely understates Apple's performance. Therefore, investors should focus on the non-GAAP numbers. Apple generated $8.3 billion in non-GAAP earnings over the TTM which is also above the risk free return for AAPL.
In general, earning yield provides a simple way to make comparisons but it is only a starting point. Often, as is the case with GOOG and AAPL you have to dig deeper to get the real comparison. Try evaluating your investments versus less risky assets like the 10 year. Take note of where the companies are in the earnings valuation cycle. You can see from the AAPL and GOOG charts above that earnings yield has often provided good buy and sell signals.
Final note, if the yield on treasuries return to more historical norms these comparisons become harder. Treasury yields would have to move up 100+ basis points to start becoming more attractive than the equities mentioned here. You can access full fundamental stock rankings including earnings yield here.
Disclosure: Long GOOG, Long AAPL