Under Armour (NYSE:UA) has developed a marketing strategy that opened the eyes of the dominant player in the industry, Nike (NYSE:NKE). The company is only 17 years old and in the course of that time, has kicked off a new athletic performance apparel craze.
UA reached $85 today and is now trading at a valuation that implies massive future growth and margin expansion. The forward P/E is now a whopping 47x next year's earnings with a P/S ratio of 4.5x, an astronomical figure for the consumer retail segment. Just four months ago, the stock was trading in the mid-$50's. What is the reason for the increase in valuation?
Business Overview
Under Armour is a manufacturer and distributor of branded performance apparel for men, women, and youth. At the end of the second quarter 2013, the company owned and operating 105 Factory House stores with the goal of having 114 by year end. 69% of the company's net revenues were wholesale (distributed through other retailers) while 29% were direct-to-consumer. By category, apparel represented 76% of net revenues, footwear 13%, accessories 9%, and license revenues 2%. The synthetic performance apparel market is a relatively new and fast growing industry with $3 billion in potential sales of which Under Armour controls 60% share.
Short Thesis
The growth story of the company is well known so I will just rehash it here. They are expanding their direct-to-consumer footprint nationwide while growing their wholesale business in Latin America, Europe, Asia, and Australia. The company is expanding rapidly in the women's space, an area where the firm has been deficient before. Management also wants to focus on the youth segment (14-24 year olds) as they believe the age group is underserved currently in the market. Lastly, they are launching new retail concepts like their UA Storm brand and Charged Cotton line.
The company expects its footwear business to grow from $290m this year to $600m by 2016. It also forecasts its youth business, an aspect of the company it has paid a lot of attention recently, to grow to $470m in 2016 from $220m this year. In aggregate, the company wants to be at roughly $480m in operating income in 2016 on revenues of $4 billion.
However, my thesis is not whether they get to that level or not. Frankly, it doesn't matter since the stock is currently priced for growth that exceeds those forecasts results by a significant factor.
The sell-side now expects 22% annual EPS growth over the next five years. This growth rate is belied by the fact that the stock trading at $85 implies a 39% growth rate using an 8.8% equity risk discount. Nevertheless at a 22% CAGR, one analyst report shows revenue growing at nearly 19% per year, and apparel and footwear both growing roughly 20% per year while gross profit increases at a 19% rate. For a point of reference, since 2005 when the company went public, revenue CAGR has been 31% and EBIT growth 29%. This at a time when the company was realizing the fastest part of a company's lifecycle growth rate.
The footwear category is a mature space as Nike created the contemporary sneaker market many years ago. To suggest that Under Armour will continue to snag these large chunks of market share over the next five years is a bit tough to believe. Meanwhile, Nike has seen a resurgence lately with faster inventory turns and higher quality and better demanded footwear.
I've run several different scenario analysis but all imply the stock should be worth somewhere between $40 and $75 per share at year end Jan 2015, a full 15 months away.
Below are the assumptions I made on the Bloomberg DDM using the 22% growth rate. The model assumes a 22% growth rate for not just five but seven years after which it goes through a transitional period for 10 years gradually heading to a very aggressive terminal growth rate of 6.3%. Under this 'perfect' scenario, the implied price is just $42.63.
I grant you that a DDM model is a not appropriate for a stock at this juncture of its growth cycle. Below is a FCFE model where I use a 30% growth rate for the next seven years and a 7% stable growth assumption. Only under these, some would say, ridiculous inputs can I get near the current trading price of the stock. Please note that the model assumes the company will earn over $6 per share in 2018, up from the current $1.25. Very ambitious!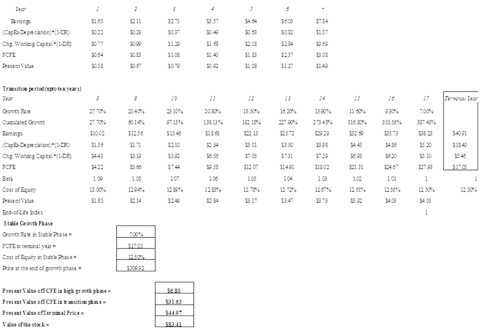 Catalyst
However, I think the primary catalyst to curtail the company's growth rate and potentially, knock the stock back, is increased competition. Typically in the consumer and retail clothing business, moats become very narrow and switching costs low resulting in price wars reducing operating margins. The shirt technology of cotton moisture wicking- whereby moisture is pushed outside the shirt keeping the inside dry- is being reproduced into cheaper brands and distributors like Champion, Russell, and even big box retailing private labels like Walmart and Target.
The women's space has become especially competitive in the last several years with Lululemon being the classic example of the type of company moving into and growing rapidly. Lorna Jane, an Australian performance wear company, recently entered the US market opening standalone stores and competing head on with Lululemon. Other entrants include Rawlings, a subsidiary of Jardon Corp, Speedo, Tyr, Lucy, Athleta by GAP, as well as popular clothing brands like Express, Abercrombie and Fitch, Forever 21 and Victoria's Secret all offering large portfolios of performance clothing geared especially for women.
Under Armour has a strong duopoly on the high-end men's athletic wear space (with Nike) but I do think that will change. Lululemon launched Men's wear several years ago and it's been a large portion of growth recently. Additionally, they are about to open standalone Men's stores and move towards overseas growth.
New competition in the space is increasing at a rate as fast as Cupcakes or Yogurt shops popped up over the last few years. One could even throw out the word 'bubble' to describe the trend.
Momentum Driving the Stock
Since early July when the stock was in the mid-$50's, few things have changed and the amount of incremental information that would drive the stock higher has been negligible. Below is the stock price (white line) charted against the forecasted 2013 GAAP EPS estimate (red line). You can see that over the last year, expected EPS for fiscal 2013 is down from $1.55 to the current expectations of $1.45, a drop of 6.4%. All this while the stock is up from $57/share to $85/share.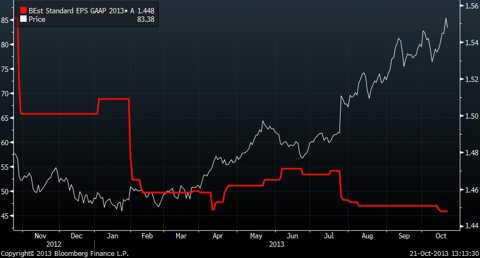 At 47x this year's earnings, the stock is trading at a rich premium to the five year historical median average of 33x. This is despite the fact that domestic saturation is setting into the industry both due to the amount of entrants and UA store footprint/wholesale distribution. Additionally, the company's next growth phase which is coming from international expansion will likely be more difficult to execute, carry lower margins, and result in choppy revenue growth.
You can see the forward P/E charted over the last three years with a regression overlay. The least squared regression line (in red) shows a value of roughly 44.5x based on three-year historical results. The move since the start of the year is stark rising from approximately 30x to over 57.8x.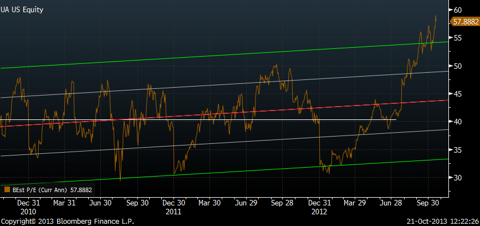 Clearly expectations by investors have increased while the sell-side hasn't realize the same level of bullishness and raised their fiscal year 2013 or 2014 estimates, nor their long-term growth rates on the company.
How to Short A Momentum Stock
With the FED tapping the spigot with QE-infinity, which now appears to be in place until early next year at the earliest, stocks, especially long momentum stocks, appear like an easy win. It has been a game of Russian roulette to short the big momentum players lately, with Netflix (NASDAQ:NFLX) (see my note HERE), Tesla (NASDAQ:TSLA), and Linkedin (LNKD) all increasing at expeditious speed.
In my opinion, the best way to play these stocks in a trending multiple-expansion market within a QE environment is to sell out-of-the-money calls with near-dated expiry. It is also advisable to not have an earnings date within your time frame in order to mitigate risk even further- although your premium will naturally be much less.
Buying long-dated puts can be another avenue to play the move down but can be costly as the theta burns away your premium. Put spreads would be more advisable to help defray costs.
These high-flying melt-up momentum plays won't be stopped unless they report really bad earnings (NFLX reported a mediocre third quarter and the stock popped 10% after hours) or unless we get an exogenous macro event that sends the broader market lower.
Conclusion
Bulls in the stock will contend that it has been an expensive stock its entire public life trading at premium P/Es and EV/EBITDA levels. This is true of many young companies growing at high growth rates. Clearly, if Under Armour hits EPS growth rates above 25% per year for the next several years- a not-so-certain probability needing all the stars to align perfectly to be achieved- it could trade sideways (in a channel range say between $75 and $100) for years as the stock catches up to the valuation. However, I believe the more probably outcome is a slowdown in growth in a subsequent quarterly release that disappoints investors who then all run for the exit at the same time diving the price back down from these astronomical levels.
Disclosure: I have no positions in any stocks mentioned, and no plans to initiate any positions within the next 72 hours. I wrote this article myself, and it expresses my own opinions. I am not receiving compensation for it (other than from Seeking Alpha). I have no business relationship with any company whose stock is mentioned in this article.