Hewlett-Packard (NYSE:HPQ) remains one of the most misunderstood and undervalued technology stocks in the second half of 2013. I have liked Hewlett-Packard as a great value idea for several years, and continue to believe the leading printer and computer maker on the planet has a bright future. This view is clearly a minority opinion, as Wall Street analyst pessimism has skewed the value of the company to a price well below any rational, discounted free cash flow or simple business break-up-worth calculation.
Analysts and investors have irrationally focused on the overall sliding industry sales of full-size personal computers (PCs) globally as the key to Hewlett-Packard's future. But the growth-based reality of its 1) innovative Chromebooks, laptops, and notebooks, 2) worldwide leading printer business, 3) enviable position in network infrastructure, business software, and cloud servers, and 4) top-notch service operations for both consumers and corporations all argue for a stock valuation north of $30, if not $40, per share.
Don't take my word for it; Michael Dell is in the final phase of taking his publicly traded, namesake company private. Hewlett-Packard's most relevant peer/competitor, Dell, Inc. (NASDAQ:DELL) was the subject of several lawsuits to stop Michael Dell and a rejected higher-price competing bid by Carl Icahn, with much reporting in the mainstream press about the insanely low price of the takeover bid. Even this steal of a deal for Dell was made at a valuation considerably above what Hewlett-Packard's assets and cash flows are priced at currently.
Hewlett-Packard's overall free cash flow generation in 2013 is much stronger for new investors than those of competitors and similar businesses like Dell, IBM (NYSE:IBM), Microsoft (NASDAQ:MSFT), Apple (NASDAQ:AAPL), and Cisco (NASDAQ:CSCO). Contrasting Wall Street's pricing of these comparable publicly traded, diversified-operation, high-tech businesses is likely the best way to outline a fair value number for Hewlett-Packard shares.
One successful and productive way to appraise Wall Street valuations of similar businesses is to adjust earnings and cash flow to a zero tangible book value number for all peers in an industry. Dell, IBM, and Hewlett-Packard have negative tangible book values in 2013, so we "issue" theoretical new shares (enough to raise cash equivalent to the negative tangible book value number) and recalculate the income and cash flow statements based on the new outstanding share total.
For companies like Microsoft, Apple, and Cisco -- with plenty of tangible assets and cash beyond total liabilities -- we assume a theoretical share "buyback" using extra cash on hand. We also reduce the number of shares accordingly for our new apples-to-apples comparison of earnings and cash flow per share vs. similar publicly traded businesses in the sector.
The stock market has moved to a free cash flow metric as its primary valuation design the last several decades for businesses. As GAAP accounting rules constantly change -- but the amount of money an owner can put in his pocket has remained constant each year -- earnings and reported GAAP income are becoming less and less important to Wall Street pricing and evaluation vs. the investment world of the 1970s-80s. Basically, a conventional definition of free cash flow will work for our purposes. We take repeatable annual earnings (after taxes), add the annual depreciation and amortization expense of existing assets, and subtract the necessary amount of capital reinvestment to keep the business running normally into the future.
At today's stock price of $24 a share, making the adjustments mentioned above, new investors are paying 7.5x estimated annual free cash flow for calendar 2013 when they purchase Hewlett-Packard. I convert accounting statements to calendar-year quarters for an honest apples-to-apples comparison. My math uses consensus Wall Street earnings estimates for 2013, available from a variety of sources, such as Yahoo Finance. For Hewlett-Packard specifically, we are taking a stock market capitalization of $46 billion and issuing $10 billion in theoretical new stock (at $24 a share) to bring our tangible book value reading to zero. The $10 billion number is based on the latest July-quarter accounting statement deficit for hard asset net worth. Then we divide our new market cap total of $56 billion by a Wall Street estimated $7.5 billion in free cash flow for calendar 2013, with $7.5 billion coming from our formula of $6.8 billion in after-tax, estimated income from trailing results and 2013 consensus sources, added to an extra $700 million in depreciation and amortization expense annually beyond current levels of capital spending witnessed in 2012 and 2013.
That works out to 13.3% in your pocket each year from Hewlett-Packard, if you bought out the entire company and took it private like Michael Dell is trying to do with his organization. The kicker for a long-term investor in Hewlett-Packard is earnings and free cash flow could easily rise considerably with the proper management of assets and reinvestment of regular, ongoing capital creation. In comparison, Dell is being taken over for 11.0x -- a similarly derived, adjusted number of free cash flow using our zero tangible book value concept, while IBM is priced at 11.0x, Microsoft stands at 9.5x, Apple sells for 9.0x, and Cisco is at 8.0x.
New CEO Meg Whitman has done a good job evaluating Hewlett-Packard's businesses, rationalizing costs, taking the appropriate writedowns, and restructuring this large business organization to stabilize its day-to-day prospects for shareholders the last few years. A range of options still exist to maximize the value and price of the corporation at today's low valuation point. Weaker, less-compelling units can be sold off and strong cash flow generation can be (and is) used to pay down long-term debt levels. Share buybacks and small strategic purchases of complimentary businesses are ongoing.
The company is aggressively developing, designing and manufacturing newer, smaller computers to compete in the marketplace, and moving away from the full-size PC market that is in decline. While 2012 and 2013 have seen a small drop in overall revenues as the turnaround plan takes shape, even pessimistic Wall Street projections are calling for revenues to begin increasing again by late 2014. Despite the downtrend in overall revenues, profitability and free cash flow per share are actually rising into 2014 as the result of cost cutting and stock buybacks each quarter at the present ultra-low valuation. Basically, the longer the stock price stays under $30, the stronger the springboard will become for share unit increases on every accounting metric into mid-2014.
What has me excited about Hewlett-Packard is not just the terrific break-up value, turnaround potential, and free cash flow story, but the clear reversal in its stock price trend the last 12 months. More than doubling off last year's low quote of $11 in November 2012, the company's stock has held above $20 for most of 2013. More often than not, such a reversal in percentage terms to the upside, following a multi-year downtrend in price, leads to a long-term up-move for investors. The two-year chart outlines a good picture of the reversal pattern and situation in Hewlett-Packard.
All told, the appearance of a rising trend in revenues and income into the back half of 2014 and beyond may cause Wall Street investors to re-evaluate their overly bearish stance on Hewlett-Packard. In 12-18 months, investors will be looking at 2015 forecasts, and they could be upward of $4 in earnings per share for Hewlett-Packard with a much brighter future ahead. Given such a scenario, I feel comfortable forecasting a $35-$40 stock price as coming fairly soon for investors in this out-of-favor, blue-chip technology company. Call me crazy, if you must.
Click to enlarge image.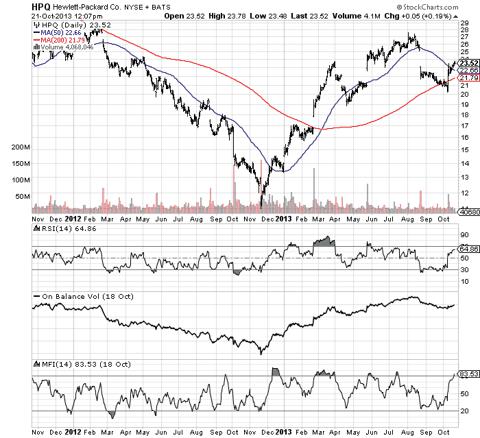 Source: StockCharts.com.
Disclosure: I am long HPQ, MSFT, CSCO. I wrote this article myself, and it expresses my own opinions. I am not receiving compensation for it (other than from Seeking Alpha). I have no business relationship with any company whose stock is mentioned in this article.