I must admit. I have a few addictions in life - Coca-Cola (NYSE:KO), Starbucks (NASDAQ:SBUX), and Real Estate Investment Trusts (or REITs) - in no specific order. Maybe there's a connection though. I mean they are all obsessions and I can't go a day without them; however, they are also similar in that they have all built their strategies on vivid and hardy forms of differentiation.
In the book, Repeatability: Build Enduring Businesses for a World of Constant Change, co-authors Chris Zook and James Allen explained:
The power of a repeatable model lies in the way it turns the sources of differentiation into routines, behaviors, and business activities.
So as my wife would say, that explains the reason that I drive to Starbucks in the morning, crave a Coke at lunch, and write about REITs at night. So it's interesting that the things that I crave are also unique in that they have all provided for lasting differentiation.
However, Coca-Cola and Starbucks are both considered "crown jewel" investments and they have evolved not just by earning money but by performing a valuable task unique from their competitors. Accordingly, these two globally-recognized brands have the sharpest form of differentiation and that's precisely why I am a loyal customer and I remain fixated on the brands.
Let's take a closer look at Coca-Cola. Here is a FAST Graph that illustrates the company's dividend history (shaded aqua green) and capital appreciation (shaded dark green). This is an amazing company and the graph below sums up one of the strongest sources of differentiation on the planet today.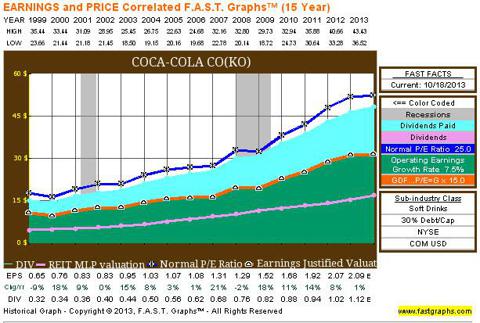 Now I added the price line (black line) and you can see that Coca-Cola is trading at $38.78 a share with a P/E ratio of 18.6x. I'm not sure I'm addicted to the stock price today but there is no question that the track record for the blue-chip stock is extraordinary - 43 years in a row of steady and increased dividends.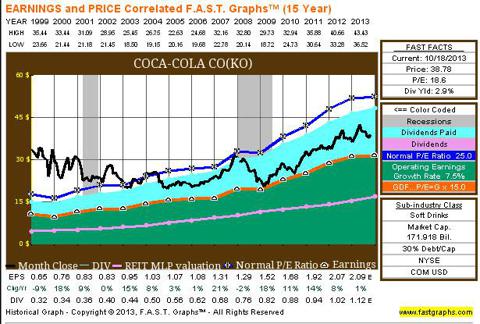 I'm not an expert on Coca-Cola but I know Warren Buffett is. Here's how Eli Inkrot summed up "the Real Thing" in a recent Seeking Alpha article:
A single share of Coca-Cola stock bought in 1970 for $82 would have netted that partial owner $1,190 in dividends over the years. Think about that: forget capital appreciation, with the dividends alone an investor could have generated nearly 15 times their initial investment without thinking about selling a share. On a cumulative basis, one's initial investment would have been repaid in about 19 years. In total, the dividend compounded by about 17% a year.
Although not as impressive as Coke, Starbucks has also built a sharply differentiated strategy and as evidenced by the FAST Graph below, the world's largest coffee enterprise has served consumers better and more profitably.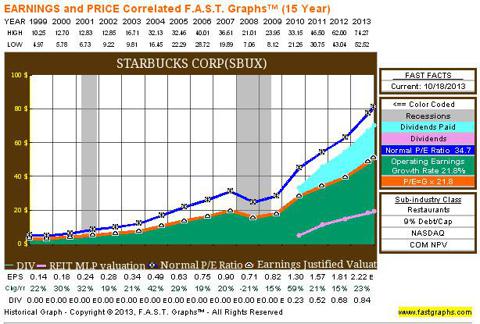 But now after adding the price line (to FAST Graphs) it's plain to see that Mr. Market has the same love of lattes (that I do). Note, I did manage to buy one share of Starbucks at $9.47 in December 2008 (for a holiday gift to myself). I wish Santa had parked a few more shares under the tree! Today Starbucks trades at $79.31 with a dividend yield of 1.1%.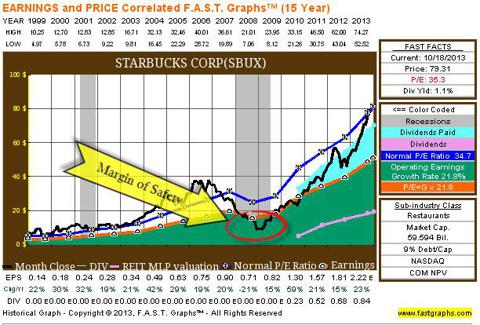 Is There a REIT That I Admire As Much as Coke?
As I alluded above, my other passion is REITs and of course you would not be reading this article now if you thought I was suggesting anything else (but REITs). It's funny though; the common thread for all three of my addictions is consistency in earnings. While my daily trip to Starbucks and the refrigerator (for Coke) help fuel the earnings consistency for these beloved beverage brands, that same principle applies to my quest for the best in class REITs. That is, I'm looking for the REIT with the strongest form of differentiation that can sustain over time and through constant change (that means rising interest rates too).
So what are the top three REITs that I believe have the same durable track record as Coke? Are there any REITs that have the same record of paying out uninterrupted dividend payments going back over many years? Or did the Great Recession put an end to the repeatable REIT records?
The answer is Yes, there are 15 REITs that have managed to payout consistent and increased dividends for at least 5 years straight. According to DRiP Resource Center, there are a total of 471 companies that have paid out dividends during the same time frame (Note that there are also more than 100 "Near-Challengers" with 4 years of increases). Of the total there are 105 "champions" (25 or more straight years of higher dividends) and just 3 are REITs, There are 212 "contenders" (10-24 years of straight and higher dividends) and 8 are REITs. There are 154 "challengers" (5-10 years of straight and higher dividends) and 4 are REITs.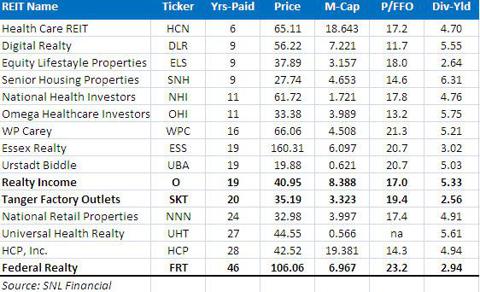 Included in the above list I consider 3 of the REITs to be leaders that have built the best strategies of differentiation. These 3 REITs have performed remarkably well and they are distinguished by "coke-like" fundamentals distinguished for their ability to control risk and generate stable shareholder returns.
First let's look at Tanger Factory Outlets (NYSE:SKT). Like Coca-Cola, Tanger has executed a superb platform of risk control. Earlier in the summer I wrote an article on the pure play outlet REIT and I explained that "Tanger increased its dividend by an average of 5% over the last three years." Tanger has paid and increased dividends for a record of 20 years in a row.

Tanger shares are trading at $35.19 a year with a dividend yield of 2.56%. I don't see a "margin of safety" in the shares as the P/FFO multiple is 19.4x. Like Coke and Starbucks, however, I will wait patiently for a better entry price (found in my newsletter).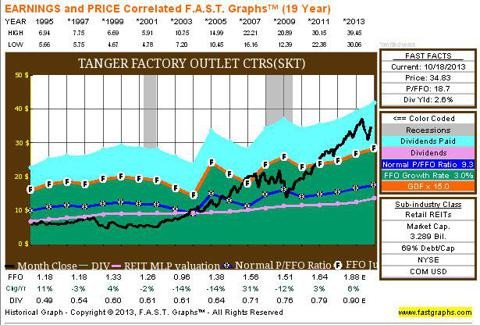 Now let's take a look at blue-chip, Federal Realty (NYSE:FRT). Compared with Tanger, Federal has an equally impressive dividend history. In fact, Federal has an extraordinary track record of paying and increasing dividends for 46 years in a row - 3 years more than Coke even.

Ignoring the price line (I removed the black line), we can see that Federal has a crystal clear earnings history - as steady as any REIT on the planet. Actually, if you scroll up to the Coca-Cola chart (above), there is a very close resemblance (except one produces beverages and the other produces rent checks).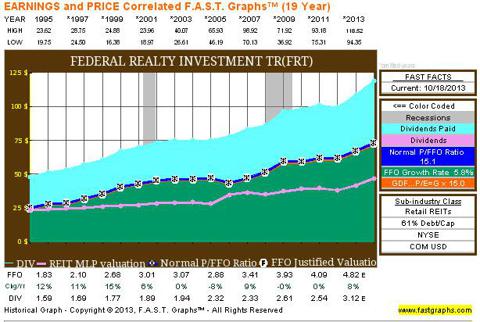 Now, after adding the price line, we see that Federal is trading at a fairly expensive level. The shares trade at $106.06 with a P/FFO multiple of 23.2x. That makes the modest dividend yield of 2.94% seem comparable to Coke with a dividend of 2.90%. Like Coke, I would like to own Federal but I can't justify the price now…I'll wait.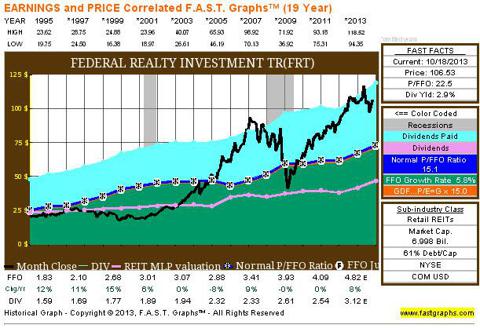 Now, I saved the best for last and what I like about this REIT is that I can get Coke in a REIT wrapper. What do I mean by that? Coca-Cola is one of 200 tenants that lease from Realty Income (NYSE:O). The rent checks for the company is supported by the cash flow from over 3,800 properties owned under long-term lease agreements with regional and national retail chains and other commercial enterprises (like Coca-Cola). To date Realty Income has declared 520 consecutive common stock monthly dividends throughout its 44-year operating history and increased the dividend 73 times since Realty Income's listing on the New York Stock Exchange in 1994.

Better yet, Realty Income is trading at a "sound" valuation of 17x P/FFO. Some may argue that the $40.95 and 5.33% dividend yield is expensive; however, one must consider the quality of the company's earnings stream. As noted, Coke is just one of around 200 tenants and Realty Income's remarkable record of repeatability is highlighted by the fact that the company's occupancy rate NEVER has dropped below 96% (current occupancy is 98.2%). I liken Realty Income's current valuation to Coke: I may pay more today (than the peer group), however, I'm buying risk-control, invisible in good times, but essential. You have all heard the saying "you get what you pay for" and with Realty Income I know precisely what I'm getting - a "blue-chip" REIT at sound valuation.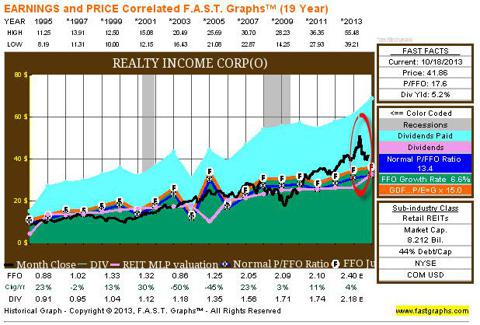 Cola-Cola has made many slogans over the years and one of my favorites was the 1989 version - Can't beat the real thing. That seems to apply to Realty Income as I have not found another REIT that has done such an outstanding job of intelligently bearing risk for profit. Remembering, it's not just for a year or two, but for almost 20 years in a row and that ability to manage risk is why Realty Income and Coca-Cola are considered the best above all the rest.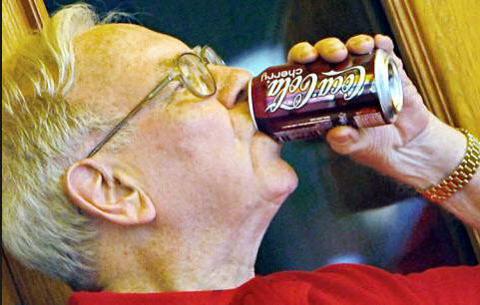 Each month I feature a "Blue-Chip" REIT in my monthly newsletter, The Intelligent REIT Investor.
Other REITs mentioned: (NYSE:HCP), (NYSE:UHT), (NYSE:NNN), (NYSE:ESS), (NYSE:UBA), (NYSE:WPC), (NYSE:NHI), (NYSE:OHI), (NYSE:DLR), (NYSE:ELS), (HCN), and (NYSE:SNH).
Source: SNL Financial.
Disclaimer: This article is intended to provide information to interested parties. As I have no knowledge of individual investor circumstances, goals, and/or portfolio concentration or diversification, readers are expected to complete their own due diligence before purchasing any stocks mentioned or recommended.
Disclosure: I am long O, ARCP, GPT, STAG, ROIC, CSG, DLR, UMH, VTR, HTA, SBUX. I wrote this article myself, and it expresses my own opinions. I am not receiving compensation for it (other than from Seeking Alpha). I have no business relationship with any company whose stock is mentioned in this article.