Investors have had a downbeat outlook on Apple Inc (NASDAQ:AAPL) since September 2012. Apple's share price climbed by 80% from January 2012 to September 2012 due to the spectacular growth it achieved with its iOS-enabled smartphone and tablet computing devices. Unfortunately for Apple's shareholders, its share price sank by 45% from its September 2012 highs of $705.07 to its April 2013 lows of $385.10 because the iPhone's sales growth slowed, the iPad ceded market share to lower cost competitors and because its Mac desktop and laptop computers endured sales declines. Although we do not believe that Apple's revenue and profits will grow at the same levels that it achieved when Steve Jobs was serving as its CEO, we believe that Apple's new product rollouts will enable it to remain competitive against Samsung (OTC:SSNLF) and Microsoft (NASDAQ:MSFT), which announced the acquisition of Nokia's handset business.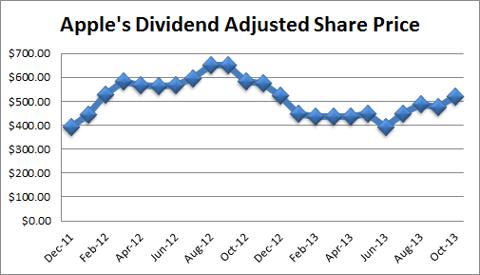 Source: Morningstar Direct
In September, Apple introduced its newest iPhone smartphone devices. While Apple's critics were writing Apple's obituary because of the iPhone 5's mapping issues as well as the cost of the iPhone itself, the iPhone continues to be Apple's best-selling product. The iPhone's revenues and sales volumes increased on a year-over-year basis in every quarter during the first nine months of its 2013 fiscal year. Units sold increased by 29% in Q1 2013, 7% in Q2 2013 and 20% in Q3 2013 and this was solid in light of the challenging macroeconomic environment as well as the success Apple enjoyed with its iPhone 4S product line in FY 2012. Despite recent criticism that its new Apple 5C smartphone was too mid-range and not an entry-level price point phone, Apple still sold 9M iPhones in the recent weekend debut of its two new smartphone models (5C and 5S). Sales of the iPhone 5S are nearly double that of the 5C but 5C sales are starting to catch up.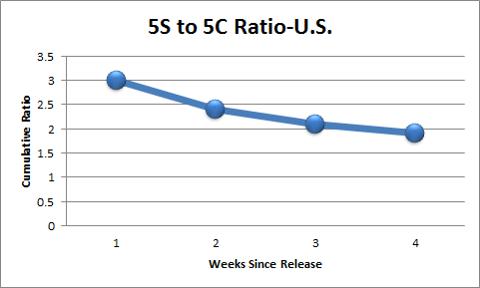 Source: Localytics
Apple included China in its new product rollout and sales of its new iPhones benefited from new colorful options and a fingerprint reader. Apple's iPhone sales volumes were 1M more than the highest analyst sales projection even though the high-end 5S model faced supply constraints. According to Bloomberg, Apple made an estimated $5.2B in revenues during the opening weekend for the iPhone 5 and 5S. In comparison, BlackBerry (NASDAQ:BBRY) reached a tentative agreement around that time to sell itself to Prem Watsa's Fairfax Financial for $4.7B. Apple's 9M in iPhone sales during the recent weekend also exceeded the 3.7M smartphones that BlackBerry recognized revenue on during its most recent quarter.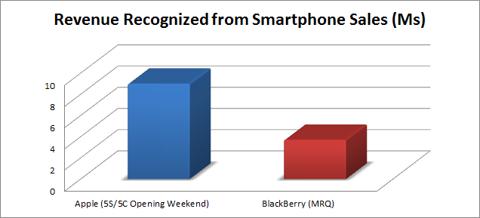 Source: MRQ Report for BlackBerry and Bloomberg
Apple announced its iPad product lineup refresh by introducing a new, thinner, lighter tablet called the "iPad Air" at an event in San Francisco. The iPad Air weighs just 1 pound, compared with 1.4 pounds for the previous version. According to Apple marketing chief Phil Schiller, the new iPad Air will go on sale Nov. 1 and start at $499 for a model with 16 gigabytes of memory. Apple plans to phase out its third and fourth generation iPads while the iPad 2, which launched in 2011, continues selling at $399. According to Tim Bajarin of Creative Strategies, Apple's iPad 2 is still a big seller in Asia and emerging markets.
Apple's iPad has generated solid year-over-year volume growth of 28.6% during the first nine months of FY 2013. We were disappointed that Apple's iPad revenue only increased by 8.32% year-over-year as the lower margin iPad Mini took sales away from the higher margin iPad. However, we also believe that the iPad Mini helped preserve iPad revenue as other companies have made inroads into the tablet computing space. Apple will begin selling a new iPad mini later in November with a starting price of $399 for a 16-gigabyte model. It has a retina display designed to give it a clearer, sharper picture and the same 64-bit chip that powers the iPad Air. It is important for Apple to regain its competitive momentum in the tablet computing space since Gartner estimates that Apple's tablet market share will decline to 49% at the end of 2013 versus 65% two years ago. Apple iPad's share of tablet web traffic varies from 39.6% according to IDC, 61% according to Piper Jaffrey and 84% according to Chitika. Meanwhile, Android's tablet market share will increase from 30% two years ago to 50% as of the end of 2013. Fortunately, Apple's new products have received positive reviews from the media and the analyst community.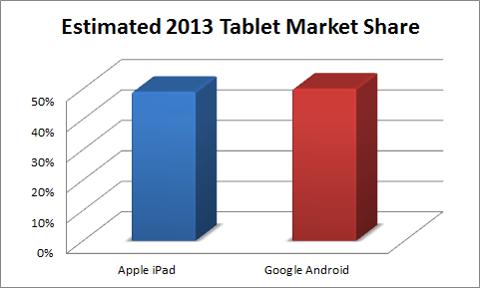 Source: Gartner
Apple also refreshed its computer lineup. A new, 13-inch MacBook Pro with Retina display is thinner and lighter, Schiller said, adding that the laptop has up to 9 hours of battery life, enough to watch the entire trilogy of 'The Dark Knight' on one charge. The notebook's new price is lower: $1,299, compared with $1,499 for the previous version. A larger MacBook Pro, with a 15-inch monitor and 256 gigabytes of storage starts at $1,999, compared with $2,199 for the previous version. The Mac Pro, a high-end desktop computer aimed at what Apple calls "power users," will be available in December for $2,999. The company also said that its latest computer operating system, Mavericks, is available free of charge. In addition, Apple announced that its iWork suite of productivity apps, would be free to anyone who buys new Mac computers and the company's mobile devices, including iPads. Apple is seeking to challenge Microsoft Office's dominance in business office software.
In conclusion, rumors of Apple's demise are greatly exaggerated. Those lucky investors who have been short Apple and long Nokia (NYSE:NOK) or BlackBerry should wind up that trade because Apple's shares have been through the worst that the market could throw at it. Apple has made a number of recent missteps but it has taken steps to fix the problems in order to avoid suffering the fate of BlackBerry (formerly Research in Motion). Now that Apple is trading at a price that is 25% below its all-time highs and it has refreshed its product line, we believe that this provides investors a solid buying opportunity. Although Apple will not be able to continue its Icarian growth rates that it enjoyed up until FY 2012, we expect that it will be able to maintain double digit EPS growth and its Forward FY 2014 PE is only 11.9X based on its projected FY 2014 EPS of 43.76.
Disclosure: I am long AAPL. I wrote this article myself, and it expresses my own opinions. I am not receiving compensation for it (other than from Seeking Alpha). I have no business relationship with any company whose stock is mentioned in this article.
Additional disclosure: This article was written by an analyst at Saibus Research. Saibus Research has not received compensation directly or indirectly for expressing the recommendation in this article. We have no business relationship with any company whose stock is mentioned in this article. Under no circumstances must this report be considered an offer to buy, sell, subscribe for or trade securities or other instruments.