I have updated the pricing targets for the 25 BDC I follow and in this article I will provide some of the details as well as a new valuation methodology, using expected total returns combined with the standard multiples analysis. Many investors believe that BDC pricing is simply based on net asset value ("NAV") per share which does not explain why American Capital (NASDAQ:ACAS) and Horizon Technology Finance (NASDAQ:HRZN) trade at discounts of NAV greater than 10%, while others such as Main Street Capital (NYSE:MAIN), Triangle Capital (NYSE:TCAP) and Hercules Technology Growth Capital (NASDAQ:HTGC), all trade at premiums of 50% or higher.
Current Multiples
The table below compares the current pricing multiples of NAV per share and EPS for each to the relative risk levels of each BDC, details for which can be found in my "BDC Risk Profiles" articles. I believe there is a strong correlation between investors perception of risk and the valuation multiples they pay.
Implied Pricing Using Multiples
I then used the averages and standard deviations to apply what I believe to be proper multiples based on risk profile. Using this method of pricing and a simple average of the multiples, 15 of the 25 BDCs are priced within 10% including ACAS and HRZN. However MAIN, TCAP and HTGC, are all relatively overpriced. This is because it does not take into account potential growth included in the total return analysis.
Projected Total Returns
Here is a table from my "Projected BDC Returns Vs. Risk" article that takes into account the current regular dividend yield, plus an annual growth that is similar to the last twelve months, plus special dividends and NAV per share growth (using last twelve months for projection purposes) to come up with total projected return from income and capital appreciation.
Many of the BDCs that are considered overpriced from the multiple of NAV per share and/or EPS methodology have higher projected total return such as MAIN, TCAP, HTGC and Fidus Investment (NASDAQ:FDUS) discussed further in "Fidus Investment: Higher Total Returns?". This would imply that investors pay more for potential growth in earnings or stock price. But it does not explain why ACAS still has a lower NAV per share multiple unless investors are taking into account future earnings. Two potential upsides to the value of ACAS are its undervalued investments that could continue to see appreciation or the reinvestment of non-income producing assets that would increase its future EPS.
KCAP Financial (NASDAQ:KCAP) is also higher in the total return projections and pricing multiples but I believe its NAV per share growth over the coming quarters is at risk due to potential vintage issues as explained in "KCAP Financial: Will It Continue To Fall?".
In theory, stocks with higher amounts of risk should pay investors with correspondingly higher amounts of return and in my "BDC Yields: Best Bang For Your Buck" I compared the relative risk levels to current yields in an attempt to find BDCs that were inappropriately priced. This analysis showed that BDCs such as Prospect Capital (NASDAQ:PSEC), Fifth Street Finance (FSC), and TCP Capital (NASDAQ:TCPC), were all potentially underpriced but did not take into account NAV per share growth. The table below shows the annual growth rates in NAV per share for each BDC and the six month column is annualized.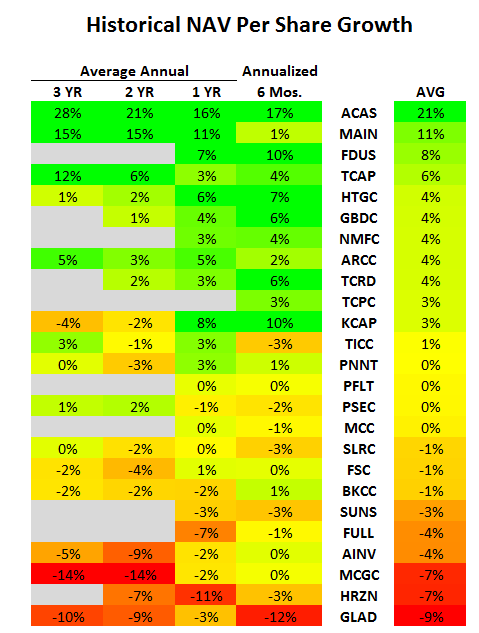 BDC Pricing
I believe that combining these two methodologies of valuation is important because neither one is perfect and they both use a significant amount of assumptions. The table below breaks out three different multiple valuations and the average compared to the implied pricing for projected total return. The results are closer for BDCs that seem to be priced based on overall expected return compared to multiples of NAV and earnings. These would include PSEC, MAIN, FDUS, HTGC, TCAP, Golub Capital (NASDAQ:GBDC), PennantPark Investment (NASDAQ:PNNT) and Medley Capital (NYSE:MCC).
Summary
FSC is most likely underpriced due to a potential dividend cut.
New Mountain Finance (NYSE:NMFC) is underpriced most likely for the reasons discussed in "New Mountain Finance: Sustainable And Higher Total Returns?"
TCPC and TCRD are still young and will deserve higher multiples over time.
Most BDCs are priced somewhere between multiples and expected returns.
Sell GLAD, FULL, and MCGC.
HTGC and TCAP are considered quality BDCs with higher multiples but may be priced too high.
BDC Market Update
With a new budget deal brokered by Congress last week letting the Treasury borrow until February 7th, BDCs rose with the market. I'm starting to see a positive trend with the troughs about two months apart but not falling as much as the previous cycle. For now BDCs seem to be headed higher and the Fed statements have signaled a top of some kind - the next statement is due October 30th.
Investors should only use this information as a starting point for due diligence. See the following for more information:
Disclosure: I am long MAIN, PSEC, TCRD, TCPC, ARCC. I wrote this article myself, and it expresses my own opinions. I am not receiving compensation for it (other than from Seeking Alpha). I have no business relationship with any company whose stock is mentioned in this article.