Amid all the uncertainty in Washington and emerging markets across the globe and the cloud that has settled over the markets, one this is for certain… MoneyGram International (NYSE:MGI) has climbed out of the depths of near collapse and has its investors poised for a very bright and profitable future. The catalysts that are driving this prediction are the company's recent reconstructing of debt, a continual growth in emerging and untapped markets, and the new approach to gaining market share. All of which has fortified its newly announced contract with PayPal, igniting a new era of money transfers through digitalization.
About MoneyGram International
MoneyGram International offers more control and more choices for people separated from friends and family by distance or with limited bank relationships. A leading global provider of money transfer services, MoneyGram International helps consumers to safely send money around the world with funds arriving at available agent locations in as little as 10 minutes. Its global network is comprised of 327,000 agent locations in more than 190 countries and territories. MoneyGram's convenient and reliable network includes retailers, international post offices and financial institutions. In fiscal 2012, MoneyGram generated approximately 93% of its total revenue from global fund transfers and 7% from financial paper products.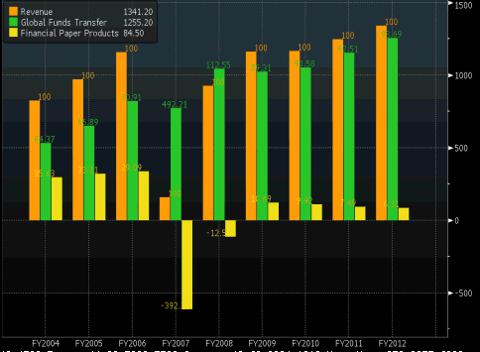 Stock Overview
MoneyGram share price has steadily appreciated by almost 179% since October 2007, resulting in a market capitalization of approximately $1.15B. At $19.91, the stock is trading off from its 52 week high, $24.88 and its all-time high, $286. The company beat EPS estimates in Q4 2012, Q1 2013, and met estimates in Q2 2012. Based on the Dec-2013 12-month consensus EPS estimate of $1.27, the current share price implies a forward P/E multiple of 15.6x. The company was upgraded by Compass Point on Oct.4 to a Buy recommendation and the next earnings announcement is on Oct. 31st. CNN Money reported that the 9 analysts offering 12-month price forecasts for MoneyGram International Inc. have a median target of $23.00, with a high estimate of $27.00 and a low estimate of $20.00. The median estimate represents a +16.99% increase from the last price of $19.66.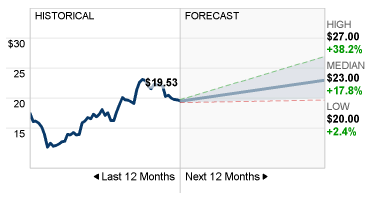 Ratio Analysis
The Western Union (NYSE:WU) share is selling at a premium compared with that of MoneyGram. The high value of the P/S ratio for Xoom (NASDAQ:XOOM) indicates that investors believe in the long-term growth of Xoom. The PEG ratio for Western Union and MGI are comparable.
Restructuring
To begin, back in July 2007, MoneyGram's stock was trading at $30 per share and the money-transfer business was booming. At that time, CEO Philip Milne and top management told analysts that despite the company's hefty investments in mortgage-back securities, its investment portfolio was doing just fine. That all changed in January 2008 when the company faced a serious liquidity crunch due to $860 million of bad investments, including assets backed by subprime mortgages which almost bankrupted the Dallas-based company.
During Milne's four-year tenure, MoneyGram lost nearly 90 percent of its market value and its stock came close to being delisted on the New York Stock Exchange. In March 2008, at the height of the financial crisis, the company completed a recapitalization that would begin steering it back on course. In fact, earlier that year, it also fended off a $1.65 billion takeover bid from rival Euronet by agreeing to raise money from Private-equity firms Thomas H. Lee Partners (THL) and investment bank Goldman Sachs Group who purchased MoneyGram preferred stock for $760 million, which was convertible into 79 percent of common stock. Goldman also pitched in $500 million for debt financing. Since then, under the new leadership of Pamela Patsley who was appointed CEO in 2009, MoneyGram has been hitting its stride. Now, MoneyGram International has boasted more than twice the number of locations of McDonald's Corp, Starbucks Corp, Subway and Wal-Mart Stores Inc. combined.
On March 28, 2013, the company refinanced its debt by entering into an Amended and Restated Credit Agreement ("the 2013 Credit Agreement"). The 2013 Credit Agreement provides for a $125 million revolving line of credit and an $850 million loan due in 2020. By doing so, the company has improved its cash flows, which analyst estimate may reach $125 million this year. Another bright spot was the closing in May of a second recapitalization, or what Patsley calls the "good recap"-a direct result of a boost in investor confidence. THL and Goldman Sachs converted preferred shares into common stock, reducing dilution of the common shareholders' holdings. The recapitalization "was a very positive event and the next step in our evolution to move forward from the events of '08", she says. This and other cost cutting initiatives has already paid dividends. According to the 2013 first quarter results, the net income growth from the same quarter one year ago has significantly exceeded that of the IT Services industry and the S&P 500. The net income increased by 546.8% when compared to the same quarter one-year prior, rising from $3.12 million to $20.20 million. MoneyGram reported significant earnings per share improvement in the most recent quarter compared to the same quarter a year ago. In addition, as seen in a chart pulled from Motely Fool, the company has demonstrated a pattern of positive earnings per share growth over the past two years.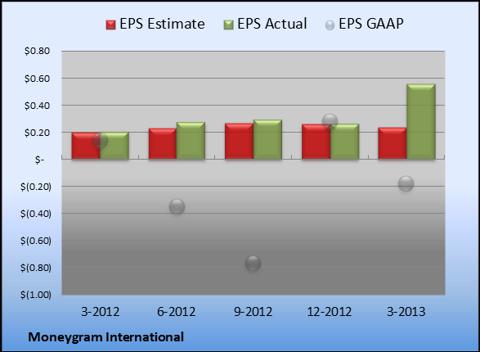 In quarter two, total operating expenses, as a percentage of total revenue, have decreased primarily due to legal expenses incurred in 2012 because certain stockholder litigation was settled in July 2012 along with the US DOJ/MDPA investigation. This decrease was partially offset by a one percent increase in compensation and benefits, primarily due to increased headcount, ordinary salary increases and changing employee base mix. These trends suggest that the performance of the business is improving.
Q2 2013 EBITDA & Adjusted EBITDA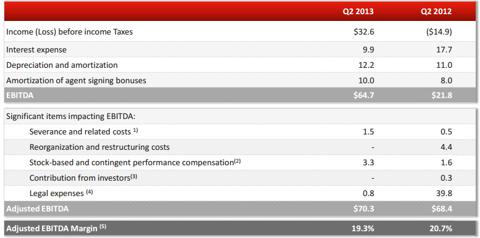 Jason Nacca, a New York-based analyst for Sidoti & Co. commented on MoneyGram's recent developments stating,
MoneyGram's "debt structure is a bit more attractive now and a little safer from an M&A perspective…With consistent profitability on the horizon, if there were ever a time for an acquisition, we think it is poised now given the remarkable recovery."
This comment comes in light of recent reports suggesting the company was shopped, but that they were not able to realize what they felt was an adequate price. While MoneyGram couldn't get the deal they wanted, investors should jump ship. Recall that 2012 was a banner year for the company in terms of sales, and that it holds zero long-term debt. Demand should stay high enough to keep cash flows attractive while the company continues to explore strategic options. Either way, it is likely that MoneyGram's recapitalization partners are looking for an exit strategy now that the company is back on its feet.
Growth in Emerging Markets
Management currently employs a few strategies aiming to capitalize on the industry's fast growing trend. This year Pamela Patsley and her team announced its Global Business Transformation Initiative. According to Patsley, the initiative is to realign management and operations with the changing global market and streamline operations to promote a more efficient and scalable cost structure. The initiative includes investment in technology, organizational changes and relocation of certain operations.
As previously stated, MoneyGram now has 327,000 agent locations. In fact, the money transfer agent base has expanded 15%, compared to over 284,000 locations as of June 30,2012, primarily due to expansion in United States, Russia, and Mexico. The money transfer transactions accounted for 93% of the company's revenue.
2013 2012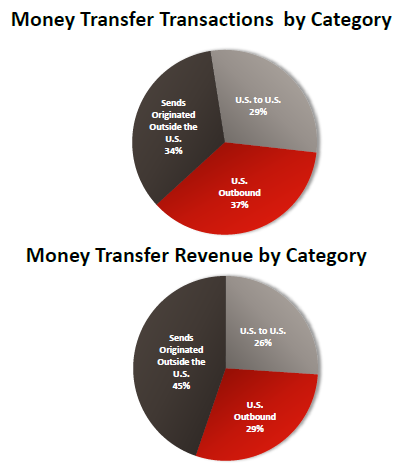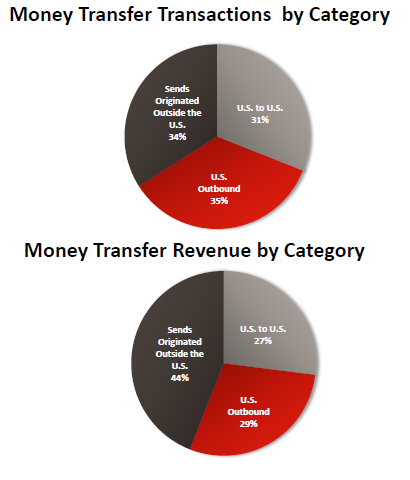 The growth in the U.S. Outbound corridors were primarily driven by sends to Mexico. U.S. outbound to Mexico grew in volume by 31% in the second quarter of 2013, compared to only 19% in the same period one year ago. As of October 14th, MoneyGram has formed an alliance with Farmacias Guadalajara that now allows MoneyGram services to be offered at more than 1,000 of the drugstore chain's locations around the country. According to the World Bank, Mexico ranks third amongst countries that receive the largest amount of inbound transfers, and receives an estimated $22.5 billion yearly from the U.S. alone. In addition, for the three and six months ended June 30, 2013, transactions from this corridor represented 11 percent and 10 percent of total transactions, respectively. Transaction growth originating outside of the U.S. was primarily driven by stronger growth in the Western European and Latin American and Caribbean regions.
Financial Transfer Highlights (Q2 2013)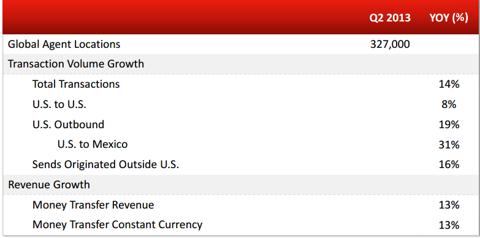 Current Developments
MoneyGram Interantional has been very busy lately. Below highlights multiple developments just in the last year that are apart of the company's Global Business Transformation Initiative. No one point is a single catalyst for explosive growth or an immediate buy signal but we highlight the extensiveness of the company's progress to which it is strategically moving across the globe to paint the overall picture.
Acquired Latino Services, resulting in 10 new company-operated stores serving Atlanta customers. Latino Services, a former non-exclusive MoneyGram agent, specialized in remittances from U.S. to Mexico and Latin America.
Announced in September that it has signed an agreement with Poste Italiane, the postal services' operator in Italy. Poste Italiane (Italian Post Office) is the largest and most diverse infrastructure in logistic and technology solutions in Italy. With its extensive network in the nation, Poste Italiane serves around 37 million clients throughout Italy. There are now more than 9000 Poste Italiane offices available for money transfer service with MoneyGram.
Signed a strategic agreement with Device Fidelity to serve as the exclusive money transfer provider for Moneto users on iPhone or Android platforms. This relationship provides Moneto users a unique way to send funds in minutes to any of MoneyGram's 327,000 locations using a mobile device.
Initiated an online service with OzForex, one of the world's leading foreign exchange service providers, providing MoneyGram customers with the ability to send money from a bank account in Australia or New Zealand to bank accounts overseas via PC, tablet, or mobile phone.
Fortifying its presence in Greece, MoneyGram International Inc. announced the purchase of super-agent Advanced ChronoCash Services (OTCPK:ACCS) in an all-stock payment deal. This agreement not only adds to its brand value but also amplifies the company's scope of expansion in Greece and the gradual improvement in Greece is further expected to boost MoneyGram's growth opportunities in the country.
MoneyGram International Inc. fortified its association with Pennsylvania-based commercial bank − Susquehanna Bancshares − as it extended the official check processing contract for another five years. This web-based service providing solution mitigates the risk of fraud by swiftly identifying any phony transactions. As a result in the hike in losses in the financial services industry due to fraud and money laundering, we believe that MoneyGram's PrimeLink Official Check has huge potential for secure and reliable money management.
Network expansion activities during the quarter:

Signed a contract with DenizBank with 600 locations in Turkey, a competitive takeaway.
Expanded the relationship with China Guangfa Bank, increasing the Company's network in one of the world's largest remittance markets.
Activated nearly 300 locations in Mexico with the signing of Order Express, enhancing the Company's send and receive capability in Mexico.
Renewed the long-term relationship with Nix Financial, extending the Company's solid history with a leading financial solutions provider in the greater Los Angeles area.
Continued to expand the Company's network in Dubai with the recent signing of Dineba Exchange.
Renewed the relationship with Alkuraimi Islamic microfinance bank in Yemen.
Continued expanding in Africa with the signing of the posts in Tanzania, Zimbabwe and Uganda. The Company now has relationships with approximately 30 national post office organizations.
Added an additional 800 locations in Croatia with the signing of TISAK.
Gaining Market Share
Cleary, Pamela Patsley has MoneyGram positioned on a global scale to be one of the top money transfer businesses in the market. Although MoneyGram is much larger than most money-transfer companies, it is still in the No. 2 spot among its money-transfer competitors, following the better known, Western Union, which has a revenue base about 4 times the size of MoneyGram's. However, Western Union and MoneyGram collectively control only a fraction of the market, giving MoneyGram plenty of opportunities to increase its market share without going head-to-head with Western Union. In 2007, MoneyGram's stock was trading at about $2.50 per share, while Western Union's was valued at around $16. Patsley acknowledges that the 160 year old, Western Union is larger in the size and scope of its business lines, but says that her goal isn't to be bigger than Western Union, just better.
While MoneyGram faces challenges in increasing its revenues in the financial paper products segment, we believe such alliances and network expansion will support the company's initiatives to boost the segment's financials. Despite unfavorable global economic conditions, MoneyGram has shown growth in its operations, driven by developments into unexplored markets and improved position in existing weaker markets. When asked at Credit Suisse Global Services Conference about the factors that are driving the outsized growth, relative to the competition in the industry, Executive Vice President and CFO Alexander Holmes responded,
"A lot of it has to do I think, number one, with kind of our refocus on the brand, investments in brand that we have been making over the past couple of years, really reinvigorating signage, marketing campaigns, refreshing the brand, focusing on consumer outreach."
In addition, as seen by the company's recent agreement with Postale Italiane, MoneyGram's growth strategy includes aligning with postal operators to provide consumers with convenient access to reliable money transfer services in easily accessible locations. MoneyGram has relationships with postal services in countries including the United Kingdom, Canada, the Netherlands, and plans to continue expanding those relationships. This approach has worked out tremendously well as shown by the figure below, MoneyGram continues to show an increase in revenues, especially in regards to the international operations which accounted for approximately 38% of its revenues for year 2012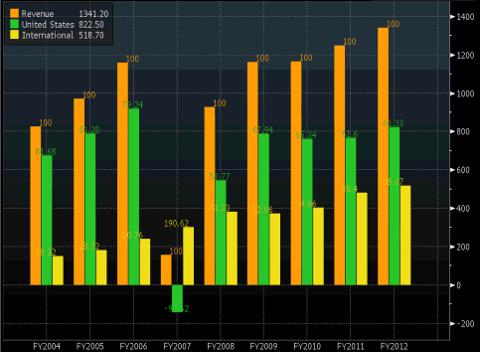 .
Overall, led by diversified and market-compliant growth strategies, MoneyGram aims to continue achieving double-digit growth in money transfer transactions, thereby increasing free cash flow. The World Bank, a key source of industry analysis for developing countries, has projected long term growth rates in the high single digits. Also, the World Bank estimates said over $550 billion were moved last year. An interesting corollary statistic is that an estimated $114 billion in aid moved to developing countries in 2012. Remittances from expatriate workers alone in 2012 exceeded $406 billion. So, when you step back, look at the big picture and take a look at the market dynamics that are helping drive some of the growth and sort of the systemic movement around the world of money, it speaks a lot towards how things are playing out for MoneyGram's growth and development. Many investors are already positioning to profit off MoneyGram's potential over upcoming years. Short interest is down .24% to 1.77% on the quarter.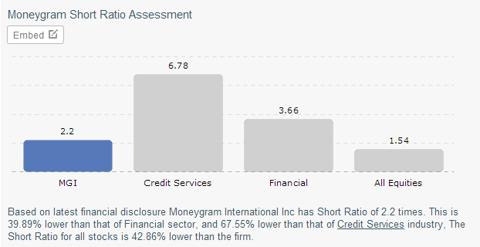 As seen in the graphic below the company is expected to pull a profit from 2013 operations for the first time since the stock lost 90% of its value in 2007. An additional attractive signal is according to SEC filings, many insiders including Chairman and CEO Pamela H. Patsley, Executive Vice President and CFO W. Alexander Holmes and Executive Vice President HR & Corporate Services Steven Piano bought shares of MGI stock by the lot over the past year.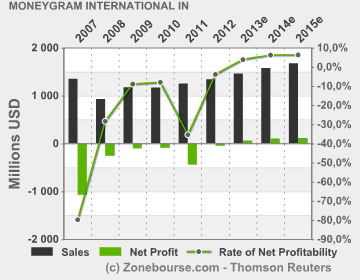 "New Era" of Transferring Money
Taken in account the factors discussed are driving MoneyGram back into the spotlight, the one unique development that can separate it from the pack is the latest agreement with PayPal. Although the current lion-share of MoneyGram's business is cash-to-cash, we believe this will begin the digitalization of money transfers. This new global agreement with PayPal enables the 117 million active PayPal account holders to load, send, and withdraw funds from its PayPal accounts at MoneyGram locations around the world. This agreement brings together the world's leading e-commerce payment company with the world's second-largest global money transfer company to give consumers a fast, convenient and secure way to easily get funds out of its PayPal account and put cash in via MoneyGram locations. For MoneyGram, the alliance will result in a significant rise in transaction levels. Additionally, through its direct consumer-facing role, MoneyGram will be able to broaden its customer base and market its own products and services to PayPal users.
"This agreement is a significant milestone for MoneyGram. It represents a new level of innovation and enhances our growth into new areas of the payments industry… We believe this agreement furthers our goal of making it easy for people to send and receive money in the ways they want, wherever they are in the world, and significantly increases the possibility of e-commerce to MoneyGram consumers,"
Said Pamela H. Patsley, MoneyGram chairman and CEO.
PayPal also is positioned to greatly gain from this agreement.
"With their global reach and world-class money transmitting capabilities, MoneyGram is the perfect company for us to innovate with,"
Said Mark Lavelle, Senior Vice President of Strategy and Business Development at PayPal
Conclusion
The troubles investment firm of 2007 looks nothing like the global story we now see developing today. Our opinion is that investors have failed to realize the strong business model shift and are currently undervaluing the company. Given this and the various catalysts mentioned we see a price target of $32 within reach of the calendar year '14. This target relies on continued execution of Pamela's Patsley's vision for growth in high margin international countries, as well as, the digitization of its business model. Two things management has indicated are priorities in the future.
Disclosure: I have no positions in any stocks mentioned, and no plans to initiate any positions within the next 72 hours. I wrote this article myself, and it expresses my own opinions. I am not receiving compensation for it (other than from Seeking Alpha). I have no business relationship with any company whose stock is mentioned in this article.
Additional disclosure: AlphaStreetResearch is a team of Investment Research Analysts. This article was written by Mr. Hunter Orr, Director of Research, with research assistance from Mr. Matthew Luber, Junior Market Insight Analyst.