Individual investors often invest in well-known, large cap companies such as Apple (NASDAQ:AAPL), Netflix (NASDAQ:NFLX), and Sony (NYSE:SNE) because they are familiar with them as well as there is a lot of creditable information about them. Analysts' projections tend to have less impact on these companies' stock prices because investors feel comfortable doing their own due diligence for them and have their own strong opinions about them. However, it is harder for investors to intuitively understand and analyze smaller, less well known companies such as Advanced Micro Devices (NASDAQ:AMD) and Alcatel Lucent (ALU) because they don't deal directly with the average consumer and because their industries are less transparent. Therefore, investors often rely much more heavily on industry 'experts' who are more familiar with their markets of expertise and who have access to hard to obtain industry data such as market share and pricing. It is easy for an analyst to point to a single weakness in a company's quarterly report, such as a lower growth forecast, to drastically cut their projected stock price. Advanced Micro Devices is a great example of a healthy company that is being picked on by Wall Street analysts because of exaggerated weaknesses.
A Brief Overview of AMD
AMD is an American-based multinational semiconductor company. After it spun off its manufacturing capabilities in 2009, it currently derives its revenue from designing and marketing its products. The semiconductor industry includes a wide range of companies that design and build the electrical components of all modern day complex electronic devices. Though some large electronics conglomerates build their own semiconductors such as Samsung, Toshiba, and Texas Instruments, it is more common for electronics companies turn to outsource to semiconductor specialists such as AMD, Intel (NASDAQ:INTC), and Qualcomm (NASDAQ:QCOM) instead. AMD and Intel are the only major companies that sell central processing units (CPU), a major computer component, and AMD and Nvidia together control the graphic processing (GPU) market. AMD's market capitalization is much smaller than its main competitors, Intel and Nvidia (NASDAQ:NVDA); however, its products are competitive and its existence is crucial in the semiconductor industry as it prevents its competitors from monopolizing their respective markets.
Wall Street's Negative Outlook
Last week, AMD released its third quarter results for 2013. The report announced that AMD has finally returned to profitability and that its diversification strategy has been incredibly successful. However, despite these gains and the fact that AMD's earnings beat consensus expectations, Wall Street focused on the one negative aspect of the earnings report: AMD tapered its own revenue growth projection to five percent. Merrill Lynch, Credit Suisse, and Sanford Bernstein downgraded AMD, Goldman Sachs reaffirmed a sell rating, and Citigroup lowered its price projection. Though it is a significant disappointment for a high growth company that projected 22 percent growth in its second quarter earnings report to lower its growth forecast by 17 percent, I don't believe that it is a good enough to maintain such a negative outlook on this stock. AMD's stock price has fallen oven 22 percent since it reported its earnings, with significant drops each time analysts downgraded the stock.
AMD's Turnaround Story and Solid Growth Prospects
AMD has long been struggling to maintain profitability due to the highly competitive and cyclical nature of the semiconductor industry. Semiconductors are integral components in all electronics and the semiconductor industry enables $5 trillion in supplementary businesses; however, the industry comprises of a large array of specialty fields and the consumers' demands across all the fields are continuously changing; it is therefore necessary to constantly innovate and be ready to seize newly established niches in the market. AMD has done a good job adjusting to new markets and has been able to return to profitability in this past quarter (Chart 1).

Though AMD receives the majority of its revenue from the dying PC industry, it projects that 50% of its revenue will come from high growth industries such as professional graphics and semi-customed products. Currently semi-customed semiconductors, a necessary component of gaming consoles, comprise 30% of AMD's revenue. Though AMD announced that the decline of worldwide PC sales would hurt its bottom line more than expected, CEO, Rory Read was excited about the new opportunities imminent in the changing technology landscape. The rapidity of change in the semiconductor industry benefits smaller, specialized, and more versatile companies. Since AMD's only business is designing semiconductors, it can employ its entire R&D and design teams on quickly creating new products; conglomerates have many different businesses to worry about. Since AMD doesn't manufacture its products, it can completely change its design without regard to drastic changes in manufacturing; it can always use a different manufacturer whose plants are more suited to the new design. AMD also benefits from being a smaller company, as it never relies on a single field in the industry, but rather is open to dropping out of unprofitable sectors and ready to jump into newer, uncharted sectors. In summary, with solid finances and a solid product line, AMD is in a strong position to capitalize on the rapidly changing semiconductor industry.
AMD's New Relationships
In its third quarter earnings report, AMD announced a broad array of "revolutionary" electronics components, growing demand from major companies such as HP (NYSE:HPQ) and Toshiba for existing products, and new relationships with large companies such as Verizon (NYSE:VZ). In the Earnings Conference Call, Sr. VP Lisa Su said: "Verizon was the first major data center win that we could talk about publicly…and we continue to see a strong pipeline of opportunities with SeaMicro," hinting at more high profile partnerships to come. As AMD has been proving that it is a reliable semiconductor provider, it seems poised to attract many more long lasting partnerships in the future, especially as it has proven incredibly adept at customizing its products to its consumers' demands.
Competition in the Semiconductor Industry and Comparison to Qualcomm
I have already explained how the semiconductor industry is highly competitive and rapidly evolving and since the industry and its many application markets is so diverse there are many opportunities and many competitors. Though AMD has a strong presence in the CPU and GPU markets it has a negligible presence in the telecommunications equipment market; therefore it makes sense that AMD's market share was only 1.7% in 2012 (Chart 2). Companies with smaller market share such as Freescale (NYSE:FSL) Semiconductor,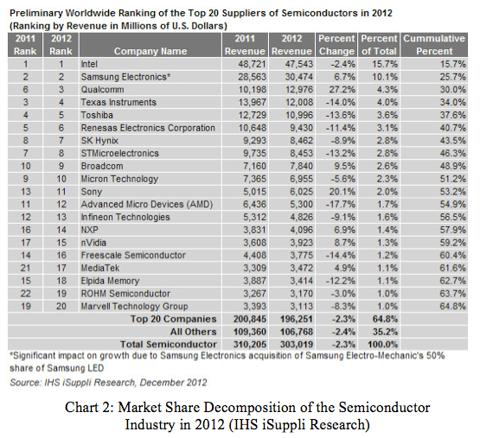 Marvell Technology Group (NASDAQ:MRVL), and Infineon Technologies have larger market capitalizations with 4.48B, 5.99B, and 10.58B respectively. (AMD's market capitalization is currently 2.29B).
The potential for rapid growth in the semiconductor industry can best be seen in Qualcomm's dramatic growth in 2012, when it capitalized on the growing wireless communications market. Seizing this niche allowed Qualcomm to increases its overall market share in the industry by 4.3% in one year. AMD's strong design and R&D teams make it ideal for such a dynamic environment.
Possible Buyout?
There is also the possibility that AMD may be bought out by an electronics company that wants to have more control over its supply chain. Samsung and Sony already produce most of their own electronic components; perhaps others may be interested, especially after a long period of little M&A activity in the industry.
I Know First AMD Projection
I Know First uses an algorithm to forecast stock performance and to generate stock market forecast. In a nutshell, the algorithm identifies stocks that trade in ranges that deviate drastically from the trends that the algorithm deems rational. I discuss the algorithm's methodology in more detail in Citigroup's Competitive Advantage under the section titled Algorithmic Prediction for Citigroup. Chart 3 shows I Know First's predictions for AMD in the 1-month and 3-month time horizons. The dark green demonstrates that the algorithm is strongly bullish.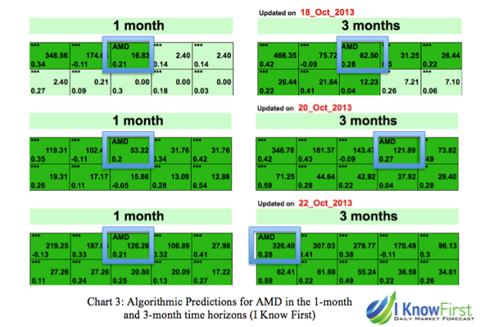 Conclusion
AMD has the luxury of being a small company with a solid product line, strong business relationships, and a diversified product line. It is preparing for long-term growth by focusing on high growth markets and by creating partnerships with large companies such as Microsoft(NASDAQ:MSFT) and HP. AMD is transitioning away from the shrinking PC market and transitioning to the higher margin, semi-customed semiconductor business. The decline of the PC market may actually be a strength for AMD, as it will open up new markets; giants like Intel will feel the loss of revenue more acutely and might be slower to adapt to the changing landscape. In conclusion, AMD has a strong fundamental structure and is well positioned to take advantage of the changing semiconductor industry. AMD is currently tremendously undervalued due to Wall Street's exaggerated response to its lackluster near-term growth projections; however, AMD has been gradually positioning itself in an opportune position to grow substantially in the long term.
Disclaimer: I Know First Research is the analytic branch of I Know First, a financial startup company that specializes in quantitatively predicting the stock market. This article was written by Ethan Fried (Harvard College '16) one of our analysts. We did not receive compensation for this article (other than from Seeking Alpha), and we have no business relationship with any company whose stock is mentioned in this article.

Disclosure: I have no positions in any stocks mentioned, and no plans to initiate any positions within the next 72 hours. I wrote this article myself, and it expresses my own opinions. I am not receiving compensation for it (other than from Seeking Alpha). I have no business relationship with any company whose stock is mentioned in this article.