"Toto, I've a feeling we're not in Kansas anymore. We must be over the rainbow!" - Judy Garland as Dorothy in "The Wizard of Oz"
For all investors one truth remains: there is no place like home. Whether we live in a house or on a ranch, in an apartment or in a condo, or even on a cruise ship, this statement rings true for the masses.
When it comes to raising a family, in accordance with the "American Dream," those living in the U.S. prefer to live in a house. To call a house a home, with children, is a true American identity.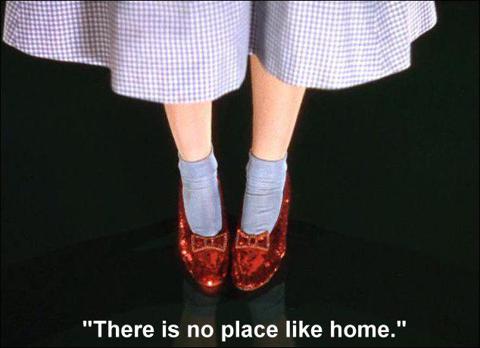 Residential Housing REITs New In 2013
A new residential REIT subclass has emerged in 2013, which is the new crop of housing REITs that focus on single-family homes. While apartment communities are the norm in the residential REIT sector, the crash of housing prices during the global financial crisis in 2008 led many investors down the path of buying distressed single-family homes, rehabbing them and then renting them out as homes.
With the prices of homes decimated in 2008, many over-leveraged home buyers, whether families, flippers or investors, got burned and either sold their property or had it taken through foreclosure. With banks eager for needed cash and a large desire to rid their books of the large write-downs they held in their portfolios, many deals were made by investors flush with cash.
To achieve economies of scale, investment pools were made to buy property lots from the banks. In Scottsdale, Arizona, during the financial crisis, a few individuals started American Residential Properties, LLC, to capitalize on the carnage. After purchasing over 1,700 single family homes, American Residential Properties (NYSE:ARPI) became publicly-traded in May 2013 with an offering that raised over $264 million for further acquisitions.
The Current U.S. Housing Market
The current U.S. economic indicators are flush with positive news such as rising incomes, lower unemployment and an increase in household wealth. The stock market is up as well, thus boosting investment confidence. Home prices, as noted by the S&P/Case-Schiller 20 City Composite Home Price Index, are up across the board as well as lending has improved and home-buyers and investors are once again charging ahead with property purchases.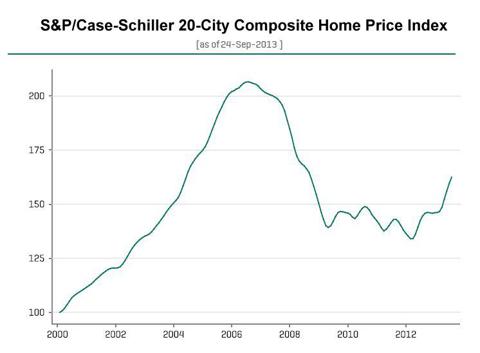 In the case of ARPI, the company had 1,775 properties on the books by the end of 2012. Once public, the company requires quarterly financial results which lends the investor an ever-watchful eye to follow growth.
With a new issue, investments are always cautioned for the ordinary investor as risk is elevated, especially with smaller companies. By focusing on the brief history of ARPI, the real estate market in general and the single-family home subsector of the residential REIT market, the investor is able to make take an educated stab at the risk and reward trade-offs to determine a company valuation.
The Recent History Of ARPI's Growth
During the first quarter of 2013, ARPI bought 756 homes for $72.5 million. This increased their total home ownership to 2,531. The total investment to date on property purchases became $293 million throughout 10 states.
In the second quarter of 2013, ARPI purchased another 1,558 homes for $191 million, for a total investment of $487 million in properties to date. The company also expanded to 13 states. The IPO went through in May 2013 and raised $264.6 million dollars.
According to the chairman and CEO Stephen Schmitz, robust purchases were made to take advantage of low prices and the ability to secure tenants quickly. Schmitz stated in a June 24, 2013 press release:
"The opportunity to acquire homes at attractive prices remains robust as evidenced by our increased acquisition activity subsequent to quarter end. As important, we are resident centric and dedicated to creating an unparalleled experience that will help us both attract and retain our tenants. With increased liquidity from our initial public offering and our undrawn credit facility, we have ample resources to define this new single-family rental sector and deliver attractive risk-adjusted returns to our shareholders.
This evident in the ARPI 2013 portfolio growth in terms of units and dollars spent. By deploying $72.5 million in Q1 2013 and $191 million in Q2 2013, the total units increased by double-digits in terms of percentage growth both quarters.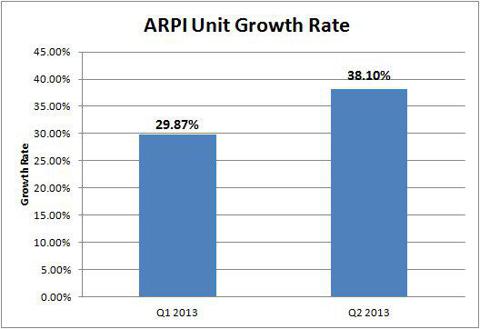 In turn, the growth of units from 1,775 pre-2013 to 4,089 as of June 30, 2013, increased the total units by over 130%.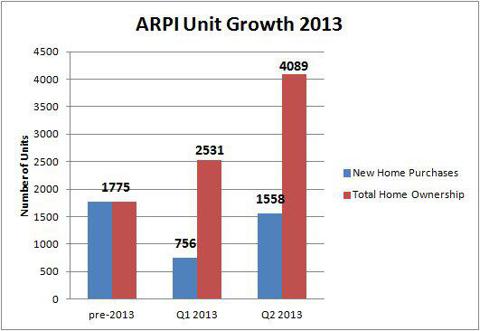 Continued Growth At ARPI
In October 2013, Citibank joined its existing banking partners as a lender under the company's senior secured revolving credit facility. As such, the credit agreement allows borrowing of up to $340 million, with further increases that would allow borrowing of up to $500 million.
The company also had $58.5 million in the bank as of June 30, 2013. This arsenal of cash, along with the CEO's comments regarding the ability to continue to acquire homes at "attractive prices" that will "deliver attractive risk-adjusted returns" to shareholders, it can be determined this high-level of growth will continue until either such returns are not possible due to an increase in home prices or the company has reached its responsible spending capacity.
Property Management Statistics
ARPI manages most of the properties, however has management companies called "preferred-operators" that operate a portion of the portfolio.
Investment Returns On Aggregate Units
The self-managed properties represent 80% of the aggregate investment, while preferred operators manage the other 20%. Also to note, the cap rate on the self-managed structures is 9.9%, however this statistic is the average annual rent as a percentage of the initial investment without taxes or expenses. The preferred-operators, at 7.8%, represent the total cap rate as expenses and taxes are already paid.

At this stage of growth, however, a 20% level of outside-managed properties only eases the workload as ARPI learns how to operate a large basket of properties across several markets. As the company matures, it will likely take over select preferred-operator properties to achieve economies of scale and increase earnings.
Property Ownership Statistics
The properties at ARPI are distributed among 13 states and 16 metro areas (with one area as "other" which represents 2.05% of aggregate investment). The total property count and investment per metro area is largely concentrated in the Phoenix, AZ area with just under 30% of total units and 33.61% of the aggregate property investment.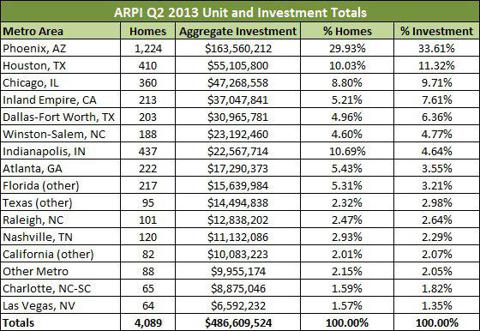 The next largest concentration of homes is in the Houston, Texas market where 11.32% of aggregate investment. Chicago, the Inland Empire area of California (Riverside County east of Los Angeles) and Dallas-Fort Worth round out the top five markets. In total, the top five markets represent 68.63% of the portfolio.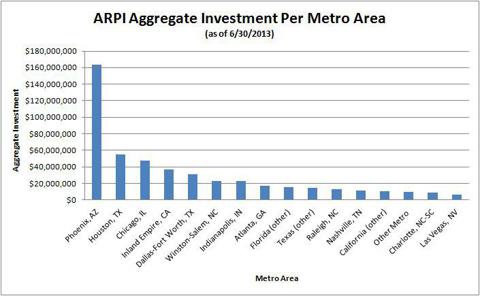 The largest area, Phoenix, is where ARPI is based. According to Standard & Poor's, the Phoenix area home price index is up 18.89% over the last 12 months (versus 12.39% on the 20-composite index) and 8.81% annualized (versus 2.96% of the 20-composite index) over the last three years. While these levels are below the 2008 peak, the recovery is under way and prices are going up quickly and faster than the country as a whole.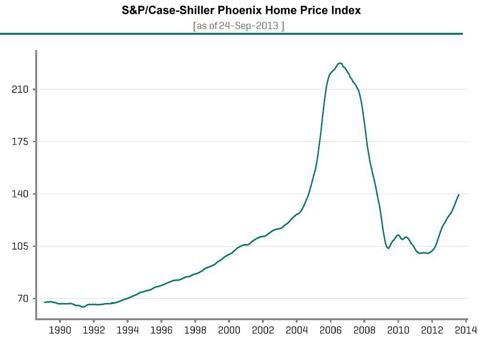 With home appreciation on the rise, the cost of acquisitions increase along with the value of the property base. At the current level of ownership, the cap rate of the Phoenix area is 8.7% for self-operated units (before expenses) and 8.0% for managed units (net expenses). The Phoenix self-managed units account for $152,389,847 of the metro investment, or 93.17% of the aggregate Phoenix investment.
FFO & Earnings At ARPI
The company financial highlights for the first two quarters of 2013 show that due to acquisition costs, rehab costs and IPO-related expenses (employee incentive programs that were already put into place), the FFO and earnings have both been negative YTD. This should be expected, as the company is growing fast and has acquisition costs associated with that growth. Also, there is a timeline required to rehab and then lease out new properties.
To showcase another solution that showcases profitability, the company disregards acquisition costs and IPO-related expenses to measure a Core FFO metric. This measurement of success gives the company a Core FFO of $0.08 in Q2 2013 and $0.05 in Q1 2013, with the total Core FFO for the first half of 2013 at $0.13. With Q1 and Q2 purchased units overhauled and rented out over the course of the remainder of this year, this number should increase.
The company earnings as a whole were negative $0.55 per share over the first six months of 2013. With this related to acquisition costs and IPO expenses as well, the projection could carry a net loss forward for the year while the company continues to grow at a rapid pace.
What About My REIT Dividend?
With a net loss possibly expected through the 2013 calendar year, ARPI will not be required to pay a dividend by law. This is an investor bonus, however, as cash is needed to finance and shore up new properties for rent. Once the unit growth phase is reduced to single-digits per quarter, the company may be profitable enough to pay a dividend.
While this lack of a dividend will cost the investor income, the investor must weigh the long-term advantage of holding ARPI versus immediate yield. If the company succeeds and owns upwards of 10,000 single-family homes with a high occupancy rate, when homes go up in value and rents follow, the dividend and new home unit growth could be internally financed.
How Do I Value ARPI Today?
With no dividend, REIT investors have shunned the stock. The IPO share price was $21, however today the price has drifted to $17.62. The 52-week range is $16.47 to $21.05. The stock is just 1.5% above its 50-day simple moving average of $17.36. From the IPO price, the stock is down 16.1%.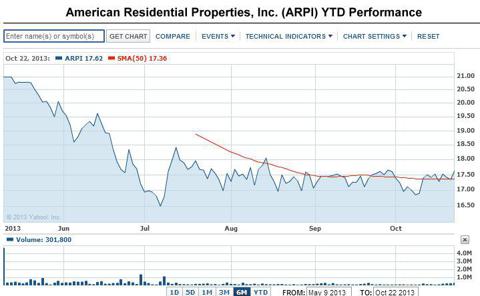 The book value of ARPI is $18.51, however the stock is trading below that level. At $17.62, the stock is trading at 95.2% book value. This discount gives the intelligent investor an immediate margin of safety.
The company has no debt, however with an enterprise value just north of $500 million, the company could spend $300 million of the credit facility and reach a debt to market cap ratio of 37.5%, which would showcase financial flexibility and a safe usage of leverage. If the company used all $340 million of the credit facility, the debt to market cap would be 40.5%, which is still healthy. Clearly the banks agree, as they wouldn't lend the company borrow at unsafe levels after learning the lessons of 2007-2008.
The Risks To The Single-Family Home Business Model
While landlords have rented out single-family homes for years in every metro area across America, no publicly-traded REIT has chosen to operate just single-family homes until 2013.
With the 2008 devaluation, the market responded with three such REIT entrants into the space. Along with ARPI, the two other companies that are focusing on a similar business plan and new this year are Silver Bay Realty Trust (NYSE:SBY) and American Homes 4 Rent (NYSE:AMH).
All three publicly-traded single-family home REITs have the inherent risk of higher costs associated with the upkeep and maintenance of single-family homes versus apartment communities, such as those operated by Avalonbay Communities (NYSE:AVB) or Equity Residential (NYSE:EQR).
For example, one gardener can maintain a 400-unit complex with 400 rent checks much more efficiently than 400 homes scattered throughout the city. Other property costs such as painting, plumbing or roofing would also cost much more, creating higher maintenance cost per unit than the proven apartment community operation.
Regarding the risks of higher maintenance costs, individuals have owned and operated single-family homes for years and have dealt with the same issues. Though time the operators of such properties have learned how to streamline their operations to be cost-effective and preventative regarding larger potential problems. ARPI should have no issues following suit.
Conclusion
American Residential Property is a fast-growing, new REIT that is quickly becoming a leader in the new residential REIT subsector of single-family home ownership. Due to the lack of a dividend, no history of positive earnings, operating in an unproven subsector with a new REIT model and with the timing of an overall poor aggregate U.S. REIT performance YTD, the stock is down 16.1% from the IPO price and trades at just 95.2% of book value.
Equity REITs rarely trade below book value. With single-family home rental operators treading into a new market with high cap rates, the upside potential of ARPI could be tremendous. While the stock is currently lacking yield for an income investment, the potential of capital appreciation and future yield may make the intelligent investor a high return on capital.
Disclosure: I have no positions in any stocks mentioned, and no plans to initiate any positions within the next 72 hours. I wrote this article myself, and it expresses my own opinions. I am not receiving compensation for it (other than from Seeking Alpha). I have no business relationship with any company whose stock is mentioned in this article.