Editor's Note: This article covers a micro-cap stock. Please be aware of the risks associated with these stocks.
The United States, like most of the industrialized world, is currently engaged in a race to develop viable, non-Chinese sources of the rare earth elements that are so critical to modern technologies. We better move fast, or we will lose that race.
For the past two decades, global demand for rare earth elements has experienced an upward trend (Figure 1). This is projected to continue to grow as a result of the developing REE supply chain as more high-tech and green industry applications come into the marketplace. During this time, China has been the primary producer and refiner of rare earth elements. With China's dominance of the supply of REEs, the rest of the world (ROW) is currently dependent on Chinese exports to meet its own growing needs; however, recent behaviors have demonstrated a desire to retain more of the materials for internal consumption. According to the Industrial Mineral Company of Australia (IMCOA), Chinese export quotas are projected to gradually decrease by a third from 30,200 tonnes in 2011 to 22,000 tonnes in 2016. In 2011, ROW demand exceeded Chinese exports of REE by 4,800 tonnes. By 2016, this gap is projected to widen to 34,000 tonnes indicating a need for a 2/3rds increase of ROW supply sources.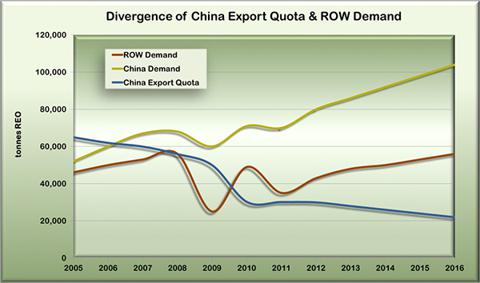 Figure 1 - Source: Kingsnorth, Dudley J., IMCOA - RARE EARTHS: Reducing our dependence upon China,
Metal Pages Rare Earths Conference, Beijing, September 2011/February 2012.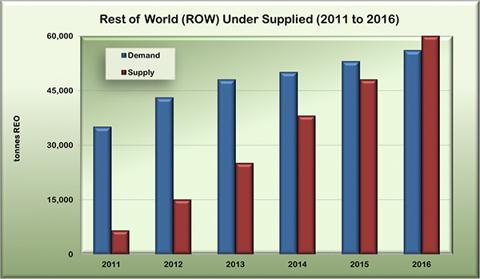 Figure 2 - Source: Kingsnorth, Dudley J., IMCOA - RARE EARTHS: Reducing our dependence upon China,
Metal Pages Rare Earths Conference, Beijing, September 2011/February 2012.
The ROW supply is projected to experience deficits of most REEs through 2015, with many of the light rare earths coming into balance during this time. A closer examination (Figure 3) of the projected supply and demand picture in 2016 shows several REEs are projected to continue to be in deficit. These REEs that have been identified as being particularly likely to experience future supply/demand deficits are termed by the Department of Energy as being critical rare earths or CREE.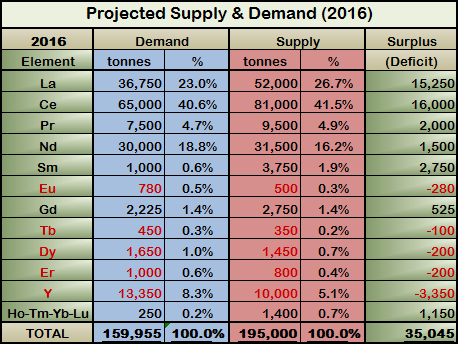 Figure 3 - Source: Kingsnorth, Dudley J., IMCOA - RARE EARTHS: Reducing our dependence upon China,
Metal Pages Rare Earths Conference, Beijing, September 2011/February 2012.
Nations that control rare earth production own one of the most capable economic and national security levers in the modern world. Chinese leaders recognized this in the 1970's and moved to control the rare earth supply and use its domination as a tool; to attract high tech companies and manufacturing to China for growth of its economy and to create jobs. In 1992, Deng Xioping is quoted as saying "the Middle East has oil, China has rare earths." The Lemhi Pass and its CREO deposit represent a national treasure for America. Just as the United States has reestablished itself as the leading global energy producer, it is now time to reemerge as a leader in the production of rare earths.
One company that I believe is poised to lift America and the Free World from Chinese rare earth dependency is appropriately named U.S. Rare Earths, Inc. (OTCQB:UREE).
U.S. Rare Earths, Inc. controls more than 20,000 acres of mining claims across properties in Colorado, Montana, and Idaho including the rare earth resource rich Lemhi Pass region. Management at UREE has quickly and quietly been amassing a team of accomplished patriots who are strategically positioning the company as what might ultimately be the best domestic solution for rare earth independence in the free world.
In a short span of time, the Company has upgraded senior management with business and scientific experts, added key strategic Board members, obtained drill permits for each of its properties across three states, expanded its claims, initiated broad property wide exploration programs to include mapping, channel sampling and drilling, begun its N-43101 report and better capitalized the Company.
"US Rare Earths has been working at building a world-class company that can bring top quality jobs back to the US. As Americans, we cannot allow our fate to be left in the hands of a foreign monopoly which controls the production and distribution of rare earths. With General Franks, we have added a leader that understands the importance of rare earths and our country's need to have US production," said U.S. Rare Earths' Chairman of the Board, Victor Lattimore.
In addition to General Franks, the Company has added Governor and two-term Senator Bob Kerrey and Mark Crandall (co-founder of Morgan Stanley's commodities business) to its Board. The Company also has two of the most knowledgeable experts in rare earths and separation technology in Jim Hedrick and Sam Sinha, PhD on its Advisory Board. Hedrick and Sinha's efforts are well underway to develop a separation and processing plant.
Unlike Molycorp (MCP) and the rest of the pack in the U.S., Canada and Australia, U.S. Rare Earths' properties possess large amounts of Critical Rare Earth Elements ("CREOs") dysprosium, terbium, europium, neodymium and yttrium. In addition, unlike Molycorp and Lynas, U.S. Rare Earths is completely debt free and appears on track to build a cost effective, scalable rare earths separation plant under the guidance of Dr. Sinha, leveraging his 30+ years of expertise in rare earth extraction technology.
The Company recently reported drilling, channel and surface sampling results on the "Last Chance" vein located in the Lemhi Pass area of Montana. Company geologists have defined a critical rare earth mineralized vein, open to exploration on both ends and at depth, with a surface length (strike) of at least 2200 feet (670m) and down-hole vein intersections of 3-29 ft (1-9m) at depths between 200-460 feet. The diamond core drilling efforts, totaling 1500 feet (455 m) with nine separate qualified surface channel samples totaling 202 feet (61.5 m), are being utilized to define critical rare earth mineralization along the "Last Chance" vein now initially defined both at surface and depth.
U.S. Rare Earths holds nearly all of the historically known rare earth element mineralization occurrences in the Lemhi Pass District of East-Central Idaho and South-Western Montana. The Lemhi Pass area is ranked by Russian Academy of Sciences' Researcher, V. V. Seredin, as holding the richest critical rare earths in the continental U.S. The well known rare earth mineralized Lemhi Pass area covers approximately 120 Square Miles of terrain along the Idaho-Montana Border. The Company holds 97 mining lode claims in Montana and Idaho covering 1680 acres (680 hectares). Russia recently announced its commitment to invest $1 billion to develop its rare earth program. The Russian Academy of Sciences has identified UREE properties in Idaho and Montana, referenced below as "Lemhi Pass" as having the highest CREO ranking for the U.S., Canada and Australia.
The Company's CREO deposits have also been recognized by the Department of Energy ("DOE")
Through the work of the Russian Academy of Science and Seredin, the chart above ranks properties according to the amounts of CREOs they possess. UREE's Lemhi Pass region is the only property recognized by the Seredin report as having CREOs of significance. Properties controlled by Molycorp, Rare Element Resources (NYSEMKT:REE) and Avalon (NYSEMKT:AVL) fail to make the Seredin cut for CREOs.
In addition and importantly, each of the U.S. Rare Earths' properties are easily accessible and located close to proper infrastructure further advancing the Company's position in the race for REE independence.
U.S. Rare Earths' CEO Kevin Cassidy stated, "Based on the success of the Phase I season drilling, I have approved the request by our lead geologist, Howard Dunn, to initiate additional drilling in the Last Chance area of Lemhi Pass. Because this area is located in the continental US, with highways nearby, the area is perfectly positioned to meet the domestic demand for rare earths. The positive results from our drilling samples mean that we'll be able to secure significant amounts of much needed rare earths for domestic and global consumption without relying on mines in remote regions of the globe or be beholden to Chinese government policies."
Conclusion:
America has a problem and it's one that I believe U.S. Rare Earths might play a very material role in helping to solve.
The Company previously announced the results of its 2013 exploration in Lemhi Pass, Montana. The results confirmed that the company's properties have the highest accessible critical rare earth deposit in North America. The initial results of the sub-surface drilling in Phase I of the Lemhi Pass exploration, not only confirms historic data, but returned higher grades of rare earths than first reported.
Management is everything with any company and this Company has a literal dream team of American patriots ideally suited to address the current political climate, national defense, separation, processing and commodity trading of rare earths. Their bios speak for themselves. Clearly the Company is building itself into an institutional standard.
Specifically, Mark Crandall co-founded Morgan Stanley's energy business in the early 1980s. In 1993 he became a founding partner in Trafigura, an energy trading company, which grew to $30 billion in sales and 1,000 employees in 58 offices worldwide.
Bob Kerrey served as Governor of Nebraska from 1983 to 1987, and was later elected to two terms as U.S. Senator from Nebraska, retiring in 2000. While serving in the Senate, he sat on the Senate Select Intelligence Committee, which exercises oversight authority over all U.S. intelligence agencies including the military intelligence program.
General Tommy Franks, former Commander-in-Chief, United States Central Command was appointed to the company's Board of Directors on August 28, 2013. General Franks is a retired four-star General. He was promoted to Commander-in-Chief, United States Central Command in June, 2000.
John Victor Lattimore, Jr.: Mr. Lattimore was appointed Chairman of the Board of Directors on June 27, 2011. Since 1996, Mr. Lattimore has served as President and Chairman of the Board of Lattimore Properties, Inc. of Plano, Texas. From 1986 to 2011, he was President of Lattimore Materials Company, LP, whose operations included seven aggregate mines, twenty-six manufacturing plants, four rail terminals and over 400 mixer and haul trucks. Lattimore Materials was a fully integrated supply chain operation, which employed more than 1,600 people. Lattimore Materials was the largest privately held concrete and aggregate company in the Southwest.
Mr. Kevin M. Cassidy was a Founding Partner and Chief Operating Officer of Archeus Capital Management, LLC, a multi strategy hedge fund that managed in excess of $3.0 billion in assets. Mr. Cassidy was responsible to optimize the use of the firm's Capital Balance, which regularly exceeded $1 billion by deploying an effective treasury and cash management strategy at the firm. Mr. Cassidy also served as the Chief Operating Officer for Bank Julius Baer (BJB), based in Zurich. BJB at that time was the largest privately held Bank in Switzerland. Previously, Mr. Cassidy was President and Managing Director of UBS Securities Swaps Inc.
Dr. Sam P. Sinha: Sam Sinha's graduate thesis was a study of the Solvent Extraction behavior of the Ternary Complexes of the Lanthanides and their Spectroscopic Studies. Dr. Sinha has worked with various aspects of the rare earths chemistry and technology for the last five decades and has a unique interdisciplinary research, academic and corporate world background. He possesses the ability to contribute to a multidisciplinary team of scientists and engineers and organize task force for large scale projects. Dr. Sinha has broad experience in participative and consensus management. Dr. Sinha maintains high visibility in his field through his research, work with the government officials, corporate executives and academic and industrial scientists.
Mr. Hedrick was appointed as Chairman of the Company's Advisory Board on December 15, 2010. Mr. Hedrick recently retired from his position as the Rare Earth commodity specialist for the U.S. Geological Survey after 31 years of service where he studied all aspects of the Rare Earth elements sector for the U.S. Government. His responsibilities included the preparation of the U.S. Government's Rare Earths reviews and writing publications on a variety of minerals and metals. He continues to write articles for the minerals industry and has chaired various sessions on Rare Earths and strategic and critical minerals in the United States and Europe. Mr. Hedrick has worked with the U.S. Army Corps of Engineers (civilian) and the U.S. Bureau of Mines, followed by his position with the U.S. Geological Survey. Within those roles, he has researched strategic deposits, prepared cost feasibility studies, and reviewed environmental impact statements. He has also published over 300 articles and professional papers on mineral commodities.
When it comes to investing, there's a lot to be said for investing in those who have proven skills, a track record of success, and the necessary resources at their disposal. The biographies above can only be considered a strong affirmation of U.S. Rare Earths having all of the above.
Of course, with any development stage mining company there are risks. Special attention should be paid to make sure the company is in a mining friendly location that is politically stable, has proven management, and is adequately funded to prove up resources. These factors can greatly influence the overall success of any project.
The race to U.S. rare earth independence is on. Who will ultimately win the race remains up for debate, but one thing is certain in my mind, U.S. Rare Earths has undoubtedly positioned itself as a viable front runner.
Disclosure: I am long OTCQB:UREE. I wrote this article myself, and it expresses my own opinions. I am not receiving compensation for it. I have no business relationship with any company whose stock is mentioned in this article.