Since early September, many of the "big boys" in the solar market have been seeing increased stock prices and bullish market momentum. Earlier this year I wrote a report covering several solar companies that had been realizing solid gains and asked the question, "Is this just the first spark to solar stocks shining this year or do you think the light might fade as the year progresses into Q3 and 4?"
It would appear, in fact, that Q4 has been heating up over the last several weeks. During Monday's session, solar component and systems company FirstSolar (NASDAQ:FSLR) jumped nearly 9% from the previous Friday's close and ran to highs of $54.42 before the lunch hour even came to a close. SunPower Corp (NASDAQ:SPWR), another Nasdaq solar company jumped 5.4% marking its record high for the year at $35.39, moreover, since my report in May SPWR is up nearly 70%. Real Goods Solar (RSOL), another company reported on back in May also saw increased market attention on Monday. After closing at $3.63 on Friday (10-18), RSOL was the leader of the pack with an intra-day run to highs of $4.64 marking a 27.8% run after a weekend hold.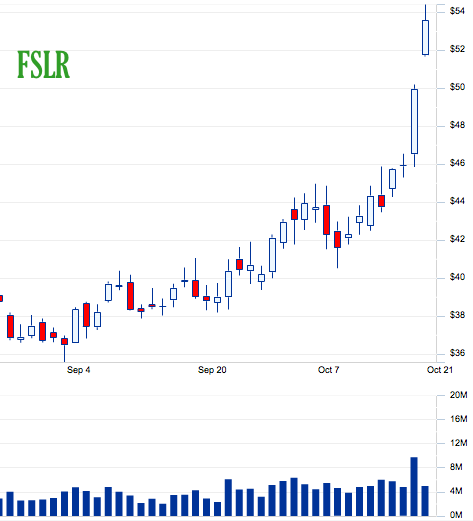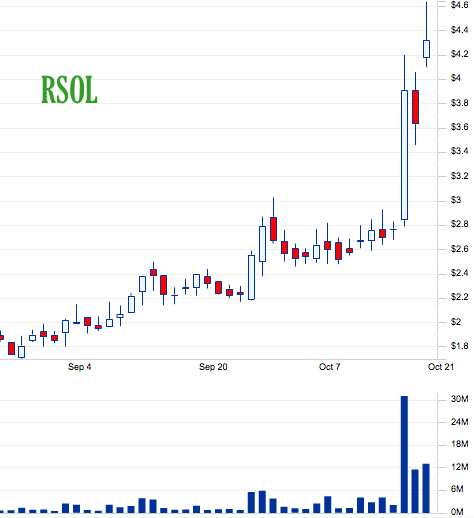 This trend has echoed into the small cap space as well. Back in May I reported on Westinghouse Solar, today known as Andalay Solar (NASDAQ:WEST), which has started to feel the bullish pressure that the solar market has shown in recent weeks. Andalay saw a slight pullback from the PPS in may and actually found its bottom in early June at 0.02. Since then, WEST has seen a strong upswing in its chart which may have been a direct result of the announcements regarding the company's transition into becoming a provider of innovative residential and commercial solar power systems. Since then, WEST has managed to hit highs of .05, up 150% from the June lows. More importantly is the recent upswing once again, following what looks to have been a period of profit taking in late September. Monday's session saw morning highs of $0.039, which was an 11% jump from the previous week's close.
Championing this latest solar breakout for me however, has been one company that I've been following since the beginning of the year. XSunX, Inc. (OTCPK:XSNX) has taken its licks this year getting crushed from just over $0.02 to sub penny levels. It could have been this recent spark in solar stocks or might have been the company's recent announcement regarding this solar company receiving the necessary California state licensing last week, which allows XSNX to initiate its new expansion program. Whatever the case, XSNX is the solar winner right now based on overall percentage points after going on a 5-day run of nearly 450% and back to prices it hasn't seen since March.
It's not just the U.S. markets that are seeing a boom in solar. In a recent Research and Markets Report, it was stated that growing demand of solar PVs and other applications, as well as increasing investment in the modernization of relevant infrastructure, will drive the global solar encapsulation market to 1,357.2 million by 2018 representing a CAGR of 10.2% from 2013 to 2018. Overall global demand for electricity as well as the cost reduction in solar production costs is seen as the drivers for this growth.
Southeast Asia has become a hotbed for solar investment and development. Singapore asset management firm Armstrong announced in August that it would invest up to $30 million from its South-East Asia Clean Energy Fund to finance a starter pipeline of solar PV projects developed by Annex Power, a Thailand based developer. Business information provider IHS estimates about $3 billion will be invested in equipment and facilities next year by producers of modules, cells, ingots, wafers and polysilicon -- a material key to solar panel production. "Demand is coming from many more countries than previously, and the emerging markets are waking up to the potential from solar," said Edward Guinness, co-portfolio manager at Guinness Atkinson Asset Management in London.
Some Chinese based solar companies that I'm going to watch include China Sunergy Co. (NASDAQ:CSUN), JA Solar Holdings Co. (NASDAQ:JASO), and Trina Solar Ltd (NYSE:TSL). All of these have seen incredible gains in the last few months. So now that we are in Q4 and solar has proven itself, I pose this question, "Where do you see solar by Q2 of next year?"
Disclosure: I am long SPWR, OTCPK:XSNX, CSUN. I wrote this article myself, and it expresses my own opinions. I am not receiving compensation for it (other than from Seeking Alpha). I have no business relationship with any company whose stock is mentioned in this article.