By Brad Zigler
Momentum's shifting in the world of commodity investments. That becomes apparent when you look at the relative strength of the equity-based Market Vectors Agribusiness (NYSE Arca: MOO) and RVE Hard Assets Producers (NYSE Arca: HAP) ETFs as we have in this week's feature ("Whither Commodity Stocks?").
Commodity stock funds generally fared better over the past year compared to their futures-based brethren, but now their trajectories are leveling. This is most evident when you regard the differential performance of the bullion-holding SPDR Gold Shares Trust (NYSE Arca: GLD) vs. the Market Vectors Gold Miners ETF (NYSE Arca: GDX).
Granted, mining stocks outpaced bullion this past week by nearly a 2-to-1 margin. Year-to-date, too, miners have risen 61.7 percent vs. bullion's 37.8 percent gain. That advantage, however, has been waning—in fits and starts—since mid-September.
Gold Mining Stocks Relative Strength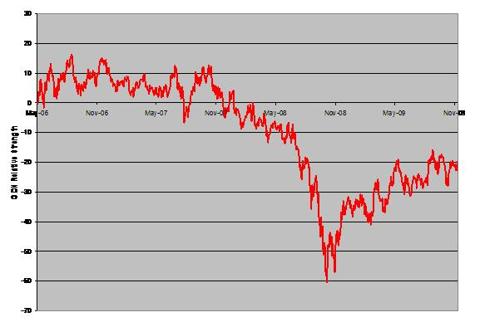 In the long run, mining stocks have actually under-performed bullion. The average growth rate for miners over the past three years has been 10.9 percent. Bullion's risen at an 18 percent pace.
Oddly enough, the rising price of bullion was largely responsible for the miners' outperformance over the past year. Operations with low fixed production costs enjoyed leveraged flow-throughs to their bottom lines, especially as they pared down their hedge books.
Whether the current plateau is a temporary pause or a reversal will largely depend upon those production costs. As more marginal assets are exploited, extraction costs tend to rise.
The next round of miners' earnings reports will give us confirmation of their margins. In the interim, we'll keep an eye on the stocks' relative strength for clues.