By Julian Murdoch
Between recent consumption data and the International Energy Agency's World Energy Outlook 2009 report released last month, it's time for some serious questions when it comes to oil demand. Perhaps the biggest is this: Will oil fields be ready to meet existing and future demand, or will low investment in capital projects now cause bigger problems later down the line?
The big news on Monday was that U.S. oil demand keeps falling, according to the EIA, who said that U.S. oil demand in September was 2.74 percent lower than previously thought. September consumption came in at 18.362 million barrels per day—not a good sign for oil bulls who have been looking for any sign of strengthening U.S. oil demand to support higher prices.
Furthermore, yesterday's This Week In Petroleum report (covered extensively by Brad Zigler ) showed that once again, crude oil inventories rose. We now have over 24 days' worth of supply—a full 2 and a half days more than we had this time a year ago.
These numbers jive with the latest World Energy Outlook 2009 report (WEO '09), in which the IEA forecasts 2009's global energy use to actually fall for the first time since 1981. I can't say that forecast surprised anyone: From the oil company bigwigs to the minivan-driving soccer moms, many have predicted a drop in energy consumption due to the economic crisis. In fact, a recent survey by accounting and consulting firm BDO showed that oil executives aren't expecting energy demand to rebound until at least 2011.
What was surprising, however, was the WEO '09 long-term perspective on oil demand.
The Incredible Shrinking OECD Oil Demand
Between now and 2030, says the IEA, global oil demand will grow just 1 percent per year, with demand reaching 105 million barrels per day (mb/d) in 2030, or a 24 percent increase from 2008's demand of 85 mb/d. The IEA has been singing this tune for awhile; as The Oil Drum noted, the IEA has consistently dropped its 2030 demand numbers ever since its 2004 forecast of 121 mb/d. That 16 mb/d difference is a rather huge change of heart over the global financial crisis.
But what's most interesting is the specificity underpinning the demand numbers. Although demand is still forecast to increase, the real shocker here is the IEA's prediction that oil demand will actually drop for the next 20 years in OECD countries. Instead, the demand growth will come primarily from China, India and the Middle East: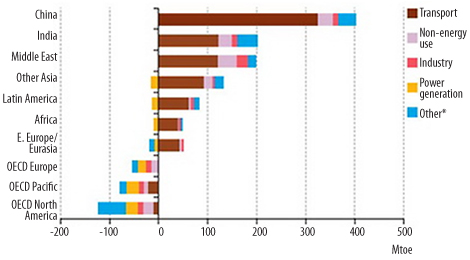 Source: World Energy Outlook 2009 report
Given that China and India are two of the fastest-growing economies in the world, growth there seems logical, but what's strange is the relatively large decrease in oil demand in the U.S., Canada and other OECD countries. Why the sudden decrease? Is it due to a sudden rash of widespread conservationism? Continued economic weakness? Or is it just that OECD countries tend to have slow, steady population rates, and their economies are at such a point that demand will remain relatively stable from here on out?
Regardless of the specific reason, the economic implications of this base scenario are somewhat staggering. If oil consumption is a sign of economic activity, then the implication here is that the U.S. is heading into an energy recession of epic proportions. I find it somewhat difficult to stomach that the U.S. is essentially done expanding until I'm in retirement.
More Non-conventional Production In The Future
That said, global oil demand will keep growing in the future, and that means oil must continue to be produced at higher numbers to meet the need. The IEA's report forecasts that non-OPEC conventional oil production will peak next year, so therefore any increase in output would need to come from the OPEC countries that hold the bulk of remaining recoverable conventional oil resources. (Deep-water offshore rigs and oil sands are considered nonconventional oil production sites.)
But the known conventional fields aren't going to be enough, especially given the field depletion rates IEA released back in their 2008 World Energy Outlook.
A quick primer on field decline: When an oil field begins to produce less than it once did, it is classified as "post-peak." At this point, it becomes necessary to make capital investments to increase output, and recent technological advances have helped oil fields remain good producers even as their outputs decline. In last year's WEO, the IEA reported the average production-weighted decline rate in post-peak oil fields worldwide was 6.7 percent—a good third less than the natural decline rate (that is, the rate without ongoing investment). In other words, post-peak oil fields would have declined a third faster, had no capital spending been done after these fields past their peak output levels.
In 2008, the IEA projected that the natural decline would rise to over 10 percent per year by 2030, as the average field size drops and more production moves offshore (both are areas with higher decline rates). What this means is that increasingly more capital will need to be spent just to offset falling production in existing producing fields.
Add that to the IEA's prediction that, according to this year's report, almost half of the oil needed by 2030 will need to come from oil fields yet to be developed or found—that big scary blue part of the 2030 bar below—and you'd think OPEC investment in capital expenditures and exploration would be frantic:
Oil Production in the Reference Scenario, WEO '09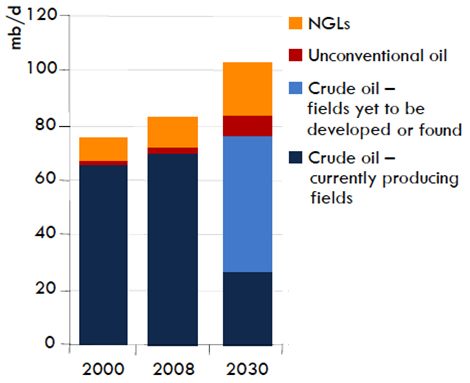 Source: World Energy Outlook 2009 report
But investment in oil exploration and capital spending is actually down. As WEO '09 states, "Energy companies are drilling fewer oil and gas wells, and cutting back spending on refineries, pipelines and power stations. Many ongoing projects have been slowed and a number of planned projects have been postponed or cancelled."
If spending remains depressed, fewer new oil fields will come online; and currently active ones could see their rates of decline increase, all leading to constrained supply at a time when demand will most likely be recovering.
Personally, I think all of this seems bullish for oil. Yes, inventories are super-fat, but given higher global demand, larger production costs, and a constrained and unknown supply, I smell higher prices ahead.
So this seems like an opportunity to look at oil services companies that will be best positioned to benefit when capital spending and exploration projects get the green light. Or if you believe credit for capital projects will remain tight, you might want to stick to the oil majors. Either way, relevant ETFs include the Energy SPDR (NYSEArca: XLE), which is up 60 percent this year already, the venerable Oil Services HOLDRs (NYSEArca: OIH) and more off-the-beaten-path funds like the PowerShares Dynamic Oil & Gas (NYSEArca: PXJ).