With the much anticipated launch of the Xbox One and the Playstation 4 just around the corner it is time to take a close look at the gaming sector in general as a potential investment consideration. The obvious winners, aside from the console makers, will the companies selling the games and selling accessories. In this article we are going to take a lot at five gamer stocks and see what, if any, investment value they provide. Those companies are Activision Blizzard (NASDAQ:ATVI), Glu Mobile Inc. (NASDAQ:GLUU), Electronic Arts Inc (NASDAQ:EA), Take-Two Interactive Software, Inc (NASDAQ:TTWO) and Majesco Entertainment Company (NASDAQ:COOL).
Activision Blizzard
ATVI is the company behind the mega-hit series Call of Duty, a game that has sold over 100m copies and each year posts sales of $1b in the first month of release. The latest Call of Duty Ghosts game hits the market in ten days. ATVI trades with a market cap of $19.6b on annual sales of $4.98b. It has a respectable trailing PE of 14.75. Free cash flow, a metric that should appeal strongly to investors comes in at $1.24b. ATVI is sitting on $4.55b in cash with no debt. ATVI is rewarded for its sector leading position with a 3 times sales multiple. With its excellent franchise brands, cash generation and no debt this is acceptable. ATVI is flagging on its daily chart and a break above $18 could see shares move to $20 or more into year end for a healthy 10-15% return. There is a lot of chatter regarding pre-order sales being down for the latest version of Call of Duty, with the short thesis arguing that it is because of franchise exhaustion.
We believe the lower pre-orders are a result of the two new gaming consoles about to hit the market and consumers, as of now, not sure what console they will settle on. This could end up being positive as release sales could be larger than past years as consumers decide and buy. Also, if Call of Duty can beat the sales record that TTWO's Grand Theft Auto stole from it last month there could be additional upside.
The chart below is a comparison of each company on a price to sales multiple. As you can see ATVI is afforded the highest multiple at 3.04. COOL comes in at the lowest multiple of only 0.10. The average in the sector is 2.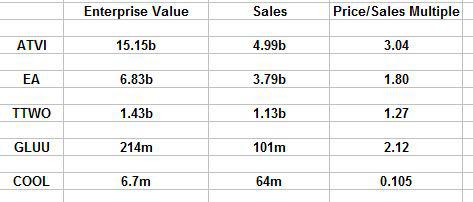 Majesco Entertainment
This is the smallest of the gamer stocks. The only reason we have included COOL in this article is because they have one of the Xbox One launch titles. There are only twenty games launching next month with the new console from MSFT so such a small company having one of the titles merits strong consideration. COOL's claim to fame is of course Zumba fitness. They have the exclusive rights to the Zumba franchise. Over the last several years COOL has ridden the popularity of the dance exercise program to hundreds of millions in sales. However, like the other gamer stocks, the transition to the new consoles has hammered sales over the last year. This is the typical boom and bust cycles seen in the gaming sector. However, those that are able to survive the transition, as COOL has, should do well in the coming cycle uptick.
COOL has annual revenues of $64m. Cash comes in at $18m. The annual cash burn is approximately $9m, giving the company another two years of cash burn. If Zumba yet again proves to be a hit on the Xbox One, the risk reward for a stock trading just above its cash value could be tremendous. In 2010, the last gaming sector sales uptick, shares of COOL moved from 51c per share to $4.53 six months later, a 900% gain. A close above the 200 day moving average at 63c for COOL could set the stage for a move back above the $1 per share level. COOL is trading at a discount to sales multiple right now, well below that of its peers, offering additional reason for investors considering the stock.
Take-Two Interactive Software, Inc
TTWO is the brains behind the hit franchise Grand Theft Auto. The company has annual sales of $1.43b and trades with a price to sales ration of 1.27. TTWO beat the sales record that ATVI has held for the last couple of years with its Grand Theft Auto taking in $1b in sales in three days.
The chart below shows the differing stock price we would obtain if TTWO were to trade at the same multiple as EA and ATVI. EA trades at 1.8 times sales and ATVI trades at 3.04. Using these multiples we obtain a $24.03 and $32.68 target, 39% and 89% above the current stock price. This is based on a simple price to sales multiple but it one that we find can be very usual is looking for undervalued plays in a sector that has few players. There is always a clear leader in such a sector so the more conservative 1.8 times multiple may the better choice. The one negative we see on TTWO is its debt load of $576m. Granted the company is generating positive cash flow and has a cash balance of $646m. Still, high debt loads are not something we view positively. TTWO also has the highest PE in the sector at 76. However, if we assume that TTWO with its successful continuation of its Grand Theft franchise is about to take the leadership role away from ATVI. we can overlook this and assign it the higher ATVI price multiple.

Electronic Arts Inc
EA is the company behind the EA Sports franchise. If you have played a sports game it has likely been an EA game. The company sports a high PE of 67 and a price to sales multiple of 1.80. EA is a cash flow machine, generating $289m in free cash flow in the last twelve months. With $1.41 in cash and the debt load of $654m cash be ignored. EA has one of the more intriguing charts with a bullish inverted head and shoulders formation on its 5 year chart. A break of $28 could set the stage for a large upward advance in the next year. If we assign the ATVI price to sales multiple of 3 then EA could trade 66% higher at $42+. This price target would also be the target on the inverted head and shoulder breakout as well.
Glu Mobile
We included GLUU in this article because it gets a lot of press attention. The rollout of the new consoles will not have an impact on GLUU yet. HOWEVER, the android consoles that are on the market and coming to market, namely the MadCatz Inc (NYSEMKT:MCZ) MOJO console, could offer an intriguing new revenue source for the company. GLUU has shifted most of its attention to the mobile gaming market over the last year and no longer relies on the console gaming market. The stock has gained 40% over the last month due to its mobile game hit Deer Hunter. It is estimated that GLUU is bringing in $250k a day in US revenue from the game, an impressive feat for such a small gamer company. From the chart above GLUU is trading at a price to sales multiple of 2.12 so we can call it fairly valued compared to its peers in the sector. If Deer Hunter continues to be a hit for GLUU and we assign the ATVI price to sales multiple, we obtain a market cap of $324m and a stock price of $4.10. GLUU reports its earnings next Wednesday so we will get a much better idea of the impact of Deer Hunter on its revenues.
The gaming sector is one that goes through cycles. A new up cycle is about to begin with the launch of two major consoles in the next month. Investors looking for ways to play the sector move have some interesting choices. The leader is ATVI at the moment but its crown is waiting to be grabbed. The logical upside candidate is TTWO. It trades at a 50% discount on a sales to price multiple and offers the best upside of the large companies in the sector. COOL offers significant upside for its risk profile based on the tiny price to sales multiple it has. COOL also has an Xbox One launch title, a big advantage for a small company. This is a sector investors should consider strongly over the next year as new consoles bring more sales back to the sector.
Disclosure: I am long COOL, ATVI, TTWO. I wrote this article myself, and it expresses my own opinions. I am not receiving compensation for it (other than from Seeking Alpha). I have no business relationship with any company whose stock is mentioned in this article.