We are attracted to the Internet and e-commerce space given favorable long-term secular trends. In October, for example, we noted that we have a slight bias toward asset light, cash generating Internet companies such as Youbet (UBET), PetMed Express (PETS), and Bidz (BIDZ). We also relayed data and insights included in Emerging E-commerce Trends and Practical Insights by Mark Brohan, VP of Research, Internet Retailer.
Last week, comScore (SCOR) reported that "holiday season retail e-commerce spending for the first 22 days of the November – December 2009 holiday season" was up 2% Y/Y. The web traffic measurement firm also announced expectations for a 3% Y/Y increase for the full season. Since then, we've see positive numbers for Black Friday and Cyber Monday (also from comScore - link here). While Y/Y growth remains moderate, we believe the increase is not only favorable for the space, but for the overall economy (supporting our earlier retail commentary).
Although Bidz's 3Q09 results and 4Q outlook came in light, we still think the online jewelry retailer has an enviable market position to complement a track record of profitability and high historic returns on capital. Clearly, the weak economy and reduced discretionary spending remain challenges.
Based on publicly available traffic data from Alexa.com (which we sometimes use as a reference point), traffic to Bidz.com spiked in recent weeks and was above that of Blue Nile (NILE) and Bluefly.com (BFLY) going into Thanksgiving weekend:


Based on Alexa data as of Thursday, Blue Nile did see a bounce last weekend and is currently neck and neck with Bidz.com.
As we've written before, barriers to entry are larger than persons appreciate once an Internet franchise successfully carves out a specific niche and achieves scale; in addition to others mentioned above, think Amazon (AMZN) and eBay (EBAY). There were and are plenty of me-too participants in the backyards of each player, but the spoils usually go the the number one player in a given market (on- and off-line).
In this respect, we don't believe Bidz's investments over the past year will prove fruitless. Through the recession, Bidz invested in a new enterprise resource planning (ERP) system, web site acceleration through Akamai (AKAM), new sourcing relationships, and new distribution partnerships. The growing Middle East presence is also impressive and seemingly under-appreciated by the Market. Below, we highlight world "rankings" and traffic source for Bidz.com versus Bluenile.com (also from Alexa - click to enlarge):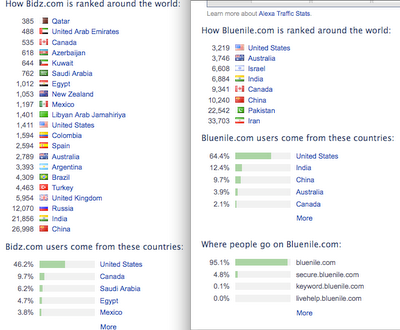 Bidz ranks higher than Blue Nile in nearly all countries with overlap (except for India). However, as noted previously, Bidz trades at a meaningful discount to the latter company. We're holding tight and are inclined to purchase more shares.
Disclosure: Long BIDZ, PETS, UBET, EBAY.