Western Digital Corporation (NYSE:WDC) is reporting fiscal first quarter earnings in the coming days. That said, since the last time I wrote about Western Digital, the share price has increased. I still think the valuations are pricey for long-term investors, but there is a trade to be made.
From a business perspective, the industry consolidation could be driving the valuations. Also, Western is investing heavily in NAND technology. Those are both positive for the valuations and the market is correct in bidding up the valuations of the company. But, at this point, I would not put money to work long term in Western Digital.
I think this is more of a trade. There may be a throwback at some point in the coming days or weeks. The play here is to use a minor correction to get long with a trailing stop loss starting at the $62 level. Besides the always present risks, the asset-specific risk is of a disappointing earnings report that leads to a sell off below the $64 per share level.
I'm attempting to profit from industry consolidation and technological advancement without risking too much capital if I'm wrong and the stock is overvalued. This may not be a one-and-done trade; it may be a bullish campaign. I would like this to be a one quarter ROI story, but it'll probably be a two or three quarters investment. The worst case scenario is that I'm going to have to stick with this trade, assuming the fundamentals remain intact, for a year to three years.
In this report, there is a section on the relative performance, recent events, valuations and portfolio management of Western Digital. Micron Technologies (NASDAQ:MU), SanDisk (SNDK) and Seagate (NASDAQ:STX) are used as peer company comparisons.
Relative Performance
| | | | | |
| --- | --- | --- | --- | --- |
| % Total Return | 1-Month TR | 3-Month TR | 1-Year TR | YTD TR |
| WDC | 12 | 3.39 | 104.67 | 70.65 |
| STX | 20.71 | 7.51 | 84.13 | 67 |
| MU | -1.37 | 24.39 | 201.40 | 168.60 |
| SNDK | 13.90 | 12.67 | 60.88 | 58.52 |
Near term, the share price of Western Digital could continue to trade to the upside as the recent relative performance has lagged the other electronic storage device manufacturers. In technical terms, the share price of the Irvine, California,-based Western Digital Corporation is breaking out to the upside.
Recent Development
Western Digital Corporation completed its acquisition of Virident, a leading provider of server-side flash storage.
The company completed its acquisition of sTec, an early innovator in enterprise solid-state drives.
The industry is consolidating and shifting to new technologies. This could be positively impacting the valuations, which may be shifting to new sustainable levels. Consequently, I do not want to risk a long-term investment on a stock that looks reasonably priced on an absolute basis but looks expensive on a relative basis.
Valuations
In this section, I will use the multiplier models to value the common equity shares of Western Digital. Previously, I used a combination of the multiplier models and discounted cash flows. The equity remains overvalued.
Using the five-year average valuations, Western Digital Corporation's intrinsic value is $44.90. So, Western Digital is overvalued according to this model, but is it asset specific or is the industry trading at pricey valuations?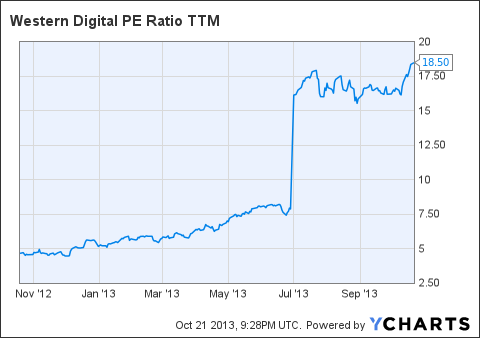 WDC PE Ratio TTM data by YCharts
Seagate, SanDisk and Micron are also pricey using the five-year average valuation model. The current valuations could reflect a perceived change in the fundamentals of the businesses; that change in perception could be justified or it could be another instance of investor mis-perception.
If you look at Western Digital's valuations on a time-series basis, those valuations also suggest overvaluation. On an absolute basis, 18 times earnings and 2 times book is not exorbitant.
The industry valuations may be partly attributable to industry consolidation. Based on this analysis and previous analysis, Western Digital Corporation is too aggressively priced for investors. But, traders using excellent portfolio and risk management skills may find Western to be an attractive long-equity trade.
Portfolio Management
In this section, I will examine the technicals and the return distribution. Also, I will present the 52-week share price forecast. At the end is the answer to the question, how do I trade Western Digital?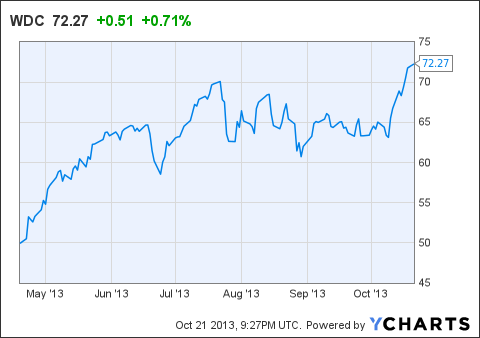 Western Digital is in a bull market of intermediate-term degree following an intermediate-term bear market; the intermediate term bull market is part of a bull market of primary degree. The intermediate term bull market is not showing any obvious signs of weakening; in other words, there is confirmation. The share price should have additional upside.
In terms of the return distribution, it is favorable for investors. The compound monthly growth rate is 2.5%. Also, the skewness is positive and the distribution is not leptokurtic.
The 52-week price forecast is $57, which means that the share price is trading above trend. In other words, there is potential for a bear market of primary degree.
But, given that the intermediate-term uptrend could be in its early stages, getting bullish on a minor correction is the play. The initial trailing stop loss level is $62.
Disclosure: I have no positions in any stocks mentioned, and no plans to initiate any positions within the next 72 hours. I wrote this article myself, and it expresses my own opinions. I am not receiving compensation for it (other than from Seeking Alpha). I have no business relationship with any company whose stock is mentioned in this article.