Leading ETFs Agree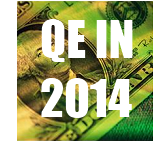 If you hear all the talk of the Fed planning to taper their money printing and bond buying program, you might think the end of QE is imminent. A recent survey and the behavior of assets classes beg to differ. From Forbes:
The Fed will reduce monthly purchases to a $25 billion a month by July and end the program at the October 2014 meeting, according to the survey conducted this week. Purchasing distressed assets like mortgage backed securities and forcing interest rates low by buying Treasuries has been the Fed's main hope to give banks injured by the 2008 financial crisis some more recovery time, and - just as importantly -give consumers low cost of credit to refinance and buy homes.
Investors' Aggregate Tolerance For Risk
One of the strengths of our market model is that it relies on observable evidence and monitors the market's tolerance for risk using binary methods. Binary methods (yes or no, and hard data) eliminate human bias. Since our personal opinion has very little impact on global asset prices, it is prudent to track what determines the value of our portfolios; the aggregate opinion of millions of investors around the globe. We can track the market's aggregate opinion by monitoring the demand for economically-sensitive assets and defensive assets.
Are Investors Preparing For Inflation or Deflation?
Monday, we described how inflation expectations are related to economic and investment performance:
All things being equal when investors are more concerned about deflation relative to inflation, it is a bearish sign for the economy, earnings, and stocks. Conversely, when inflation expectations are backed by more conviction than those backing deflation, it is a bullish sign for the economy, earnings, and stocks. In a deflationary environment, fixed income becomes attractive since it is easy to "stay ahead of inflation" from a purchasing power perspective.
The table below tells us a lot about investors' expectations on the economic and inflation fronts. The primary criteria to "make the cut" for the table is an ETF has to have an established bullish weekly trend relative to the S&P 500, which tells us the demand for the ETFs below is greater than the demand for the U.S. stock market (NYSEARCA:SPY).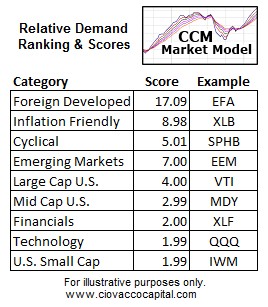 Noteworthy defensive ETFs that were unable to earn their way into the table above: consumer staples (NYSEARCA:XLP), Treasuries (NYSEARCA:TLT), aggregate bond (NYSEARCA:AGG), inverse stock (NYSEARCA:SH). The defensive ETFs are not in the table above because investors still believe stocks are the place to be.
Pictures Are Worth A Thousand Words
Prior to the October 9 low in stocks, we penned 22 Charts Say Be Open To Bullish Outcomes. The "22 Charts" analysis compared the demand for cyclical and economically-sensitive assets prior to the August 2011 plunge in stocks to the period prior to the 2013 debt ceiling standoff. Using the same logic, the chart below shows the demand for foreign stocks relative to defensive and deflation-friendly Treasuries. As of Tuesday's close, it was clear the demand for economically-bullish foreign stocks (NYSEARCA:EFA) was greater than the demand for economically-bearish Treasuries. Said another way, the established weekly demand profile aligns with "risk-on."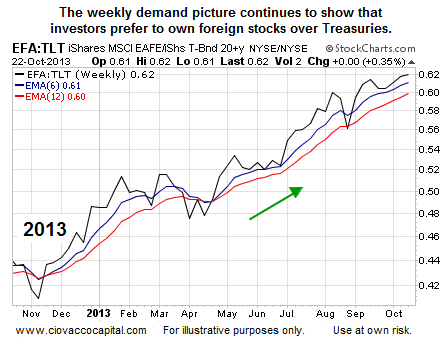 2007 Stock Market Peak
Many are calling for an October disaster in stocks. Could it happen? Sure it could, but the evidence needs to change to support that conclusion. As we would expect based on common economic sense, investors were demanding safe-haven Treasuries months before the U.S. stock market peaked in October 2007. Ask yourself does the demand profile now (above) look anything like October 2007 (below)?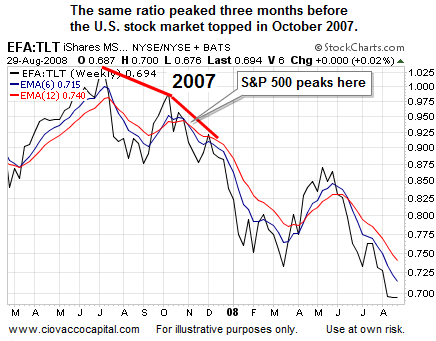 How about 2011? In 2011 fear was sparked by excessive debt in the United States and Europe. The demand for Treasuries was rising relative to the demand for foreign stocks well in advance of the August 2011 downgrade of U.S. debt. Ask yourself does the 2013 demand profile (two charts above) look anything like August 2011 (below)?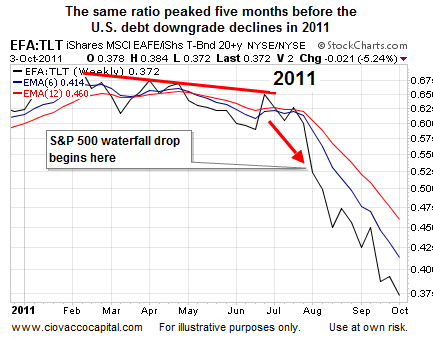 Investment Implications - Bears Need Something To Change
Common sense tells us investors do not move from a long-term bullish economic and bullish bias to a long-term bearish bias in a matter of days. As shown in the chart below, significant and long-lasting shifts in investor sentiment tend to take place over a matter of months.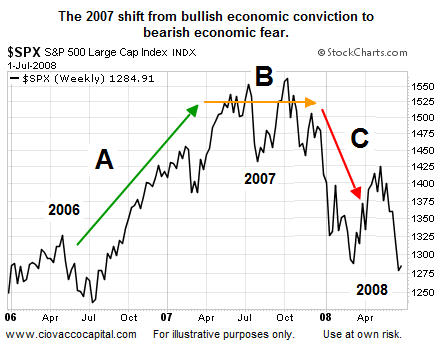 The S&P 500 tacked on 112 points from the October 9 low to the October 22 high. At 1:30 PM ET Wednesday, the 9 point drop in the S&P 500 represented an 8% retracement, which falls well within normal and "to be expected bounds." The small pullback thus far has done little to alter the weekly demand profiles we have been referencing in recent weeks.
Our models told us to begin scaling our cash back into stocks on October 10. Flexibility is one of the tenets of successful investing, which means we must keep an open mind about what Wednesday's "give back" could morph into over the coming days and weeks. Our next chess move might include taking a small stake in bonds. For now, the observable evidence tells us to maintain our present holdings in U.S. stocks (NYSEARCA:VTI), technology (NASDAQ:QQQ), emerging markets (NYSEARCA:EEM), and foreign developed nations. A tweet from Wednesday includes some S&P 500 levels we will be watching and puts some context around how far stocks have come since October 9.

Disclosure: I am long SPY, VTI, EFA, EEM, QQQ. I wrote this article myself, and it expresses my own opinions. I am not receiving compensation for it (other than from Seeking Alpha). I have no business relationship with any company whose stock is mentioned in this article.