The S&P 500 (as represented by
SPY
) is hitting resistance around $112, yet it still remains near its 2009 high. Price always pays and should take precedent. However, two of the most widely followed indicators, the Russell 2000 index, RSI, and MACD, have shown negative divergence since August. While investors have hesitated to sell large cap stocks at current levels, price activity of "riskier" small caps tell a different story ().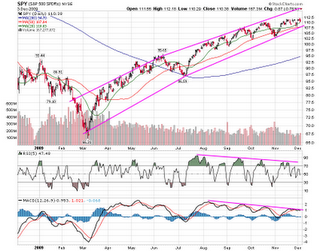 The Russell 2000 (as represented by
IWM
) has drifted lower since a double top around $62.50 in September and October. For bulls, consider the current move a consolidation; bears may see it as the beginning of further downward moves.
However, yesterday's close below the 50 day moving average indicates an intermediate bearish trend and IWM has had difficulty sustaining itself above the 50 day SMA since October (
click on chart to enlarge
). The long term trend is still positive as long as IWM remains above the 200 day moving average. $62.50 is a price level to watch on the upside and the November low of $55.33 would be a price level to watch for further downside confirmation. IWM showed negative divergences in October and subsequently began to move lower. Will SPY follow suit?