We can all remember the panic that gripped financial markets in the dissimilar fall to winter season of 2008, where hoards of cash were brought to the sidelines and even the "Oracle of Omaha" went on record claiming "cash is king". This time around cash is anything but "king", at least if it's the United States Treasury brand. The continuous Gold contract just hit 1200, the S&P 500 is near 52 week highs, there's evidence to believe in an Asian led global recovery, and the Fed is staying firm with an easy money policy for the foreseeable future. Given the aforementioned recipe, it's no wonder cash is trash and everything else is King.
But this kind of consensus thinking implores that we do a lot more homework and try to wrap our heads around the global conundrum of trends.
Recently Held Trends:
1.) S&P 500 moves inversely of U.S. Dollar
2.) Crude oil moves inversely of U.S. Dollar
3.) Gold moves inversely of U.S. Dollar
4.) U.S. Dollar trades lower
Fed Driven Dollar Weakness
All dollar denominated assets have been put on the buy list as portfolio managers and investors continue liquidating U.S. currency in favor of nearly any asset for two reasons. (A) Chairman Bernanke has no exit strategy for the Fed's 0% interest rate policy, which has caused a massive "short dollar long high yield securities" carry trade, and (B) the $1.5 trillion addition to the U.S. debt/ Fed balance sheet is stimulating asset prices in the short term.
Where the Dollars Went
Take a glance at the chart below and focus on the visual statistic above the price curve of the S&P 500 index, where you'll see the Chalkin Money Flow (CMF) index. This index documents the mass of funds entering and exiting the underlying security, in this case the large cap U.S. equity S&P 500 index (SPX).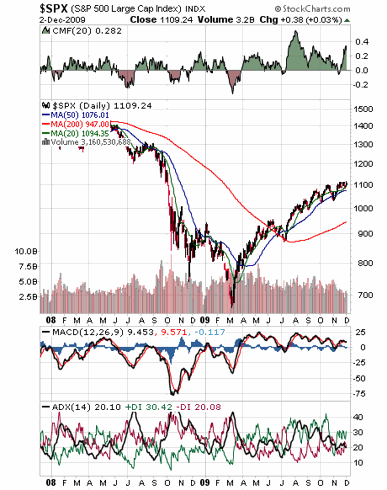 You may notice that a massive flux of capital has entered the S&P 500 over the past eight months. More impressively, we assert that the weak dollar and booming China has kept foreign investors wary of adding new cash to the U.S. pot over Q3 2009. Foreign institutional investors don't have the will or capacity to perform short term carry trade investments and now gains in the S&P 500 are wiped out in foreign denominations as the U.S. currency drops further (see S&P Rally in Yen and Swiss Francs).
Wednesday December 2, 2009 saw an interesting dynamic beginning to form as the relationship between the U.S. dollar, WTI Crude Oil, Gold, and the S&P 500 did something new. We witnessed Gold close at a new high, the S&P 500 sputter to neutral, WTI futures drop and the U.S. Dollar Index actually gain traction. We believe that this could be the canary in the coal mine as markets look for new direction. Again on Thursday December 3, Gold managed to hold near highs as the S&P dropped 0.84%, further suggesting that gold may detach.
Still, gold is on a tear higher despite its incredible run, for the simple fact that the U.S. dollar is discredited by a lack of Fed policy at a record low Fed Funds rate. At diamond slice we maintain that gold exposure is good for your portfolio despite a falling S&P 500 and we believe markets are trading on something deeper than the dollar. The U.S. equity index has had reason to rally under "carry trade" headlines, but the carry trade is by definition a short term strategy and the fundamentals must catch eventually.
A negative jobs report today, Friday December 4, would send risky assets lower and could set the tone for an immediate pullback. While there was a great deal of cash on the sidelines at the end of 2008 and early this year, it is more than apparent that the majority of these funds controlled by institutional players have found their way back into the equity market, making the path of least resistance argument hold less and less water as gold shines brighter.

Disclosure: Long SDS, Long SCC, Long DTO, Long [[TYO]]