It seems that all we hear from the Chairman of the Fed to the talking heads on the tube is that commercial real estate is in horrible shape and has much further to fall. Well, someone apparently disagrees. A research piece from Goldman yesterday morning upgraded the REIT space to Neutral from Cautious.
We are revising our Industry view to Neutral (from Cautious) as we now see a roughly flat total return for REITs as the economic recovery takes shape. As such, we are moderating our negative view on the REIT sector. Our change in sector view is based on several factors: 1) fundamentals should bottom within the next 12-18 months which is consistent with prior downturns; 2) debt funding costs have been better than we anticipated and should keep cap rates at the low-end of our 7-10% forecast range; 3) we expect better positioned REITs to seek out acquisition opportunities as sellers accept market pricing and the pace of transactions increases over the next 12-24 months; and 4) the GS Economics Team expects low interest rates to remain in place for all of 2010 and 2011, a positive for CRE.

Over the last two-plus years, REITs shares experienced tremendous volatility, declining 80% from peak levels of early 2007 and then rebounding over 100% from the March 2009 lows. Yet, the stocks are still down approximately 55% from the peak versus the S&P 500 Index which is down 25% from peak levels. Recall we have held a cautious view on the industry since November 2007, a call that was based on deteriorating CRE trends and rising funding costs. Despite our concerns on commercial real estate, we believe that REITs are in a much better position versus the private CRE market.
Best buy idea
BPO – Class-A office REIT at an attractive 22% discount to peers. Favor for supply constrained market exposure and stable cash flows.
TCO – Top buy idea on a solid balance sheet, low debt maturities, attractive 4.7% cash yield and attractive valuation (7.5% implied cap rate).
Best sell idea
ESS – We maintain our CL Sell rating based on unattractive valuation and weak CA fundamentals.
DRE – Sell based on expected earnings dilution from asset sales and additional deleveraging.
Goldman makes the astute observation (as if there was any doubt they would) that REITs are not private CRE investments. While I believe there are attractive opportunities in select direct CRE investments, REITs offer a diversified portfolio of properties across sectors. It is also important to realize that the covenants protecting REIT unsecured bondholders also serve to protect the rest of the capital structure by limiting the amount of leverage (secured and unsecured) the company can utilize.
For growth investors, I believe that there are very few opportunities left in the REIT sector as it has run pretty well since the March lows, outperforming the S&P by nearly 10%. For income investors, many folks have touted REIT equity as being a decent yield play. Is it?
From the same GS report: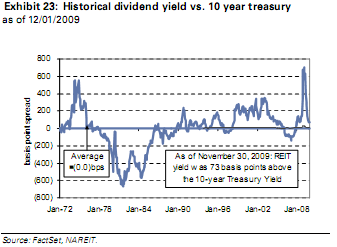 To me, picking up 73 bps above the ten year "risk free" isn't exactly compelling. REIT income investors should set their sights on REIT preferred securities which continue to offer some yield. A couple of examples:
UDR: UDR G preferreds: 7.43% yield vs 4.68% on common;
Realty Income (NYSE:O): O+E preferreds: 7.18% yield vs 6.69% on common;
HCP: HCP+F preferreds: 8.13% yield vs 5.78% on common
And the list continues. As an income investor, if I can go up the capital structure and pick up yield, I do the trade. Admittedly, the volume isn't huge, but liquidity is decent.
Ultimately, while the REIT market still has some wood to chop, liquidity is decent, maturities are manageable, cost of capital is coming down and the sector should be nearing a bottom.
Disclosure: Long O preferred and common