After the solar market bubble burst in early 2008 the industry has been left for dead. Solar silicon shortages turned to glut and production capacity expanded right when the world economy entered recession and major markets like Germany and Spain began slashing subsidies. Solar company stocks got ravaged with some, like Suntech Power (NYSE:STP), dropping over 90% from their highs.
The big glaring news for green investors from the just completed quarterly earnings reporting season is that the solar market has bottomed. By nature we are trend finders and followers, and we do not call market tops or bottoms. There is no need for predictions because the market is telling us right now that the solar winter of the last year and a half has ended. The new uptrend is now firmly in place as revealed by most price charts and many secondary indicators.
Of the two dozen solar companies we actively monitor, nearly two thirds beat analyst sales and earnings expectation. A far cry from previous quarters. Even more important than improving financials is the fact that many manufacturers report favorable developments such as stabilizing prices, shrinking inventories, backlogs reaching capacity, as well as several companies increasing guidance.
While analyst downgrades of solar stocks were common place through the middle of 2009, we have started seeing the ratio shift clearly to upgrades over the last few weeks.
As the chart below indicates, solar stock performance is a mixed bag this year. Most solar stocks are well off their March 2009 lows, but despite the Chinese Solar Stocks index on tickerspy topping at #2 for the last month, the solar industry index as represented by solar ETF (NYSEARCA:TAN) is struggling to keep up with the S&P 500 for 2009 Year-To-Date.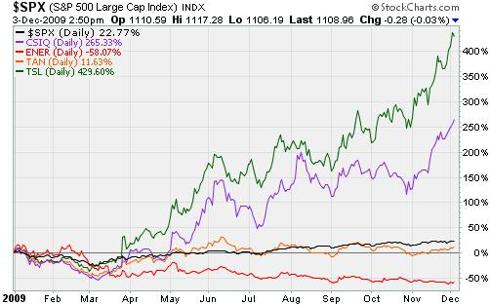 Indexes by definition are a mixed bag. On the low end you have a stock like Energy Conversion Devices, Inc. (NASDAQ:ENER) which cannot seem to find a bottom, and then there are the moon shots like Trina Solar (NYSE:TSL) and Canadian Solar Inc. (NASDAQ:CSIQ). This proves one more time that astute stock picking can beat index investing hands down.
Recent developments confirm the strong growth suggested by our fundamental analysis for the solar sector over the next few years. This sector will continue to be turbulent with a lot of capacity coming on line. Not all companies will make it but the winners will shine. When it comes to sorting the solar winners from the crowd we still pretty much stand by our earlier article "Picking Solar Energy Winners".
Disclosure: No positions