We were curious to validate the soundbites we all hear regarding corporate debt rising due to low interest rates over the last few years. Using Newton Analytics' database, we selected all applicable tickers (545 companies) and aggregated the Long-Term Debt (LT Debt) for 2010, 2011, 2012, Q1 2013 and Q2 2013. Sure enough, corporate debt has been rising year after year.
We then began to wonder how effectively this debt is being used to create value for shareholders. To answer this, we pulled the aggregate of Net Tangible Assets (NTA) and Net Income (NI) during the same time frame as LT Debt. The first and second quarter's NI figures were annualized (x4) as an estimate for data consistency. We found that Net Tangible Assets and Net Income rose significantly for all sectors combined.
Still, this was not enough to quench our curiosity, as we began to wonder which sectors used debt most effectively to raise their shareholder's value. We decided to use NTA and NI as the measurement for effectiveness in a sector's ability to raise shareholder's value. NTA effectively measures a conservative equity position, any rise indicates a rise in value. An increase in NI demonstrates a rise in shareholder's value as the business is able to produce more earnings.
The following is a sector by sector analysis of building shareholder value with long term debt.
Healthcare: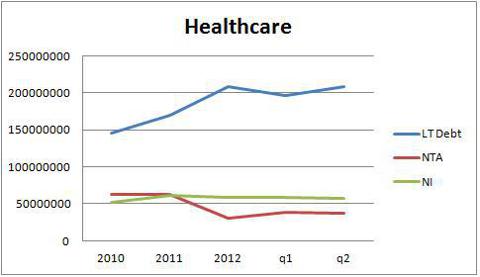 Growth rates since the beginning of 2010:
LT Debt 43.61%
NTA -41.16%
NI 9.04%
Increasing debt, decreasing assets and a relatively stable net income growth rate (has been stable 2011 on), is less than great. The healthcare sector is not doing a very good job of increasing shareholder value.
Services: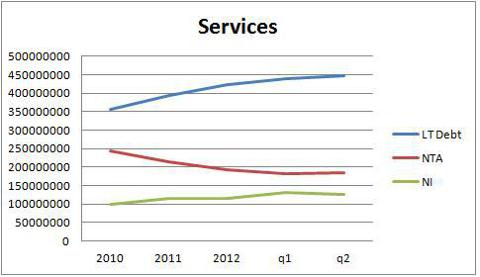 Growth rates since the beginning of 2010:
LT Debt 25.22%
NTA -23.88%
NI 27.36%
The Services sector clearly demonstrates as debt increases, net tangible assets decrease, but net income is really taking off. The service sector is not doing a great job as the net effect of activities is decreasing shareholder value.
Technology: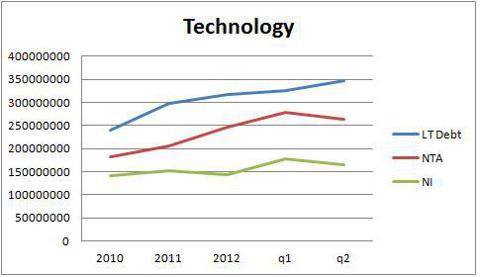 Growth rates since the beginning of 2010:
LT Debt 44.9%
NTA 43.77%
NI 16.15%
The Technology sector has increased their LT debt and NTA more so than any other sector in this study. This is great because tech companies are increasing debt and tangible assets at about the same pace while being able to increase NI. The net effect is a huge rise in shareholder value!
Financial: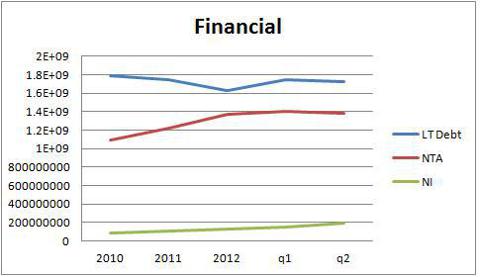 Growth rates since the beginning of 2010:
LT Debt -3.06%
NTA 26.57%
NI 129.13%
The Finance sector decreased debt increased net tangible assets and has had a huge steady increase of net income. Most finance companies (think banks and REITs) have a very different business model than 'normal' companies. While it appears the finance sector is doing great from a building shareholder's value, they are not building it with long-term debt.
Utilities: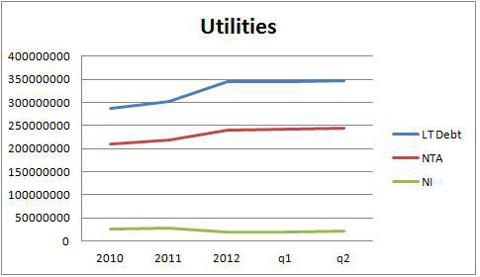 Growth rates since the beginning of 2010:
LT Debt 21.37%
NTA 16.96%
NI -21.04%
The Utilities sector appears to have had its fill of debt by 2012. The sector was able to increase its NTA which is great, however, they severely decreased NI. This sector did not do a great job raising shareholder value with the use of LT debt.
Basic Materials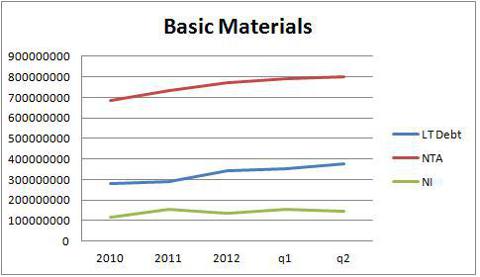 Growth rates since the beginning of 2010:
LT Debt 34.16%
NTA 16.42%
NI 21.74%
The Basic Materials sector did a pretty good job raising shareholder value with the use of LT debt with an across the board significant rise in both NTA and NI.
Industrial Goods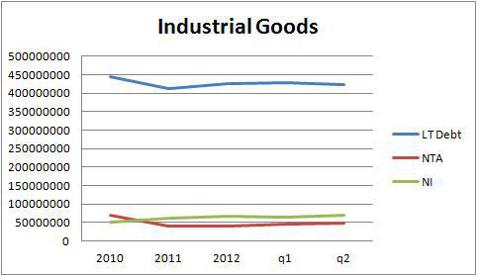 Growth rates since the beginning of 2010:
LT Debt -4.72%
NTA -31.5%
NI 38.71%
The Industrial Goods sector has a large spread between LT debt and NTA primarily due to the high cost barriers of business. The sector decreased its LT debt positions, untrue to the perspective of rising corporate debt. NTA decreased heavily between 2010 and 2011 but has been on a steady rise since. NI is up significantly shown by climbing period after period. Ultimately, the sector did not increase shareholder's value with more LT Debt because debt is on the decline.
Consumer Goods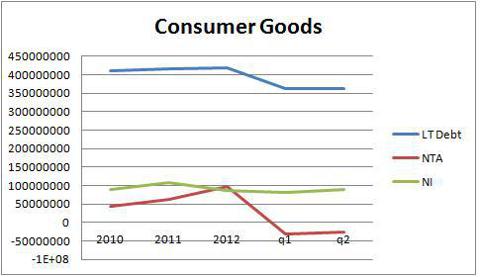 Growth rates since the beginning of 2010:
LT Debt -11.57%
NTA -159.07%
NI 0.68%
The Consumer Goods sector has had a stable NI but has actually decreased LT debt beginning 2012. NTA has also dropped to a negative amount! No building wealth from debt here.
Investor's Thesis Going Forward
We can determine from this study that not all sectors are able to produce an increase in shareholder's value from the use of LT debt. Investor's should be mindful when reviewing a specific company's balance sheet trends to verify that the company is making good use of increases in LT debt. An investor will need to examine LT debt, interest paid, NTA and NI for at least three sets of financial statements. We recommend that investor's review the trends for impacts in valuation measures. For example, if debt levels increase from one year to the next, the net effect on equity should be at least 0% because borrowed money may be used to purchase tangible assets. However, there are many reasons that a company will leverage its balance sheet in a low interest rate environment. Main reasons include the purchasing other businesses, financing buybacks/dividends, paying off existing higher cost liabilities, or to investing in its current operations.
Financing the purchase of other businesses with LT debt could cause an increase or decrease in shareholder's value depending on the managements aptitude. Should they pay too much, the effect is ultimately unfavorable on the balance sheet. If the purchase is good, the newly purchased business will become a profit center and should ultimately increase equity.
The effect on NTA is unfavorable should a company decide to finance buybacks with LT debt. Liabilities will increase by the amount financed. Equity will decrease proportionally to the increase in liabilities as the financed cash used to buyback shares is reported in the company's treasury stock as a negative amount (contra account to common equity). The total effect of a financed buyback is negative on the balance sheet. Dividends cause a similar negative effect on the balance sheet. Financing causes liabilities to increase incrementally with assets, but those assets are then distributed to shareholders causing a decrease in equity. Both scenarios actually cause unfavorable long-term consequences that will decrease potential equity growth for the future (as interest payments increase and NI decreases). Companies that partake in such activities aim to increase shareholder wealth by increasing share price which is considered good by most investors. However, buybacks and dividends do not increase the business' capability of producing more income from its operations directly, instead they decrease NTA.
The balance sheet would expect an immediate 0% change in its principal capital structure from paying off existing debt with new lower cost debt. However, the balance sheet and shareholder's value should grow as interest payments would be reduced.
A company may invest in its current operations by purchasing more equipment, property, or facilities. The immediate net effect of financing such investments is $0 on the balance sheet. As time passes the company should increase revenue (assuming an increase in operational activity from the investment), decrease cost and increase NI. This happens only if the company borrowed money and managed it effectively.
Newton Analytics' intention is to raise awareness on financing activities. Each activity has its benefits and must be carefully calculated and considered by managers and investors alike.
To Recap
While overall corporate debt is on the rise. We found that only five of the eight sectors actually raised long-term debt. The study also concluded that Basic Materials and Technology were the seemingly most effective in raising shareholder value with the use of LT debt.
Disclosure: I have no positions in any stocks mentioned, and no plans to initiate any positions within the next 72 hours. I wrote this article myself, and it expresses my own opinions. I am not receiving compensation for it (other than from Seeking Alpha). I have no business relationship with any company whose stock is mentioned in this article.