Blackstone's (NYSE:BX) portfolio company Brixmor (NYSE:BRX) filed an ammended prospectus today as it gears up for its IPO, the second largest REIT IPO since Simon Property Group's (NYSE:SPG). As the largest shopping center REIT (by GLA) and second largest by market capitalization, it is worthwhile to look at this shopping center REIT to see if there is an opportunity.
Brixmor is an internally-managed REIT that owns and operates the largest wholly-owned portfolio of grocery-anchored community and neighborhood shopping centers in the United States. The IPO Portfolio is comprised of 522 shopping centers totaling approximately 87 million sq. ft. of gross leasable area ("GLA"). 521 of these shopping centers are 100% owned. You might recall that Brixmor began life as Centro properties Group's US assets. Centro was an over-levered and complex Australian property company (the restructuring was a nightmare) that ultimately sold its US assets into the Blackstone portfolio. During the last years under Centro, survival was the focus rather than growth, but since becoming a portfolio company, capital was deployed to refresh the centers and the portfolio was reconfigured (optimized).
Brixmor is expected to trade under ticker BRX.
First, brief snapshot of the portfolio characteristics:

Occupancy levels are somewhat lower than peers (Kimco 94%, DDR 95%, Federal Realty 95%), but this should give the REIT organic growth prospects as it increases its occupancy rate.
A second form of organic growth should come from its lease expirations.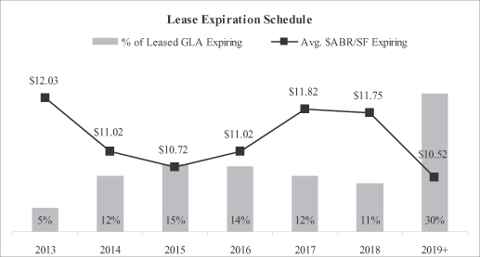 During the 12 months ended June 30, 2013, BRX signed new and renewal leases in the IPO Portfolio at an average ABR/SF of $12.44, with an average ABR/SF of $12.44 for new leases and $12.43 for renewal leases. Given the lease rates ($ABR/SF) of the expiring leases and where leases have been renewed or put in place, the lease rolls should be accretive to FFO and help propel NOI and FFO growth further.
The REIT's portfolio is well diversified by tenancy and retail format, with more than 70% of the shopping centers anchored by market-leading grocers. The four largest tenants by annualized base rent are The Kroger Co. (NYSE:KR), TJX Companies, Inc. (NYSE:TJX), Publix Super Markets, Inc. and Wal-Mart Stores, Inc. (NYSE:WMT).
Brixmor is also diversified by MSA.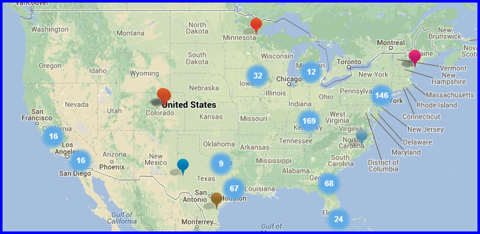 One issue I have with the REIT is the debt profile. In my opinion, the debt is lumpy and exposes the REIT to repayment/refinancing risk. The following is a graphical depiction of the debt distribution: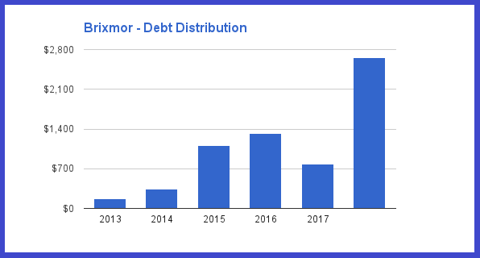 As you can see, over a billion in debt comes due in each of 2015 and 2016. This is a significant amount of its debt and a sizable amount for the REIT to repay.
Next comes valuation. The offering price is expected to range between $19 - $21 (barring any unforeseen event). The mid price was used for valuation purposes and then compared to peers Kimco Realty Corp (NYSE:KIM), DDR Inc (NYSE:DDR) and Federal Realty Investment Trust (NYSE:FRT).

As the table shows, Brixmor should come cheap to peers on a metric basis and should have room for multiple expansion.
Dividends. As dividends are important to many (most) REIT investors, it is important to get a sense of the expected dividend amount and yield. As set out in the prospectus:
We intend to make a pro rata distribution with respect to the quarter during which this offering occurs, based on a distribution rate of $0.20 per share of our common stock for a full quarter. On an annualized basis, this would be $0.80 per share of our common stock, or an annualized distribution rate of approximately 4.0% based on the midpoint of the price range set forth on the cover of this prospectus. We estimate that this initial annual distribution rate will represent approximately 97.6% of estimated cash available for distribution for the 12 months ending June 30, 2014.
To recap:
Strengths:
Diversified portfolio both geographically and by tenant.
Organic growth potential as leases roll to higher market rates and occupancy falls.
Potential for multiple expansion as well as FFO growth, creating strong capital appreciation potential.
Weaknesses:
Proposed dividend consumes nearly 98% of funds available for distribution, making one wrong move a potential dividend cutter.
Debt is somewhat lumpy and will have to be smoothed.
BRX did not obtain independent third-party appraisals, valuations or fairness opinions or conduct arm's-length negotiations with the sponsor with respect to the terms of the IPO property transfers.
Botton Line: I like this REIT and the scale it is bringing to the market. Management is strong and has experience navigating the sector. The issue I am having is the thin margin of error for the dividend. At nearly 98% payout, the dividend is already pressured unless the REIT can increase occupancy and lease spreads faster than I would expect. I would like to see the debt smoothed out as well, as it is lumpy, but it is manageable. I expect that it will continue their portfolio activities and further expand its geographic reach. On a similar note, I do like the US focus as most US REITs' foreign experiences have not worked out. Ultimately, as the dividend yield is as high or higher than competitors and there is room for margin and multiple expansion, I believe investors should consider swapping some of their existing strip center REITs into this offering or an outright purchase.
Disclosure: I have no positions in any stocks mentioned, and no plans to initiate any positions within the next 72 hours. I wrote this article myself, and it expresses my own opinions. I am not receiving compensation for it (other than from Seeking Alpha). I have no business relationship with any company whose stock is mentioned in this article.